Eight teams in the Brazil 2014 Fifa World Cup have taken one step closer to being crowned champions of the world. But another eight are taking early flights home – with their dreams shattered.
In this post, I will take a stab at which teams in the Fifa World Cup will go on to the Semi-Finals from each of the four Quarter-Final ties.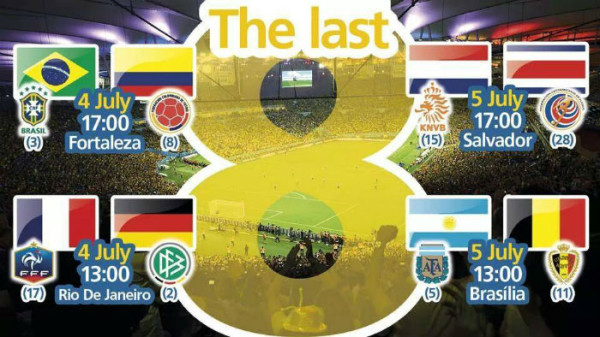 Brazil v Colombia
Prediction: 2-1 to Colombia
I think that the road to the Maracena sadly ends here – for the hosts. Much as I would love to see them go all the way, my head says that the Samba magic will dance no more.
In their three group games, and especially for their Round of 16 match against Chile, Brazil have not been able to play to their full potential and expectations. They seemed tired and lethargic and both Fred and Oscar have not delivered in a big way.
Prior to this game, I have always thought that as this tournament progressed, the Brazilians will get into their groove and get better – but based on their performance against Chile, we may all be expecting too much of this young Brazilian team.
I think that Neymar, who is this young side's only standout performer, can't be expected to shoulder the entire hopes of a nation – alone. It is too much for this 22-year-old to practically win a World Cup for his country, if his teammates aren't performing to expectations.
Yes, Neymar did very well in scoring the Selecao's crucial penalty. I commend him for that, and in not wilting under the immense pressure. But he did not hit the net in regulation time and his performance did not impress me, either.
So I fear that the Colombian side, which was so rampantly powerful against a Uruguay team completely lacking bite, will march on in this tournament and snuff out the Selecao's samba magic. I would love to be proven wrong in this case, though.
Netherlands v Costa Rica
Prediction: 2-0 to Netherlands
It has truly been a fairy-tale run for the Ticos, in this year's World Cup. They were merely in this tournament to make up the numbers. Yet, the Ticos now find themselves in the Quarter-Finals – for the first time in their history.
During their magical run, the Ticos have most definitely won many hearts – with their brave performances. This is especially so in the way that their ten men hung on for so long in their Round of 16 clash against the Euro 2004 champions, Greece, to take the tie to penalties – and then win.
World Cup romantics would love to see these truly brave underdogs prevail. But I sadly think that this is where the Ticos' fairy-tale run ends. A rampant Holland side will completely crush their dreams. This is because Oranje stars like Arjen Robben and Wesley Sneijder have too much class, and will overwhelm the Ticos. Should this happen, this Costa Rica side will go out on a high note though – having done their nation proud.
France v Germany
Prediction: Germany to win 2-1
Where do I begin here? Two world-class European nations, full of star-studded players, are taking on each other prematurely. After the quarterfinals are over, the dream of one of these tournament pre-favourites will be crushed.
But who will continue to march on and who will be on an early flight home?
According to my crystal ball, it is Germany who will go through to the Semi-Finals. Yes, the minnows from Algeria gave them a mighty scare in their previous match. But compared to France, I still feel that Germany is generally more consistent and efficient, and that their players are better able to work together as a team compared to France's.
At the same time, Les Bleus' defence isn't that watertight. For example, they conceded two goals in their group game against the Swiss. Yes, they scored five goals in that match but I doubt that the efficient Germans are going to let five goals go into their own net.
At the same time, while Les Bleus have no problems creating chances, they seem to have some issues with finishing them. So the more dominant Germany side will punish them for this.
Argentina v Belgium
2-2 after extra time, Argentina to win 4-3 on penalties
This will be a very highly competitive game against two teams, both of which prefer to win games by scoring goals rather than by defending. Argentina's defensive capabilities were heavily exposed by the Swiss – whom they had very narrowly beaten in the Round of 16 on penalties.
Argentina haven't been playing extremely well during this tournament too, and may not even be here if it weren't for their talisman Lionel Messi, who has already saved them quite a few times in this World Cup.
On the other hand, Belgium has been very impressive so far and many critics say that they are one of the dark horses to lift the trophy. But they must overcome Argentina first. I don't think they will, though. This is where Belgium will board the plane home. The Red Devils will play very well and bring the game to the South Americans, but I think they will just fall short when it matters.
According to my crystal ball, this game will end in a high-scoring draw with Argentina clinching it on penalties. Once again I think that Lionel Messi will save the day and could be the difference – between La Albiceleste and the Red Devils.

Click here for my predictions of the Fifa World Cup Brazil 2014 quarter finalists, where I had all 8 out of 8 teams correct.
Share this page with your friends!