The Qantas Australian Men's Rugby Team had surpassed expectations by finishing third in last week's Hong Kong Sevens. And this weekend they are hoping to build on that.
Said Nick Malouf, 24, who plays as a Forward, "Yeah it was a really good result for us, the best that we have done all year. That was also the best showing we've had in Hong Kong since 1994 and I think that a lot of the supporters out there really enjoyed it."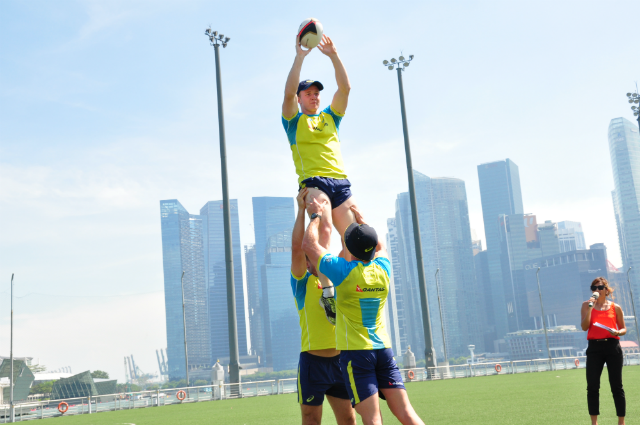 He continued, "This brings us a lot of confidence going into the Singapore tournament this weekend; we know that we can achieve and play to that standard so it will be all about the consistency of backing up what we did last week."
Malouf had been speaking on the sidelines of a cultural exchange event hosted by Qantas.
Singapore will be different to Hong Kong
However his team mate Charlie Taylor, 22, feels that playing in Singapore may be a completely different challenge as compared to Hong Kong, partly due to the intense heat. He said, "Hong Kong is cool. As soon as we got off the plane we noticed the heat straight away. We knew it would be a tough weekend; a lot of the boys have not experienced the heat so it will be a new challenge to us but we are looking forward to it."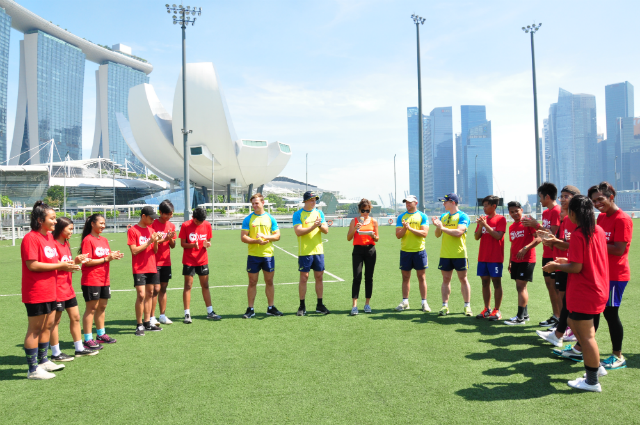 For Taylor himself though, he adds that he is used to the hot conditions. He said, "This is the first time I have experienced Singapore and it's really muggy here; I am from Sydney, Australia, and summer there is pretty hot, it gets to 40 degrees C most summers and this feels just like Sydney during the summer."
Singapore is an amazing city
Taylor added, "I really enjoy Singapore though; the city is amazing and our hotel is amazing too. Seeing a new culture and interacting with new people is great. Yeah it is very humid here though compared to in Sydney; it was 60 per cent humidity when we played in Dubai but it feels a lot higher here, for sure."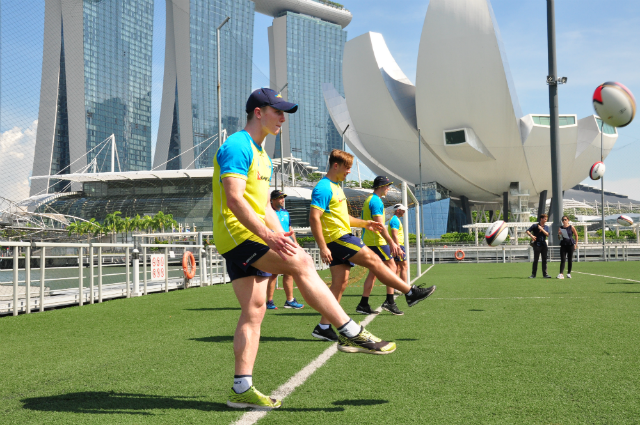 First training session in Singapore yesterday
To get their blood flowing, the Australians had their first training session last Tuesday morning. Said Taylor, "We only reached the hotel at 5pm on Monday; we had dinner and then were off to sleep. Then in the morning we had a light training session, a run to get the boys moving their legs and just getting the blood flows, and experiencing the heat. We then had a gym session. It was nothing really high intensity."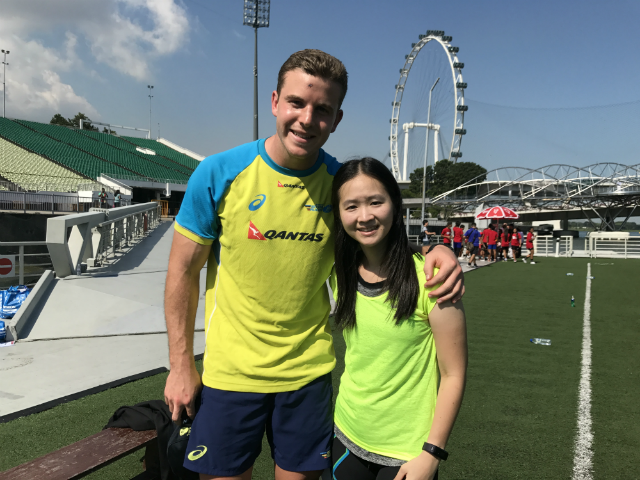 Malouf added too, that the heat and humidity still takes some getting used to, even though they had been prepped for it. He said "It is not as humid as we are used to, so our strength and conditioning coach, before we came here, had us do sessions in the sauna and sit there for 30 minutes after training to get used to the conditions. So when we got here it was not too bad but I am sweating a lot more than in Australia. The heat is similar to what I am used to though; I grew up in Brisbane."
Singapore is lovely and clean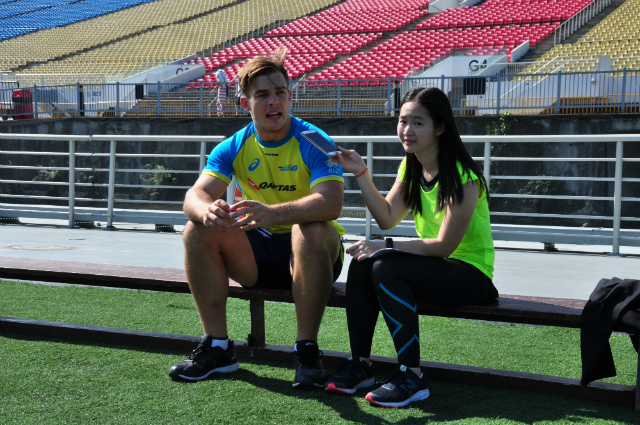 The two Australians also added that they have a great first impression of Singapore from what they have seen so far. Said Malouf, "Singapore is lovely and clean and the people are lovely. The food is also good; we are going out for satay this Thursday and the boys always love getting into the local cuisines of a country."
He continued, "We always make it a point to go out for one meal each time to get out of the hotel, but the hotel food is mostly quite good and we get to try different things. I had wonton noodle soup at the hotel for lunch and that was really tasty."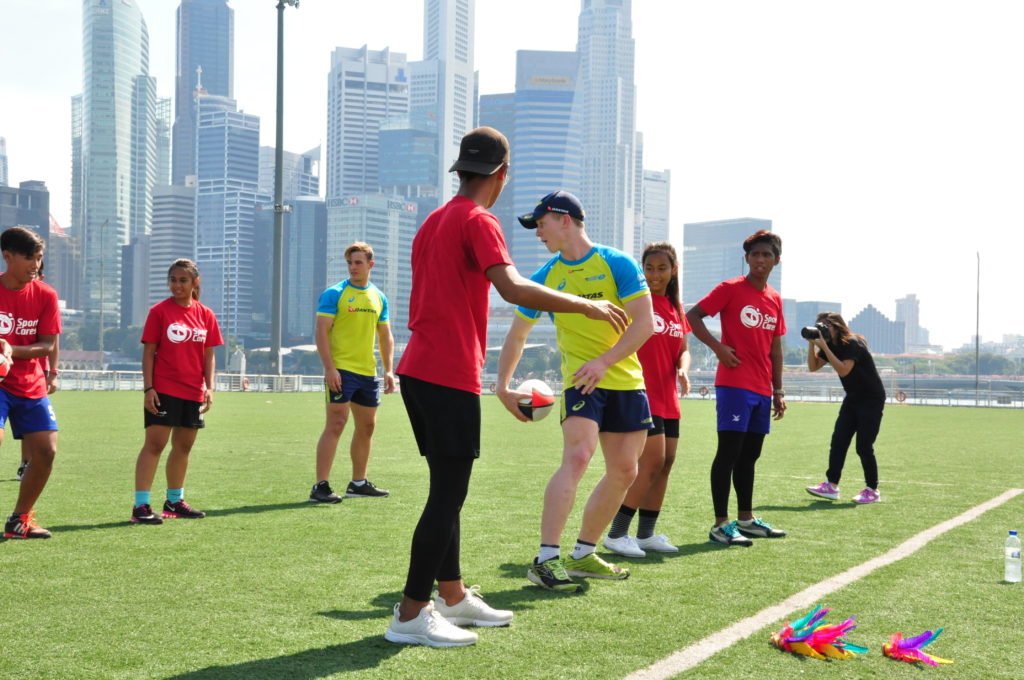 They are here for the rugby, not to be tourists 
However Taylor quickly added that the players are still here for the rugby after all, and not for sightseeing or eating. He said, "We come here to do our job and prepare for the weekend. We do not have the time to see the sights we want and what restaurants we wish to eat at; I have had many friends and family who keep telling me to check this out, or to do that, but it is hard to see much as we are basically here to train, recover and settle in and get ready for the weekend. But if I see something though, I will definitely give it a crack and try it."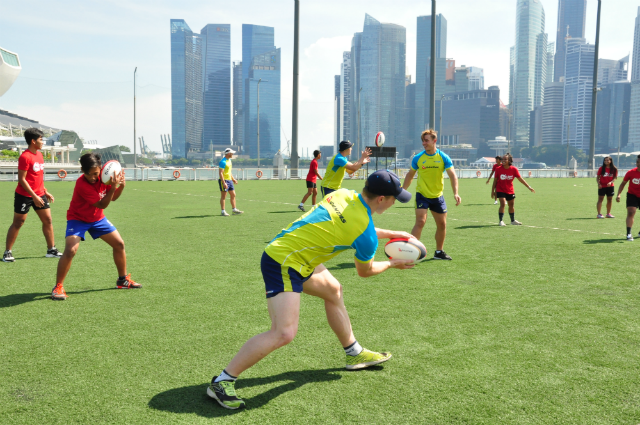 He added, "The boys who were here last year also have not really spoken about the Singapore food; think that we are all too focused on the rugby and thinking about the job. There is a lot of pressure on us after all, to back up what we achieved in Hong Kong. There were a lot of people who were probably shocked to have seen us finishing third, but we see ourselves as being a lot higher up, capable of finishing each tournament in the top three. So the only way for people to see that we are doing well, is to do it a second time and show the world what we are really made of."

Share this page with your friends!