The second day of the Singapore leg of the HSBC World Rugby Sevens at the National Stadium saw plenty of upsets and shock defeats, as underdogs Canada clinched the Cup.
In the cup final, Canada had beaten the United States in the final 26-19 after a fantastic performance that had also seen them prevail against 12 time World Series champion New Zealand 26-19 as well as against England, the Rio Olympics Silver Medallist, by 17-5, earlier on in the knockout phases.
Canada's second ever cup final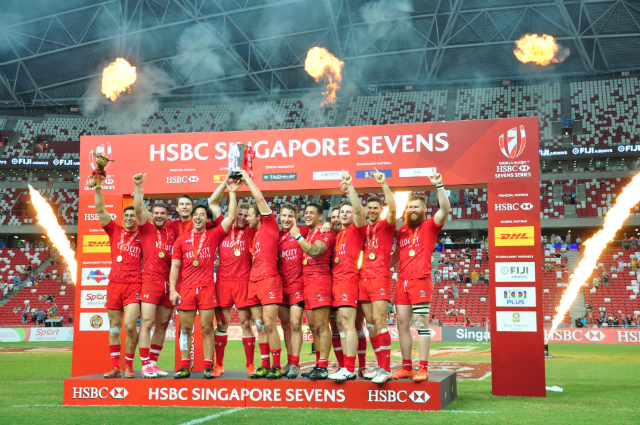 This is the second ever cup final that the Canadians have qualified for, in their history. The first had been at the 2014 Glasgow Sevens, when they had been overwhelmed 54-7 by New Zealand.
In the cup final, Canada had raced to a 19-0 lead after tries from Matt Miullins, Harry Jones and Mike Fuailefau. Nathan Hirayama, later named Player of the Final, converted two of three attempts. Before half time, the United States hit back, closing the gap at 12-19 thanks to tries by Stephan Tomasin and a converted try by Perry Baker.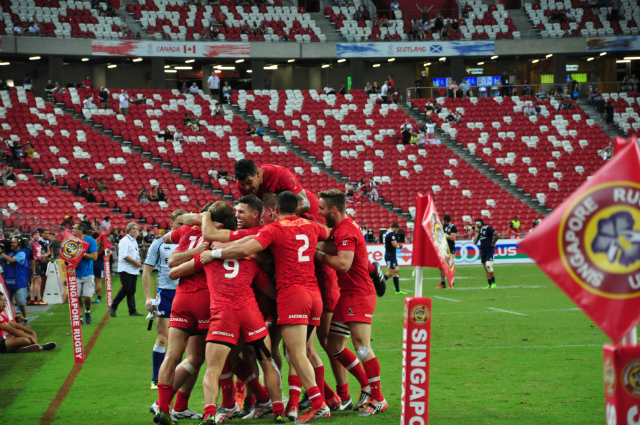 The Americans then drew level with Baker scoring his 41st try of the season, but Lucas Hammond clinched the winning try for Canada, and Hirayama successfully converted.
Hard to put their win into words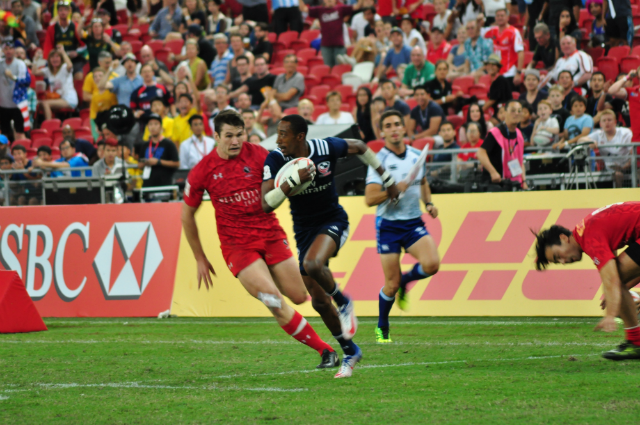 Said Canada captain John Moonlight, 29, who plays Back Row, "It's hard to put that into words. We took a licking against Fiji yesterday and from our coach. But we showed up today and we showed the world that we can beat anyone. We beat three of the best teams today. We are flying. It's an incredible feeling."
He continued, "It's good that we were the underdogs. Nobody really worries about you that much and after that loss to Fiji, people didn't have us on their radar. But we showed the world that there are no weak teams in this competition. Singapore has become a second home for us, and we will always remember Singapore now, that is for sure."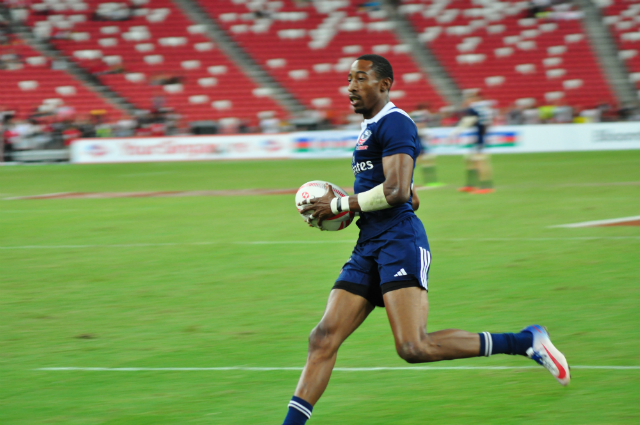 Indeed, Canada had been soundly beaten 7-35 by defending Series champions Fiji in their final group match, though they had qualified for the cup knockout games with easy wins over Russia (28-15) and Hong Kong (34-0) in Saturday's pool matches.
His team mate Isaac Jonathan Kaay, 23, is equally shocked with Canada's unexpected win. He said, "I cannot describe the feeling. It is Canada's first win ever, and I think that we are all shocked. I still can't comprehend, even now, that we won it. It's so surreal. The challenge was to keep our composure and play our game; as soon as we break down we tend to lose, and I think we managed this well."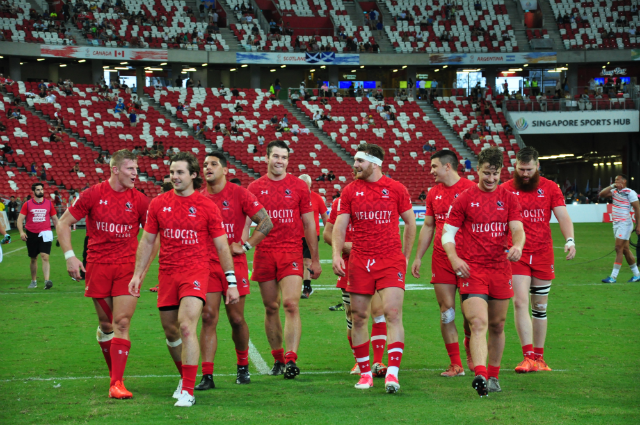 He added, "Now in the final tournaments at Paris and London, it is a matter of not stepping down from this level of play, and maintaining it throughout the rest of the year."
Maiden win means a lot for Canadian rugby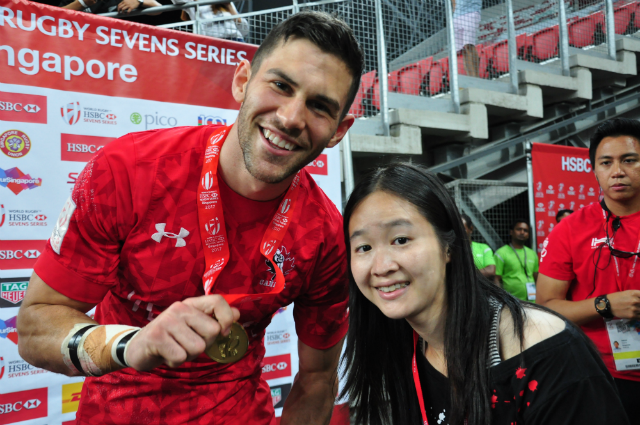 Their maiden tournament win also means a lot for Canadian rugby, according to Justin Douglas, 23, who said, "For Canadian rugby this means a lot. It is the second Cup Final that we have been in and the first that we have won. It's groundbreaking, definitely. I was on my toes all the way till the final whistle; it only dawned on me that we were going to win when the whistle actually blew."
Canadian coach, Damian McGrath, 57, is also pleased as punch, and added that the determination of the team had been great. He said, "The team shone through; they disciplined themselves and showed that they could be champions. Before half time, Perry (Baker) gave them some momentum back, but after half time the boys showed that they have the determination and confidence that we had needed."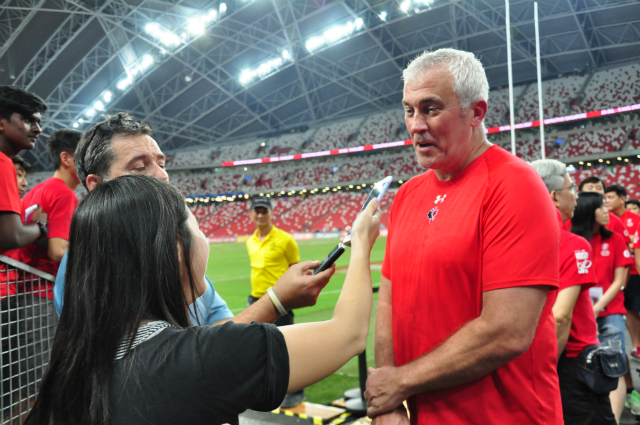 "The boys did a great job; I am so proud of them. I think that today we held the ball really well, and when we hold the ball then have proven that we are a hard team to beat," continued McGrath.
Singapore is a great place for the underdog
Going back to last year's HSBC Singapore Rugby Sevens, in which Kenya, who were also underdogs, had won, McGrath said, "Singapore is a great place for the underdog. This win is also huge for Canadian rugby and means a big deal to us."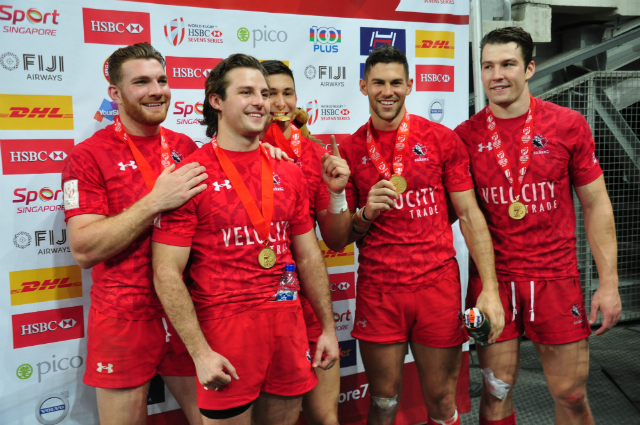 Canada's result also marks the second consecutive year that the Singapore tournament has produced a surprise winner and the favourites all crashing out early.
Silver medallists United States also had a breakthrough tournament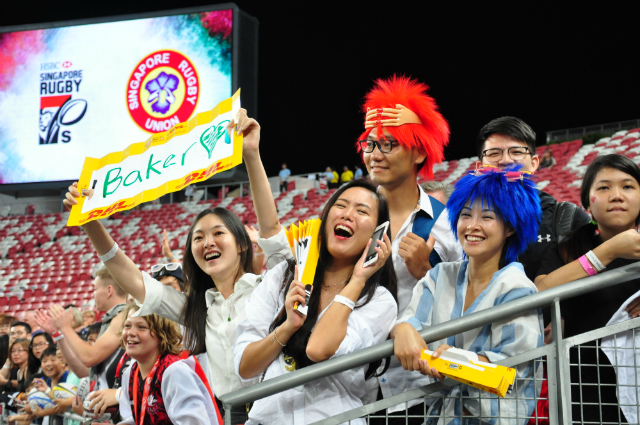 But despite losing in the final though, the United States also had a breakthrough tournament in Singapore, having successfully made it to their third ever cup final in their history. Said Baker, 30, a wing player, "It means a lot, you know, to get over the hump. We were trying to get past the semi finals in the last three tournaments. Now we made it there but we just did not finish it; but I still feel that we played great, taking the game to Canada."
He added, "This is the best result for sure this season for us. We never try to sell ourselves short though; we work hard and we want to make it to the finals every time. I don't think that anyone who plays this game, should cut themselves short and not believe they are capable of going all the way."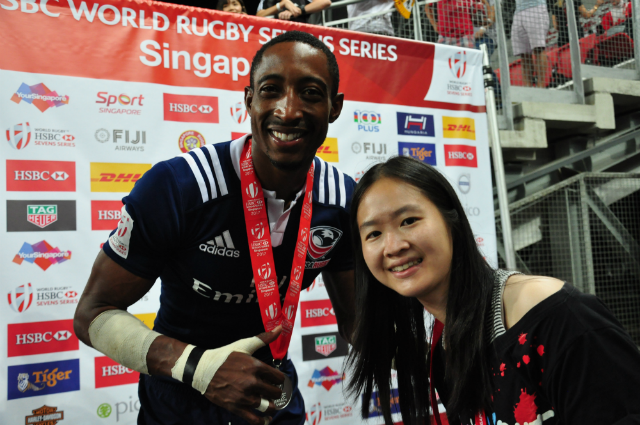 Back to the drawing board
Now that the tournament is over, it is back to the drawing board for the United States, in order to go one further to clinch the cup. Said Baker, "We need to work on our execution, finishing and tackles. When we have the ball, we always end up shooting ourselves in the foot each time."
He added "We had a couple of games in Singapore where we started slow and finished strong, and had a game where we began fast and finished slow. We need to stay consistent all the way across the board; that is what we will be working on in training now. Hopefully next time we will come out on top."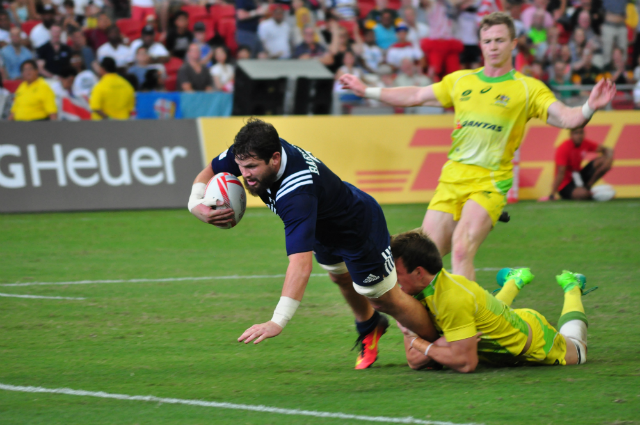 Baker's team mate, Stephen Tomasin, 22, who plays hooker, also shared the same view. Said Tomasin, "It feels pretty good to make it to the final; we played well for the most part this weekend but we would have liked to finish it with a win though. Getting there is tough but we are glad to have finally cracked the semi finals."
Played to their strengths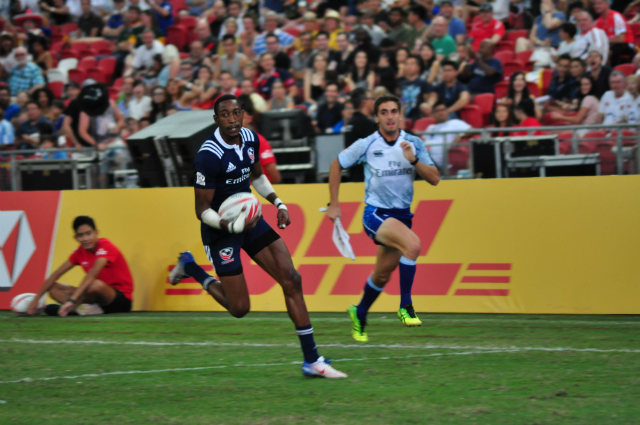 He continued "Today we played to our strengths and dominated for the most part; but we did not go all out in the final and that cost us the game. We were actually quite confident when the scores were tied at 19-19; we figured that whoever scored first at that point would have a big advantage, but then we gave it away. Still, this will boost our confidence at the next tournament in Paris, but in the big moments we really need to make the right decisions."
At the same time, Tomasin had also graciously congratulated Canada on their win, and added, "Canada came out of nowhere; they have been doing well all year but they really turned it on today and created three big upsets. That is what makes sevens rugby so good; on their day, anyone can literally win it."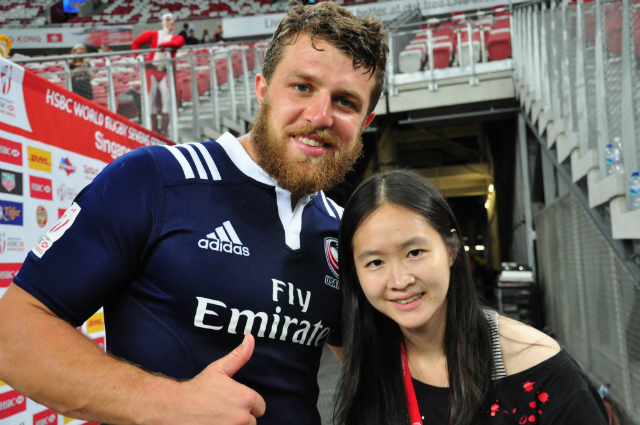 Other Results
In other shock upsets, the United States also beat Olympic champions Fiji 24-19 in the quarter finals and had overwhelmed Australia 40-7 in the semis to make it to their third ever cup final. The previous time that the Americans had won a cup final had been at the 2015 London Sevens with a 45-22 victory over Australia.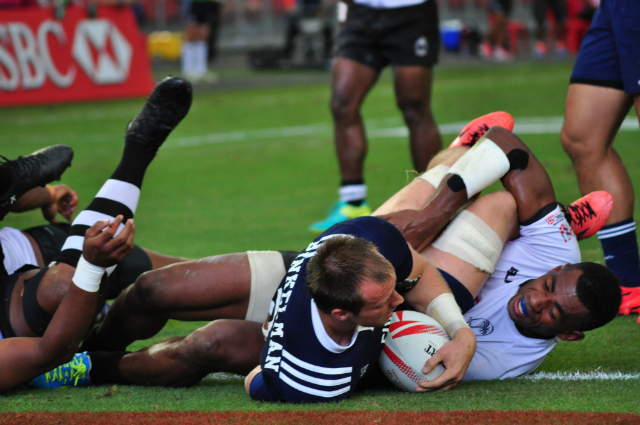 Meanwhile, England won the bronze with a 14-12 victory over Australia and Wales took the Challenge Trophy by beating Scotland 24-12. New Zealand fought hard and took the fifth spot when they beat the current series leaders South Africa 17-12.
Under-14 Schools Sevens Grand Final
In the Under-14 Schools Sevens Grand Final, a converted try by St. Andrew's Secondary School's Lucky Anthony helped them beat arch rivals Anglo Chinese School (Independent) 12-10 to victory.
Saints had taken the lead after three minutes through Javes Lim but defending champions ACS (I) came back to tie the match 5-5 before the half time break. Then in the second half, Anthony broke through from inside his own 22 to score under the posts at the other end and captain Lucius Yap converted for a 12-5 lead. ACS (I) scored another try to make it 10-12 with less than two minutes left but the Saints held on for the win.
Said Anthony, 14, who is from the Philippines and moved to Singapore seven years ago, "It was a good pass from my teammate Ryan Diftor and once I broke clear, I kept going for the line. We were calm heading into the final and our tackling was solid. We kept our structure in defence and attack."
He added "The atmosphere at the National Stadium was simply amazing and it is a once in a lifetime chance to play in this amazing stadium. I hope I can represent Singapore one day, and play here again."

Other blog posts
Share this page with your friends!