Last year, rugby fans will remember that underdogs Kenya – more well known for their marathon runners rather than their rugby players – shocked the world at the inaugural HSBC Singapore Rugby Sevens by winning the tournament ahead of more fancied teams such as losing finalists Fiji, as well as South Africa and New Zealand.
And Collins Injera, who was part of last year's victorious Kenyan team, thinks that Kenya can do it again. He said "This year we are coming in as defending champions. We have had an up-down season but I think we are coming into this fully pumped up and eager to go. We will take it one game at a time and if we do well at the first game, the it will be a good tournament for us."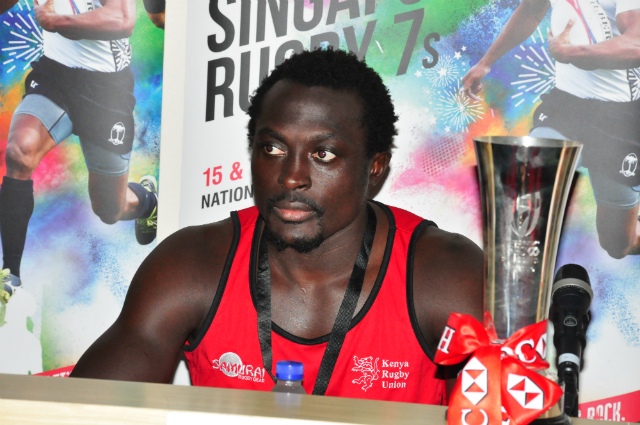 SPEAKING TO MEDIA AT PRESS CONFERENCE
Injera had been speaking to members of the media at the press conference for the HSBC Singapore Rugby Sevens, which had taken place yesterday at the Singapore Sports Hub.
FIRST GAME IS IMPORTANT
According to Injera the first game is especially important because it can be either an energy booster or a morale sapper.
Said Injera "If we win, it will boost energy and momentum going forward but start with a loss and that will be demoralising and really put pressure to win the next two to qualify from our group. But we are confident of our chances."
He added, "Of course we definitely want to win it again; the mood in the camp is upbeat and everyone is looking forward to what is in store for us this weekend." Injera also said that despite Kenya coming to Singapore with only five players from last year's winning team, this does not put them at a disadvantage.
However Injera concedes that Kenya are in a pretty tough group, as they will begin their title defence against Argentina, before facing Australia and Samoa in Pool C.
WIN HAS BOOSTED IMAGE OF SEVENS RUGBY IN KENYA
But their win last year has boosted the image of rugby sevens in Kenya.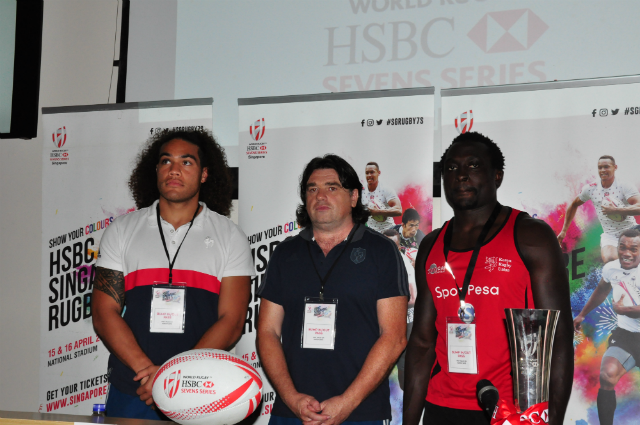 Said Injera "Now everyone knows about the Sevens. Even schools in Kenya have introduced the sport so rugby is really developing and we hope that this will be the springboard for us to be up there in years to come."
SOUTH AFRICA ARE FIRM FAVOURITES
Besides Injera, French player Pierre-Gilles Lakafia and French manager Christophe Reigt, were also at the press conference.
Lakafia firmly feels that South Africa – whom France are up against in their pool of matches – are one of the firm favourites to take the title in Singapore.
Said Lakafia "South Africa are great competitors; they have played in almost all of the finals and won half of them – their team spirt is so impressive that it can be felt on the field, and that is noticeable."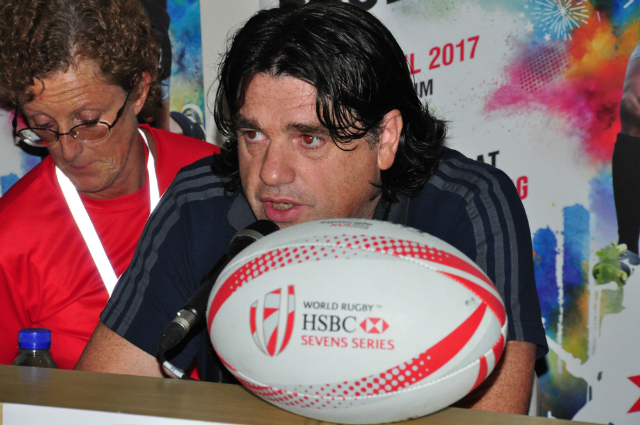 Reigt, however, insists that anything can happen. He said, "Each tournament is a new story. For example last week it was Fiji who was the best. Every team wants to win something and France could spring a surprise too. Argentina and United States have shown good form and they are hard teams to break down. They are dark horses for the tournament. They have a high work rate and are good on the break. They could win this if they have a really good day."
PLAYER TO WATCH OUT FOR
Amongst the players to watch out for this time, is England winger Dan Norton who became the all time leading try scorer in the Hong Kong Sevens, with 46 tries – this is two ahead of former record holder Injera. Norton has 36 tries in 40 games this season, compared to Injera's nine tries in 26 matches.
But this is not a problem to Injera and he will not be making this his main focus of the tournament. Said Injera, "Yes I am two behind Norton, after breaking the world record for the highest number of tries, my focus has shifted. We have young guys who have been introduced to the team. I have assumed a leadership position to help the guys to learn the ropes. Scoring tries isn't my top priority but if I get to score, that's well and good."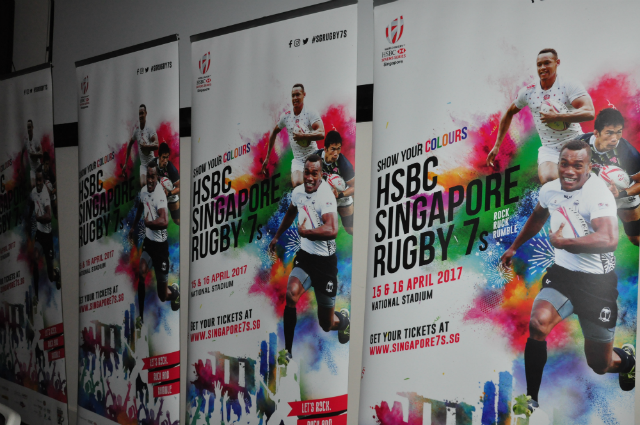 WHAT FANS CAN EXPECT
Together with the world class rugby action, fans can also expect in-stadia live entertainment with performances from former Singapore Idol finalist, Leandro Rasiah, and massive karaoke singalong sessions, while enjoying ice-cold Tiger Beer.
Spectators can also enjoy interactive game booths and food & beverage concessions, along the 100PLUS Promenade throughout the event. And for those who want to experience more action, there will be a free shuttle bus taking fans to Clarke Quay, the official After Party Venue for the HSBC Singapore Rugby Sevens, for the Music After Sevens festival.

Share this page with your friends!