He had wanted to "fly."
And last weekend, nine year old Rosqushairi Aandi bin Rosli had managed to achieve his dream of "flying"… on two wheels.
Aandi had been taught how to ride a bike, in a three part series of "Teach a child to cycle" organised by OCBC Cycle Singapore and conducted by staff volunteers from the Millennium Hotels and Resorts (MHR) as well as cycling enthusiasts from OCBC.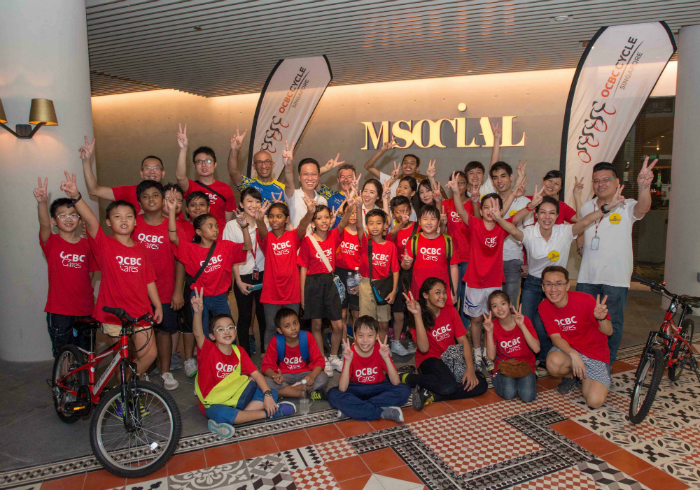 And towards the end of last week's session, which had been the second in the series, Aandi had been whizzing past everyone on his bike at breakneck speed, confidently resembling a bird in mid flight. In fact volunteers had even been struggling to keep up with the energetic boy!
Said Aandi, "I feel very happy and excited that I have learnt how to ride. The session was really fun and interesting. At first I kept on falling down, so I must now practise more so that I can ride even more without falling."
He added, "If I can get better at riding, then I can challenge my mother, brother, sister and my friends."
20 underprivileged children in the "Teach a child to cycle" programme
Aandi had been one of 20 under privileged children taking part in the programme. They came from one of the following groups – the Dyslexia Association of Singapore, the Business Times Budding Artists Fund, Thye Hua Kwan Moral Charities and the Yu Neng Primary School.
Together with the other children, Aandi had spent his Saturday morning learning the basic principles of cycling at the driveway of the M Social hotel in Singapore – the newest addition at MHR's stable of hotels in Singapore.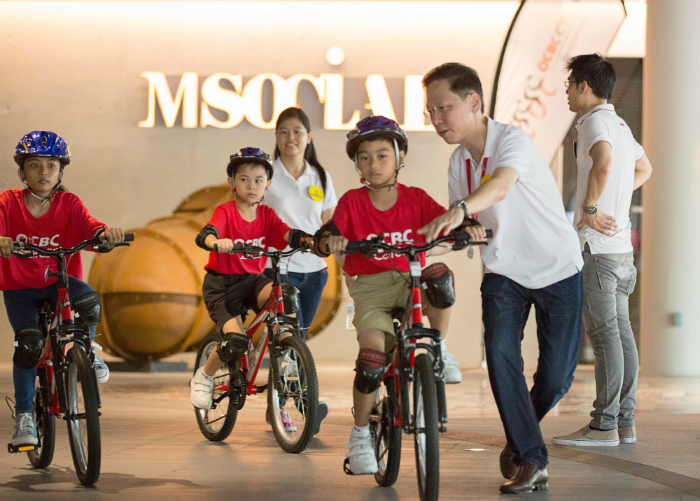 The two coaches in charge of the programme were from the Tri-Edge triathlon team, and they had brought the kids through a series of cycling drills, before engaging them in a "mini competition" requiring them to complete two laps of a circuit, the first one running and the second one cycling.
The kids had a complete blast – their laughter and enthusiasm to complete the exercises and drills, explained it all.
A meaningful partnership between MHR and OCBC Cycle Singapore 
Said Ting Huong Tak, the M Social General Manager, who is in his 40s, "This is a meaningful partnership between MHR and OCBC Cycle. It is an immersive experience for everyone involved, given that the cycling sessions requite active engagement and interaction between the volunteers and children."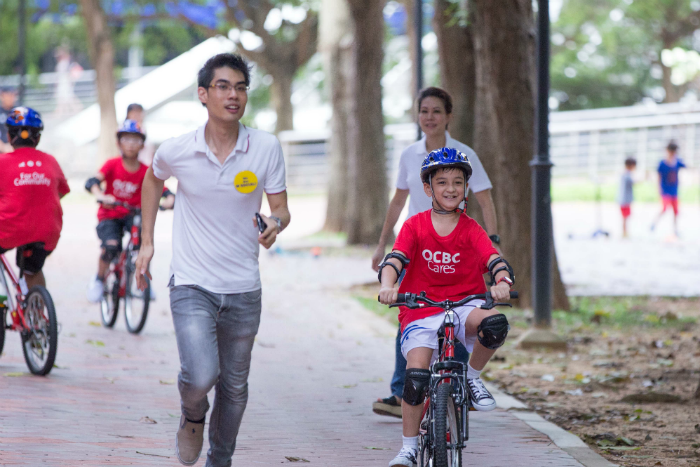 He added "We felt a deep sense of responsibility for the kids as they struggle to balance. By understanding their fears of falling, our volunteers took great care to motivate and help them overcome these mental challenges."
Rewards of the session were priceless
However the rewards of helping the kids to successfully learn a life skill are priceless, according to Ting."
He explained, "There is nothing more rewarding than seeing the smiles on the kids' faces at the end of the session when they are able to cycle on their own. This is worth all of the sweat and the running around after them."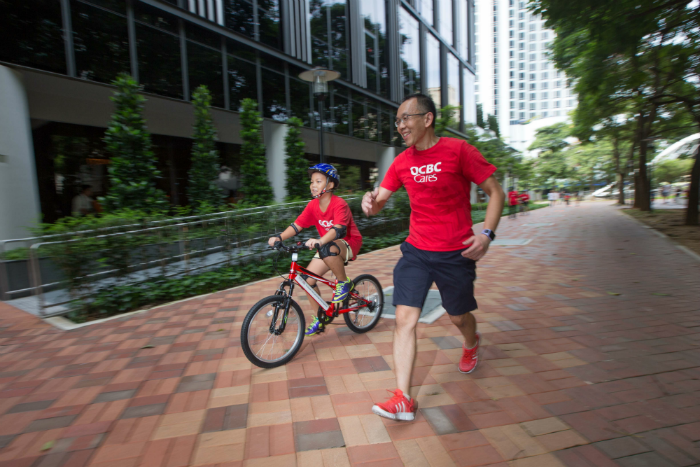 Putting together the sessions came with challenges
But putting together the sessions did come with its difficulties, conceded Ting.
He said "We have been very lucky with the support of MHR and OCBC Cycle in sourcing for the perfect location, which we have in the driveway of the M Social hotel. This is sheltered and very safe for the children to learn."
Added Ting, "Though this pose challenges in terms of guests arriving and clearing plants obstructing the driveway to make the path clear for the kids, we were able to mobilise the whole team to help out, and we are happy that everything turned out to be a success in more counts than one."
Ting is definitely pleased with how the previous two sessions had panned out. He said "For someone who had a fear of falling, and then at the end of the session you see them riding with a smile on their faces, it is priceless."
He added "Teaching these kids a life skill that they will never forget, makes me very happy to say that I am part of this effort that makes them now know how to cycle. We are appreciative of the chance to give back and contribute in any way possible."
Final part of the programme takes place next week
In the final and concluding session of the programme, taking place on 6 August, the children will take part in a half day cycling trip around the Gardens by the Bay and the Marina Barrage areas.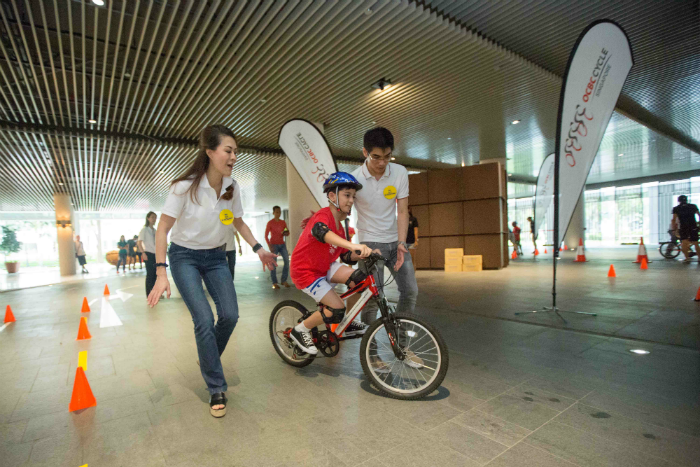 They will then tuck into a scrumptious lunch at the Grand Copthorne Waterfront hotel and a mini colouring competition.
Find out more about OCBC Cycle 2016
OCBC Cycle 2016, the nation's largest cycling event, takes place on 1 and 2 October this year. Visit www.ocbccycle.com for more information.

All images used in this post are courtesy of OCBC CYCLE SINGAPORE.
Share this page with your friends!