This morning, more than 250 women – who are taking part in this year's edition of the Great Eastern Women's Run (GEWR) – took part in Singapore's largest Zumba session at the National Stadium.
This event had been held as part of the Community Play Day at the Sports Hub and it had kicked off at 10am.
Led by Sunny the Lion
The workout had been led by the Great Eastern Lion, Sunny, and the ladies, who had formed one of the largest contingents at the event, moved to the beats of energetic music along with the crowd as they attempted to break the nation's record.
The Participants had lots of fun
Participants who took part in the Zumba session had enjoyed themselves thoroughly.
Said Ang Bee Tin via Facebook, "It was great!"
Added Dencil Pereria, also on Facebook, "Awesome!" and the comment was also accompanied by two green hearts.
Participants were so enthusiastic about being a part of the workout, and the "red" colour code that they had been instructed to follow…that some even did emergency shopping to prepare for it.
Said Reamy Garcia, on Facebook, before the event, "I do not have something red for Zumba… Need emergency shopping."
Altogether there had been a total of 3,248 participants taking part in the record breaking Zumba workout.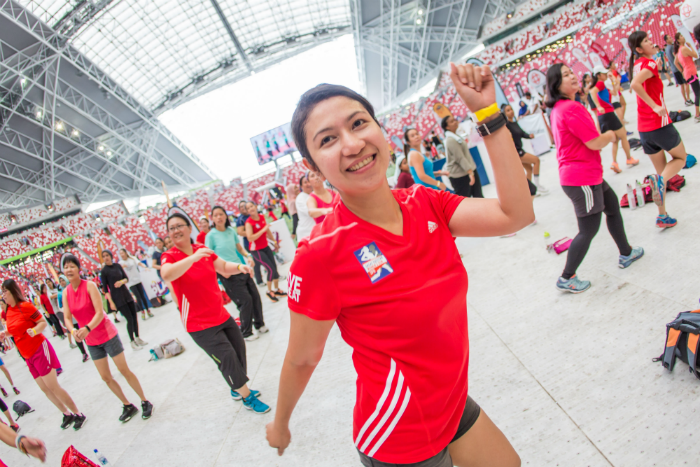 First fringe activity for GEWR runners
This event had been the first fringe activity for the GEWR running race.
Race day will be happening on 13 November and the race comes with the signature half marathon category as well as a 5km and a 10km run. For the children who do not want to miss out on the action, there is a 100m Princess Dash to cater to them as well.
Come 13 November, the GEWR will be flagging off from 5am at The Float @ Marina Bay.
Other fringe activities
Other fringe activities that are being held, to prepare women for the race, also include mega workouts, studio sessions and training runs.
In fact the next fringe activity will take place on 24 September and will see GEWR runners dancing at the Live Great Mega Dance Fiesta from 9am at Capitol Piazza.
Registration is still open
Registration for GEWR 2016 is still open but do hurry – registration closes on 30 September.
You can register for the race here.
https://www.greateasternlife.com/greateasternwomensrun/index.html
Discounts for Registration 
And runners who have the the Great Eastern Cashflo Credit Card will enjoy 10 per cent off their registration fees.

Photos are courtesy of GREAT EASTERN WOMEN'S RUN.
Share this page with your friends!