Singapore's largest mass cycling event, OCBC Cycle Singapore, was launched at orchardgateway mall yesterday, to plenty of fanfare.
Click here to view the OCBC Cycle 2017 launch photo gallery.
In a colourful launch event, four cyclists – the News Editor of The Straits Times, Marc Lim; President of the Singapore Cycling Federation, Jeffrey Goh; young cyclist Ariel Ow Yong and the Editor of The Business Times, Wong Wei Kong, were tasked with cycling as hard as they could in order to create enough energy to fully light up the launch buzzer; and once they did, the confetti automatically popped and rained down on the audience, declaring the event open.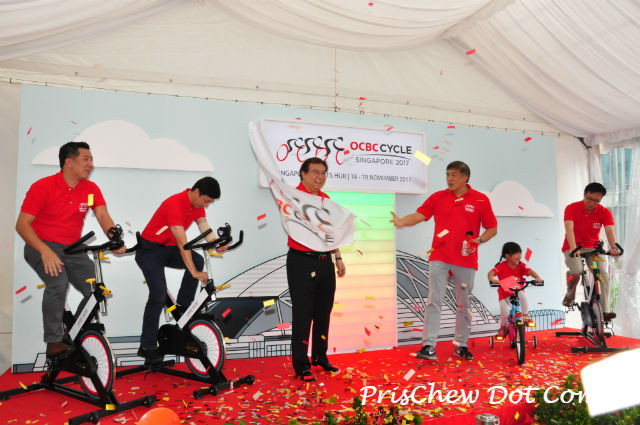 First cyclists to register receive attractive prizes
Present at the launch event also, were members of the public, who were vying to be the first to register at the event to receive attractive prizes. Lim Anthony Bojangin, 36, was the first cyclist who had signed up for OCBC Cycle 2017 and as a reward, he received a gift bag worth $888.90, including a Casio EXILIM EX-FR100 Action Camera worth $629, OrchardGateway shopping vouchers worth $200, Polar vouchers worth $50 and a Polar sports towel worth $9.90.
Anthony had been queuing up at orchardgateway since 10pm last night to be the first in the line. He signed up for The Sportive Ride (42km category). Said Anthony, "I was surprised to be the first one in line. I had expected to see a few persons ahead of me, actually."
A regular participant of OCBC Cycle, Anthony has been taking part in the event for the past three years. The 2017 event will be his fourth consecutive event.
Second in line and receiving a $100 orchardgateway shopping voucher, G-Shock GA-700 1ADR (worth $169), $50 Polar vouchers and a Polar Sports Towel, was Nian Xing Rong, 24 – who had arrived just 10 minutes after Anthony.
2017 will mark Xin Rong's first time participating in OCBC Cycle. He said, "I wanted to queue up for this event and win the prizes to celebrate my birthday next week."
Xin Rong will also be taking part in The Sportive Ride.
The first 300 cyclists to register at the launch event also receive registration fee discounts of up to 25 per cent and get gift bags containing items like Polar sports towels and vouchers.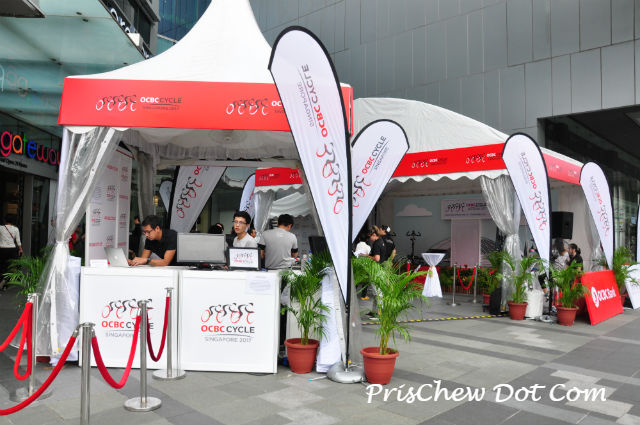 A brand new race category for corporates 
At the same time, OCBC Cycle 2017 will debut a brand new race category for corporates. This means that for the first time, companies in Singapore can pit themselves against each other to compete for top honours at the inaugural OCBC Cycle Speedway Corporate Championships. Two corporate races will be held on 2 September and 30 September on the National Stadium track to choose the top six corporate teams to move on to the OCBC Cycle Speedway Corporate Championship final on 18 November. There will be three qualifying rounds of races on 2 and 30 September, giving avid corporate cyclists opportunities to race and have fun.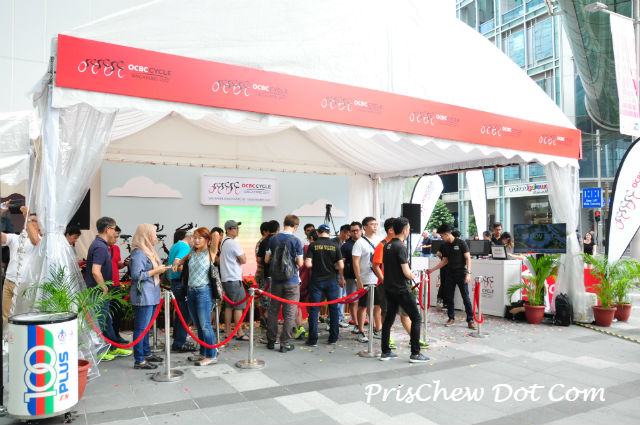 The new competition format mirrors the Speedway Championship races for both local cubs and South East Asian teams. It features a four-rider relay where teams are split up into two pairs to cycle five 400m laps. After the first two riders complete five laps of the 400m circuit, the second pair of riders will power through the next five laps. The team with the fastest overall time – that is, when the last rider crosses the finish line – will emerge victorious.
In addition to the new category, the other popular categories – that is, The Sportive Ride, The Straits Times Ride (23km), Mighty Savers Kids Ride for children and the OCBC Cycle Speedway South East Asia and Club Championships, will continue to feature.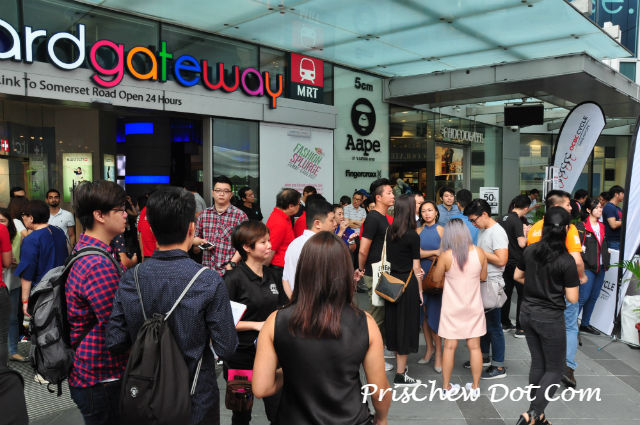 Said Samuel Tsien, Group CEO of OCBC Bank, "I am excited to unveil OCBC Cycle 2017 with our new race, new elements and new prizes. OCBC has been the proud sponsor of this one of a kind cycling fiesta since 2009, an event that captures the spirit of community participation in a healthy exercise that takes us to ride on roads that are closed just for us."
He added "Singapore has also developed to become a more bicycle friendly city. We have new cycling parks and paths, and more bicycle connections to public transport nodes. OCBC Cycle is a unique community event that brings together a growing pool of cyclists to experience the iconic motoring routes that have been made safe for them. Cycling is now a well accepted part of our daily lives and I am pleased that OCBC has played a part to raise the awareness of the fun of cycling."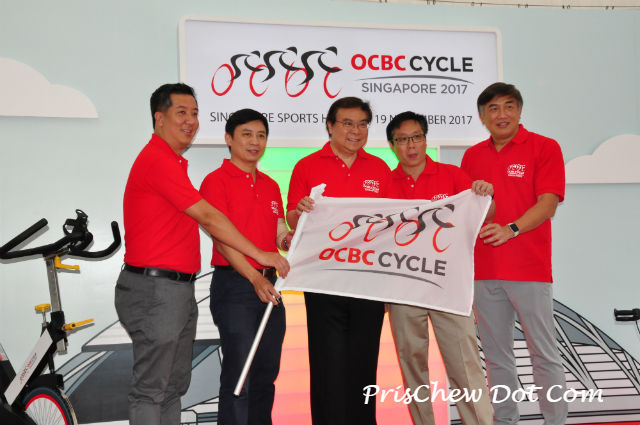 Super Hero tee shirt for the Straits Times Ride
To cater to the rising trend of themed sporting events, the cycling tee shirt for The Straits Times Ride has been designed by The Straits Times art desk to resemble a Super Hero outfit.
So as such, participants in this category are also encouraged to deck their bikes, helmets, sunglasses or accessories in creative Super Hero ways and the Best Dressed Super Hero stands to win a Casio EXILIM EX-FR100 camera worth $629.
Loyalty Participants 
For past participants, they will also receive a Loyalty Discount when they register for the 2017 event. Participants from the non-competitive rides of OCBC Cycle 2015 and 2016 will enjoy the Loyalty Cycling Discount of S$3 when they register for any OCBC Cycle 2017 non-competitive rides. A further 10 per cent discount will also be applied if payment is made with an OCBC credit or debit card.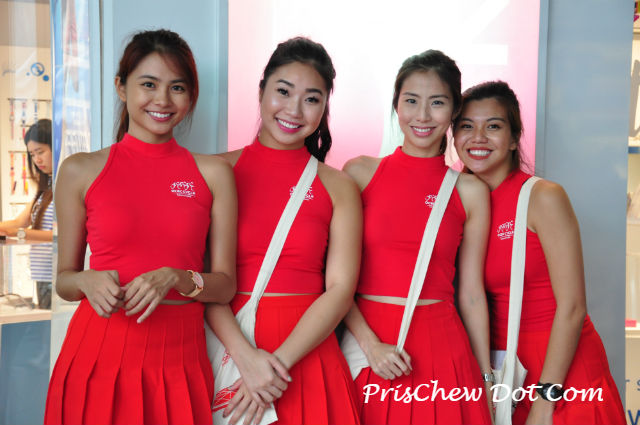 For 2017, the OCBC Cycle medal has also been designed to look like an abstract bicycle gear. Cyclists who take part in the next three editions of OCBC Cycle, that is, in 2017-2019, will collect three medals to form a complete gear. Every three years, the OCBC Cycle medals can be combined to form something new, fun and meaningful to cyclists.
Lead Up Activities
Like previous editions, there is a line up of fringe activities to build up to OCBC Cycle 2017. These include the popular Cafe Bike Crawl and an Injury Management Talk @ the National University Hospital, as well as other events such as the Polar Fitness BootCamp and the brand new Volvo Makan Trail – which is a food excursion which introduces participants to popular hawker locations where they can rest and enjoy great food. As well, the Teach A Child To Cycle initiative is also making a return too.
Giving back to the community
OCBC Cycle has also been giving back to the community by encouraging cyclists to support the underprivileged whilst engaging in their favourite leisure activity. This year, OCBC Cycle is partnering with NUHS Fund Limited, SportsCares Foundation, The Business Times Budding Artists Fund and TODAY Enable Fund.
The Business Times Cycle of Hope Bike Ride, targeted at corporates, also gives employees the chance to bond over cycling as an activity, whilst channeling a significant portion of the registration fees to the charity causes supported by OCBC Cycle. The company with the largest donation will be presented with the OCBC Cycle 2017 Largest Donor Award.
The OCBC Cares Charity Bazaar also made an appearance at the launch event, featuring a treasure trove of trinklets and other craftwork made by the beneficiaries and staff of the above organisations. These items will also be made available at the main event on 18 and 19 November, with all proceeds from the sales going directly to the beneficiaries.
Online Registration Opens Soon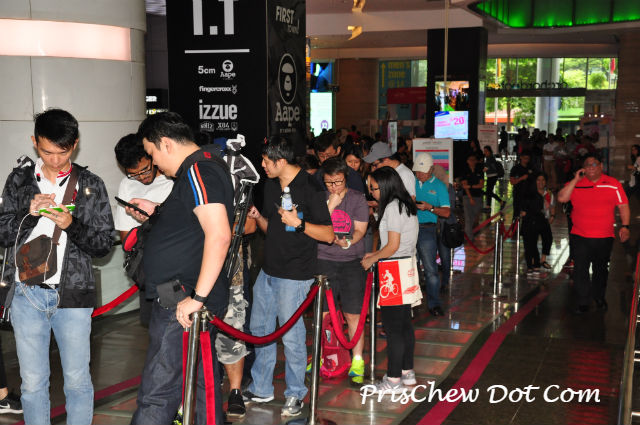 Online registration for OCBC Cycle begins 10 July at 10am.
In a nutshell, here are the key details for OCBC Cycle 2017.
Visit the event website at www.ocbccycle.com for more information.

Click here to view the OCBC Cycle 2017 launch photo gallery.
Share this page with your friends!