London club Arsenal are currently favourites to sign Liverpool striker Luis Suarez, but the two clubs have yet to agree on a price, as Arsenal are unwilling to meet Liverpool's minimum asking price of 55 million pounds.
Other clubs that Suarez has been linked to include Spain's Real Madrid and Germany's Bayern Munich – so he is clearly a striker in hot demand at the moment. Arsenal is still the clear favourite to land his signature, though and it seems to only be a matter of time before he joins the North London club.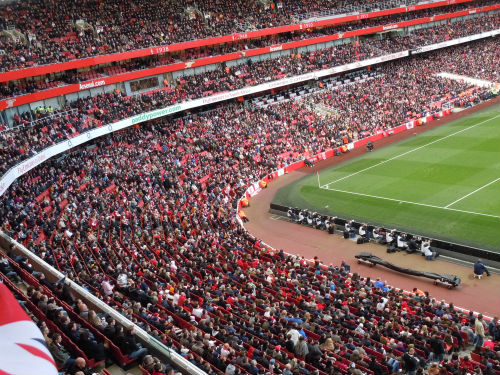 But if he does put pen to paper for the Gunners, will Suarez be able to help Arsenal though, and turn the Gunners from "pretenders" to "contenders" for the title?
Why is Suarez good for Arsenal?
Here are a couple of reasons why I think that signing Suarez is a good move on the part of the Gunners.
Suarez has the desire to win
In Arsenal's current squad, many of the players don't seem to have a winning mentality. On the other hand, Suarez is one player who does. That is precisely why Liverpool can rise to the occasion when the big opponents come knocking – but Arsenal have not quite been able to do this.
So if Suarez joins Arsenal, he will be able to bring the club the winning mentality that they are lacking at the moment. He could lead Arsenal to the Premier League, or even Champions League crown, all because of his hunger to win games.
Suarez is a prolific striker
He may not have won the Golden Boot, but if you analyse the statistics closely, Suarez probably has the best goals to games ratio, compared to other top strikers. Moreover, he has the uncanny ability to convert half-chances into goals – something that Arsenal have really needed, ever since letting van Persie go.
For example, he scored 23 goals in 33 games last season. On the other hand, Golden Boot winner Robin Van Persie had 26 goals in 38 matches, and Gareth Bale netted 21 goals in 33 games. Those figures definitely tell you something – and it is this very ability to convert chances into goals, that Arsenal really need at the moment. So signing Suarez would definitely be a great move for the Gunners and will definitely help with Arsenal's current inadequacies in front of the goalmouth.
Sending a message to the Premier League
In recent years, Arsenal has been a club that "sells" their top players to other European clubs. So by signing a player of Suarez's calibre, this will send a message to Europe, that they are serious about winning silverware and trophies, and that they are not just a "selling club" – which develops players from young talents into stars – only to sell them when they are reaching their peak.
Why should Arsenal not sign Suarez?
Despite his obvious talent, uncanny goal scoring ability and prolific leadership quality on the pitch, Suarez has some rather negative points too – he has been involved in a number of very controversial incidents, ever since he moved to England.
Some of the worst incidents that Suarez has initiated due to his violent conduct were when he racially abused Patrice Evra of Manchester United and when he literally bit Branislav Ivanovic of Chelsea, and got a 10-match ban for this.
If Arsenal does sign Suarez, such behavior comes together with the prolific goal-scoring ability and the obvious talent. So this is something that Arsenal need to consider about this player.
Share this page with your friends!