As you probably know already, yesterday Floyd Mayweather Jr (@FloydMayweather) defeated Manny Pacquiao (@MannyPacquiao) who had won world titles in an unprecedented eight weight divisions – by unanimous decision – in their welterweight boxing title bout.
Had faced off in the Fight of the Century last weekend
They had faced off in the Fight of the Century on Saturday, May 2 (9am on May 3 in Singapore). This had been held in Las Vegas – at the the MGM Grand Garden Arena and at the end of their bout, the score line had read 118-110, 116-112, 116-112 in favour of Mayweather.
More than 2.7 billion tweets across Twitter and the Web
Tweets worldwide about the #MayPac fight – in the build-up as well as during the fight – were seen 2.7 billion times on Twitter & across the web from 8 pm (Eastern Time) on 2 May until 3 am (Eastern Time) on 3 May.
The most Tweeted-about moments during the fight were as follows.
1. End of fight: Mayweather defeats Pacquiao 116-112.
2. Mayweather post-fight interview.
3. Pacquiao post-fight interview.
4. Round 12 comes to an end.
5. Pacquiao lands a flurry of punches as Round 4 comes to an end.
Outpouring of support for Manny
Following Mayweather's victory over Pacquiao, Twitter was abuzz with an outpouring of support for Pacquiao – as many netizens had felt that he should have been the winner instead. Here are some of the tweets in favour of Manny.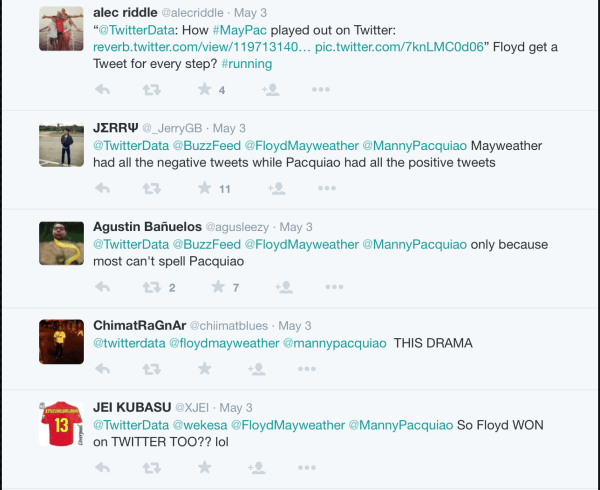 From what netizens on Twitter had to say, one thing remains as being clear – while Mayweather may have taken home the title, Pacquiao still remains the champion in the hearts of many.
Here is a global heat map of Tweets cheering on Manny as the People's Champ.
Share this page with your friends!