The new Arsenal Puma kits were launched last night in Singapore, to much fanfare. For my account of the launch event, read on.
The sea of Arsenal red and white had completely infiltrated The Vault at Boat Quay. The emcee was practically screaming her lungs out in anticipation. Frenzied excitement was clearly in the air.
The loud cheers and chants from the fans were contagious. And as an Arsenal fan myself, I was completely caught up in the atmosphere too.
All of the 150 Gooners were completely buzzing. And we had a very good reason to be. This was because Arsenal legend, Sol Campbell, was arriving.
Campbell in Singapore to launch Arsenal's new Puma kits
Campbell, a key member of Arsenal's Invincible Barclays Premier League (BPL) season in 2003/2004, was in Singapore last night – at an exclusive event for the launch of the 2014/2015 new Arsenal Puma kits.
This event, being the only Asia-Pacific stop for the new Arsenal Puma kit launch – gave Gooners in Singapore a very good reason to be excited about.
Said the Arsenal Singapore Supporters Club President, Eric Ong, 35, "In Singapore, we are privileged to be hosting the launch for this new kit for the Asia Pacific region – and to have a member of the Invincibles in Sol Campbell, with us. It is something that the fans in Singapore can be all excited about."
But being excited was probably an understatement – based on the crowd and the sheer noise levels generated last night!
Sol Campbell Makes his Appearance
The atmosphere grew tenser… when a huge bus adorned with Arsenal décor slowly rolled into view. The cheers grew louder as it gradually came to a stop.
Then the doors of the bus were pulled open. Sol Campbell walked out, flanked by a small group of models who were there to walk down the makeshift "catwalk" – to display the new collection of Arsenal wear.
Everyone went crazy and started screaming in frenzied delight. Passers-by must have wondered what was happening.
Could barely believe my own eyes
I couldn't quite believe that I was really seeing this Arsenal legend in the flesh. It felt like a dream – and I almost wanted to pinch myself to see if this was real.
Having started watching football in 2002, I have witnessed Campbell playing on the field, but actually seeing him in person and standing so close to me, was a completely different story altogether.
First time many Gooners were coming so close to Campbell
Like me, other Gooners – including Ong, have never come this close to an Invincibles' legend, like Campbell, before – so we were all excited.
Said the Arsenal Singapore Supporters Club President, "Personally, this is the first time I have met Sol in person. I have seen him play live at Highbury before, but that was from a distance in the stands.
He added, "This is the player's first trip to Singapore on behalf of Arsenal and he is a really nice guy. The way he carries himself embodies the class and tradition of what being a Gunner is all about."
What the Gooners thought of Campbell
All the Arsenal fans loved the player.
Said Gary Lau, a news-anchor from Hong Kong, "When I see Campbell's photos, he seems to be very cool and distant. But when I met him, he was so nice and polite!"
And Lau, 20, couldn't stop gushing about the autograph that he got from Campbell too. He said, "I never expected this. When he signed his name on my jersey, that shows his kindness. It was definitely one of the best experiences of my life!"
And my sentiments are certainly the same as Lau's. When I approached him for a photo, he was all smiles despite the tiredness that he was probably feeling.
It was a pity that I had such a short time with him – due to the long queue of fans all clamouring for a photo with him too!
Fan Questions answered by Campbell
Besides the meet and greet photo session with fans, Campbell also took questions from a small handful of fans during the launch. One of these lucky Gooners was 22-year-old university student Melody Foo, who had picked Campbell's brain for any interesting dressing room stories.
She said, "I was so nervous when I went up to talk to Campbell. I think that was because I was star-struck and couldn't believe that he was so close to me!
"But he didn't answer my question properly, even though I tried to fish something out of him!"
However, the fact that she had met Campbell and held a short conversation with one of the club's legends is an experience that will probably stay with Melody forever. His response to her question was probably only secondary.

Click here for a fans Q&A session with Sol Campbell.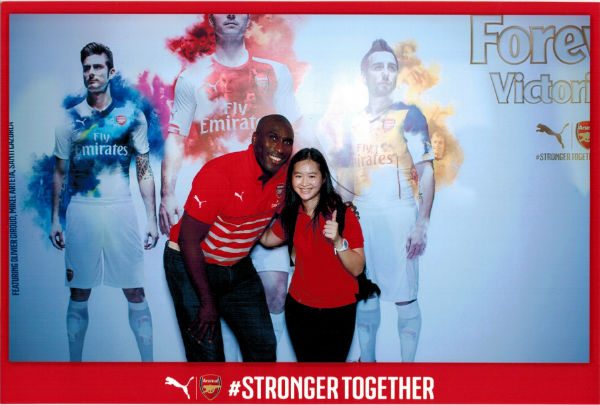 More Blog Posts
Be A Gunner. Be A Runner. An Arsenal Run in the Rain
Arsenal 2014 FA Cup Final Experience

Gooner on The Road: A Travelling Arsenal Fan
Share this page with your friends!