This 2017, Puma have launched the next generation power boot, the evoPOWER Vigor 1. The new boot, which is being tipped as Puma's greatest design overhaul in the POWER football boot series, consists of an upgraded silhouette that keeps power and accuracy at the heart of the design.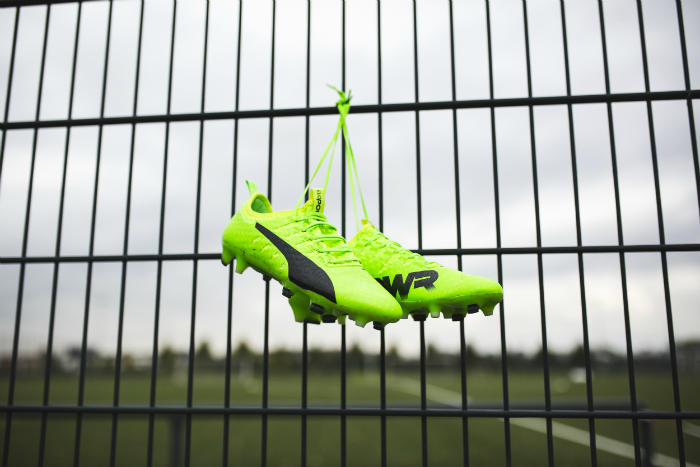 Technology and features
The boots will feature a stretchable Spandex sock construction, creating a comfortable slip on booth with a barefoot feeling. Also the Spandex sock works together with Puma's AccuFoam upper technology which features a new engineered 3D format.
Also, the PU foam dots help to regulate the uneven surfaces when the foot comes in contact with the ball and this maximises precision when striking the ball with power and efficiency.
Puma's Adap-Lite material is further enhanced with a new support cage which allows the foot to bend and the one way microfibre upper material supports the natural biomechanics of the foot when kicking and striking. And GripTex, a Puma technology on the upper of the boots, help with enhanced grip and improved ball control.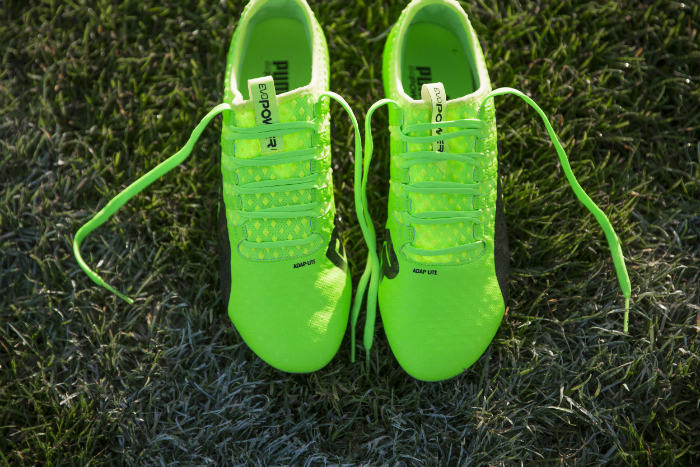 Like previous editions, the football boots will also comprise of a mixture of bladed and conical studs – to ensure optimum ground penetration and stability, especially on the stance leg.
Colour Statement
To create a statement, the boots feature a sleek new look in allover Gecko Green colour and finished with Safety Yellow and Puma Black detailing.
The PU dots are Safety Yellow, to fashion a subtle graphic pattern across the upper and this is replicated on the outside of the boots.
Puma had examined top players in action
Said Puma's General Manager for TeamSport, Matthias Mecking, "We closely examined our top players in action. We examined the way that Olivier Giroud transfers every bit of power into strikes and Balotelli's final third domination nd powerful goals. We examined what the body naturally brings to the ball and how we can give it even more impact and better aim, and so we took the boot construction to the next level."
Players love the boots
The boots will be worn by stars such as Arsenal's Olivier Giroud, Mario Balotelli from French club Nice, and new Puma ambassadors, Arsenal's Petr Cech and Marc Bartra from Borussia Dortmund.
Added Giroud, "The new evoPOWER Vigor 1 boots is next level. I am enjoying playing in a boot with a slip on construction; it is ridiculously comfortable plus the foam dots are a total game changer for me."
The new boots are retailing for SGD329 at Puma Bugis+, Puma VivoCity and in Weston Corp outlets across Singapore.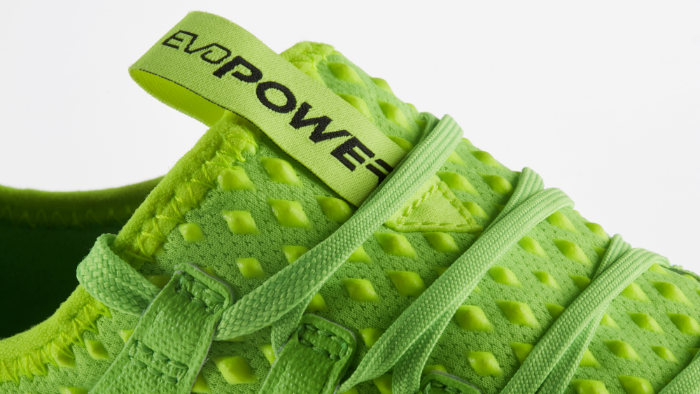 Try on the boots
Test out the evoPOWER boots for yourself – at Weston Corp, Kallang Wave Mall, from now till 24 January.
You will be tasked with shooting down 6 targets using 6 shots.
Details are as follows.
Date: Tues, 17th Jan to Tues, 24th Jan 2017
Location: Puma evoPOWER Shooting Arena located at Weston Corp, Kallang Wave Mall #01-58
Time: 6-8pm daily
Prize: A winner will be chosen daily to walk away with a pair of evoPOWER Vigor 1 boots
Share this page with your friends!