Do you often pride yourself for the amount of determination and strength that you have? Are you able to achieve physical tasks that your family and friends are often wowed by? If so, then the Puma 24 Hour Trainathlon will be right up your alleyway.
Taking place across several cities 
Taking place across cities such as Singapore, Kuala Lumpur, Beijing, Jakarta, Tokyo and Hong Kong, the Puma 24 Hour Trainathlon will challenge its participants to endure training for 24 hours, no matter what it takes.
Participants must demonstrate extreme determination and strength to make it through the obstacles to the very end of the challenge.
Singapore leg takes place on 5 and 6 September
The Singapore Trainathlon will take place on 5 and 6 September. Participants, in teams of four, must go through a combination of individual and teamwork challenges. Each team participating in the challenge must work together for 24 hours to complete a series of challenges involving body weight movements, as well as strength and endurance.
To sum it up, types of exercises that participants may be required to undergo, could include burpees, lunges, mountain climbers and pushups. Some exercises are based on body weight, but others could require the usage of additional weights.
Timetable and Format
Here is more information about the timetable and the format of the Puma 24 Hour Trainathlon in Singapore. (See Tables below)
Teams which fail to make the cut are eliminated
The first round of eliminations will take place after the first six hours. After that, teams which fail to make the cut, will continuously be eliminated, till there are three teams left standing.
These final three teams must then complete in the Grand Finals on 6 September, for the grand prize. This is a trip of a lifetime to Hong Kong, where they will compete in the Trainathlon Finale on 19 September 2015.
Event Details
Here are the details of the event. (See Table below)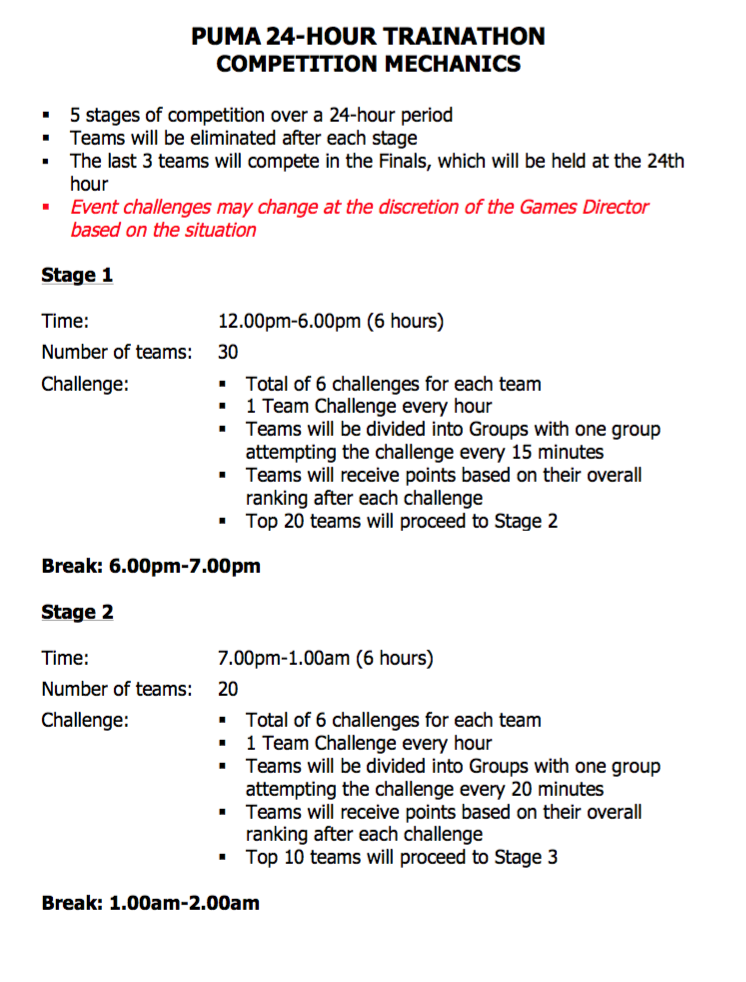 Registrations Now Open
Registrations are open now and are limited to the first 30 teams. To register, go to Puma's website at go.puma.com/24HoursSG

Share this page with your friends!