The Singapore International Triathlon (SIT) is Singapore's pioneer triathlon event and has been around for more than 30 years.
It had been established in 1984 when triathlons and endurance sports were relatively unknown in Asia, but over the years, it has grown to become one of the most highly anticipated endurance sports events in Singapore, attracting up to 3,000 triathletes hailing from all over the world.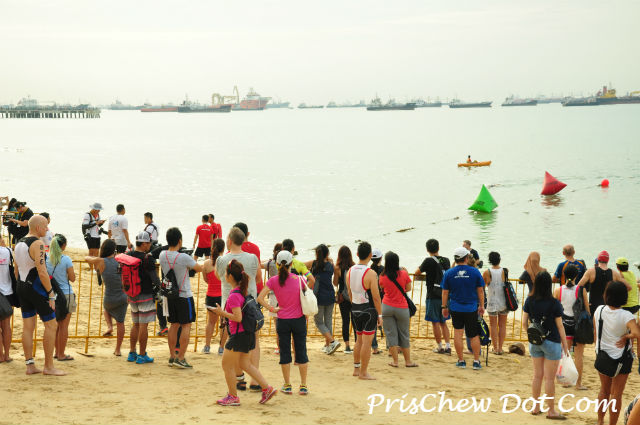 Took place this morning at Angsana Green
The 2017 event of the SIT took place at Angsana Green, East Coast Park this morning, and consisted of the Standard, Sprint, Mini and Kids triathlon distances.
Participated in the Sprint category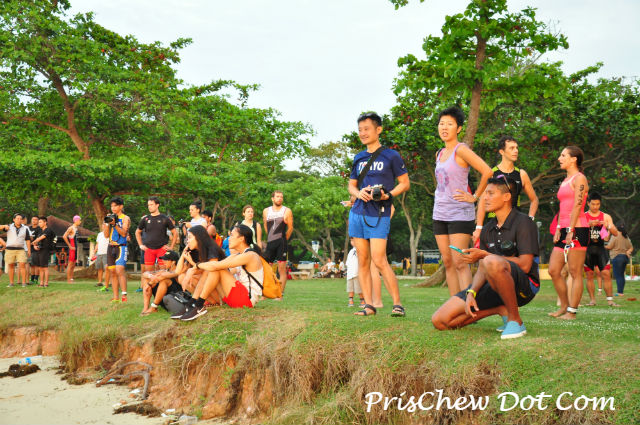 I took part in the Sprint distance. This was a 750 metre swim, an 18km bike ride and a 5km run.
My start time was at 9.40am, so I had aimed to reach the race site at around 9am, in order to give myself enough time to lay out my things in the transition pen, get my body markings done, and catch my breath before my wave was scheduled to flag off.
I admit that my preparations in the couple of days leading to this event had not been ideal though; as it had been my birthday weekend, I'd been eating a lot of sugary foods, such as cheese tarts, ice cream, cakes, pastries and chocolates.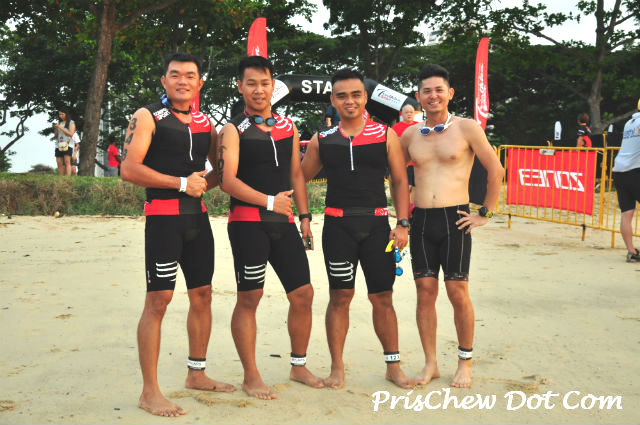 And this had been capped off with a delicious but filling birthday dinner at the Morton's Steakhouse at Mandarin Oriental, too. So my tummy was still feeling a little bit bloated when I woke up for the triathlon. I had hoped this would not play up during the race.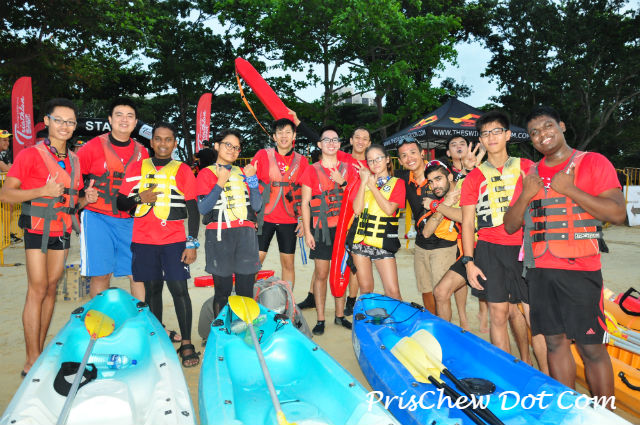 Start Delay of about 5 to 10 minutes 
We were let into the start pen rather promptly, but there was a delay of about five to ten minutes before we started our race.
I later found out that this had been because a male Sprint participant, who had flagged off in the wave before us, had experienced difficulties in the water and was being carried to shore as a result.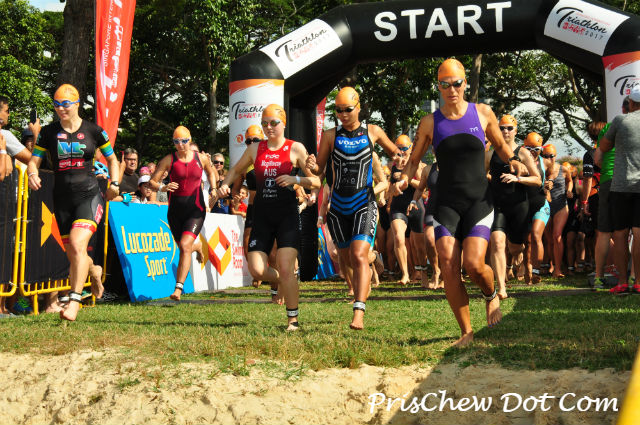 As I raced, I had really hoped that this participant would be okay, but to my dismay, the guy, who had been identified as being Stephen Begley from Britain, had subsequently passed away later in hospital. My thoughts go out to him and his family.
Swim Leg
For my swim leg, I am generally quite slow and must also say that swimming has never been my strongest sport; so I did not find it that easy to fight against the currents during the swim, in order to stay on the course. I think that this is perhaps because I am too used to swimming in a pool!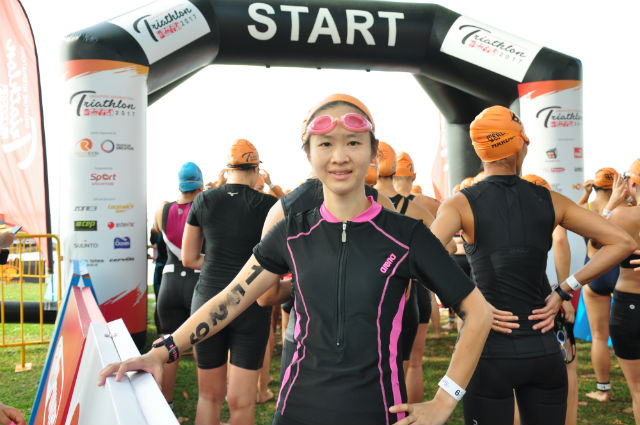 But fortunately the condition of the water was at least better than it had been during the TRI-Factor Triathlon though… when it had literally resembled a tumbling of a washing machine!
And on the return journey when I was swimming back to shore, because the current had kept on pushing me against the rope, I found that I had to waste extra energy trying to stay away from the rope, as a result. I had to stop and catch my breath a few times then, as well.
Added Pamela Vondodungen, 36, a science teacher at United World College, "The current was really strong so I was fighting with the current, but other than that, the swim was all good."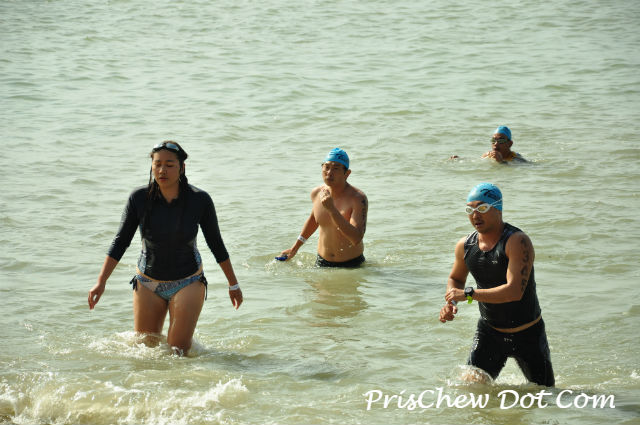 Agreed Chua Sze Ting, 26, a radiographer, "I am not a strong swimmer, so it was hard to swim against the current as I am not used to it."
I also noted that there were plenty of safety boats in the water and they were keeping a lookout on the safety of all of the participants. When I had stopped to hold the ropes and catch my breath, they checked with me if I was feeling okay. This was good to know, as the participants' safety is always important in events such as these.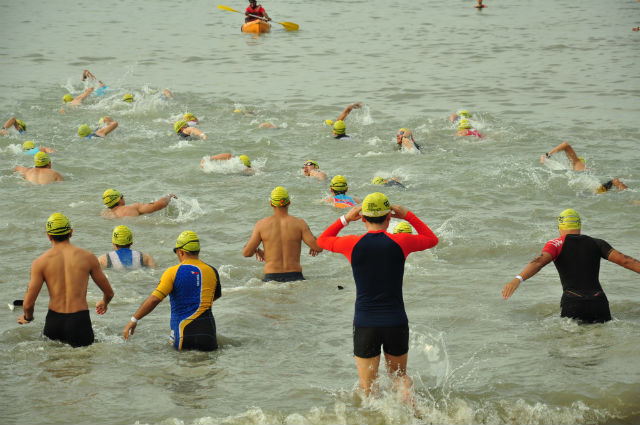 Bike Leg
The bike leg had been an enjoyable experience for me though, and the 18km of cycling had passed by all too quickly.
The bike course – which was a simple route that took us from Angsana Green towards the National Sailing Centre and back – was flat with some gentle slopes, and I could feel a slight breeze when I was cycling as well and that had helped to enhance my cycling experience, as well.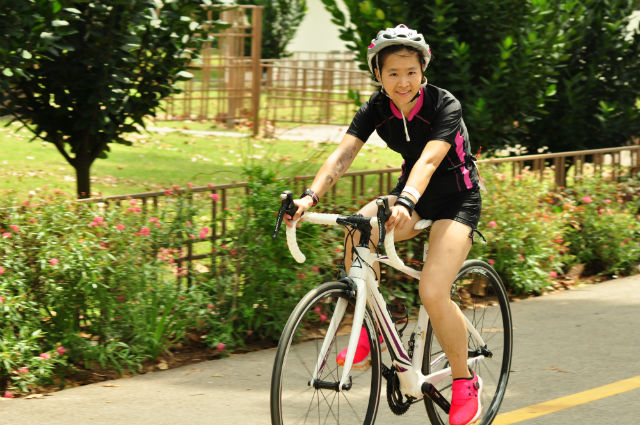 The sun was starting to come out towards the latter stages of my bike leg, but due to the breeze, it was still quite cool and I did not really feel the heat yet.
Said Ian Brownlee, 68, a city planner, "The bike had no hills and it was beautiful."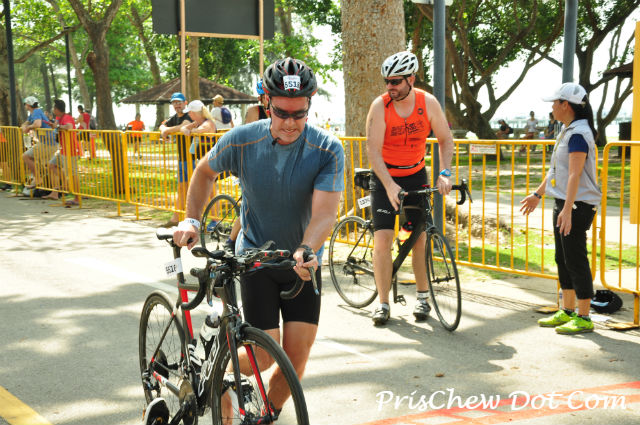 The directions and signages were also good during the bike leg and the volunteers were alert, in terms of warning participants of sharp turns and when to make a turn along the course, so that nobody would get lost on the way.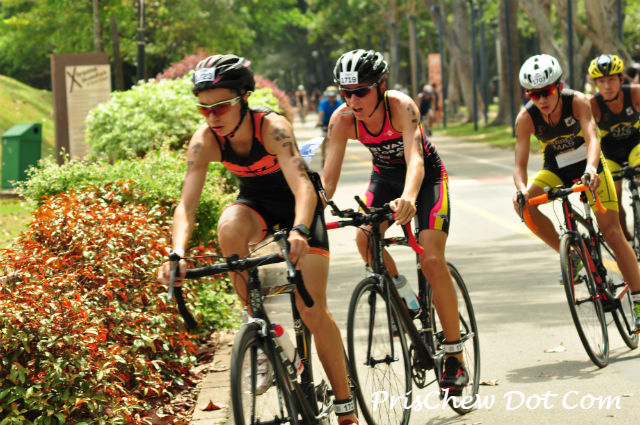 The volunteers also did a rather good job in controlling the traffic as we were cycling past, as the route had not been closed off to non-participants, that is, the occasional runners and cyclists who were not taking part in the event.
Run Leg
For the run, I would say that it had been a pretty wet experience.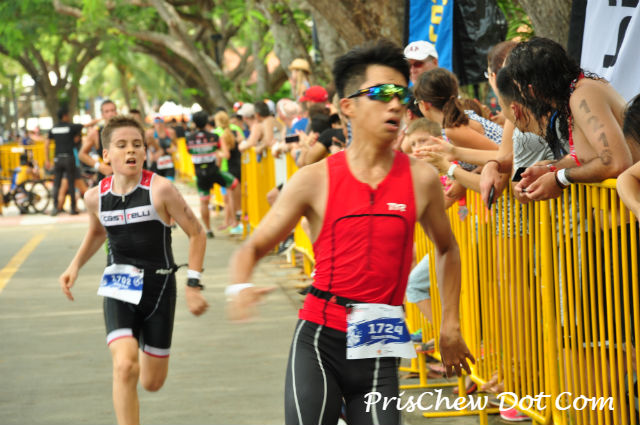 The run course took us from Angsana Green towards the East Coast Park Food Lagoon hawker centre, the chalets and towards Marine Cove before making a u-turn back to where we had come from.
When I started running, the sky had been more cloudy than I had expected, but at that stage, there was still no indication of what was to come…
Gradually though, the sky started turning blacker and this made me get worried…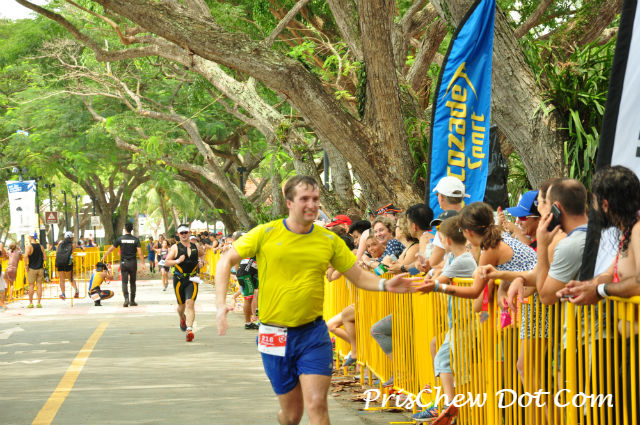 And when I was approaching the halfway point of the run, the winds stared blowing very strongly, and within about 5 minutes after that, there was a sudden, unexpected downpour.
I admit that I had initially been hoping for the rain to hold off, until after I had completed the run, but it was not to be.
I saw a couple of participants rushing for shelter in front of me, but I figured that since I was already wet, and that as there was no lightning, there was no harm in carrying on with the run to finish the race.
The volunteers manning the water stations, however, had all scurried for shelter, so the participants were simply helping themselves to the hydration when it started to pour.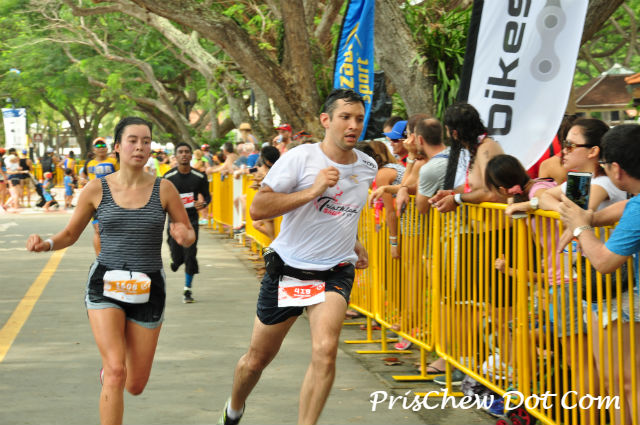 There were also ample hydration stations along the 5km running route too. I counted about three. Said Pamela, "There were plenty of water points."
The directions and signages, in my opinion were quite clear, in terms of when to make a turn and when to go straight.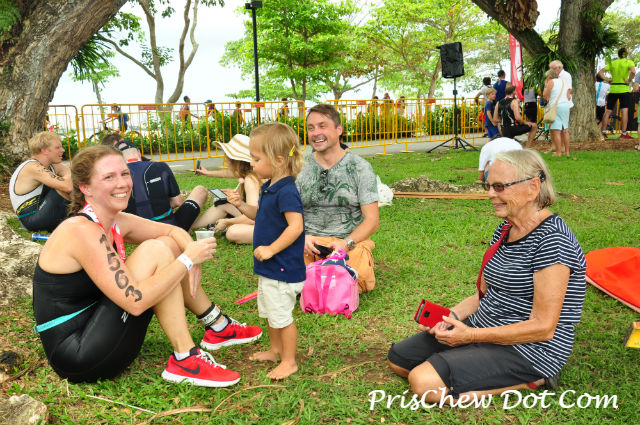 However as there had been multiple u-turns along the way for the different distances, it was possible that participants who were less alert or who may not have studied the race route, may have accidentally turned too early, despite the fact there were volunteers positioned at each of the u-turns.
I would say that running in the rain feels quite liberating though and it had really helped to cool down my body! The final couple of kilometres of the run was quite enjoyable and I found that I was also able to run faster than I had expected without my body feeling so exhausted.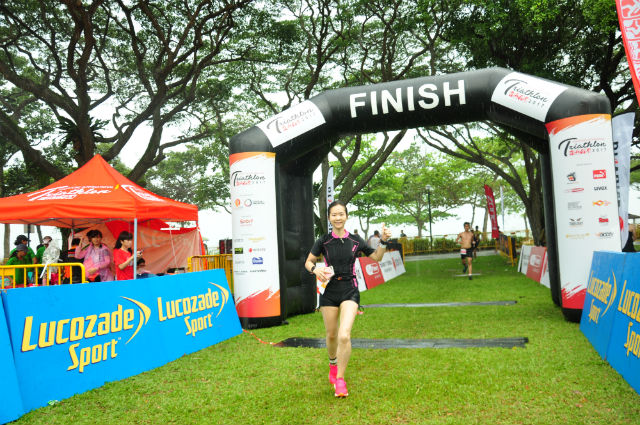 Ronald Dooremalen, 38, however had found the run exhausting, though. He said "The run was the hardest part for me because I had no energy left by that point."
I must admit too, that especially during the run leg, I was a bit worried that stomach cramps would surface on account of my indulgence during the weekend as stomach cramps have happened when I ate too much the night before doing exercise on previous occasions, but fortunately I had been okay this time around.
Thanks to the rain, I was able to finish strong despite the slow start, and I managed to catch up with quite a few of the other participants in my category.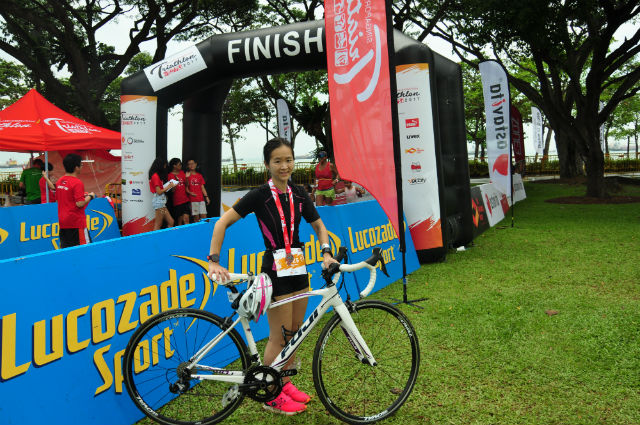 Race Village
I collected my medal and also took some Lucozade upon completing the triathlon. Then I headed for shelter inside the Astavita booth, where a mini photo wall was initially set up for participants; unfortunately the photo wall had to be taken down when the rain arrived. As I am one of Astavita's ambassadors, I took the chance to say hi to the others at the booth though.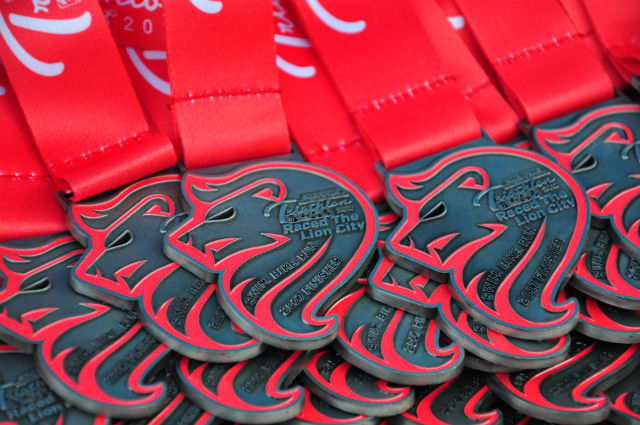 When the rain stopped, I used the opportunity to take some pictures at various locations around the race village with my medal, in order to mark the memories of the race.
At the race village, I noticed that there had been booths set up by a few of the other event sponsors, such as Zone 3 and Pere Ocean.
But because I was quite wet and tired, I did not really look closely at what they had to offer; instead, I decided to make my way back home, so that I could get cleaned and dried up.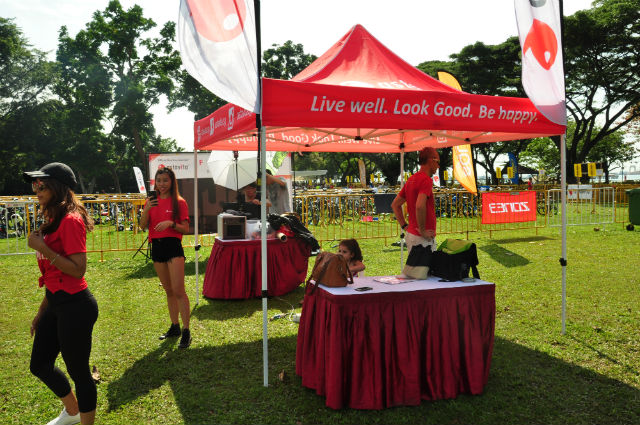 Well Organised 
Overall, the SIT though had been a rather well organised event and I was quite happy with the experience in terms of how everything had been arranged.
Other participants were also happy. Said Pamela, "Everything was well organised and really smooth. The transition areas were also good and well marked."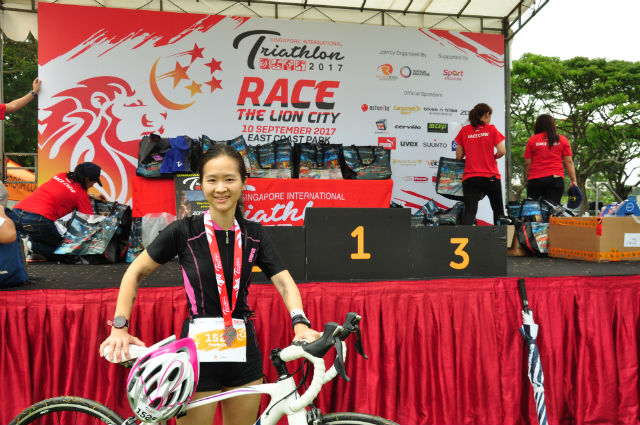 She added, "But maybe there could have been more moral support and cheering for the participants along the way, though."
Improvements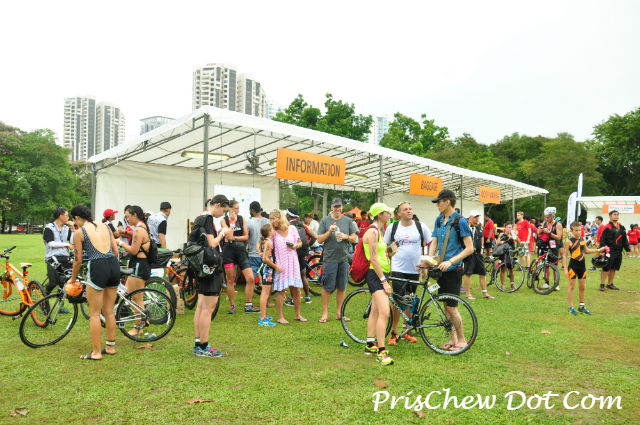 But Ian had some improvements though.
He said "I am 68 years old but I had to participate in the 45 years plus age group as that was the oldest age group. So I was quite disadvantaged in that aspect. Other events around the world have age group categories up to 70 plus years old. As you get older, you want more encouragement to keep on going; if the organisers can have more age groups, I think that it would get more older people coming to take part."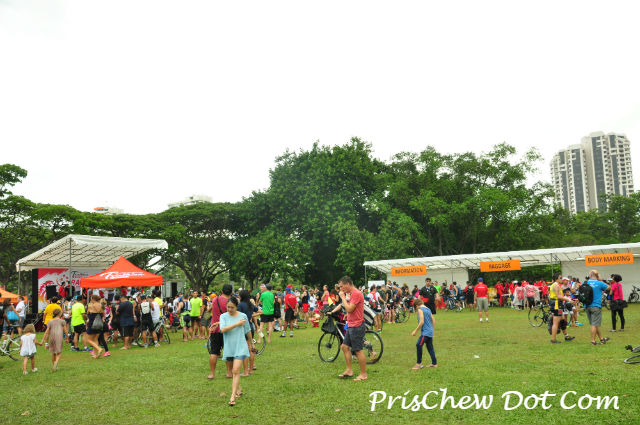 He added "But apart from that though, everything else was fantastic and I enjoyed my experience at the race."

Share this page with your friends!