This coming Saturday evening, the Singapore Sports Hub will play host to the biggest game of the rugby season, with the first international test match between two Tier One nations, Italy and Scotland.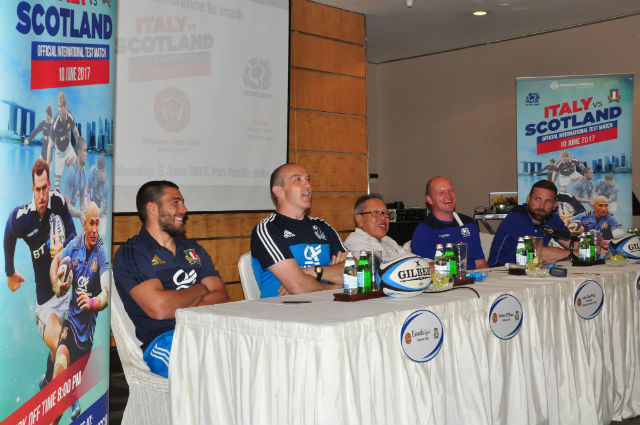 Said Low Teo Ping, President of the Singapore Rugby Union, "The clash between the Azzurri and the BraveHearts is the first international to be played in South East Asia between two Tier One rugby nations. So we are looking forward to it and we hope that we will have a crowded stadium. This is set to be a really classic international match."
So to mark the occasion, a press conference had been held yesterday noon at the Pan Pacific Hotel and this was attended by members of the media. Attending the press conference had been Italy coach Conor O'Shea, Italy captain Edoardo Gori, Scotland coach Gregor Townsend, Scotland captain John Barclay, and Low.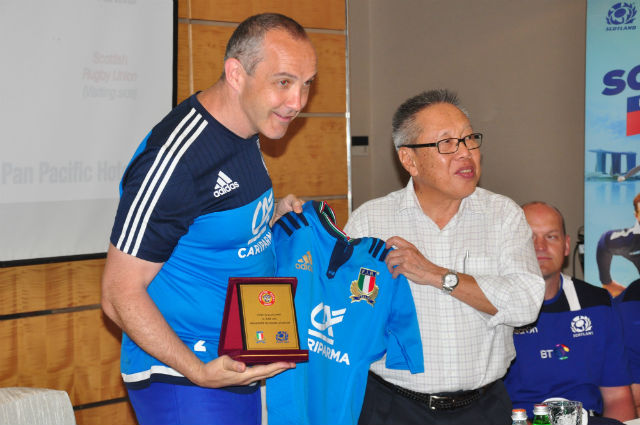 Scotland coach Gregor Townsend's first game in charge
The game will be Scotland coach Gregor Townsend's first game in charge and he will be hoping to start on a winning note.
Said Townsend, "I have managed to spend the last few weeks working with the players, getting to know them and putting together a game plan. The players have worked hard over the past few years and they now have the confidence and success had started to come. I am here to build on that momentum and help the team improve even further. With improving comes winning and I want the players to reach their full potential and to win more games."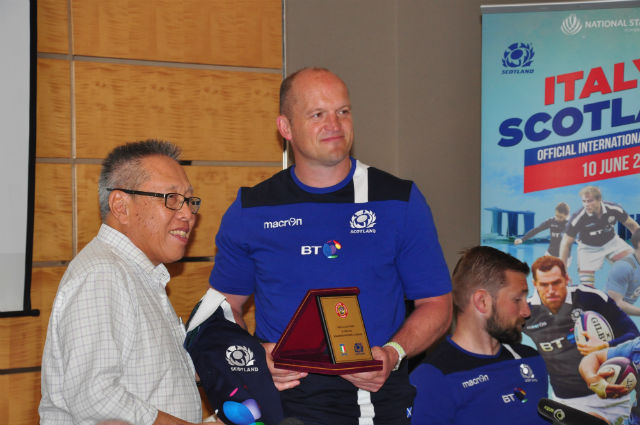 He added, "Coaching my first game, it has been unreal to arrive in Singapore for the game. For the past few weeks, from a coaching perspective, we have started to get to know the players more and we will be inviting the public to a training session, after which we will focus more on training specifics for the upcoming match. The players are confident; they have worked hard over a number of years and the success is beginning to come. I hope to build on that."
Scotland have won three of their last five matches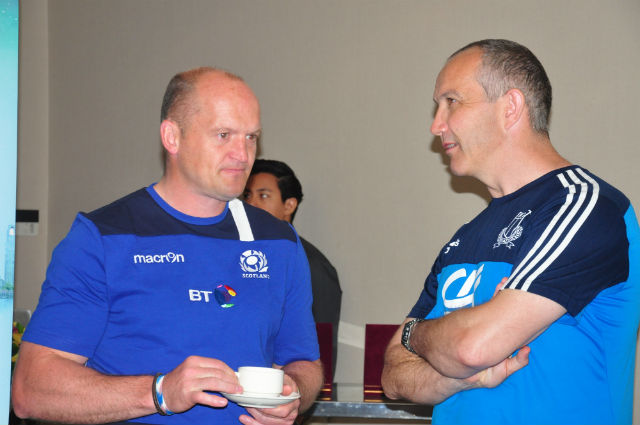 Led by skipper John Barclay, Scotland have won three of their last five Six Nations matches this season, including a 29-0 against Italy at MurrayField in March. Italy on the other hand, had been winless in their last Six Nations campaign and are now looking to turn things around beginning with Singapore.
Winning over Scotland is not beyond the Azzurri
And ranked 15th in the world, the Italy coach Conor O'Shea believes that a win over Scotland is not beyond his team.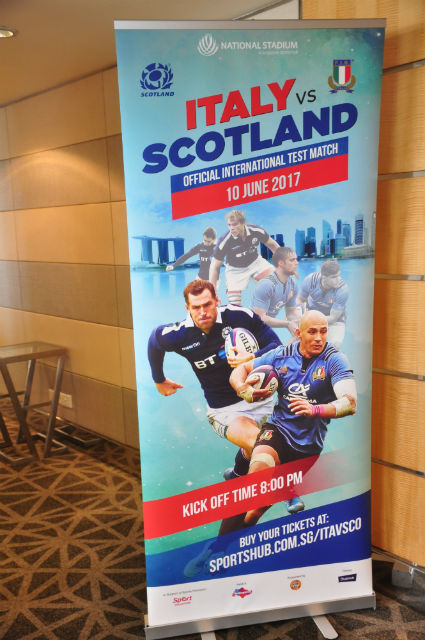 Said O'Shea, "There is a difference between Italy and Scotland but it is not a massive difference. Our guys don't get all the resources that others do, but we are making fundamental changes for the future and we have just brought in a conditioning coach. Our goal is not to be winning World Cups, but to change Italian rugby for the future. Scottish rugby has shown that if you make the right changes, you can make rapid strides and catch up quickly. Our job this weekend is to put a little more pressure on Scotland and take our chances instead of missing them all."
He added, "It is incredible to be here though, and feel the passion for rugby in Singapore. As coaches, we don't just want to win matches but we want to grow rugby around the world and it is an incredible thing to be a part of all this."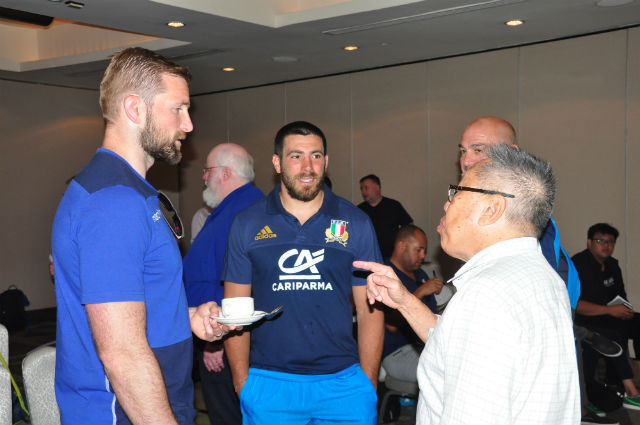 Third encounter on neutral soil for the two sides
In the past 27 meetings between the two sides, Italy has beaten Scotland eight times. Last November, the Azzurri beat world number four, South Africa, 20-18 on home soil and received a standing ovation in Florence.
This Saturday's game will mark the third encounter on neutral soil between the two sides. Scotland won 18-16 in Saint Etienne in 2007 and 30-29 in Pretoria but Italy fans will be hoping for the roles to be reversed in Singapore.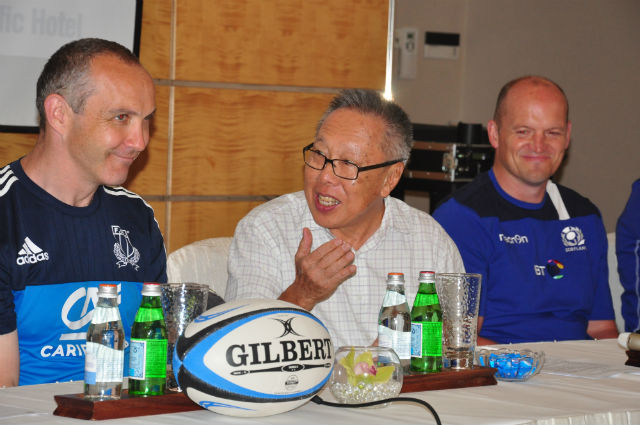 Said O'Shea, "We have one goal and we will go out headlong to win this."
Added Gori, "We will be going all out to attack them to win."
Concerns about Singapore humidity
Both the Azzurri and the BraveHearts, however, had expressed some concerns about the humidity in Singapore though. Said Barclay, "You get used to your own playing climate at home, and it is going to be hot here in Singapore. But we will get on with it. It will be hard, but we will give everything that we have got to win the game."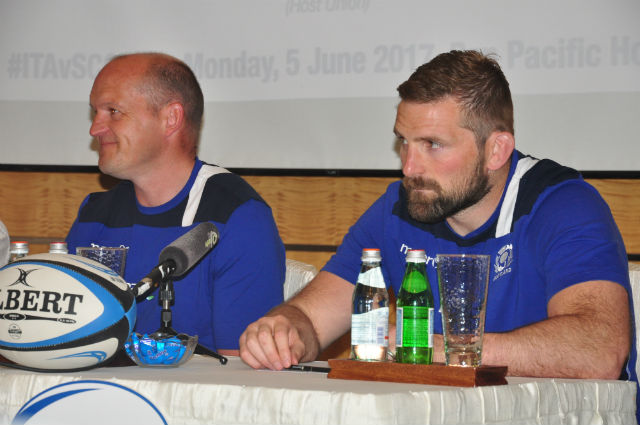 Low also pointed out though, that the humidity and warmer conditions will be a good experience for the teams as they gear up for the 2019 Rugby World Cup in Japan. He said, "The temperatures that the teams will face in Japan will be just as warm, if not, warmer than here. So it would be great to acclimatise here and get over the jet lag so that the teams can head to Japan and do well."
Creating history in Singapore this coming Saturday
Nevertheless both teams are looking forward to the opportunity to create history in Singapore come Saturday.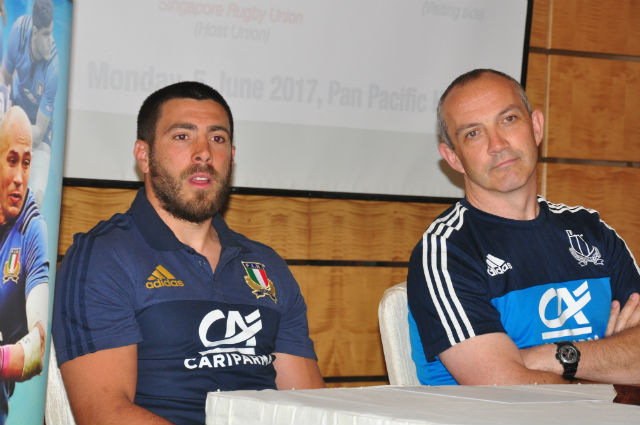 Said Townsend, "It's exciting to be able to play in such a unique stadium and the fact that it will be Scotland's first international there will make for a great occasion. We hope that having two European teams playing here will inspire players, coaches and more youths to watch the game for the first time. For those who are passionate about rugby, they will now know that Singapore is a country that is really embracing rugby."
He continued, "It was amazing to be able to tell the players when we had driven past the National Stadium for the first time, that they will be playing the first international in the stadium."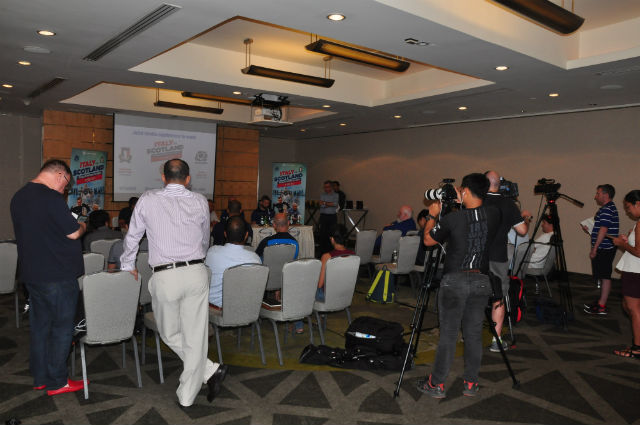 And added O'Shea, "It is incredible to be here and the passion for rugby in Singapore is tremendous. The welcome that we received when we arrived in Singapore was incredible. There were so many people rallying around the sport; all the people whom I have met here are passionate about the game and are looking forward to seeing rugby making more strides in Singapore. This weekend the boys are looking forward to the match and we hope that we can put a bit of pressure on our opponents by taking our opportunities."
Hopes that Italy and Scotland can help to grow rugby in Singapore and the South East Asia region
Low hopes that through this match, the two teams can help to grow the sport of rugby in the region. He said, "Importantly, both teams are not just here to play a match. They will also engage the local rugby fraternity and businesses. Test matches like this help to grow the fanbase of Rugby Singapore, but will also grow the sport in South East Asia which has a population of 620 million people. We are looking forward to as much support as possible, this Saturday."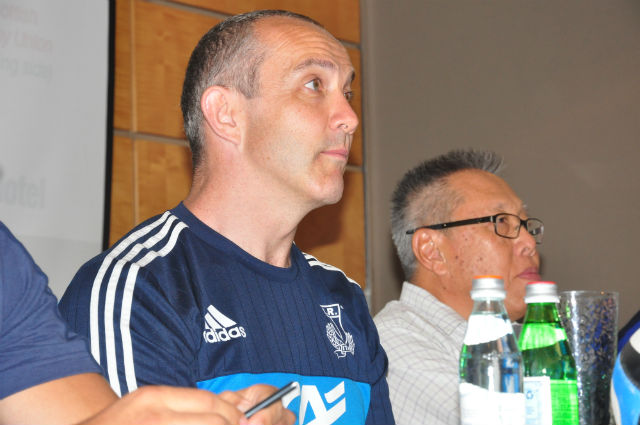 Tickets are still available
Tickets for this once-in-a-lifetime Test match are still available. Premium tickets are priced at S$80, while Category 1 and 2 adult tickets for S$50 and S$20 respectively. Under 18s get a 50% discount on tickets for Category 1 (S$25) and Category 2 (S$10), while Under 12s tickets cost S$1 only. A small booking fee applies on all tickets.
To purchase your tickets, visit www.sportshub.com/itavsco, while overseas fans can purchase them from www.stubhub.sg
Share this page with your friends!