The 2XU Compression Run took place this morning at Marina East Drive – and in the 21.1km Category, 31-year-old Melvin Wong emerged as the winner in the Men's Open in 1 hour 15 minutes and 58 seconds. And in the Women's Open, the winner was 42-year-old Anna Helowicz, finishing her run in 1 hour 30 minutes and 18 seconds.
He ran the race to keep his fitness levels in check
Wong, a Sales Associate, admitted that he didn't expect to win the 21.1km race. He said, "I didn't expect to win here. I just came to ensure that I kept my fitness levels in check as part of my training and to build up to bigger things next season. I am really happy where I am right now in terms of that."
For Helowicz, the director of an animation company, she was more pleased to have completed the race rather than anything else. She explained, "My last race was at the Gold Coast Marathon in July and I pulled out of that halfway. So coming into this race, I was nervous about being able to hold it together. I was happy when I crossed the finishing line – but winning was definitely a bonus."
She knew that she had a chance of a podium finish
Before the race, despite her nerves, Helowicz thought that she had a chance to clinch a podium finish at this race. Said Helowicz, "I knew that a lot of the top women runners were at the ASICS City Relay the night before – so I felt perhaps I might have been able to get onto the podium here. There was a good chance of that… as long as my body held together though!"
This is despite Helowicz admitting that she did not have a good lead-up to this particular race. She said, "The last two months for me have not been good for my running, aside from the last couple of weeks. Consistent training is not only good physically but it also gives you lots of mental confidence – which I didn't have as much as I would have liked, coming into this race."
Focused on keeping the momentum going
On the other hand, Wong admitted that heading into this race, he did not have any expectations. He said, "At the starting line, I did not expect anything other than a good timing here. I think that all along, my mantra for coming into races is to work hard and lower my personal best. So a victory was a bonus, not a necessity."
Wong added too, that his successful race strategy that led to his victory, had been simply to keep the momentum going. Explained the runner, "My success was down to keeping the momentum going. A lot of times, when we are at the front, we tend to slow down or to give in to our own struggles. But what keeps my motivation levels up, is that I am on my toes all the time and I try not to slow down."
Wong owes his success to others 
While there is no one person that he owes his success to, Wong adds that there are several people who have played a part in his journey to success as an athlete. He said, "My wife, my coach and training team, as well as all the friends who have been my training partners and running buddies, have played a part in my journey and I owe this small victory to every single one of them."
Part of a larger goal for his running
The win at the 2XU Compression Run this morning was part of a larger goal in terms of his running, explained Wong. He said, "This race was part of a larger goal to lower my 5km and 10km times for next year. This second half of the year will also continue to be used to gauge my fitness to reach this goal."
However, he doesn't have Olympic dreams yet. Said Wong, "We'll start small first! Let's focus on the next South East Asian Games (which takes place in 2017 in Malaysia) and if my times are good enough and the support is good along the way, then perhaps I will start to think about the Asian Games."
Helowicz owes her success to her running club
On the other hand, Helowicz says that her running club, the Singapore Shufflers, are integral to her success. They do hard interval workouts every Monday evenings at the Bukit Timah area as well as helping to organise Parkrun – a free global weekly 5km time trial held every Saturday morning at East Coast Park.
Tips for runners
What tips does she have for runners? Said Helowicz, "Run as much as your body can take. Do not go out there and kill yourself at every training run that you do. It is good to take things easier sometimes and supplement your running with a few interval training sessions and threshold pace running."
Added Wong, "Also, when you are tired and fatigued during a race, you must ensure that you do not slow down, slouch or have bad posture. I think that what distinguishes a good runner from the common folks, is the ability to maintain his or her form throughout a race."
2XU Compression Run Winners
Here is a full list of winners at the 2XU Compression Run 2015.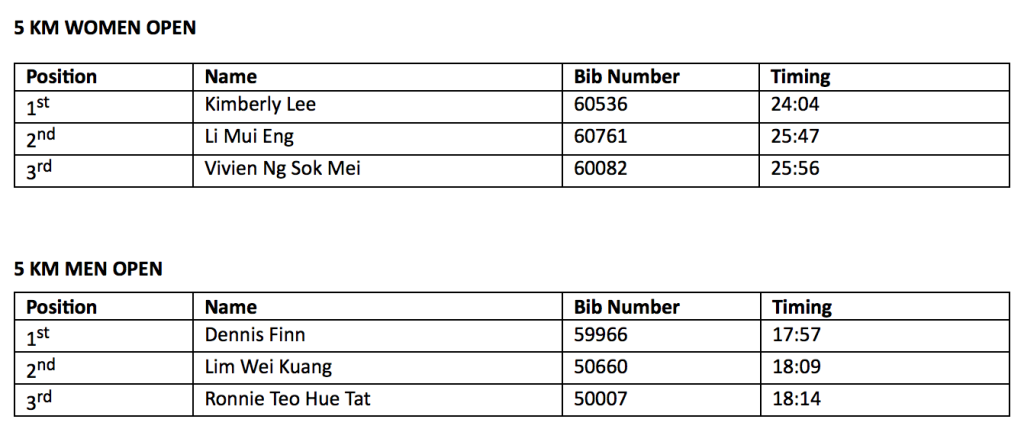 Click here for my RACE REVIEW on the 2XU COMPRESSION RUN 2015.
Other blog posts
Share this page with your friends!