More than 14,000 runners from 337 companies participated in the 13th edition of the J.P. Morgan Corporate Challenge Singapore – the longest-running corporate sporting event series in the world.
The race was part of the global J.P. Morgan Corporate Challenge Series that takes place in 13 cities in seven countries around the world – with the aim of encouraging a culture of work-life balance in a hectic and busy world that never slows down.
The 2016 Singapore edition of the global event had been flagged off last evening at the Esplanade Bridge and the runners completed a 5.6km route in the direction of Raffles Avenue and Republic Boulevard, to the finishing line at the Formula One Pit Building.
Jason Lawrence was the first finisher
Coming in as the first finisher had been Jason Lawrence, Dean Of Physical Advancement at the Overseas Family School. He had completed the race in a timing of 17 minutes and 27 seconds.
Said Lawrence, 34, "It's always nice to come in first. I haven't been training and racing seriously in a long time but this win indicates that I am on my way back and onto even better things. Today is a step in the right direction – I am going to be 35 years old in July and I believe that I can still run personal bests."
He added "At the race I had wanted to employ a minimum effort strategy because I didn't think that I was as fit as I used to be – when I last won this competition three years ago. But when the gun goes off you just get very competitive and try and break the other person as soon as you can."
The cooling weather and drizzle made running pleasant 
Lawrence attributes his good performance last evening to the cooler weather and the drizzle. He said, "During my last winning performance at this race three years ago, I was a lot fitter, and the skies were blue and the sun was out. But today the sky was overcast and the rain came, so that helped my speed. But of course, being in Singapore, we can never get away from the humidity though."
Also finding the weather quite cooling and pleasant to run was Irene Groschang, an Engineering Project Controller at Evonik who had represented her company at the event yesterday. Said Groschang, 43, "The route was lovely and the weather was great – there was a slight rain at the beginning and that was good to cool us all down."
She added "Overall though it was a fun but exhausting race and I am happy with my performance – even though i had finished 20 seconds slower than my target time of 30 minutes."
Atmosphere at this race is always great
Also finding the atmosphere really great was Joe Blanchard, 44, and working in Global Wealth Management at J.P. Morgan. He said "It was a great run for me today – the atmosphere is always great at Singapore's J.P. Morgan Corporate Challenge and today was no exception. There was plenty of fun and lots of runners and people smiling at you and with the great corporate hospitality – it always makes you feel good. I would rate my run today an eight out of ten."
He continued "The route was also fun – running past the Singapore Flyer and through the F1 Pit Lane – not many people get to run through the Pit Lane so it felt really nice."
Could be starting corrals for runners
However, Blanchard felt that there could haven been starting corrals for the runners though, because there had been quite a few slow runners at the front of the starting line. He added "And people should run on a treadmill at the gym to find out how fast they can go, before the race, so that they don't underestimate their own abilities."
Also feeling that there could be improvements at the starting line was Patsy Lim, a banker at Sumitomo Mitsui Banking Corp. She said "It started to rain at 5.20am and as a result they flagged us off about 10 minutes early. But there were people pushing their way across the starting line – I wasn't sure what the rush was, as we were only running 5.6km, but I was a little bit disappointed with that."
Happy with the run
She continued "But apart from that though, the run was very smooth and there was no congestion, and the rain stopped after about 15 seconds. Overall it was a good run for me and I managed to improve my timing by 5 minutes, which I am happy with."
Also happy with his run was Peter Yap, 47, an Assistant Manager for Warehouse and Distribution for catering drink and food supplier, SATS.
Said Yap, who was his company's fastest finisher with a timing of 23 minutes and 18 seconds, "The run was quite unexpected for me. Based on my experience from the past few years, I have not been able to get to the front of the starting line, but I tried to get as close as possible."
He added "Then when the race started, I set myself to run at a 4min/km pace for the first 3km and clocked a 3.45min/km pace in the final 2.5km, and shaved off two minutes from last year's run. So I am pleased."
Though the rain also helped his performance by reducing the heat factor, Yap added that he had been a little wary and was prepared to amend his race strategy, just in case it turned into a downpour. Said Yap, "Though cool weather does help, I was telling myself that if it got heavier, then I would slow down – it is no point running so fast and falling down, but fortunately the rain had only been a passing shower."
Nice to mingle with colleagues and friends after completion
He added, "And after completing the run, it's always good to mingle with colleagues as well as friends from other running clubs and get to network with them at the corporate tents."
That is because a race village was set up post-run, for runners to mingle and network with other participants, thus further encouraging camaraderie amongst companies and colleagues.
This vibrant race atmosphere is also what the Minister for Culture, Community & Youth, Grace Fu – who had also participated in the event – loved about the race. She said "What I particularly like about the J.P. Morgan Corporate Challenge is the companies coming together in a very jovial and relaxed atmosphere. It is a fantastic way to spend an evening with your colleagues."
The Minister added, "I think in the last few years, we've seen many new runs, but J.P. Morgan occupies a very important niche to the corporates and takes place on a weekday, so that's really suitable for people working in the CBD."
She had flagged off the first wave before joining in the run herself.
After Singapore, the next stop of the J.P. Morgan Corporate Challenge series will be in Rochester, New York, on 24 May.
Winners List 2016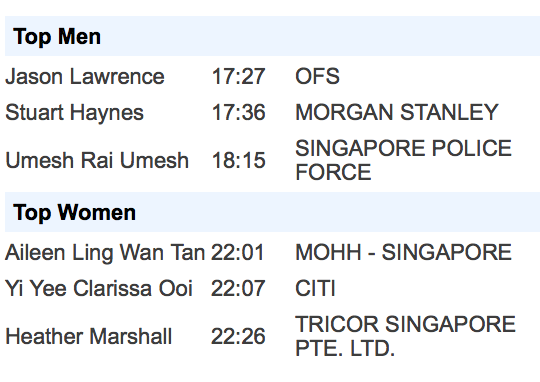 Share this page with your friends!