The Pokemon Run Singapore 2017 will be taking place in less than a week.
South East Asia's first Pokemon themed run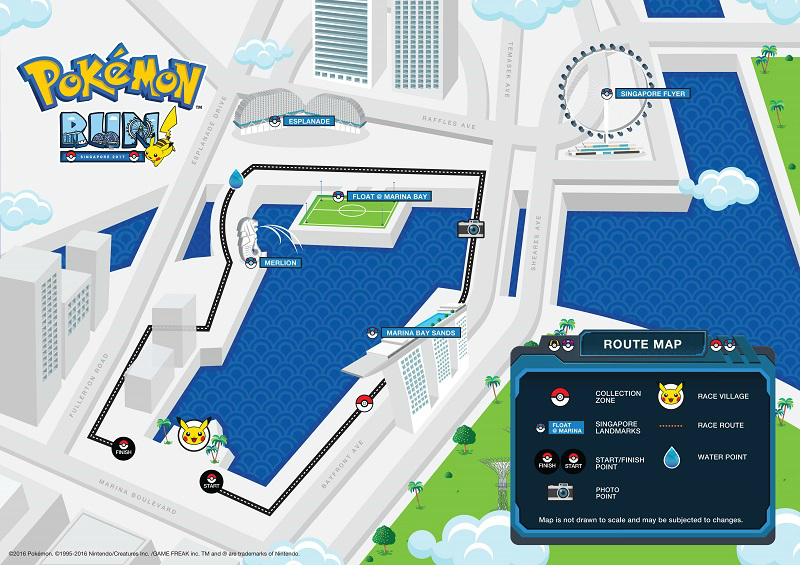 Billed as South East Asia's first official Pokemon themed run, the race will be flagging off at 9am in the morning on 14 January. It will flag off from the Promontory @ Marina Bay. A Japanese media franchise which had originated in 1996, Pokemon has since grown into a worldwide sensation, promoting the spirt of discovery as well as values of courage, honour and friendship.
Pikachu will lead a warm up session
The 5km untimed fun run will begin with Pikachu, the face of the Pokemon franchise, leading a warm up session. The friendly yellow electric mouse will also encourage participants to start the race safely and take care of their bodies when they are running.
And as they are running, participants will also have the chance to stop at designated selfie points and take photos with their favourite Pokemon – this is because Munchlax, Pikachu and Togedemaru will be placed at specific photo points along the route.
Run alongside Junichi Masuda from Game Freak
In addition, about 400 lucky junior trainers – aged between four and 12 years old – will have an opportunity to run alongside Game Freak's founding member and the composer of the Pokemon Games' music – Junichi Masuda, who is visiting Singapore for the first time and will be partaking in the run.
The 400 lucky junior trainers will also receive a mystery gift as well as join in an autograph session with the composer after the run.
50 lucky adults will also be chosen from registered Pokemon Run Singapore participants, to be a part of the exclusive autograph session.
Pikachu Parade and more at the race village
At the Pallet Town themed race village, participants can look forward to a Pikachu Parade dancing against Singapore's city skyline, as well as life-sized cut-outs of more than 10 Pokemon, including the three starter Pokemon from Pokemon Sun & Moon: Litten, Rowlet and Popplio.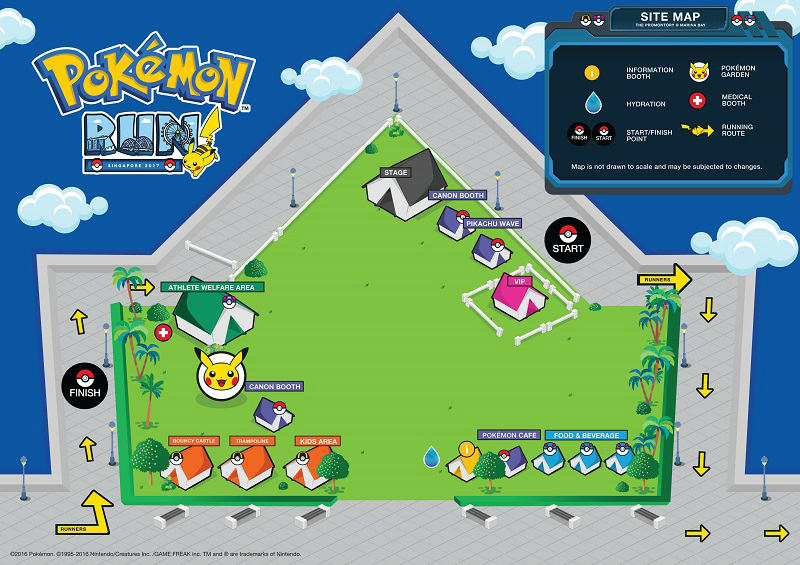 As well, trainers can head on to the Trainers Village to play and recharge with games such as the Trampoline, Bouncy Castle and Bead Making sessions. There is also a pop up Pokemon Cafe, as well as Asanoya Japanese Bakery and Watanabe Coffee for trainers to purchase popular Japanese gourmet delights to satisfy their post run hunger pangs.
For more information
More information on the run can be found in the screenshot below:

All images are courtesy of ©2016 Pokémon. ©1995-2016 Nintendo/Creatures Inc. /GAME FREAK inc.
Share this page with your friends!