Not too long ago, experienced marathon runner Uncle Chan Meng Hui, now aged 87, and I, had been invited by Astavita Singapore and the Tri-Factor Series Singapore to give a short sharing session on why we both love running.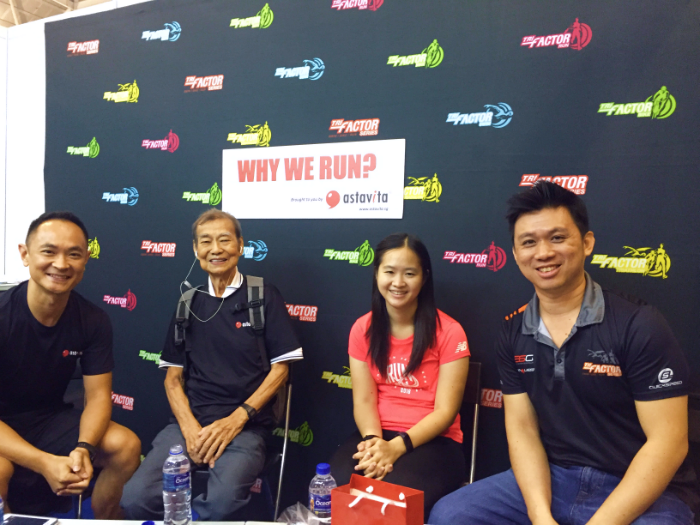 Uncle Chan took up running at age 56
Uncle Chan, who had only taken up running at the age of 56, had admitted that he used to be a heavy smoker and drinker and had frequented night clubs often during his younger days.
He had shared, "I took up serious long distance running at the age of 56, after I retired from my job. I stepped down for a while to think about how I was going to plan the next half of my life. So I then started to run."
Today, Singapore's oldest marathon runner has completed a massive 102 marathons, which is more than his original target of 100 marathons.
The marathons that he has taken part in, include Singapore's very own Standard Chartered Marathon and the Sundown Marathon, as well as overseas ones, such as the Bangkok Marathon, Gold Coast Airport Marathon and the Penang Bridge International Marathon as well as some lesser known ones like the Mongolia Sunrise to Sunset Race and the intriguing Midnight Sun Marathon in Norway.
For the record his marathon personal best is 3 hours and 26 minutes which had been set at the Kuala Lumpur International Marathon at the age of 56.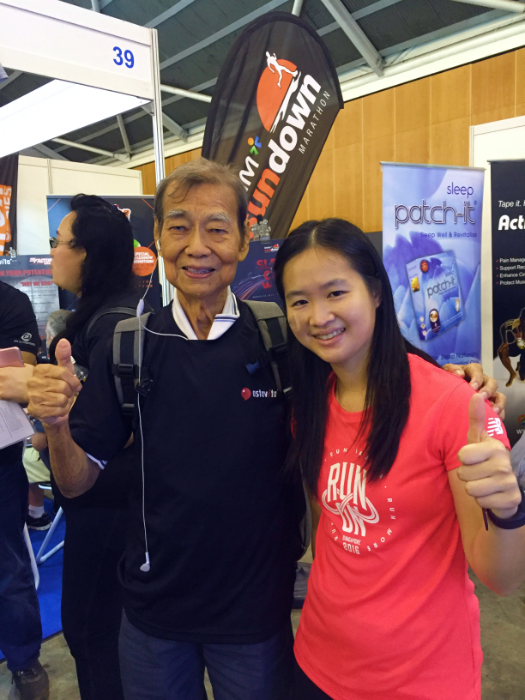 Iconic 100th marathon was at the Standard Chartered Marathon Singapore 
The runner's 100th marathon had been at the 2014 edition of the iconic Standard Chartered Marathon Singapore, and, unable to stop running after that, he had returned the following year to complete his 101st marathon at the same race.
To him, every marathon that he is still able to complete beyond his 100th marathon is a bonus, and he also treasures the fact that he is still able to run today.
Uncle Chan had however, been unable to run last year's Standard Chartered Marathon Singapore in December, because of a motorcycle accident. Yes, at his current age, he still rides his own motorbike to get around.
Eats well
To maintain his fitness levels, Uncle Chan eats well and maintains a good diet. He said, "If the food is not good for my body, I eat less. If it is good, then I will eat more. I also take supplements to keep my fitness levels up today."
My running background and tips
As for me, I had shared a bit about my running background and history, about how I had started running after returning from my tertiary studies in Australia to keep fit. The marathons that I have completed to date may be nowhere near what the inspirational Uncle Chan has achieved, but I hope to continue to keep on running for as long as I can.
As well, I also gave a few running tips for marathoners, such as to prepare everything the night before and not to try anything new in the days leading up to, as well as in the morning of the race – to reduce your chances of anything going wrong to screw up your race. These tips had been gleaned from my own running experiences.
A video of the session
The session has since been put together in the form of a video. If you have not yet seen it, the video is now ready and I have embedded the video here for your viewing.


Share this page with your friends!