The ASICS City Relay – Singapore's first-ever night relay race, took place last night at the National Stadium. The race route took runners from the Sports Hub to the Tanjong Rhu Promenade, Tanjong Rhu Bridge and the Singapore Indoor Stadium before returning back to the starting point.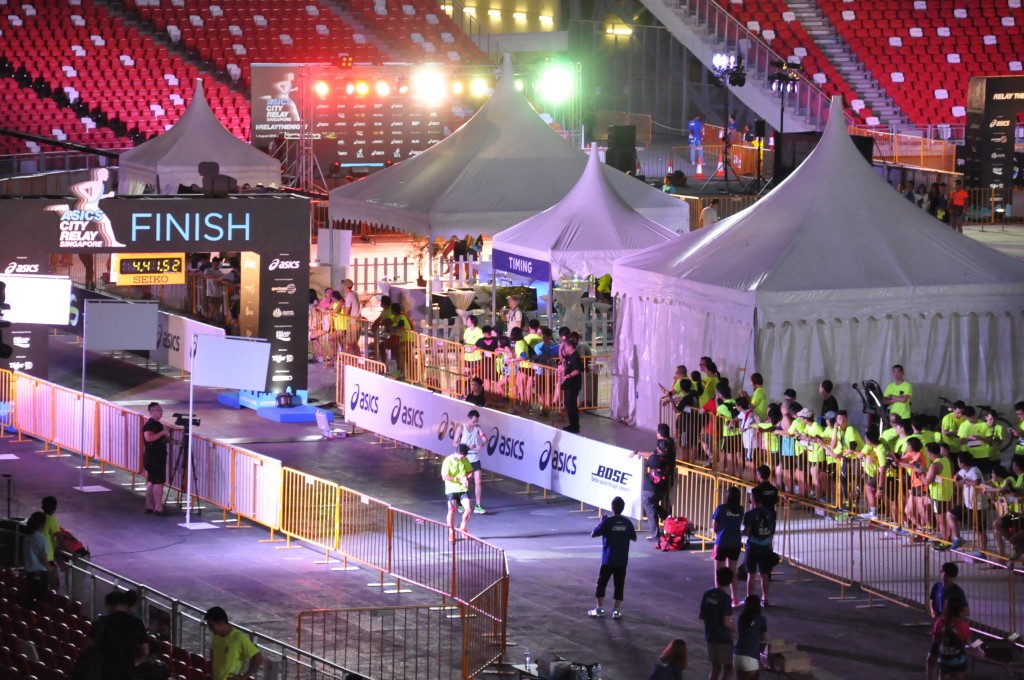 A relay race comprising of a team of four runners coming together to complete a Full Marathon (42.195km), this event had the promise of plenty of fun, bonding and camaraderie amongst friends.
Runners enjoyed themselves at the race
And runners taking part in the event thoroughly enjoyed themselves. Said Brian Pek LengChong, 18, a Republic Polytechnic student, "The atmosphere here is very good. There are so many people around and everyone is coming together to watch and support their friends doing the relay. It's so exciting."
Besides the actual relay running, which had started at about 6.00pm in the evening, there had been plenty of lively deejay music to keep participants entertained throughout the night, as they waited around for their turn to run and to cheer their team mates on. So runners found the event enjoyable.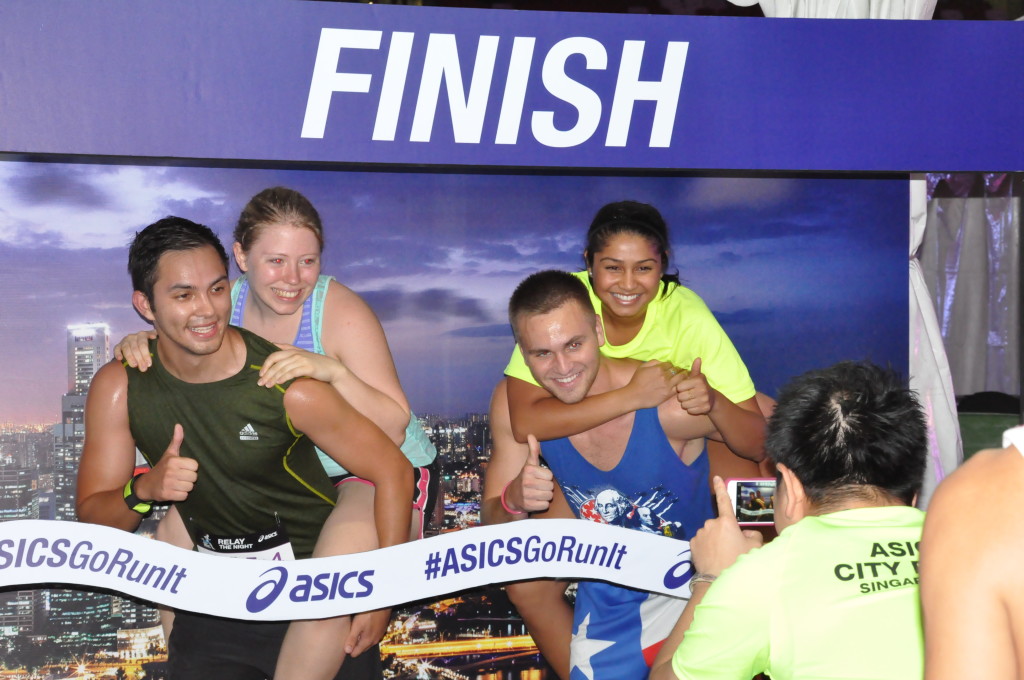 A relay race is different to running an individual race
This waiting time though, was what many runners pointed out was different in the ASICS City Relay compared to running in an individual race. Said Glen Lim, 23 a student, "Compared to solo races, relays definitely have more waiting time. I was the third runner, so I had to wait for two hours after the flag off time, before I could run. But then again, the atmosphere here is definitely less tense compared to an individual race – and is much more fun and friendly. You can feel the camaraderie amongst all the runners here."
Behdad Sadjadi, 45, a Belgian who works at an oil company in Singapore, also added that by taking part in a relay, you are not only running for yourself but for your team as well. He said, "This is my first team relay. Compared to a normal race, I have to dig deep because I am doing it for my team – and I am slower than the rest of them, so I have to do the best I can. When I run on my own though, I tend to take it easy sometimes."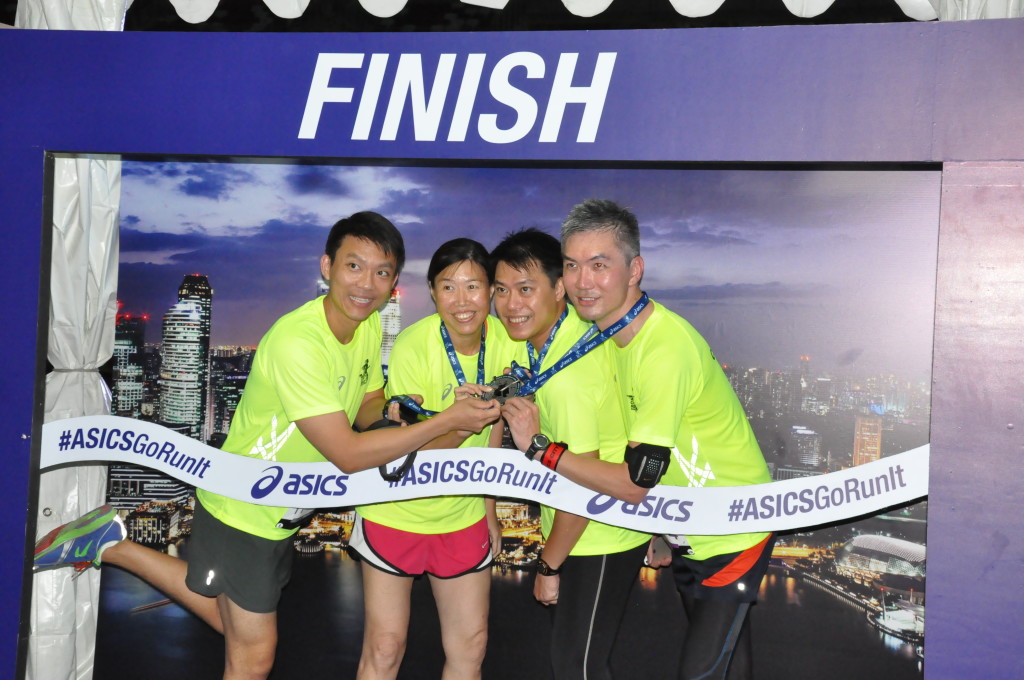 Positive impressions of the race route
Regarding the race route, runners had positive impressions of it. Said Sadjadi's Australian team mate and colleague, James Walker, 39, "It was a pretty flat track and very well positioned. However, the last couple of kilometres were tough – you think that you are close to the finishing line but in fact you are not that near. Overall though, it was a really good running experience."
National Day Parade Preview Fireworks were taking place too
As a bonus, some runners were also fortunate enough to catch the National Day Parade Preview fireworks along the route. And many of the participants completely lapped it all up.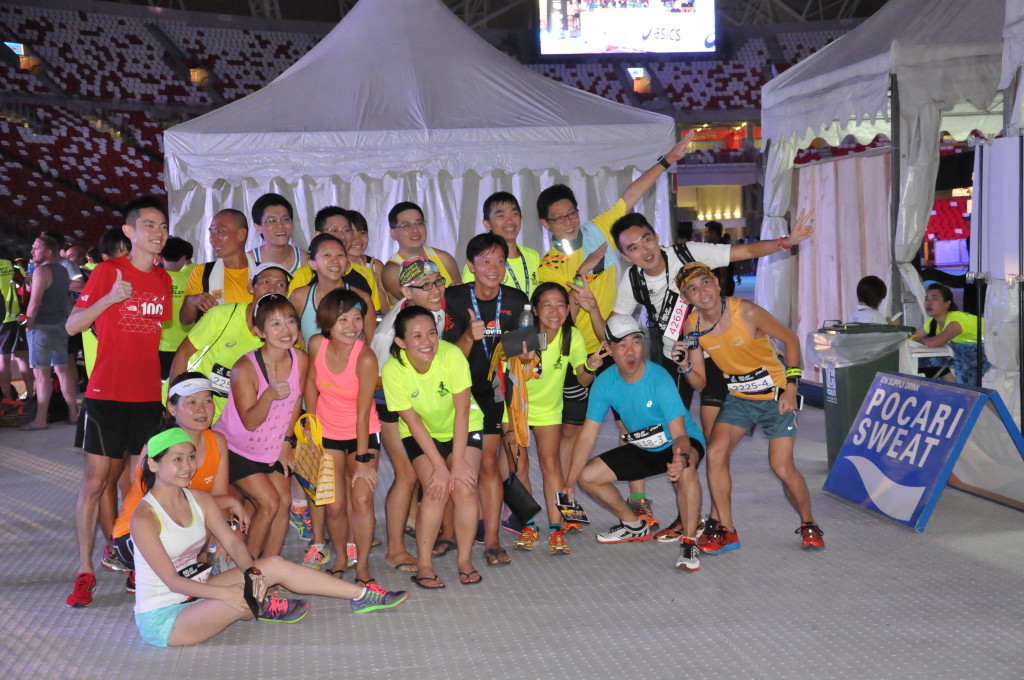 Said Adrin Sani, 43, a civil servant, "I loved the fireworks! The race route was also excellent as I have not really done any runs around the new Marina Bay and Kallang areas – so that would definitely have been my favourite part of this race – as well as a great way to explore it too."
Lauren Brown, 36, a full-time mum also agreed. She said, "Today was totally amazing – running with the fireworks blasting above, was great and the whole experience was so fun too. I have also never actually been inside the National Stadium before, so starting inside the stadium gave the race a really good atmosphere."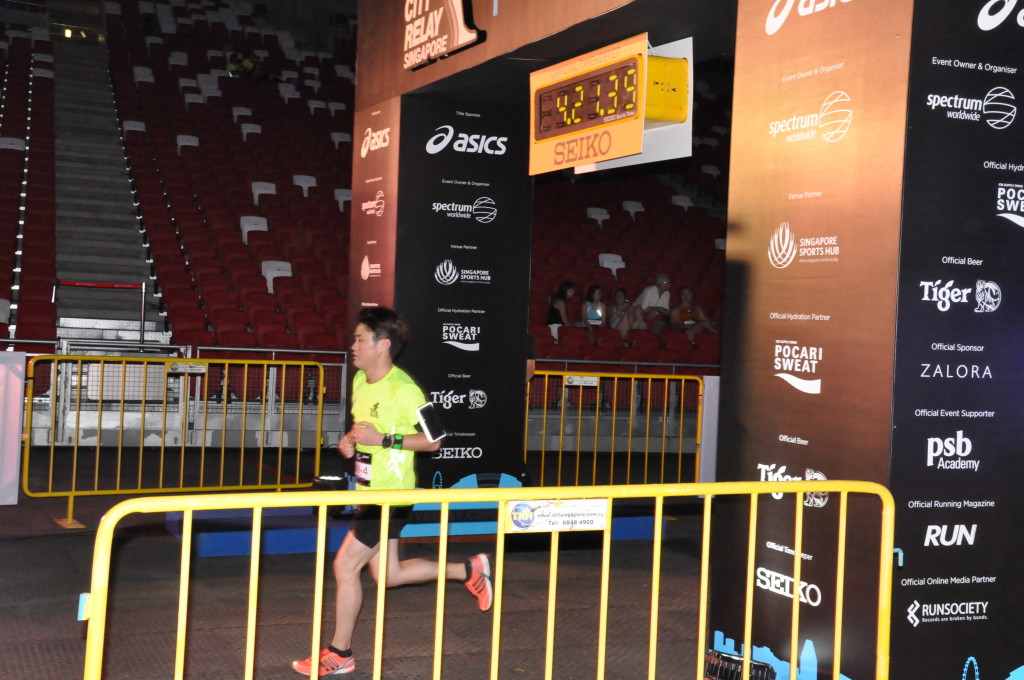 Main challenges along the running route
She added, "The route was challenging and hard at times though, and the lighting around the 5km mark was not so good. But compared to daytime races, running at night in Singapore is definitely a lot easier and the hydration along the route was fabulous."
Freddy Tan, 45, an accountant, also felt that there was not enough lighting at some areas along the route. He said, "There was not enough lighting at the open field area and it was quite dark there – so it could get quite dangerous as runners may trip."
He also said, "There were also quite a bit of crowds along the way, especially at the Marina Bay area. So we had to share the race route with kids and cyclists, and as a result, had to run slowly to ensure that there was no accidents with them. But overall it was a fun race though and I really enjoyed myself thoroughly."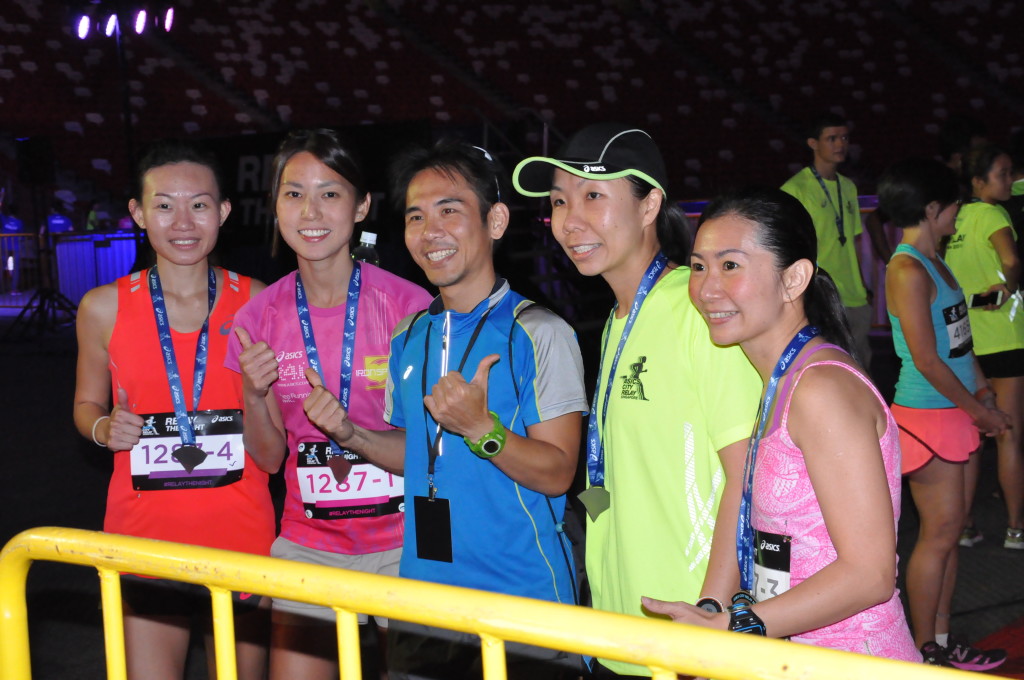 As well, Pek pointed out that the race route was a little narrow. He said, "While the race route was quite beautiful and scenic, it was also a bit narrow – I had some trouble passing through runners during the race. But during most of the route, the lighting and course was well lit up, except the grass patch area. On the patch, I was afraid that if there had been any rocks and holes in the ground, it may cause injuries to runners."
Improvements for future editions
While many of the runners said that they would certainly take part in the ASICS City Relay again if it is organised next year, some had a few minor improvements for future editions of the race.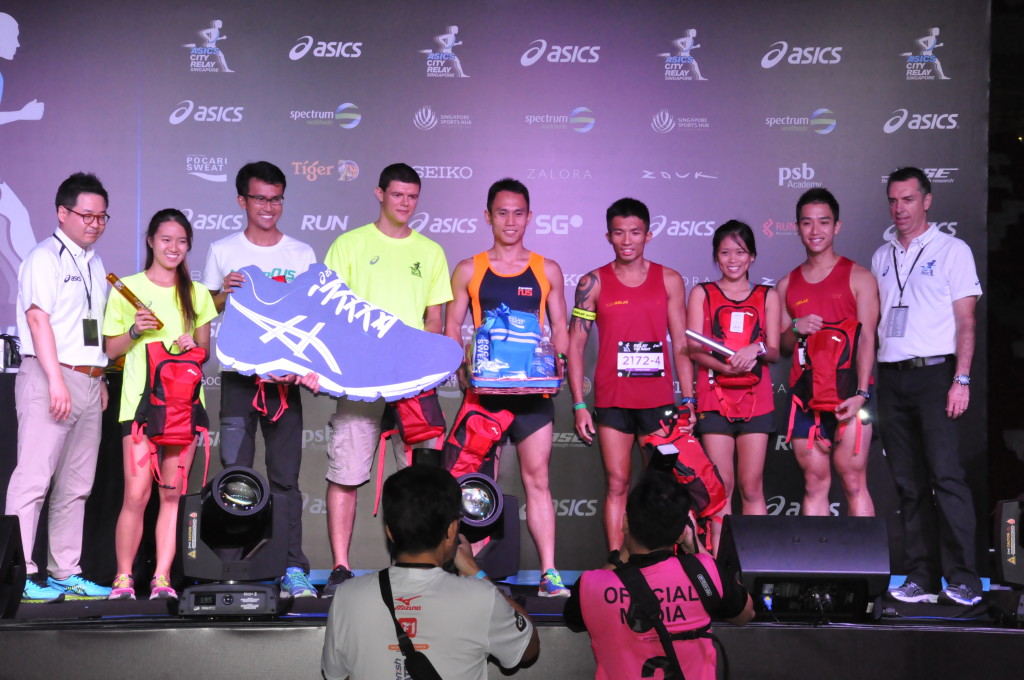 Said Sadjadi, "I hope that they could have an electronic signboard to show the bib numbers of the runners who are about 500m from the finish line – so that you do not have to keep squinting to see whether your team mate is returning."
Added Walker, "And free-flow of Tiger beer would be nice too! Especially if you are the first runner, you will want to stay and support your team – so an incentive like this, to do so would be great!" His team mate, Sadjadi, agreed. He quipped, "We need more than one shot of Tiger, that is for certain."

Other blog posts
Share this page with your friends!