The ASICS Dynamis is billed as an explosive and very supportive running shoe that can help you to run fast and to experience speed beyond limits.
Targeted at mild to over pronators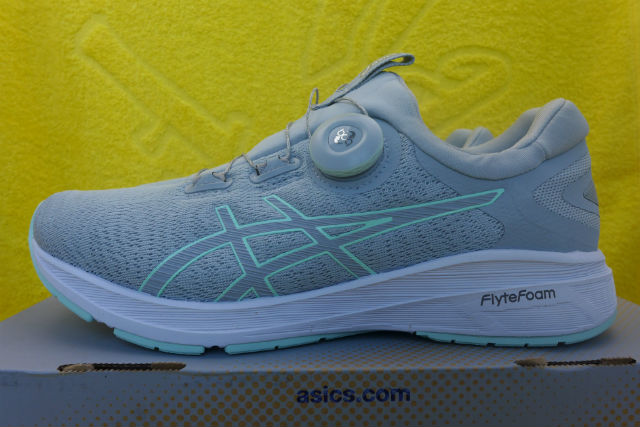 Targeted at mild to over pronators, the shoe provides the high levels of stability that runners would need, without the added weight.
Weighing in at 270 grams, the shoes give the feeling of speed without comprising on support and comfort – this is thanks to ASICS' lightest-ever midsole – the revolutionary FlyteFoam technology – that weighs 55% lighter than the industry standard midsole material and works with the wearer's foot in order to deliver superior every step of the way, according to the Japanese shoe company.
The stack height of the ASICS Dynamis shoes is 23mm (Heel) and 15mm (Forefoot).
Gives runners an injection of speed and comfort across different levels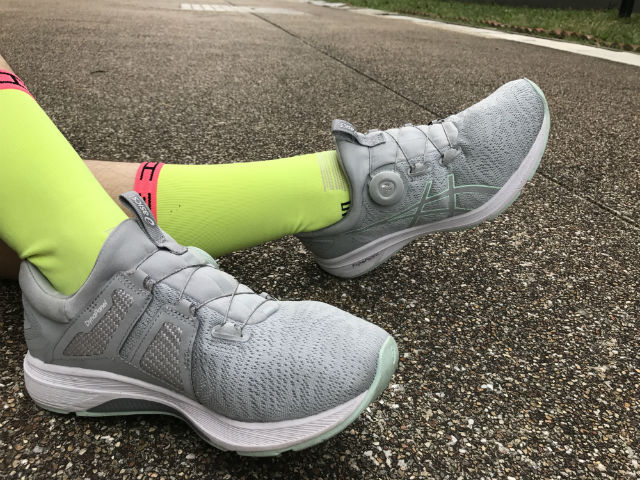 The ASICS Dynamis is also part of the company's recently launched range of Performance series shoes, which are set to give runners an injection of speed and comfort across different levels and needs ranging from park runners and city cruisers, to marathoners and time trial enthusiasts. The other two shoes in the series are the ASICS DynaFlyte 2 and the ASICS RoadHawk FF.
Said Gerard Klein, Senior General Manager, Global Performance Running Footwear, ASICS, "ASICS' mission is to help everyone enjoy the best and most comfortable ride possible. Anyone needing extra medial support can kiss goodbye to using heavy and awkward trainers with the Dynamis."
Boa® System
As well, the shoes also consist of the Boa® System, a micro adjustable dial that allows runners to fine-tune their fit and adjust their shoes easily and on the go.
I can immediately see that this is a feature that would be good for triathletes, who would need to make a speedy transition from the bike leg to the run leg. Shaving a few seconds off the transition time could mean the difference between hitting a personal best, or just missing out on one.
ASICS provided me with a pair for review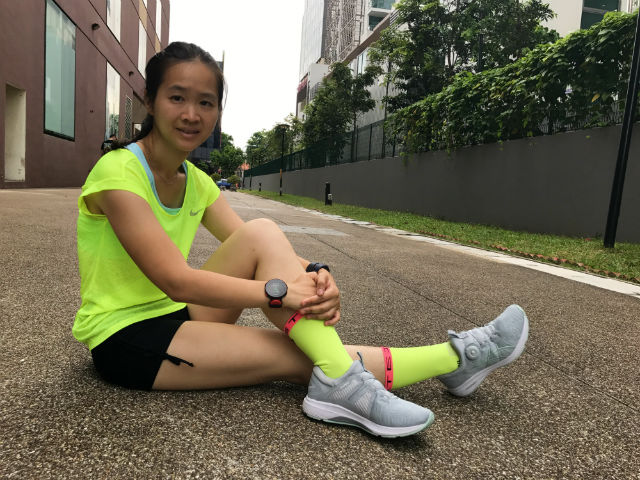 ASICS recently gave me a pair of the Dynamis for review purposes. Here are my thoughts and comments about the shoe.
My review unit of the Dynamis came in a light grey colour; my impression was that this is a relatively neutral colour that can blend in well with most of my other running clothes without really looking out of place.
Wraps around the feet like a sock
Putting on the shoes for the first time, my initial impression was that they are very easy to slip neatly onto my feet, straight out of the box and without the need to adjust shoe laces and pull out a stubborn tongue, thanks to the MONO-SOCK fit system and the lack of a tongue, which provides a soft, seamless wrap that comfortably encases the foot.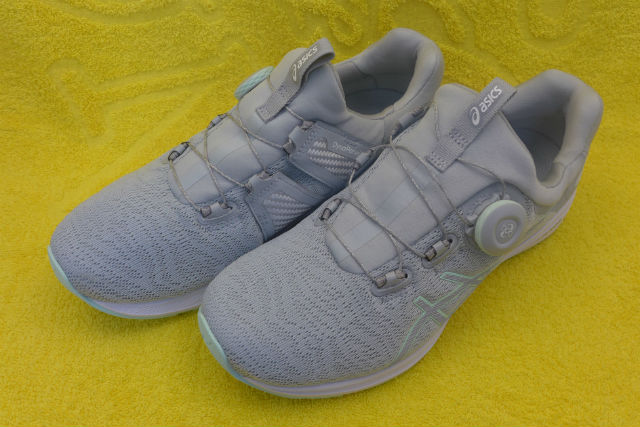 So as such, instead of a shoe with an uncomfortable tongue, the feeling of putting on the shoes, was somewhat like easily and seamlessly slipping a sock on.
By using a thicker pair of sports socks and also by tightening the Boa® dial almost to the maximum, I can get the Dynamis to fit me perfectly, wrapping snugly and easily around my feet.
But on the other hand, I realised that if I use thin socks though, the fit appears to be rather roomy for my usual size, and there is also more than sufficient space inside for my feet. So in that regard, I realise that having old fashioned shoe laces, rather than the Boa® dial design, would have worked to my advantage better, as I would have been able to tighten the laces as much as I had wanted, in order to make the shoes fit me more snugly.
Nevertheless, tightening and loosening the Boa® dial is a breeze; l only need to push it down and tighten it to put on the shoes, and then pull it outwards to take off the shoes. It is definitely much more convenient and fuss-free compared to using standard shoe laces. I really think that I could get used to this.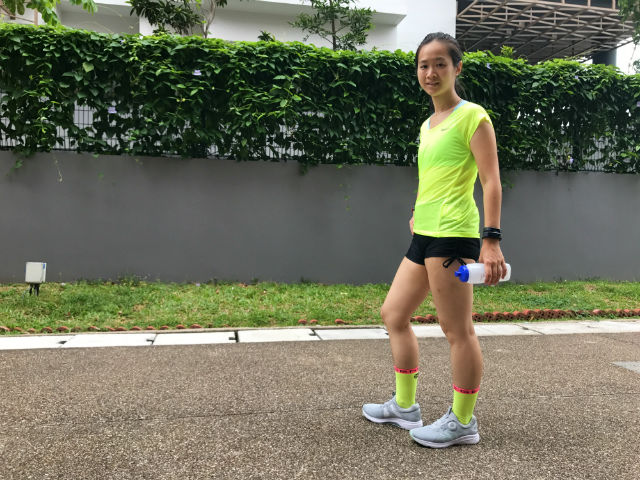 Running with the Dynamis
Running with the ASICS Dynamis shoes felt great. I did several runs with the Dynamis, ranging from about 5km to 15km on average.
Light and responsive
Thanks to the FlyteFoam technology, which consists of organic fibres embedded into the foam in order to provide lightweight resiliency when running the shoes are easy and seamless to run with.
They are light on my feet and so, I can feel as though I can run slightly faster with somewhat less effort. So I may try using these shoes for my next personal best race attempt. But whether this could be due to the placebo effect at work, I am not sure, though!
As well, the Dynamis also gives me a responsive ride, adjusting to my foot stride easily, and I can also feel the bounciness when I am running on the pavement or road, thanks to the SpEVA 45 Foam, which provides me with enhanced cushioning and a soft underfoot feel. This is quite good, because it also seems to offer protection for my legs and feet, negating the impact of the harsh pavement when I run.
Feet stay cool when running
I also realise that my feet are also able to stay relatively cool and dry despite during my runs in hot and humid Singapore, even though I am sweating, thanks to the Ortholite X-40 Sockliner – which is made with anti-bacterial material that is supposed to reduce odour and moisture.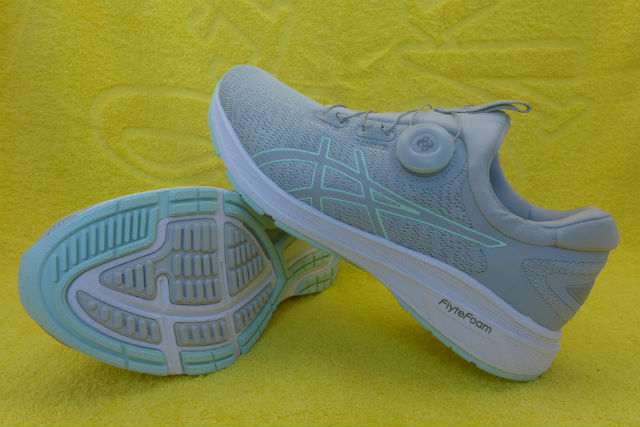 So this too, makes for more comfortable and efficient running, as I do not need to worry about my feet getting wet with perspiration during my longer runs, as this may possibly lead to blisters.
Where to get the shoes
The ASICS Dynamis shoes are available at ASICS stores in Singapore and they have a recommended retail price of S$229.

Other blog posts
Share this page with your friends!