Throughout his life, Dr William Tan has never once let physical challenges get in the way of what he wants to do.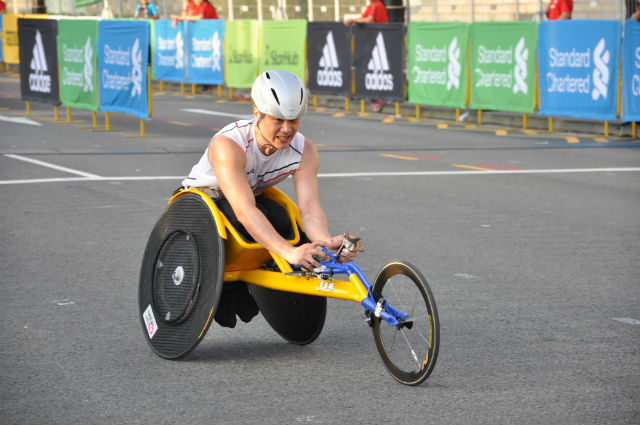 A man of incredible strength 
Having contracted polio at the age of two, Dr Tan has proven himself to be a man of incredible strength. Despite his disability and his confinement to a wheelchair, the neurosurgeon is a graduate of Harvard University with a First Class Honours degree in Physiology and has also trained at the world-renowned Mayo Clinic in the United States.
Said Dr Tan, "I see myself as a simple person who has struggled to cope with polio but has defied the odds to live a normal life as much as I can."
As well, Dr Tan is also an Asian-Pacific Games triple gold medalist and a Paralympian – having competed in the 1988 Paralympic Games in Seoul, Korea. He also holds the honour of being the first person in the world to have completed the North Pole Marathon in a wheelchair, overcoming harsh terrain and extreme conditions of minus 25 deg Celsius, to do so.
Some of his other achievements in the sports arena, include completing seven marathons across seven continents in 26 days and hand cycling 500km over four days from London to Paris.
Has survived cancer, in addition to polio 
Besides being a polio survivor, Dr Tan is also a cancer survivor – he was diagnosed with  Stage Four leukaemia in 2009 and underwent six months of chemotherapy and a bone marrow transplant.
These had been trying times for him, but he succeeded in not only beating his cancer, but also made a return to endurance sports, having completed two full marathons back to back… within one year after his bone marrow transplant.
An inspiration to many 
So it is no surprise that many people see Dr Tan as an inspiration. For example, during my interview with the doctor, a family had even walked up to Dr Tan, greeting him warmly and mentioning that their daughter, who is also a cancer survivor, looks up to Dr Tan and admires him for everything that he has achieved in his life.
They had engaged in an animated discussion for a while, too, before Dr Tan had then resumed his interview with me.
Said Dr Tan, "People have come up to me and said that I am inspiring. I am humbled by such feedback and this has made me recognise that I can help other people in return. I visit the hospital regularly to speak to the cancer patients there and remind them that cancer is not a death sentence and that this diagnosis should not determine the remaining days of our life. The power of will and the strong resolute to live, can alter the course of the disease and the quality of our life after a cancer diagnosis, and this is something that I want to share."
Hand Cycling a 31 hour ultra marathon this month
Now though he is 61 years old, Dr Tan won't let age slow him down, too. Come 23 & 24 February, the neurosurgeon, medical doctor & Paralympian will be hand cycling a 31-hour ultra marathon beginning at East Coast Park, to raise funds for BizLink Centre and to celebrate BizLink's 31st anniversary at the same time.
BizLink Centre is a non profit organisation for helping persons with disability 
A non profit organisation dedicated to helping persons with disability  (PWDs) through training and employment in Singapore, BizLink Centre provides training in soft skills and on the job training to allow the PWDs under them, to achieve independence, dignity and integration through vocational training and sheltered employment.
Added Dr Tan, "It is easy for an organisation to hire PWDs as say, an admin or a clerk, to simply fulfil the basics of an inclusive workforce, but making a PWD a director, well that is a higher calling and not a lot of companies are willing to do that. The mindset is that PWDs are not able to deliver and that they can't discharge responsibilities. There is this limiting mindset that many people still have, and BizLink Centre hopes to prove this wrong."
He added, "I am passionate about employment for PWDs because as a physically challenged person myself, I can understand how having a job can give this group of people a purpose in life and empower them to reach their potential."
Dr Tan also has a soft spot for BizLink Centre in particular, because as a PWD himself, he had observed the development of Bizlink from a project to match PWDs with employment. This scheme took off in 1986 and became successful, developing into the BizLink Centre of today.
Said Dr Tan, "BizLink Centre was started to provide something meaningful for PWDs. Having employment means a lot to them and it gives them independence. They can go to work and earn income and do not need to depend on any form of assistance. It's different to simply building physical infrastructure like ramps and toilets to help them become more mobile."
He added, "So it is a privilege and honour to come back and do something with BizLink – this has been on my bucket list since 2009 – I made a promise to Alvin Lim, the CEO of BizLink Centre and my fellow schoolmate that year about doing something for BizLink Centre, and this year I am going to finally honour my promise to him."
And Dr Tan feels that now, the time is finally right, to do something for BizLink Centre, as this year marks his 10th year of survival from leukaemia.
No sleep and no proper meals for Dr Tan
Throughout the 31 hours, Dr Tan will not be sleeping at all, and will not be having any proper meals too. He will only take short breaks of about 5 – 10 minutes to go to the toilet and if he wants food, he will munch on snacks such as energy bars.
He prefers to munch on snacks rather than consume proper meals because according to Dr Tan, one of his fears during his ultra marathon journey is that he will eat something that may disturb his stomach. Hence he feels that liquid foods and snacks are safer, due to the challenging nature of the event that he will be undertaking.
Added Dr Tan, "It will definitely be a very gruelling race. Ever since I was diagnosed with leukaemia, I have not been doing much ultra marathons on the advice of my oncologist. Instead I have focused on less strenuous exercises such as table tennis, wheelchair badminton and standard marathons. So to be honest, what I am about to embark on sounds daunting, to be able to withstand the 31 hours without any proper sleep."
The effort will be painful on his lungs, knees and lower back
While Dr Tan admits that a 31 hour ultra marathon would have been a piece of cake to him prior to his leukaemia diagnosis, now it is far from that. He said, "There was once where I did a 48 hour ultra marathon to raise funds for ITE (Institute of Technical Education) students but after having leukaemia in 2009 and undergoing a bone marrow transplant, both my right and left lungs were permanently affected. I am now functioning on half capacity for both lungs."
He continued, "So to hand cycle for 31 hours without stopping will be painful on my lungs, as well as on my knees and lower back – because of the reclining position that I am required to sit in."
But to help him along, Dr Tan will have volunteers, skaters and cyclists who will be constantly monitoring him throughout the 31 hours of hand cycling, to make sure that his physical and mental health, as well as his state of well being, remains intact.
Mental challenges will be more than the physical ones
Dr Tan added, "But the mental challenges will be much more than the physical challenges of undertaking this ultra marathon. During the event, I know that I will doubt myself and be worried about whether I can really last that long, as I grow more tired. These doubts and fears will plague my mind and make me harbour thoughts of giving up, but I am not a quitter. I am a survivor. I have overcome polio and Stage Four leukaemia. It will not be easy, but I am confident that I have what it takes to complete this, too."
While he is not aiming for a world record attempt, Dr Tan hopes to push himself as far as his body allows. Said the neurosurgeon, "I hope to be able to accomplish as much mileage as I can take, physically. I want to do this not just for myself but also as my way of recognising what BizLink Centre has done for the PWDs community and to give back to them, by doing what I am good at."
Join Dr Tan during the final 3.5 hours of his ultra marathon, at the Serangoon Junior College 
While most of the ultra marathon will comprise of loops at East Coast Park, the final 3.5 hours will be happening on the running track at Serangoon Junior College, and Dr Tan is inviting runners to turn up and show their support to the cause – by running laps at their own pace on the track – from about 8am onwards.
Said Dr Tan, "The final 3.5 hours of the event will be the hardest hours in my life because I would have already completed 27.5 hours non stop by then. I am hoping that the the support and encouragement from both the Serangoon Junior College students and the members of the public will get me though to the end."
He added, "There will be no pressure on them to last the full 3.5 hours of running too. They only need to run or walk for as long as their bodies are able to."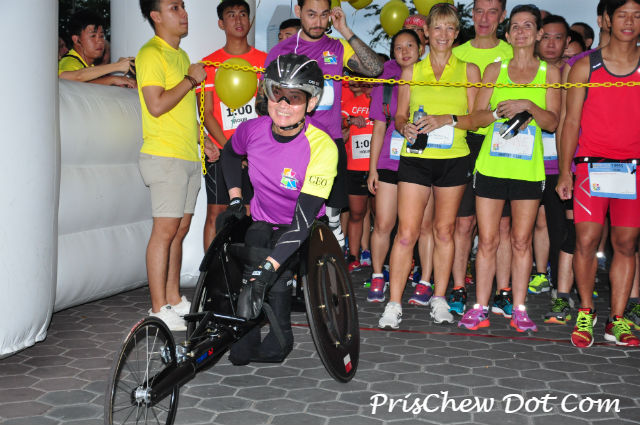 They hope to raise about S$50,000
With a S$20 donation to the cause, runners would receive a race pack consisting of items that are worth more than S$75 and includes a CompressSport running tee shirt and a Sports Towel, amongst other items.
Said Dr Tan, "Our goal is to raise about S$50,000 and we continue to remain hopeful that we can achieve our target."
He added, "This whole event is not purely about creating awareness for BizLink Centre and the amount of money that we raise. Rather, we hope to be able to inspire everyone with this event. We want to show that each one of us can live a life that can touch other people and achieve our goals and dreams, regardless of whether we are in a wheelchair or we have survived leukaemia. It is about tenacity, overcoming the odds and never giving up. It is about how we can turn challenges into opportunities in our lives."
How Dr Tan has been training for this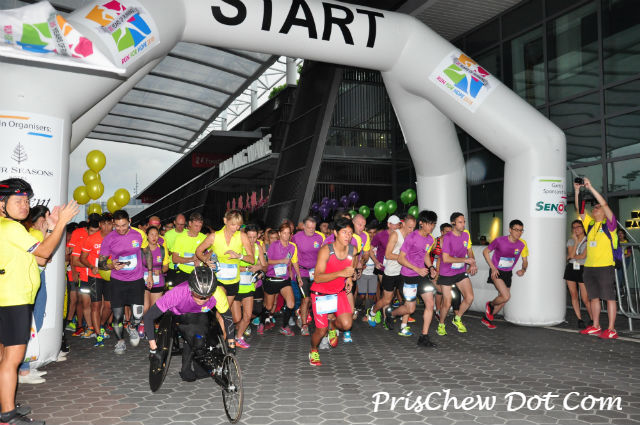 In order to prepare his body for his upcoming ultra marathon, Dr Tan has been juggling his work as a doctor, together with his training and he admits that this can be very hectic. He trains for about two hours every day. His morning sessions are usually at the gym and he does his evening sessions on the handcycle bike at the Kallang Practice track before resuming his work again at nights. He gets about five hours of sleep every night.
Said Dr Tan, "My morning sessions usually consist of lifting weights, chin-ups and the stationary bike – I realised that it was too rushed to go to the Kallang Practice Track to train and then head to the hospital after that to work. It is more realistic to train at the gym nearby."
He added, "But in spite of my training and my hectic full time work as a doctor, I am careful to prevent any injuries. So I will do warm ups and cool downs and I make sure that I eat well and have a cross training plan so that I do not tax the same joints and muscles all the time. For cross training, I will do table tennis, wheelchair badminton or swimming."
Words of advice from Dr Tan
And for the runners who are hoping to join him at the Serangoon Junior College on 24 February, Dr Tan has some words of advice for them.
He urges runners to train and condition their bodies for the distance that they are planning to undertake, regardless of say, whether they are targeting the full 3.5 hours, or perhaps aiming to run their first 5km or 10km on the Serangoon Junior College track.
Said Dr Tan, "We do not want to compromise anyone's safety and we want to see all of our participants to continue to walk or run well after the event is over. Train for this event and condition your body, and on the event day, do not do more than what you think that your stamina and body can tolerate."
Register for the BizLink Charity run and show your support for the cause here. 
http://bit.ly/register_run_with_drtan
Share this page with your friends!