Cyprian Kotut, from Kenya, is one of the up and coming young athletes in marathon racing, having unexpectedly won the Paris Half Marathon as well as the Paris Marathon, both in 2016.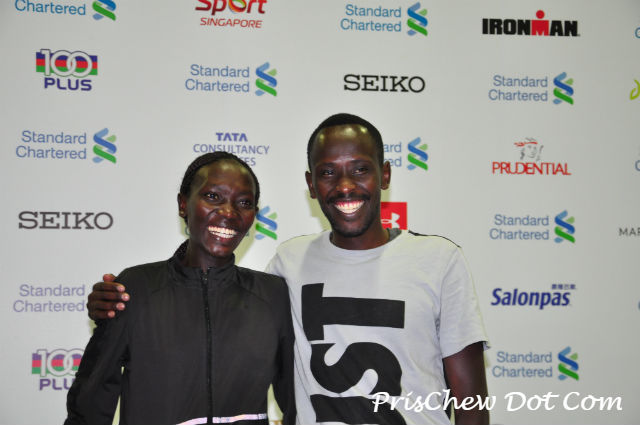 And this year, the 25 year old runner is looking forward to make his debut at the Standard Chartered Singapore Marathon (SCSM), and to take the title home.
Grateful to be given the chance to take part at SCSM
Said Kotut, "I am grateful to be given this chance to be part of this wonderful race. I like this place. I like Singapore and I like the people here. The moral is great and I am happy to be here."
Kotut had been speaking during the Elite Runners Press Conference which took place this morning at the Marina Bay Sands Convention Centre, where the race pack collection for the SCSM was also taking place.
In the Elite Field, Kotut will be joined by the winners of the 2017 Barcelona Marathon, Jonah Chesum, three-time Boston Half Marathon Champion Daniel Salel as well as the SCSM women's champion and fellow Kenyan runner, Rebecca Chesir.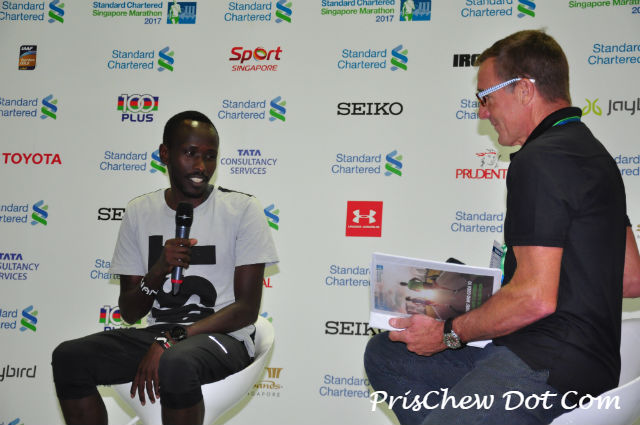 Kotut's training block for the SCSM was not too different compared to his stint for the Paris Marathon where he had won. Said Kotut, "When I trained for Paris, it was not so different as to my training here. For Singapore though, I tried to consider the weather and the humidity to run and I have taken every consideration and I am now okay and happy to face the challenges."
Glad to have an older brother to show him the ropes
Kotut is the younger brother of well known Kenyan marathoner Martin Kiptolo Lel, who won high profile race such as the London Marathon in 2005, 2007 and 2008 as well as the New York City Marathon in 2003 and 2007 and Kotut considers himself lucky to have his brother to show him the ropes and share tricks and tactics with him in terms of marathon racing.
Said Kotut, "I can say that I am the luckiest athlete because I have a mentor in my brother. It is easy to follow him and he can show me the way and I am doing all that I can so that I do not disappoint him."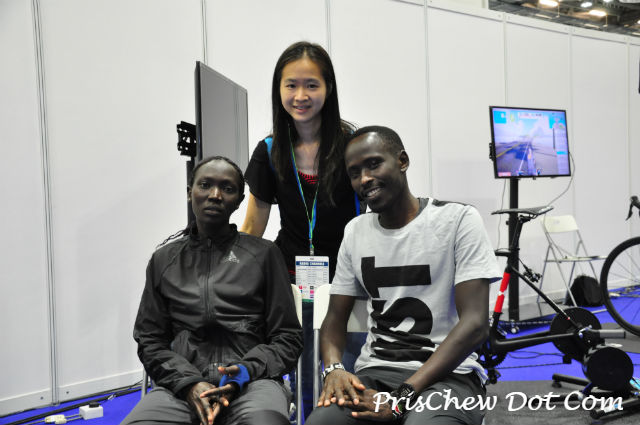 He added, grinning, "So I am looking forward to the journey ahead and I have someone to look up to and records to chase and someday I may also win London and New York City like him."
Women's Defending Champion Rebecca Chesir is ready for the race
Chesir, 25, also made an appearance at the Elite Runners Press Conference.
She said, "I am happy to come back again and I am ready for the race on Sunday. This year will be tough and the competition will be hard but I will try my best to win."
Chesir's return to Singapore comes off the back of an impressive season as she had finished second in the Beijing Marathon and Vienna Marathon where she clocked a personal best of 2:24:25 earlier in the year.
Chesir's race strategy at SCSM will be to stick with the group for the run. She said, "I am prepared for the race. I will stay with the group where I can try and push the pace a little bit at the end to take the win."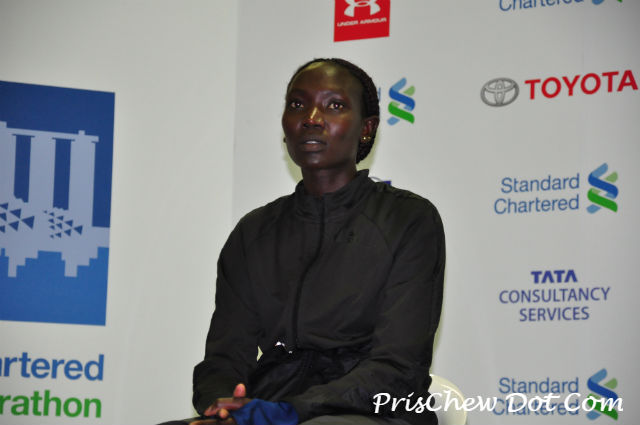 Hopes to celebrate her birthday with a win at SCSM again
She also secretly hopes to celebrate her birthday with a win at SCSM. Her birthday falls on December 4th, which is the day after the marathon.
Said Chesir, "It would be a very good celebration to be Number One in Singapore again."

Share this page with your friends!