This year, runners can look forward to an exciting slew of new initiatives at the Great Eastern Women's Run, taking place on Sunday 12 November.
The oldest and most established life insurance group in Singapore and Malaysia, Great Eastern is a subsidiary of OCBC Bank, the longest established Singapore bank formed in 1932 from the merger of three local banks, the oldest of which was formed in 1912. Today OCBC Bank is the second largest financial services group in South East Asia, and one of the most highly rated banks in the world.
Instagram-worthy photo walls and colourful ball pits along the 5km route
New features at the Great Eastern Women's Run, include Instagram-worthy photo walls and colourful ball pits along the route of the 5km Live Great! Fun Run. Runners taking part in the 5km event can also look forward to a unique running experience.
5km runners can stand to win a diamond solitaire 
Three lucky 5km runners will also get to enjoy a diamond solitaire post-race too. This is thanks to local jeweller Ivy Masterpiece on board.
Said Ivy Choa, Managing Director of Ivy Masterpiece, "We are honoured to be part of the Great Eastern Women's Run this year, one of Singapore's biggest all women's events. Diamonds often accompany special milestones in people's lives, and we are excited to be able to unite both running and diamonds for a unique experience on race day."
This is because at about 1.5km from the start point of the 5km race route, runners will run through a zone featuring diamond walls and each will get a serialised diamond wristband cut out.
A lucky draw will be held at the race village post race where a one carat diamond solitaire necklace worth $12,000 and two 0.3 carat diamond solitaire necklaces worth $1,200 each, can be won.'
Said Keith Chia, Head of Branding and Marketing, Great Eastern, "We are constantly looking at ways to improve the running experience for our runners. This year, in addition to creating more Instagrammable moments, we are delighted to partner with Ivy Masterpiece to bring a more dazzling experience to our runners."
Rose gold plated medals for 21.1km runners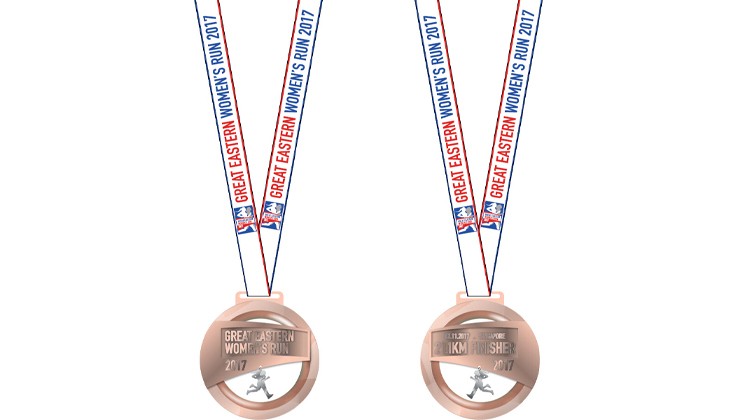 The 21.1km runners on the other hand, will receive a newly designed rose gold plated finisher medal to mark their achievement in successfully completing their run.
As well, finishers of the 5km, 10,m and 2km Mummy+Me races will get a gold plated medal, along with the exclusive design too.
Launch of Mobile App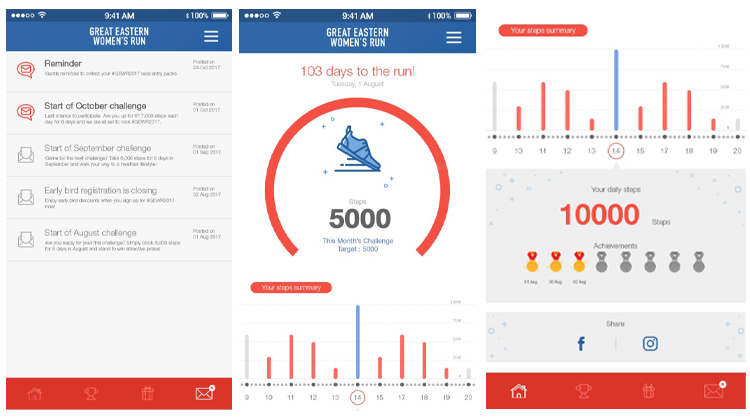 And in the lead up to the race, the new Great Eastern Women's Run mobile app is being launched. This is a one stop training companion for participants regardless of their fitness level and the distance that they had registered for.
The app is available as a free download from the Apple App Store and the Google Play Store, and is developed to encourage runners to clock more klicks as they train.
Monthly Challenges to encourage runners
Aside from race related information, the app will also feature monthly challenges to encourage runners to train towards their goals.
From September, the first 1,000 participants to clock 7,000 steps (approximately 6km) over eight days in the month will be rewarded with a cash voucher from Boost Juice. The challenges increase in difficulty level monthly till race day, motivating runners to step up their training and be rewarded as they do so.
I have already downloaded the app and taken a quick look through it. My first impressions are that it looks quite interesting, and the information and training tips provided, will definitely help to gear me up as I train and work towards the 21.1km race that I had signed up for.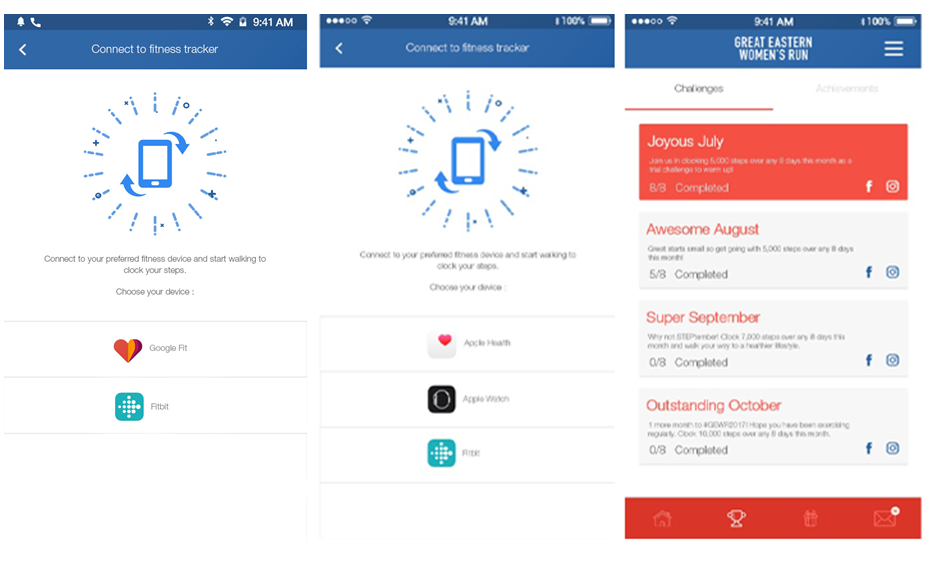 In order to clock steps on the app, runners need to link the app to either one of three other steps tracking apps – Apple Health, Google Fit or the FitBit app. I would have liked more options to have been available, though.
As well, runners will also be clocking klicks for charity. For every 1,300,000 steps (approximately 1,000km) collectively clocked by the app users, Great Eastern will donate S$50 to two causes in support of women: the Breast Cancer Foundation and the Women's Health Research and Education Fund.
Register for the Run
To join in the fun at the Great Eastern Women's Run this year, visit www.greateasternwomensrun.com for more information and to register for the race.

Share this page with your friends!