Get immersed into the life of a Pokemon Trainer at South East Asia's first ever Pokemon Run, organised by Axex Asia and Infinitus Productions.
Takes place at 8am on 14 January 
Taking place at 8am on 14 January 2017 at The Promontory @ Marina Bay, the 5km Pokemon themed run race aims to promote bonding and a healthier lifestyle across all ages through Pokemon.
Based on the 1996 Japanese media franchise
A Japanese media franchise originating in 1996, Pokemon has grown into a worldwide sensation. It started as a video game in Japan, allowing players to catch, trade and train Pokemon.
The franchise's popularity then led to the creation of an anime series, starring young Pokemon trainer Ash Ketchum and his friends. Promoting the spirit of discovery as well as values of courage, honour and friendship, the series became highly successful.
Puts runners in Ash's footsteps
The upcoming Pokemon Run Singapore puts runners in Ash's footsteps, bringing to life the journey to train to become a Pokemon Master, against the waterfront backdrop of the Marina Bay Sands.
Runners will also get to experience the newest Pokemon from the latest Nintendo SDS instalments, Pokemon Sun & Moon, at the event.
Pallet Town themed running carnival
The running carnival will include a Pallet Town themed carnival site at the end. Pallet Town is home to Ash and Gary Oak, and the carnival will feature a variety of fun activities including Pokemon themed games and gourmet delights for runners to tuck into.
Run is open to anyone aged four and above
This run is open to anyone aged four and above, and runners can choose to register either individually, or as a pair.
Individual registration is priced at $70 per runner. Those who register with their buddy will pay $65 per pax. The race entitlement pack includes an official event tee shirt, amongst other exclusive Pokemon themed items only for runners.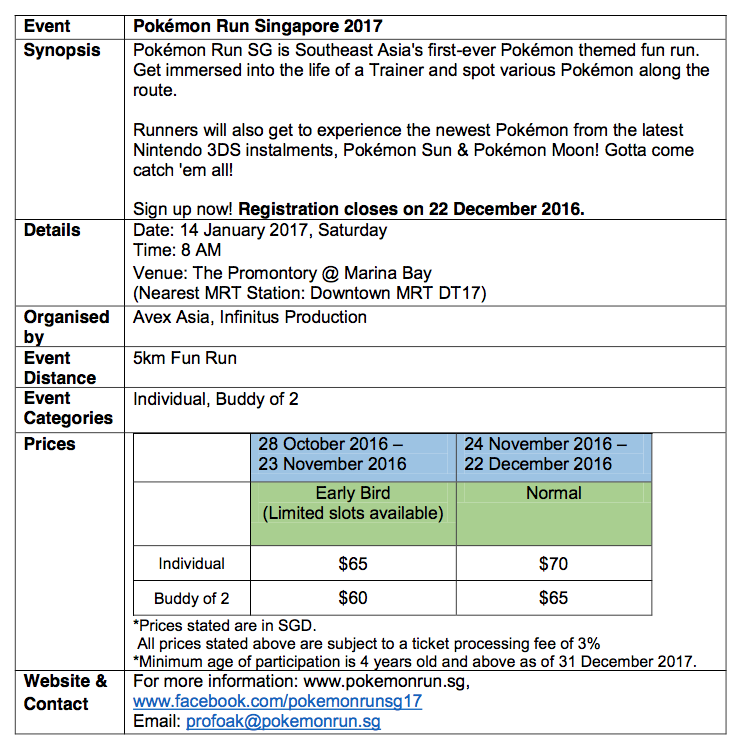 Registration is open
Early bird discounts are available for registration from 28 October 2016 to 23 November 2016.
For more information and to register for the race, check out the event website www.pokémonrun.sg and their Facebook page at www.facebook.com/pokemonrunsg17 .
Registration for the run closes on 22 December 2016.

Share this page with your friends!