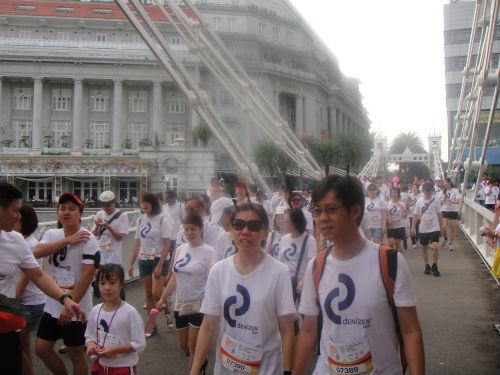 Have you always thought of taking up running, but you don't have the time to do so? Or have you attempted to maintain a regular running routine, but have had to give it up only after a few weeks because you simply don't have the time? Fret not. You aren't alone. Many people find it tough to squeeze in some time to run, in a jam-packed day.
If you don't have the time to schedule a proper workout into your busy routine, here are some tips on how to squeeze some running into your hectic life.
Run your errands
Do you need to post a letter? Or you may need to go to the supermarket to buy some milk. Most people would probably take the car or public transport down. But have you ever thought of running to the post office or to the supermarket instead?
Of course, if you have to carry heavy milk or groceries after your trip, you'll have to walk back. But think about it. If you run there, it could squeeze about 15 to 30 minutes of running activity into your schedule, without you even realising it.
Run instead of watching TV
Do you really have to watch that one-hour TV programme every night? You could instead use that hour to go out for a run instead of sitting down and watching TV.
Or if you really must catch up on that programme because it is something you truly enjoy, how about investing in a treadmill – and completing a run as you watch that favourite serial? You will be able to catch up on your favourite TV programme – and be able to run at the same time.
Meet friends to run instead of for a meal
If your friends are also like you, that is, they want to take up running but don't have the time, have you thought of meeting your friends for a run – instead of coffee or a meal? That would help to include some running time into your weekly routine, and at the same time, you can catch up with them, too. That would kill two birds with one stone.
Run up the stairs
If you live in an apartment or a HDB flat, have you thought of running up the stairs, instead of taking the lift?
By doing so, you can sneak in probably about 15 minutes of running time, depending on how high up your apartment is. This is better than just taking the lazy way by using the lift and remaining completely idle throughout.
Try splitting up your exercise session
If you want to do 30 minutes of exercises every day, you don't need to do this in an entire 30-minute stretch of time. Instead, you could sneak in three sessions of 10 minutes each, on the treadmill.
For example, when you are waiting for your hard-boiled eggs to cook for breakfast that could be about 10 minutes of time spent doing indoor jogging. Instead of sitting on a chair and watching the clock, why not set a timer for 10 minutes and do a 10-minute jog on the treadmill as you wait? If you can complete three 10-minutes workouts within your day, you will be getting the same benefits as a person who did a 30-minute jog in one complete stretch.
Related Blog Posts:
Share this page with your friends!