District Race, billed as the world's first urban exploration race, promises participants a brand new experience that gets them exploring Singapore in a two hour immersive urban exploration format featuring cutting-edge augmented reality and location-based technology.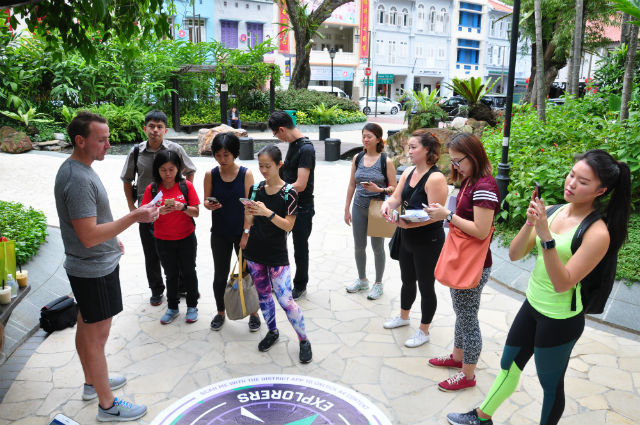 Concept stems from the fact that exploration is an innate human desire 
This intriguing race concept has been created by District Technologies, a joint venture between Singapore based Exceed Sports and Entertainment, an industry leader in innovative sports, lifestyle and technology events, and LightWeave, an Australian based experiential technology agency leading the way in virtual reality, augmented reality and new technology.
Explained Ben Pember, Co-Founder and Chief Executive officer of District Technologies, "We believe that exploration is an innate human desire that crosses all boundaries. At the same time, people are looking for new ways to keep fit and technology is now a key enabler in this space. We have created District as a technology platform to deliver amazing urban exploration experiences to as many people as possible globally."
He added, "Cities are amazing living places and we want to encourage urban dwellers to get outside, get active and explore more. Singapore is a vibrant city full of contrasts and we couldn't think of a better city to launch District in."
Race takes on a video game format
What sets District Race apart, is that there is no set route and distance like traditional running races; rather, the race takes on a video game format. Said Pember, "For a normal running experience, you run a set distance and it is you versus the clock. But District Race has no set route and distance."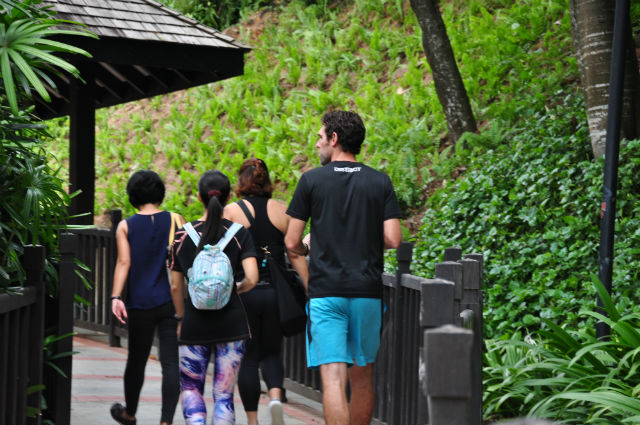 Pember continued, "Instead you create your own experience. There are also video game elements where you can get micro rewards. That helps to engage the participants and at the same time, breaks down the run into bite-sized chunks to keep participants motivated."
So in this way, by providing engaging and rewarding gasified urban exploration experiences, District hopes to create happier, healthier cities and encourage new and innovative ways to be active.
Added Sam Hussey, Co-Founder and Chief Marketing Officer, District Technologies, "District Race has completely revolutionised the way participants can explore their city and open up an experience like they have never seen before."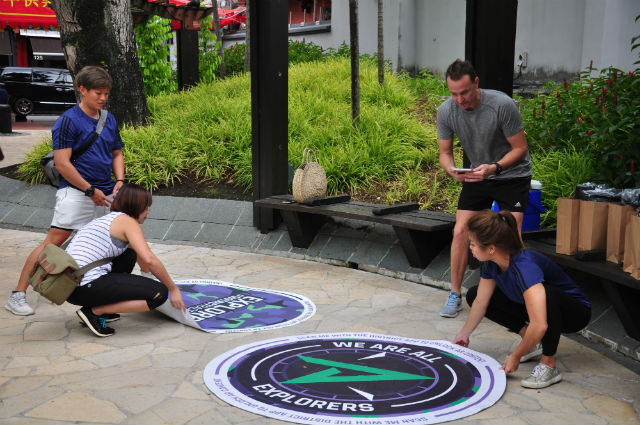 Hussey continued, "The District platform pushes the boundaries and mixes augmented reality and location based technology to move users through locations and bring environments to life."
Making its global debut in Singapore at the Gardens By the Bay
This brand new and engaging running race concept will be making its global debut in Singapore, on the 3rd of March – beginning and ending at the The Meadow, Gardens By The Bay. The event will last from 7am-2.30pm.
Set to bring Singapore to life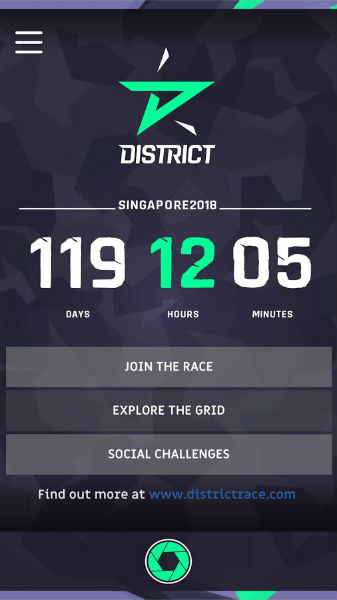 And the District Race concept is set to bring the city of Singapore to life via the District mobile app. On race day, more than 80 checkpoints and challenges are spread across five districts within the city (Chinatown, DownTown, UpTown, Gardens and Kallang), thus creating a race course known as The Grid.
The District mobile app is a free download on both the Apple and the Android app stores.
Each of the five districts that are represented in District Race also has its own theme, inspired by its history and current purpose. Kallang and Gardens offer a more physically challenging experience, Chinatown for its heritage and the UpTown and DownTown areas for those who relish intellectual thrills.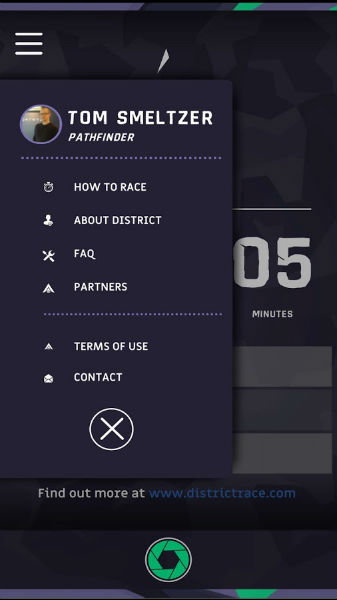 Within each district, there will be 13 checkpoints, three challenges and one bonus challenge and participants are tasked with strategising and planning their own routes, choosing which checkpoints and challenges to clear that will maximise their point score. So this means that it is the smartest, and not the fastest runner who will come top.
Said Pember, "Racers will have two hours to navigate to as many checkpoints and complete as many virtual challenges as possible."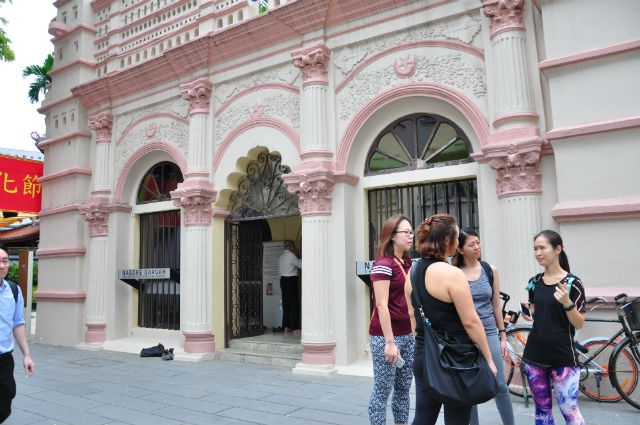 Types of challenges
The three types of challenges available on District Race are Quiz, Time Trial and Scan Challenge. Each requires different skills to tackle it – speed, city knowledge, dexterity and problem solving skills, and participants will have to choose which ones to take on, that play to their strengths.
Checkpoint scores range from 100 to 400 while challenge scores begin at 500 points. Points also increase based on the checkpoint's distance from the District Base and the difficulty of the challenge.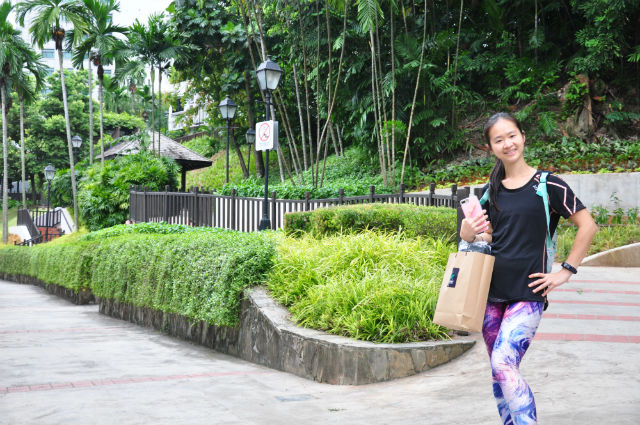 Do note however, that late return to the District Base will result in a points-deduction penalty.
Not possible to cover everything – you need to strategise 
And in case you may be wondering, I asked the organisers of District Race whether it is possible to cover every single checkpoint and virtual challenge within the two hour time limit – and they verified that nobody would be able to do so – even if you consider yourself to be a very fast runner. So strategy is of the utmost importance here.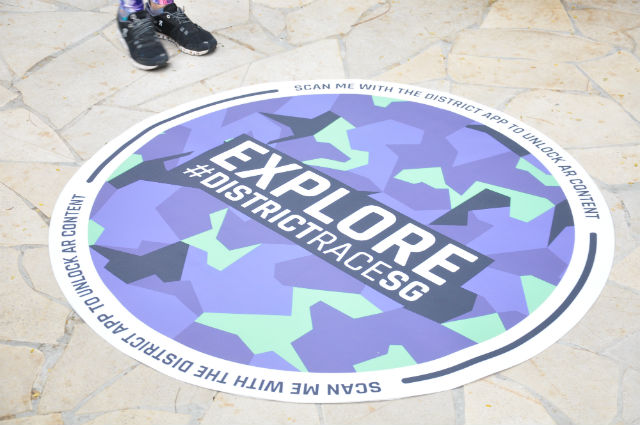 But in order to help explorers to strategise and collect as many points to optimise their race experience on the day of the event though, the full grid will be released closer to the race date. So don't worry, explorers – as you won't be required to come up with a plan of action at the very last minute!
Leaderboard to track your progress
As well, District Race consists of a leaderboard so that participants can track their progress and compare themselves with their friends. Runners stand to win prizes, too, if they finish amongst the top.
This leaderboard tracks participants with the highest points in real time. Attractive prizes total up to above S$15,000 from adidas, MasterCard, Garmin, Pure Fitness and XY Hotel.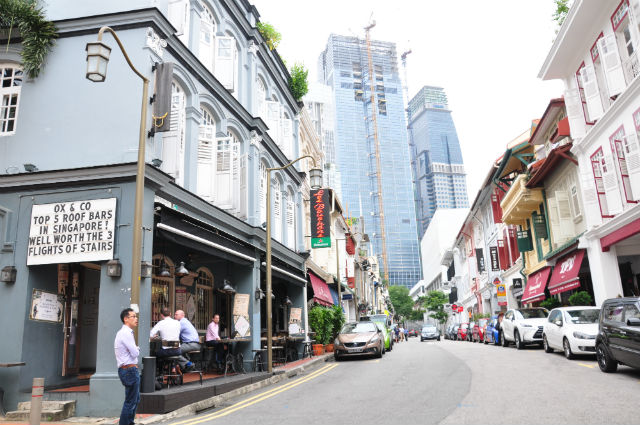 Additionally, runners also stand to win three pairs of coveted tickets to a luxury yacht escapade with free flow champagne and curated canapés board The Captain's Club, valued at S$4,500.
Plenty to see and do at the District Base
The fun does not end when the two hours are up though. At The Meadow, which is termed as the District Base, participants can try their hands out at technical experiences including augmented reality and virtual reality activities such as AR puzzles, basketball and slingshot games, as well as recovery classes, yoga and immersive bike experiences conducted by Pure Fitness and Pure Yoga, or watch a live graffiti painting on the five Singapore districts by a local artist.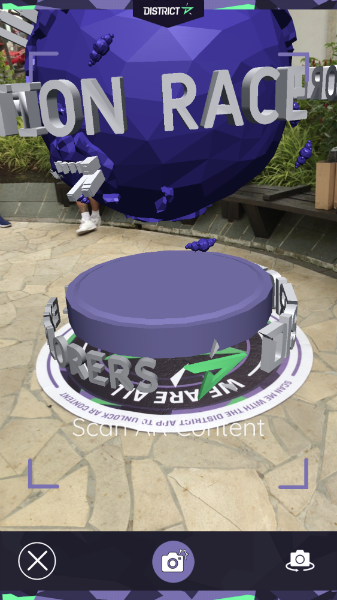 As well, racers can also refresh themselves at the District Base in the beer garden by Strongbow Cider and Kirin Ichiban, enjoy ice creams, milkshakes and more, alongside pumping music from start to end.
Attended the Media Launch event
In order to kick off District Race's Singapore race debut, a media launch event had been held beginning at the Telok Ayer Green, where members of the media as well as influencers, got the chance to try out the District Race concept for ourselves, around Chinatown.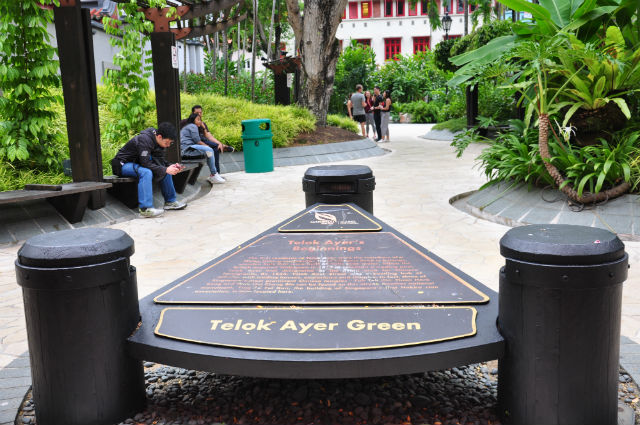 After downloading the District app, we had exactly one hour to collect as many points as possible around the Chinatown district. As I had not been out to complete for the leaderboard points, I decided to take the one hour as a leisurely stroll, and also took the chance to get the feel of what the District app was all about.
My Mission Experience 
And I have to say that it was quite an experience. For those who play the Pokemon Go AR mobile game, the basis behind the technology used, may remind you of this – I must say that it certainly did, in my case.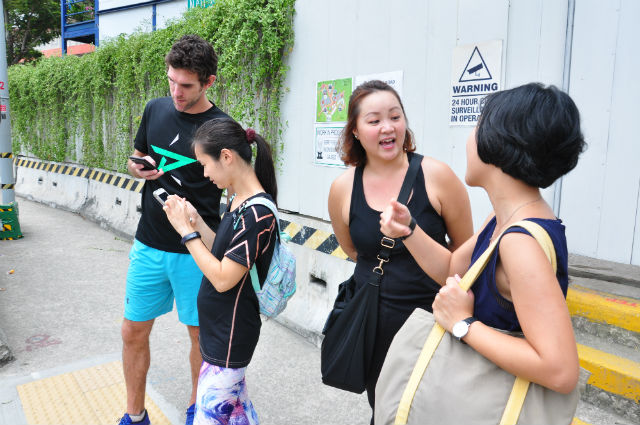 For example, running down to one of the District Race checkpoints, may make you think back to when you rushed outside to collect that rare Lapras or Snorlax that was across the street!
Overall on my Mission, I had collected about 1,300 points, which I suppose is not bad for my efforts. And walking around Chinatown area too, I had also managed to try out both a Quiz and Scan challenge, as well as to walk past several of the checkpoints.
The Quiz challenge requires you to be aware of your surroundings and possibly read signboards in the vicinity in order to locate the answers.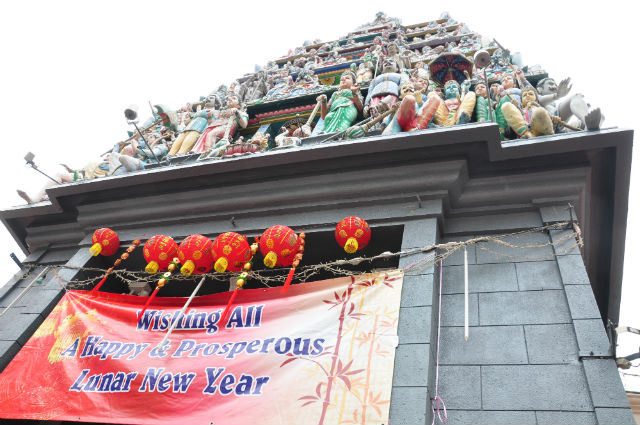 For me, the question that I had for my Quiz was related to the Sri Mariamman Temple, Singapore's oldest Hindu temple. I admit that it was a rather simple question to answer and did not really require too much brainpower on my part.
For the Scan challenge, you are supposed to scan objects, signboards or street names in the vicinity; my Scan challenge had required me to scan the Telok Ayer Park signboard.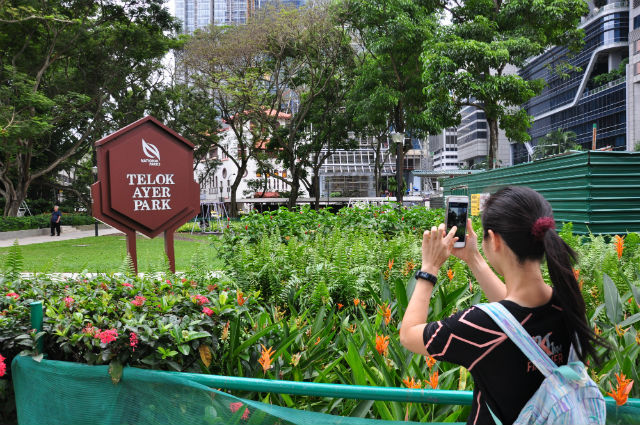 However for the Scan challenges that I tried out, I found that I had to go right up to the signboard in order to scan it, but other players who were with me, had been able to scan this signboard from a distance.
So the effectiveness of this, may depend on the accuracy of your mobile phone's GPS and how sensitive it is. I guess technology does have some limitations after all.
In addition to the GPS issues that I faced during the Scan Challenge, I also had some issues scanning one of the checkpoints – the Amoy Street Food Centre.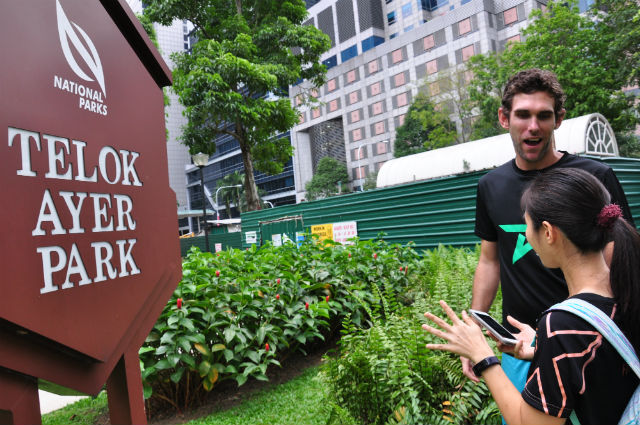 Even though I had been literally at the spot, my phone's GPS was having problems picking up a signal, and so I had been unable to log the 100 points that was supposed to have come with reaching the checkpoint. Even walking up and down the food centre was to no avail, either, as my GPS was simply not registering.
I think the main reason for this had been because the Amoy Street Food Centre had been a heavily built-up concrete place, and so this may have caused some disruptions to my phone's GPS signal.
Unfortunately I had not managed to try out one of the Time Trial challenges. But according to the District Race organisers, these require you to perform an activity within a specific time limit, for example, climb the staircase at Fort Canning Park within a few minutes. The aim of these activities, as far as I understand, are to test either your physical or intellectual ability.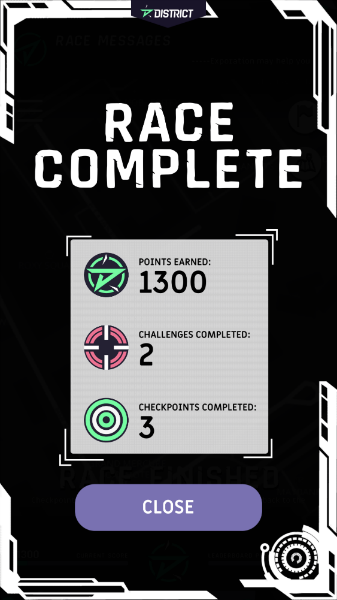 Bring your portable power bank 
Throughout the hour, I had also been required to keep my phone on the whole time, in order to activate all of the checkpoints and the challenges. As a result, my iPhone 7+ battery went down from 80% before the hour began, to about 47% after the hour was over.
So for those who are taking part in the District Race on 3 March, I would strongly recommend that you bring a battery pack along. In fact the organiser also urges participants to have your phone fully charged and bring along a power bank on event day, too.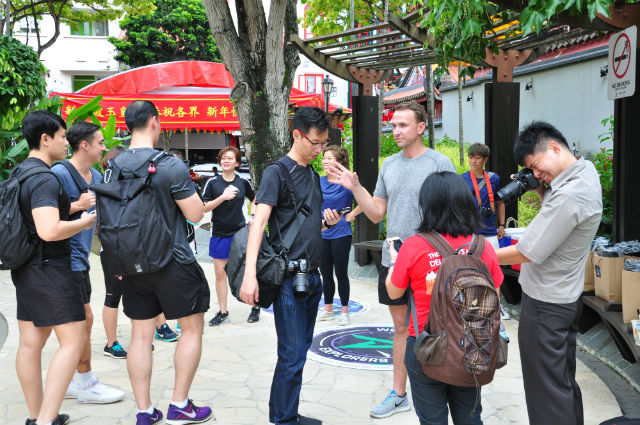 Despite the technological shortcomings though, I can see the potential of District Race. I admit that I had lots of fun throughout my one hour – exploring the Chinatown area and finding out more things about its history and heritage.
It is a fun and interesting concept and I think that it is good to get people, who may not usually run or do sports, to go outside to explore their surroundings, as the video game theme may excite them.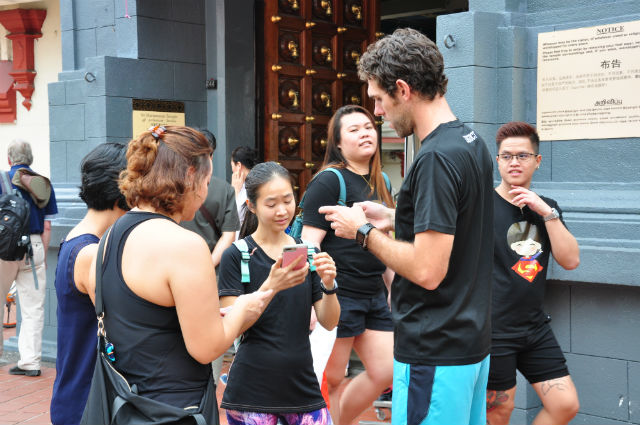 Try out the Mission Week for yourself too
What we had actually tried out, had been one of District Race's Mission Week events – one of the lead up events to the District Race on 3 March. These Missions are open to the public, too, and are supposed to help participants to get a feel of what District Race is all about, in order to give them a head-start prior to the actual event.
Said Pember, "The Mission Weeks are a bite sized experience of the District experience so that people can get a sense of what it is all about."
In fact when we were gathering for our media launch, a few members of the public also dropped by, to try out the ongoing Mission Week for themselves. Said Pember, "The second Mission Week is happening now and we saw a few people coming down for their District experience."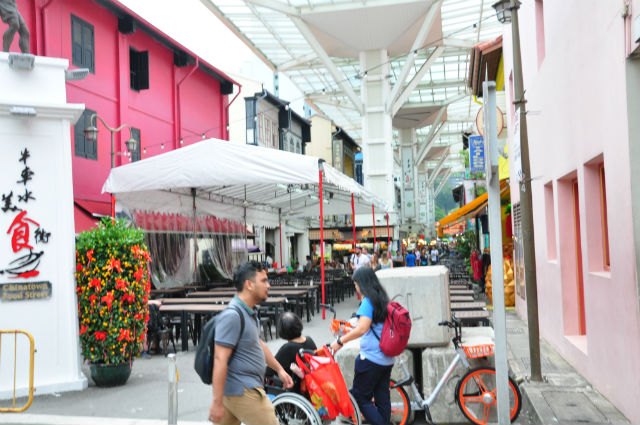 The Mission Week experiences are FREE of charge and they are also easily accessible on your phone, simply by downloading the FREE District Race app.
Get 10 PER CENT OFF when you sign up for District Race
If you enjoy what you experience during Mission Week, you can sign up for District Race on their website at www.districtrace.com/events/Singapore. Tickets are available at S$75 each until 15 February. From 16 February, tickets will be available at S$80 each.
Readers, are you interested to sign up for District Race yourself?
With PrisChew Dot Com, you can get 10 PER CENT off your registration fees. Simply key in the promo code, EXPLOREWPRIS
when you sign up for District Race to enjoy your discount.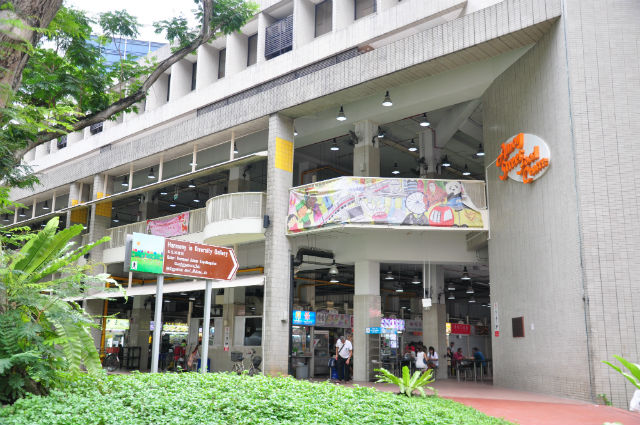 The promo code is valid throughout the entire ticketing period, which ends on 25 February.
District Race will be going places
Following the Singapore leg, the District Race will also be taking place in Hong Kong on 13 May and there are plans to launch in the United States, Australia and Western Europe later this year, too.

Share this page with your friends!