Marathon runner Jasmine Goh's quest to take part in the 2017 South East Asian Games Women's Marathon had initially started out as a pipe dream.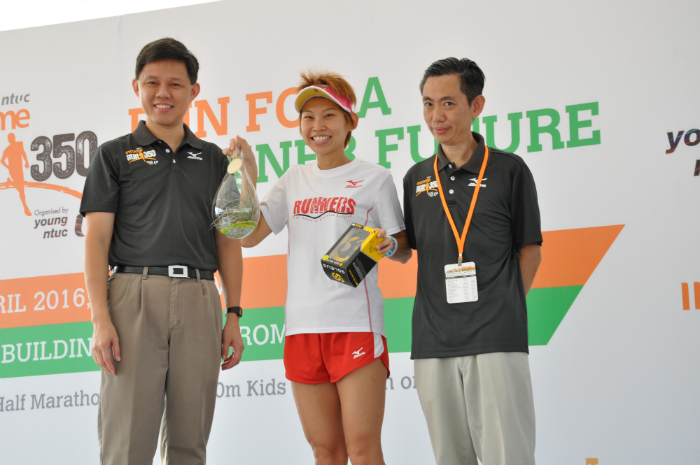 Dream was planted in her mind in 2015
That had been in June 2015 and Jasmine, 37, had been watching Singapore's national marathoners – Soh Rui Yong, Ashley Liew, Rachel See and Neo Jie Shi – flying their country's flag at the 2015 South East Asian Games.
Said Jasmine, who holds down a full time job as a financial planner, "It was awesome, the fact that not only the marathoners, but all of the athletes – from the track athletes to the swimmers and bowlers, all have their own lives yet they are putting all of this aside for Singapore to fly the Singapore flag at the South East Asian Games. I thought it was so cool to be part of the community and the event, so I told myself, what the heck, just go for it. I did not know if I could make it, but at least I could give myself the goal to aim for and go for it. That was the moment that had planted the seed."
She had wanted to prove that age is just a number
Of course everyone around her, had thought Jasmine was crazy at the time when she had initially made her goals known to them. Said the runner, "Everyone thought I was insane. Whenever I met friends and other people, I would tell them that I am trying to qualify for the South East Asian Games and their eyes would pop out. It's like, someone so old, at age 37, trying to do it, does that mean Singapore has no younger runners who can make the cut? But I wanted to show that you can still train regardless of age, and that age is just a number."
She continued, "I really wanted to do my part for Singapore and even though I was no longer young, I felt that physically I could do it, and I wanted to give it a try."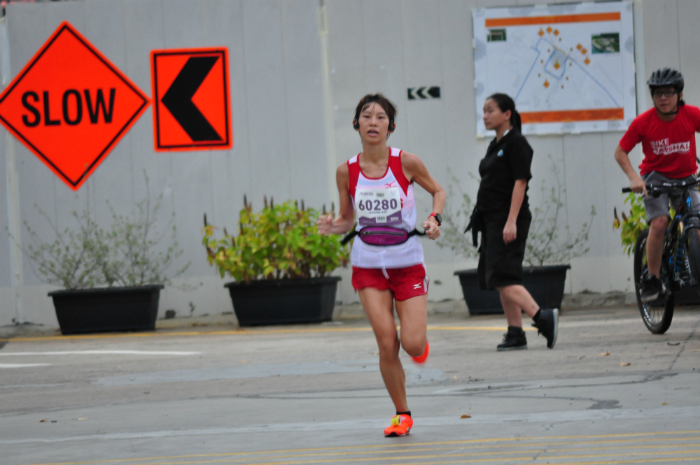 But her qualification had been no mean feat, though. This is because besides holding down a full time job as a financial planner, Jasmine is also a single mother to two young children – Cherish aged 10 and Faith, aged eight.
Planning her time and prioritising well
Jasmine, though, admitted that it is all about planning her time and prioritising what she needs to get done each day. For example if her children are sick and she has to stay home and take care for them, she would let her running coach (Lexxus Tan from F1 Runners) know, so that he can make alternative arrangements with regards to her training schedules.
In such cases, Jasmine – who has been with the F1 Runners Team since January 2016 – often does her own runs at her own time and when it's convenient.
But the most challenging aspect of balancing everything together, she admitted, is the need to want to do everything well. Said the runner, "You want to do everything well, that is, do well in running, spend time with your daughters, but there is only one of me and just 24 hours in a day. So having to manage my expectations is the biggest challenge there is, that is, my expectations of myself as a parent, runner, athlete, and financial planner. That is the reality."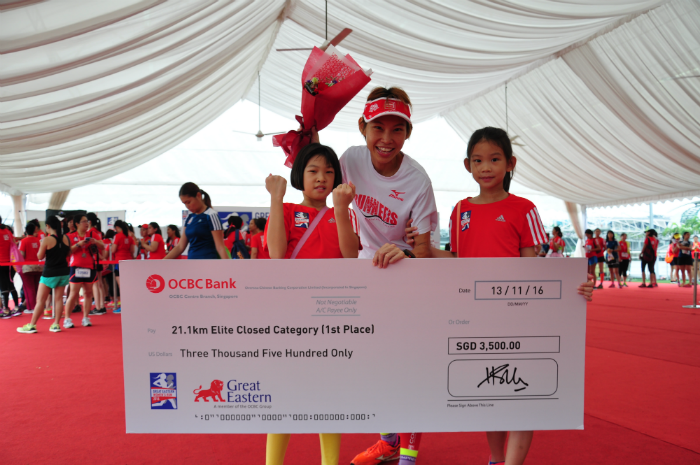 She continued, "But I make it known to the people who are involved, for example I tell my kids what I want to do, and the sacrifices that I will be making along the way. I let my kids know I can't have breakfast with them, but I will definitely see them in the evenings to have dinner together. It's all about communication and managing expectations.. I am thankful though that everyone has been so supportive towards me."
Met the qualifying time for the 2017 South East Asia Games Women's Marathon, at the 2016 Sydney Marathon
Through balancing her time well, Jasmine successfully ran a 3 hour and 4 minutes personal best at the Sydney Marathon last year to meet the qualifying time for the 2017 South East Asia Games Women's Marathon.
Jasmine though, had admitted that she had actually run a 3 hours and 4 minute marathon at the Okinawa Marathon in Japan, in February 2016. But because the marathon had been outside of the qualifying period, she could not use that time to enter the South East Asia Games.
Said Jasmine, "But back in February, I knew that I could do it. It was within my reach."
However she was injured with stress fractures in April. Said Jasmine, "So I had to take time off running and Lexxus put me on an aqua training programme. That was difficult because I could not run and I also didn't know how long my recovery would take. There were so much doubts."
She added, "But I am glad that it all ended well. The structured aqua training in the pool really helped and at the same time it took load off the stress fracture and allowed it to heal."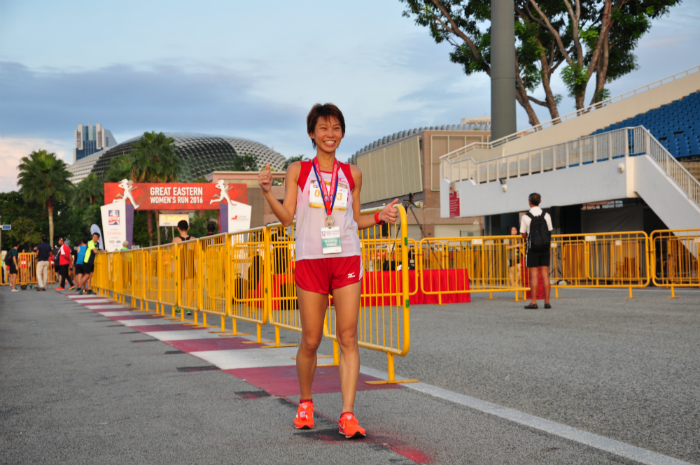 So going into the Sydney Marathon, she had managed to recover the fitness and stamina to run a 3 hour and 4 minute marathon again, and hit the qualifying mark.
Grateful that she could do it
Said Jasmine, "I felt grateful that I could still do it despite all of the setbacks and challenges."
She continued, "My family knows how much effort I have put in to achieve this. My daughters have come for some of my training sessions and they know what I was aspiring for. They know my downtimes and when I feel so tired, but through this whole process, I hope they can see that nothing is impossible, not even age or gender; if you have a goal, be prepared to make sacrifices and put in the effort to achieve that goal. Hopefully this will inspire my kids to fight for their dreams next time and work hard."
Hopes to inspire more Singaporeans to run and dream
In the long term, Jasmine hopes that her achievements can inspire more Singaporeans to take up running and to dream big in their running journeys.
She said, "There are so many runners who run, but they have no goals because they are scared to dream big. They always think of running the half marathon or the full marathon but they are afraid of the distance. I want to show them that I am a live example, that age or gender does not matter, that if you set your mind to do something, you can achieve it."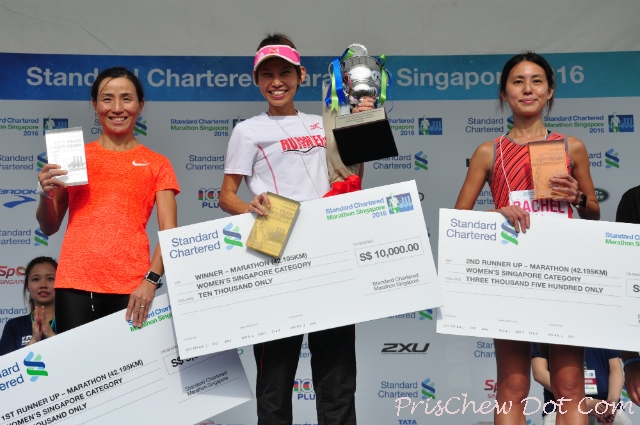 Her achievements are indeed inspiring, as Jasmine took very small steps when she first started running back in 2011. She had picked up running that year because she wanted to lose weight and take better care of her body. So Jasmine signed up for the Standard Chartered Marathon that year even though she "had never run more than 10km in my life."
Said Jasmine, "And when I began running, I didn't even have running shoes, but I made it my goal and it became a commitment. I ran in the nearby park and I almost died after running 2.5km at the beginning. There were times when I could not head out to run as I had to mind the kids, but I would run in the room at home, on the same spot for two hours. That's what I mean by setting your eyes on the goal and stay focused, doing what you can do."
She added, "I mean, nobody gets out there and runs a marathon from Day 1. There is always a beginning for everything no matter how big or small your dreams are. I just want to inspire everyone to go for their dreams and do not let any reason deny them of their goals."

Share this page with your friends!