To launch their WHY I RUN initiative in Singapore, together with their revolutionary Jaybird RUN True Wireless Sport Headphones, Jaybird recently invited members of the media, social media influencers and Jaybird athletes to a dinner event at the Autobus cafe in the central business district.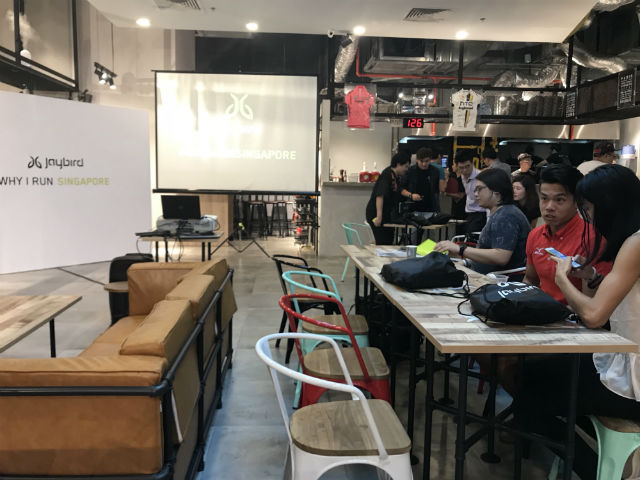 Established in 2006, Jaybird is a pioneer of sports Bluetooth headphones. By working closely with their team of professional athletes, Jaybird has established itself as the headphone brand for active people who love to power their passion with wireless music.
Jaybird hopes to understand what runners need
Inspired by runners, Jaybird's WHY I RUN initiative entails a year long outreach through various running events, grassroots running clubs, offline and online activations in Singapore and through these, Jaybird hopes to understand what runners need and to deliver what every runner wants through seamless integration of music into their active lifestyles.
Said K.P. Sim, the Country Manager of Jaybird Singapore, "This WHY I RUN initiative was designed to engage and excite the running communities in Singapore to explore their full potential through shared experiences and stories. The goal is to reinforce Jaybird's positioning as a brand built by runners, for runners."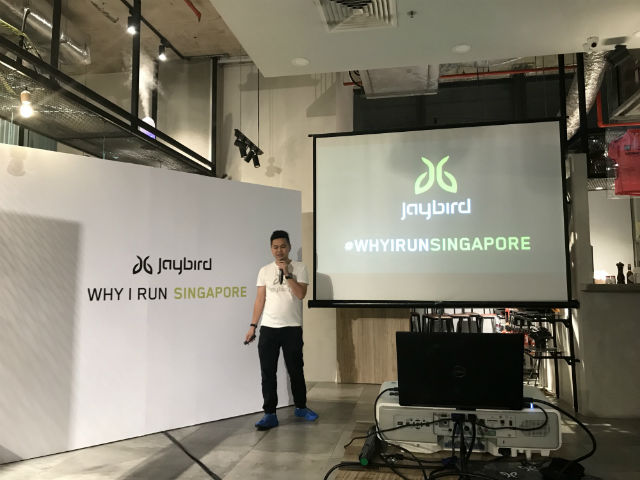 He added, "We hope to use this campaign to inspire more people to get out of their house and put in their earbuds to start running. By engaging running clubs in Singapore, we also hope to get more insight from them to continue to build and grow the Singapore running community with us."
Penning down the reasons why we run
At the launch event, attendees were encouraged to write on the "Jaybird Wall", a large whiteboard – the reasons why they run. This had been kick started by both Sim and Jeanette Wu, Cluster Category Manager, Music and Sports at Jaybird South East Asia, who had verbally shared their running stories before proceeding to write them down with marker pens.
Wu shared that she had started running when she joined Jaybird, and picked up running because she initially needed to trial and test out new products before they were released to the public. Since then, Wu has fallen in love with running. She has taken part in several 10km races and she aspires to run a full marathon someday.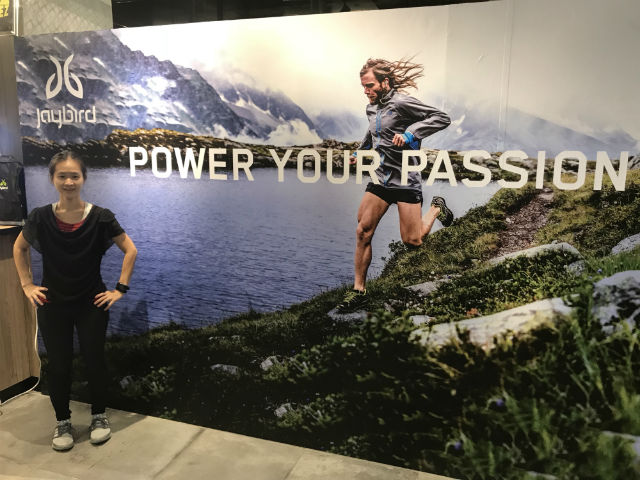 Sim on the other hand, picked up running because he realised that he was gaining weight and his metabolism was slowing down. Said Sim, "I have never been a sports person and I am not good with sports games. But I was born with a good pair of legs. Since young, everyone has had the ability to walk and run. As I aged, I realised that my metabolism was slowing down and I was developing a tummy. It was a wake up call for me to do something and so I picked up running. Listening to music with my Jaybird earphones helps me to focus on the music and not on the pain, when I run."
On the "Jaybird Wall", other attendees shared a variety of reasons, ranging from pushing their limits to refreshing their mind and staying fit. One attendee who signed off as "Zach" had wrote that he runs to escape from zombies, much to my amusement.
Jaybird RUN True Wireless Sport Headphones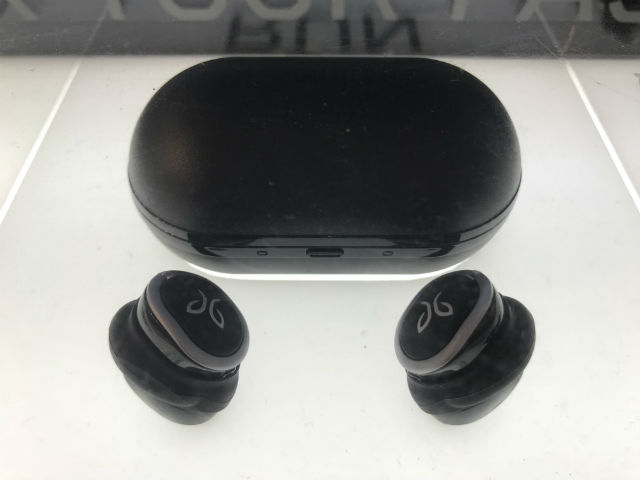 Jaybird launched their Jaybird RUN True Wireless Sport Headphones too, at the event. Offering a radically freeing experience to runners, the Jaybird RUN was designed from insights gained from top runners around the world, and aim to deliver a secure, run-specific, comfort-fit, sweat-proof, water-resistant and skip-free customisable sound.
Moreover, the high performance Jaybird RUN True Wireless Sport earphones is packaged in a wire-free, lightweight and compact form factor that is advertised as delivering 12 hours of portable battery life with the included charging case.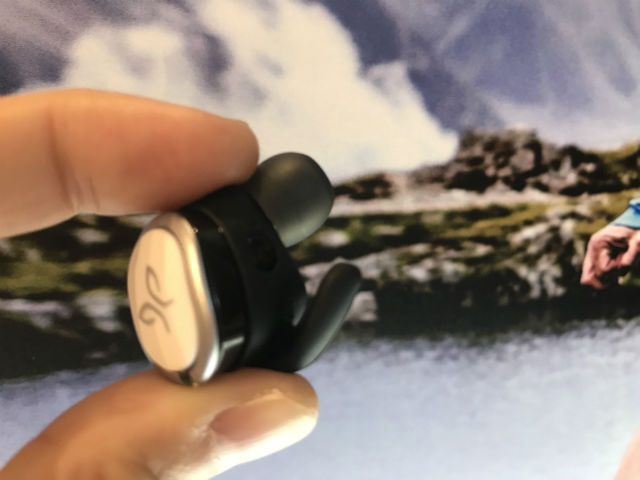 Wu shared more about the earphones at the launch event. She said, "This is our first true wireless headphones. With the Jaybird RUN, you don't need to have any worries about tangles and wires. Just enjoy your run. This is what we ultimately hope to bring to end consumers."
She added, "Moreover there is only one button featured in the headphones to adjust your sound volume, change songs and so on. This is to keep you focused on your running. This is how we ensure that 'less is more' as runners do not want to feel like they are wearing earphones as they are running."
I had my first experience with the revolutionary Jaybird RUN True Wireless Sport Earphones at the launch event – with the demo unit that had been on display there.
As I have small ears, the size of the earbuds in the box is a bit big for me, but according to Jaybird, there are 12 sets of earbuds to ensure a fit for every ear size, so I am confident that though some trial-and-error though, I will be able to eventually find the right fit for myself, should I get a pair of these.
I found that the Jaybird RUN is also apparently quite easy to use, too. Upon connecting to the BlueTooth on your mobile phone, the earphones are good to go. And I thought that the sound quality is quite good for such a small pair of wireless headphones, too. It is a pair of earphones that I would love to bring out to my training runs on a regular basis.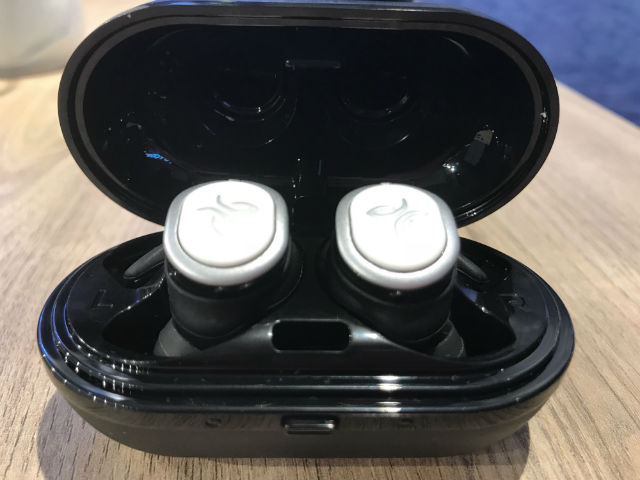 The Jaybird RUN True Wireless Sports Earphones are now available at Jaybird's partner retail outlets across Singapore as well as on JaybirdSport.com and they have a recommended retail price of S$299.00.
Jaybird Freedom 2 with SpeedFit
As well, Jaybird also launched another product, the Jaybird Freedom 2 with SpeedFit. This is an update on the popular Jaybird Freedom earphones and according to the company too, it has an even better fit thanks to the softer and more flexible combined tips and fins.
The incorporation of SpeedFit, an integrated cord management system, also makes it more easy to switch from the under to over ear configuration, lifting the cord off the back of your neck to deliver a secure fit with complete freedom. The combined tips and fins also make it easier to get a customised fit to fit your ear size perfectly.
Said Wu, who had also shared more about the Jaybird Freedom 2, "The Freedom was launched in September two years ago and we had lots of feedback from runners who use it when they run. People loved the small size and lightweight aspect of the buds, but we always wondered how we can make it better."
She added, "So this is it: the Jaybird Freedom 2. It is an improvement over the original Freedom, and makes it easier for runners who are already using the Freedom earphones. Additionally, we have also retained the on-the-go charging clip so that you can continue to listen to music as you are running, too."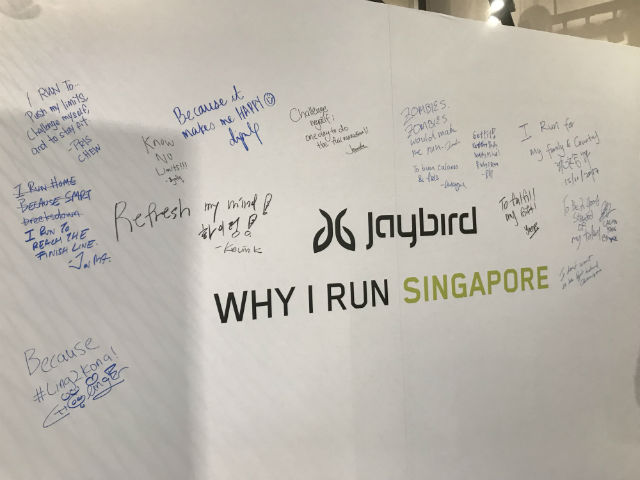 When I managed to get my hands on the demo unit, my initial first impressions of the Jaybird Freedom 2 is that it seems to be lighter and softer than the original Jaybird Freedom. So this means that Freedom users would definitely enjoy this updated version of the iconic headphones.
The Jaybird Freedom 2 are now available at Jaybird's partner retail outlets across Singapore as well as on JaybirdSport.com and they have a recommended retail price of S$239.00.

Share this page with your friends!