Update: The Instagram contest is now closed. The winner is Mr Suhaimi Jantan. Congratulations Suhaimi. This is his winning IG post: https://instagram.com/p/yXFRsURakR/?taken-by=suhaimijantan
Thanks to all of you who participated in the contest.
The JBL Synchros Reflect BT earphones have several features that will cater to athletic people who enjoy working out. They offer five hours of Bluetooth-enabled wireless connectivity and JBL-quality sound. And they are also sweat-proof and are reflective coloured for night visibility.
Here's more information on the specs of the JBL Synchros Reflect BT earphones.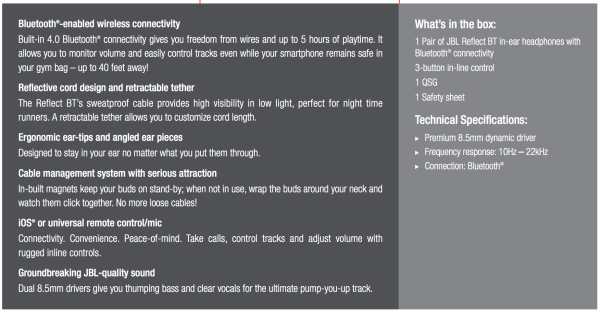 Recently, I tried the JBL Synchros Reflect BT earphones for a few runs. Here are my comments on them.
Music quality is deep and bassy
The first thing that I noticed, when I had put the JBL Synchros Reflect BT earphones on and had successfully synced it to my iPhone via Bluetooth – is that the quality of the sound is definitely very solid, deep and bassy. While the mid and high tones of my sound tracks may have appeared to have been neutralised a bit, I thought the rich quality of the sound was very enjoyable to listen to, while jogging – as the deep, bassy tones of my music were a great motivation to help keep me going throughout my workout.
At the same time, these earphones are good in terms of blocking out the annoying surrounding sound, and as a result, you are able to concentrate entirely on your music, without any disturbances from the outside environment.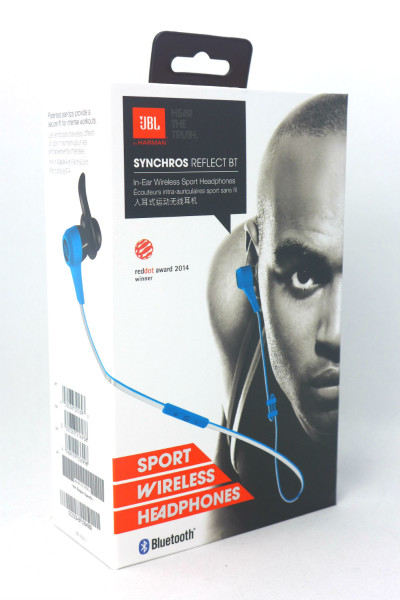 Easy to sync the earphones to my iPhone
The syncing process to my iPhone, via Bluetooth, is also very easy. All you need to do is to switch the earphones on, and the Bluetooth signal will be automatically picked up. It does not require any form of rocket science to achieve this.
Earphones stay inside the ears very well
The earphones stayed very well inside my ears – even though I was perspiring profusely while running. On some previous occasions, I have had ear pieces slipping out when I was perspiring, and then the rest of the exercise session would turn into a battle to actually keep the ear buds from falling out.
But this is certainly not the case when it comes to the JBL Synchros Reflect BT earphones. I think that this is probably because the ear pieces come with three different sized Freebit ear buds – in small, medium and large sizes, so that you can choose the one that will best fit the size of your ears. For me, the small ones were a perfect fit.
 Built-in magnet allows you to wear the earphones as a necklace
After my workout, I could also wear the earphones around my neck – with the help of the built-in magnets which click together to prevent the earphones from getting tangled too. With this feature, you do not need to worry about where to put the sweaty earphones after a run or a gym session. At the same time, clipping the magnets together will preserve the battery life by putting the earphones on standby mode.
Remember to charge the earphones
However, do remember to charge the earphones before you leave the house, especially if you are going out for your long run. I forgot to charge the earphones before my first run – and they died half an hour into it.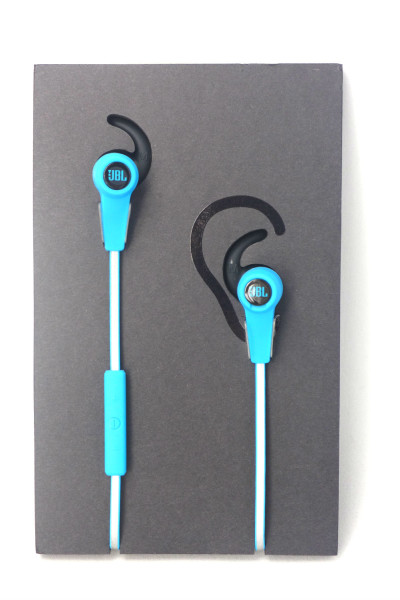 Where to purchase the JBL Synchros Reflect BT earphones
The earphones can be purchased from the following outlets. A set is retailing for SGD169 each.
Retailers
Harvey Norman stores ( Island Wide )
Courts ( Island Wide )
Digital Style ( Island Wide )
Nubox ( Island Wide )
Challenger ( Island Wide )
1stMobile @ TANGS Level 3
Epicentre ( Wheelock, 313 Somerset, ION Orchard, MBS & Bugis )
Million Tech @ SimLim Square
Connect IT ( Tampines One and JEM )
 Online platforms (subject to availability of stock)
Lazada
Qoo10
Rakuten Singapore
HipVan
How To WIN a Set of the JBL Synchros Reflect BT earphones
Firstly, like Prischew Dot Com on Facebook and/or @Prisgooner on Instagram. Then share a picture of yourself working out, on either Facebook and/or Instagram. Remember to tag #iwantJBLSynchrosReflectBT and #JBLSingapore in your contest post.
The most creative or well-taken photo will win. This contest will run from now until the end of April. Results will be announced in the first week of May.
Contest entries must be "public". Instagram users should set their profile to public and Facebook users should make sure that the post can be seen by "Everyone" instead of just "Friends."
For more details…
For more information about JBL's product range, you can check out the following:
Facebook page – www.facebook.com/JBLSingapore
Instagram – #JBLSingapore
Twitter – @JBLaudio

Share this page with your friends!