Jason Tan Wen Long, 24, started running initially to lose weight.
Said Jason, who works in customer support at a local telco, "I started running because I was obese and I wanted to change my lifestyle. During secondary school I used to be teased about my obesity so I wanted to do something about it."
He had never used to be a runner earlier; Jason only picked up running when he had began working.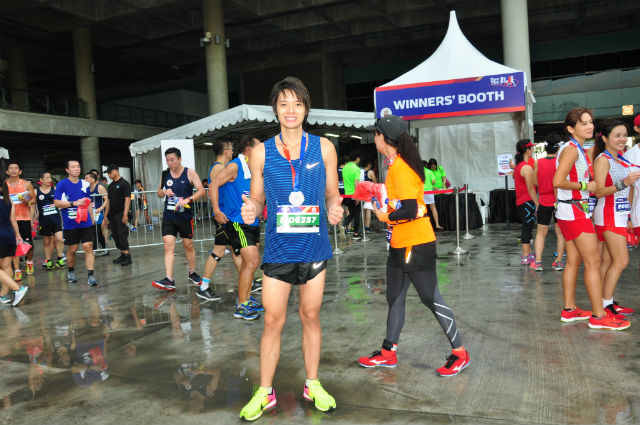 And to him, running was the easiest sport to pick up. He said, "I had thought about lifting weights or cycling, but in the end, I had thought running was the easiest to pick up."
Driven by a continued need to improve his timing 
Nowadays, Jason is not only running for fitness but he is driven by a need to better his timing each time he takes part in a race, and has picked up a few podium prizes on the way.
Said Jason, "When I sign up for a run, this run would motivate me to train because I want to run my best each time. My goal, whenever I take part in a race, is to run faster than the previous time."
Some of his recent achievements include coming 7th at the Yellow Ribbon Prison Run a couple of weeks ago, and finishing in the top 10 in the Half Marathon at the Standard Chartered Kuala Lumpur Marathon also this year.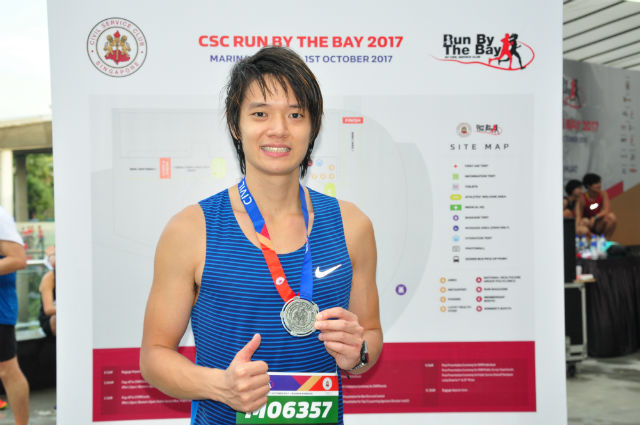 Jason added, "These achievements drive me to keep running so that I can achieve more in the future."
Training for his races
To train for his races, Jason runs about 13km after work along the Marina Bay for about three to four days a week.
Said Jason, "I did try to run before work at one stage, but it was not effective because I could not wake up to run. Singapore morning runs are also quite hot. So most of the time I run at nights as it's more cooling."
As well, he also trains together with the Singapore Shufflers running club on Mondays and Wednesdays, doing speed workouts with the group on the running track. His long runs take place on the weekends and he covers anywhere between 25km-35km per session, progressively increasing his mileage, as he is currently training for the Standard Chartered Singapore Marathon in December this year.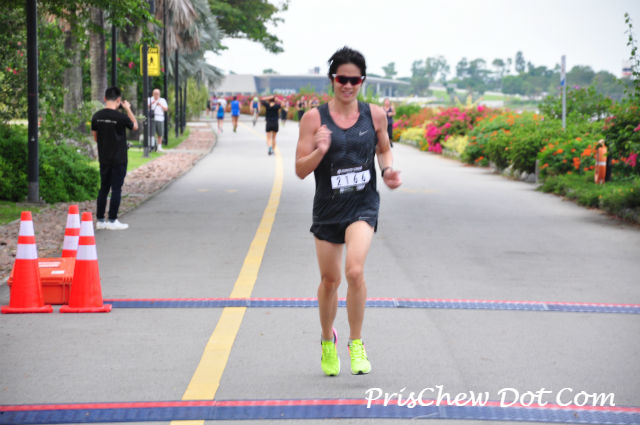 His sessions alternate between hard and easy runs. Said Jason, "I alternate between hard and easy training sessions. For hard runs, I would do close to 3:20 min/km but for my easy runs, those would be about 5:00 mins/km."
Takes off one to two days for complete rest
Jason takes either one or two days off each week to have a complete rest, depending on his weekly schedule and how his body is feeling.
Said Jason, "I give myself one day of rest each week on average but if I am really tired, then I take two days off."
His weekly mileage, Jason estimates, is roughly around 90km-100km.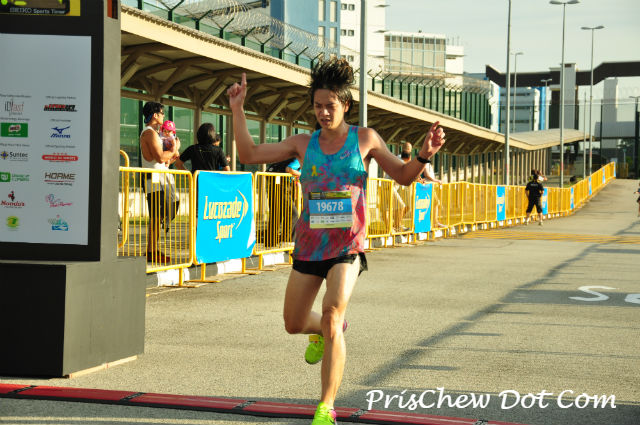 Does not do weights or cross train
Jason does not train weights though, because he feels that it is contradictory to runners. He said, "I used to do weights but I stopped that because even though it increases strength, it makes me feel heavier to run. Nowadays I feel lighter when I run and I can go faster. I learnt that to build strength as a runner, you can do other training such as hill runs or bodyweight core training – those train my abs and muscles too."
Apart from cycling recreationally every now and then, Jason also admitted that he doesn't really do cross training because he doesn't have the time to do so.
Join a running group
What tips does Jason have in order to encourage more Singaporeans to run? He said, "I would say to find time, it does not matter how long you run for. You can do anything between 15 minutes to an hour; as long as you make it a part of your daily lifestyle. Just one to two days a week of running is better than nothing."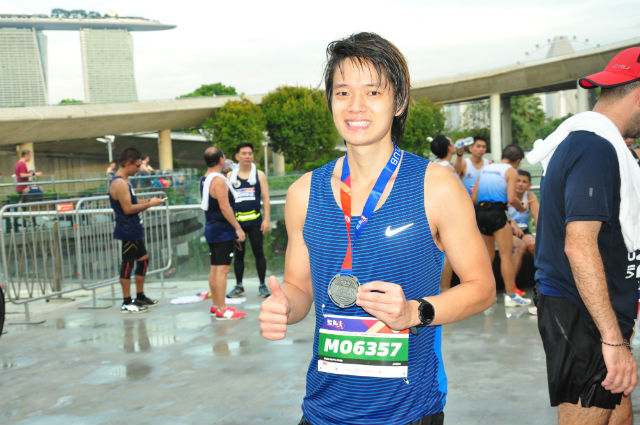 He added, "Joining a group is also great motivation to run. It does help."
With a running group, Jason also pointed out that runners can learn tips from each other about running to improve themselves and the more seasoned runners can guide the less experienced ones, too.
He said, "I am self coached, but I learn tips from my group because most of them are faster than me. So I analyse their running style and after each race I approach them and ask them how they manage their training. I think that it is the peer pressure from faster runners too, that can help me to improve."
He added, "But if you are a soloist who prefers running alone though, then sign up for a race – that is the most effective and easiest way to motivate yourself to run and that is what I do to get myself out there."
Speed workouts to improve pace
To improve your running pace, Jason suggested that speed workouts can help. He said, "Speed workouts on the track are good for runners who want to go faster because it is easier to manage your pace and distance if you are running in circles."

Wear the right shoes
He added, "Also, wear the right type of running shoes too; you need the right type of shoes to run faster. For beginners, I suggest to try shoes that have more support but as you are more comfortable with running, get lighter racing shoes as these help you to run faster."
Have the right technique 
Having the right technique is also important for runners, Jason feels. He said "Correct your run technique before moving on to run fast though. I feel that is important. You need to perfect your technique and posture otherwise if you try and run too fast with the wrong technique it can get you injured."
He continued, "But it takes time to correct your technique though; if you feel something is not right, then you need to figure out what you are doing wrong. In a group it is easier to do that as others can correct you but if you run alone, sometimes it can be hard to pinpoint your mistakes."
Enjoy your run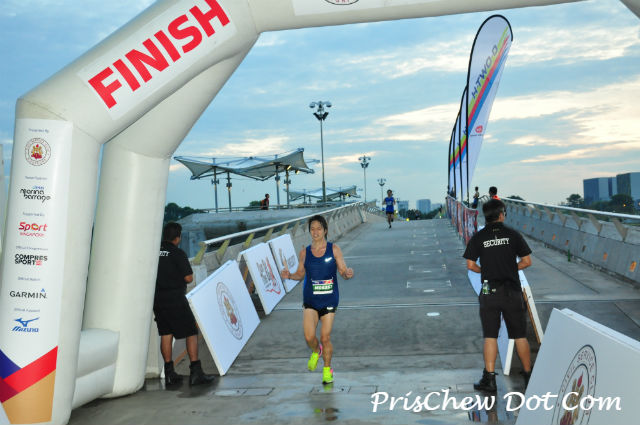 But no matter what though, Jason stressed that enjoying your run is still the most important thing and that despite the chase for personal best timings or to see improvements, never lose sight of your passion for running.
He said, "Just get out there and enjoy your run. As long as you are able to cross the finish line, then that is much better than staying at home."

Share this page with your friends!