Last Sunday morning, the ninth edition of the Standard Chartered KL Marathon (SCKLM) took place at Dataran Merdeka, Kuala Lumpur (KL), Malaysia.
Click here for my SCKLM 2017 race review
Click here to view the SCKLM 2017 photos
Kenya's Cosmas wins the Men's Open Full Marathon
And breaking the tape in the Men's Open 42.195km Marathon had been Cosmas Matolo Muteti, 25, from Kenya with a time of 2hours 18minutes and 43seconds, winning USD17,500 in prize money.
And emerging second in the Men's Open 42.195km Category was five-time SCKLM champion Kennedy Kiproo Lilan from Kenya with a time of 2hours 19minutes 35seconds and rounding off the top three had been Tonui Kiprop, also from Kenya and with a time of 2hours 20minutes 36seconds.
Said Cosmas, who had been delighted that he not only won the title but recorded a personal best while fighting off multiple winner Kennedy, "I was running against strong opponents but I kept to my game plan and really enjoyed the run through some great scenery."
He added, "I actually did not expect to win because it was my first time running SCKLM. For my strategy, I ran slower at the beginning and focused on my own race so that I could push harder at the end and win. The race was too fast for me at the start; they were running 22kmh to 24kmh so I was smart and held back and I could catch up. I realised that I had the win in the bag at the 35km mark."
The weather, Cosmas added, was also not as hot or humid as he had expected. Said the Kenyan, "The weather was not so tough. I ran the Bali Marathon last month and it was really hot and humid there but today it was quite okay. I didn't face any challenges through the race as the weather and the course was preferable for running."
He added, "But even though I have set a new personal best today, I think I can run faster than this. When I get back to Kenya, I want to change my training to high altitudes. If I do that, I can run even better."
Elizabert Wins the Full Marathon Ladies Open
The Full Marathon Ladies Open Category saw Elizaberth Chepkanan from Kenya taking the title with a time of 2hours 36minutes 14seconds. She also earned USD 17,500 in the process. Rounding off the top three were Vikoti Chepkemoi from Kenya with a time of 2hours 40minutes 8seconds and Zeritu Wakijira from Ethiopia in third spot with a time of 2hours 42minutes 56seconds.
Muhaizar Mohamad clinches the win in the Malaysian Men's Full Marathon
And in the Malaysian Men's 42.195km category, Muhaizar Mohamad clinched the win. It had been a close fight between Muhaizar and Leo Tan Hoong Leong until close to the finish line, when Muhaizar repeated his triumph as in last year's SCKLM with an improved time and a new personal best of 2hours 35minutes 55seconds. Leo finished with a time of 2hours 38minutes 6seconds and rounding off the top three was Ow Yong Jin Kuang with a time of 2hours 43minutes 45seconds.
Said Muhaizar, 32, "It was a hard race but I am happy to have defended my title and even happier to record another personal best at SCKLM. I ran my own race and did not think too much about the competition. I think that many runners tend to run too fast at the beginning of a race; you should just follow your own pace and you will do well."
Doing some speed workouts and light training may also help runners, according to Muhaizar. He said "I am self coached. I run six days a week and rest one day. I do long runs of about 15km to 20km almost every day and I also do weight training with light weights. That helps me with my running."
And with his SCKLM victory, Muhaizar also hopes that he has done enough to be selected for the Marathon event at the South East Asian (SEA) Games in KL later this year. He said, "The timing qualifies me for the SEA Games and I hope that I will be selected. I hope to get a medal for Malaysia."
Yuan YuFang wins the Full Marathon Malaysian Women's Category
The Full Marathon Malaysian Women's category saw Yuan YuFang clinch the win in a time of 3hours and 23minutes with Loh Chooi Fern and Chua Khit Teng coming in second and third place respectively.
Said Yuan, "I have taken part in this race many times and this race is comparable with international standards. I really enjoyed my run and I am happy to clinch the win. I love running."
Full List of SCKLM Winners
Here is a full list of the SCKLM winners across all of the categories.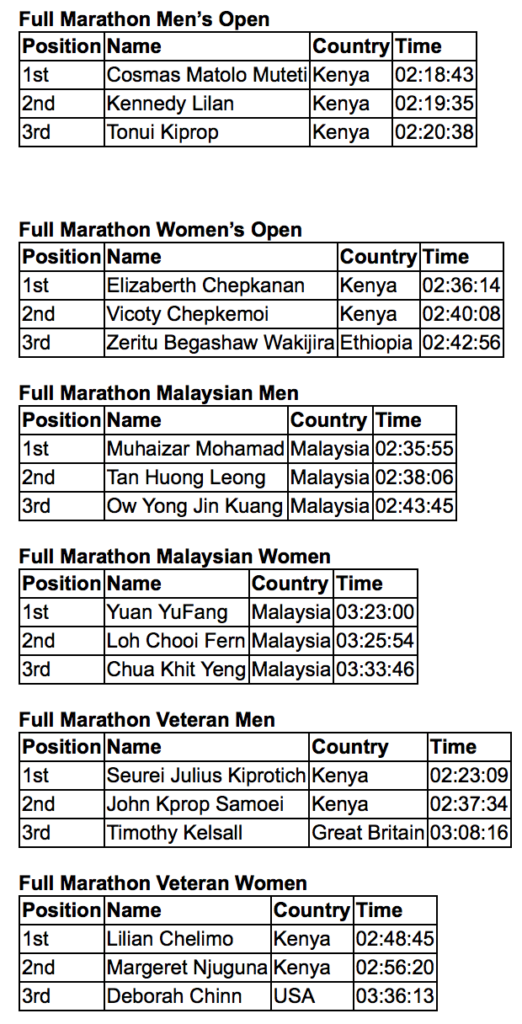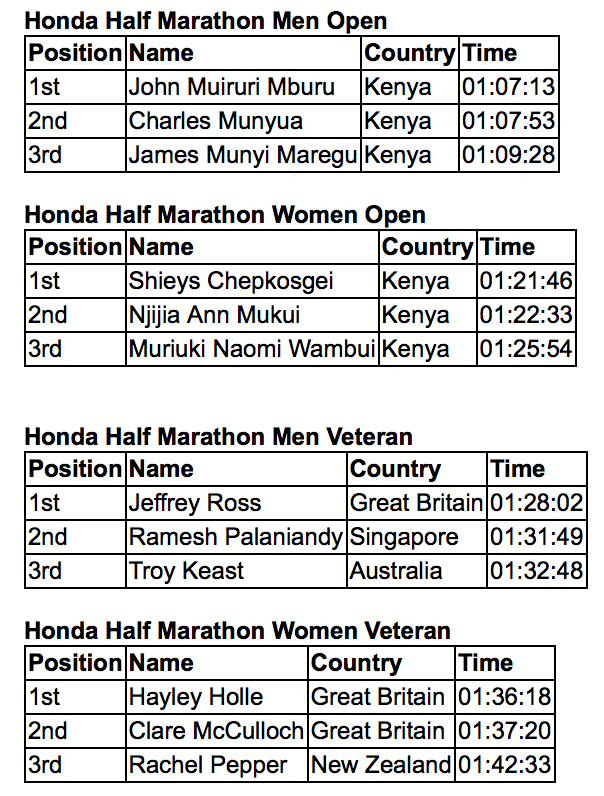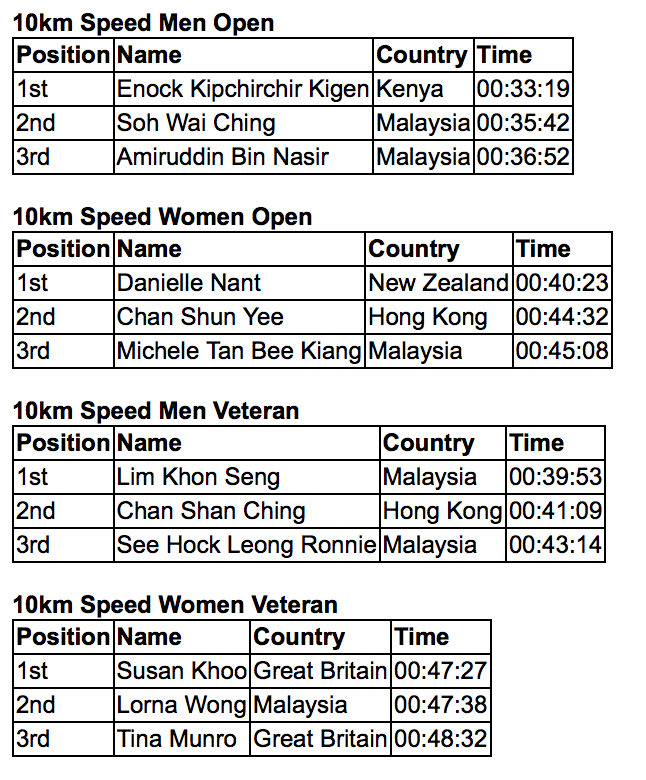 Other blog posts
Share this page with your friends!