If you love snacking as much as you do running, then the Meiji Run 2017 – billed as the "World's Most Delicious Race" – will suit you perfectly.
Back for the second year to bring more fun and healthy activities than ever to runners in a full-day event, the Meiji Run 2017 will offer participants the choice of a Meiji 5km Fun Run or the newly introduced 10km Competitive Cash Back Run. There will also be a Meiji Yoga Session on-site, to cater to not only yoga enthusiasts, but also to runners who may be keen to give yoga a go.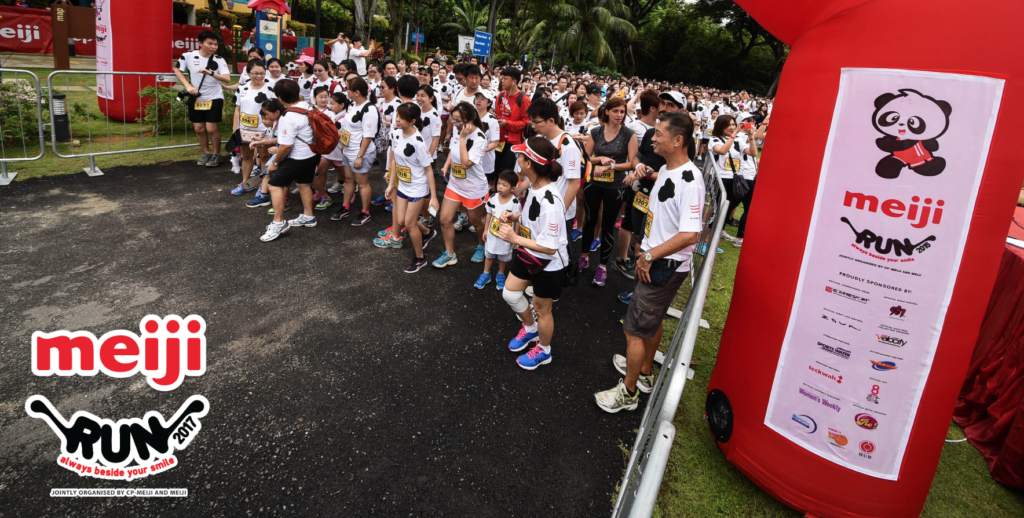 The Meiji Run 2017 will be an all-day event and it takes place on the 20th of May 2017 – at Sentosa's Palawan Green.
Meiji Yoga
Making its debut next year, the Meiji Yoga Session is a mass yoga session whereby participants will be nourished with Meiji Amino Collagen – before the session.
Then afterwards, participating runners will be treated to a scrumptious Meiji Breakfast, which includes Meiji Bulgaria Yoghurt with fruits and the Meiji Bulgaria Yoghurt Drink, which has been just launched recently.
Furthermore, yoga participants also have the option of relaxing and recovering after their yoga session… with a short spa massage or manicure at the on-site sponsor booths.
Taking part in such a yoga session before their run, would also be great for runners to calm down their minds and bodies – as well as to soothe their nerves, before the rigours of the running race ahead.
The Meiji Yoga session takes place on:
20 May 2017 @ 7.30am-10.30am, Sentosa's Palawan Green
Early Bird Tickets (bookings before 14 April) are priced at $35/Pax.
Meiji Yoga participants will receive the following entitlements.
Yoga Mat
Sports Singlet
DrawString Bag
Meiji Breakfast and Spa
Meiji 5km and 10km Run
For runners who love snacking at the same time, you will want to take part in either the 5km Fun Run or the 10km Competitive Cash Back Run categories of the Meiji Run 2017 – depending on your preference.
This is because finishers from both the 5km as well as the 10km Competitive categories will receive a Meiji Snack Hamper worth $20, together with the customary event Finisher's Medal when they complete their run.
I must say that this would be a great time to snack on the Meiji goodies without any guilt, after having already burned the calories when running.
The newly introduced category this year, the 10km Competitive Cash Back Run, also allows fast runners to partially or fully recuperate the cost of their run. This is because runners who can finish their race in less than 50 minutes will receive up to $100 worth of cash vouchers, redeemable at the Meiji Fair on the event day itself.
The timing tiers for runners to take note of, are as follows.
Below 50 Minutes – $10 Cash Voucher with Minimum Purchase of $20
Below 40 Minutes – $50 Cash Voucher
Below 30 Minutes – $100 Cash Voucher
With the registration fees for the 10km Competitive Cash Back Run being priced at a reasonable $55/Pax, this is pretty exciting news for our top runners, who can easily complete the 10km distance within 40 Minutes… and thus having about 90 per cent of their race fees returned to them in the form of scrumptious Meiji goodies… which they can then share with their family and friends.
I also know a few running kakis amongst my friends, who can comfortably complete a 10km distance within 50 Minutes, so the $10 Cash Voucher will be something for them to look forward to as well.
The Meiji Run takes place on:
20 May 2017 @ 3.00pm-8.00pm, Sentosa's Palawan Green
Early Bird prices (registrations before 14 April 2017) are at $45/Pax for the 5km Fun Run and $55/Pax for the 10km Competitive Cash Back Run.
Meiji Runners taking part in both categories will receive the following entitlements.
Sports Tee Shirt
Meiji Finisher Hamper – Worth $20
Tote Bag
Face Towel
Medal and Meiji Vouchers
Finisher Medal
Water Bottle – for 10km runners only
Limited Edition Meiji Run Plush Toy – for an additional $5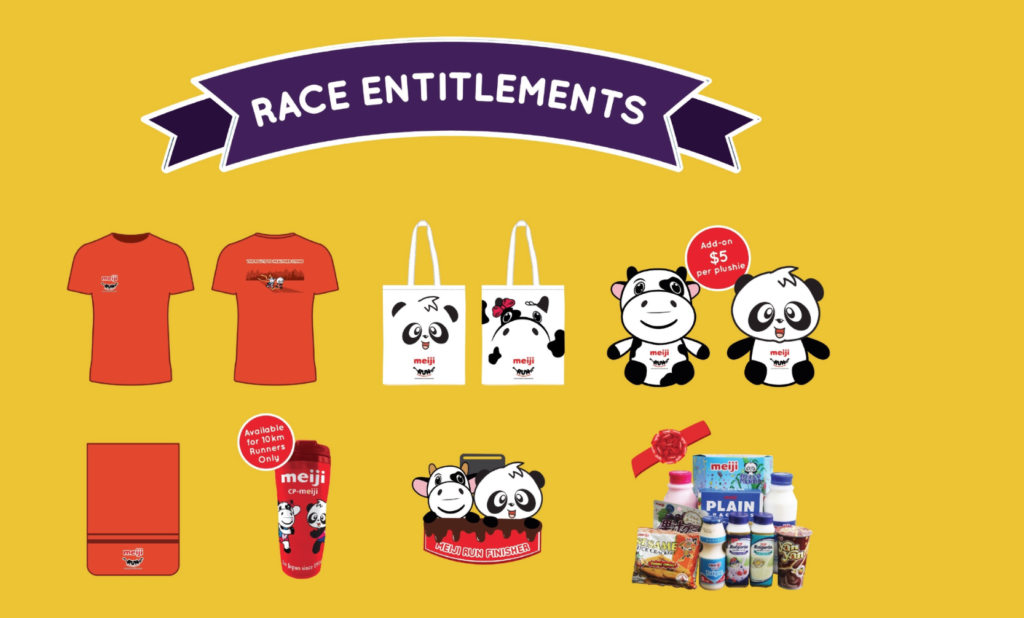 Other Activities
There are also plenty of activities on-site for Meiji Runners and Yoga enthusiasts to play – after a well deserved exercise session.
These include the Photo Booth to take GIF photos with their loved ones, as well as Japanese food and beverages for sale at the mini Japanese food fair. Movie lovers can also wind down at the live Outdoor Movie Screening.
Meiji Fair
The Meiji Fair on site will be located just outside the Meiji Run Start/End points and will be open to the public as well as participants. As if this isn't a draw already, customers who spend more than $50 in a single receipt, will be able to spin the prize wheel – to stand a chance to win additional Meiji goodies or to receive a limited edition Meiji Plush Toy – while stocks last.
As a bonus, participants who shop at the Meiji Fair will also have the opportunity to join a Lucky Draw to win two air tickets to Japan.
Registration is now open
Registration for the Meiji Run 2017 is now open. Sign up for the "World's Most Delicious Race" at www.meijirun.sg and indulge in Meiji snacks… after a hard workout.

Share this page with your friends!