Do you have a daughter or know of another little girl who has always wanted to be a princess?
Now she can become one. At this year's 10th edition of the Great Eastern Women's Run (GEWR), little girls will literally be able to feel like real princesses.
This is because of the introduction of a brand new category, the 100m Princess Dash for girls aged between three to nine. Participants who complete the 100m dash will get a special tiara as a finisher's token – as well as a bright red running tee, a tutu skirt and a goodie bag.
Said Colin Chan, Chief Marketing Officer of Great Eastern, "Having a kids' category has been a long time coming and I am sure that little girls will really enjoy this category, especially with the little tiara being presented to them upon completion of the run."
Don A Tutu for A Cause

And besides the Princess Dash, another new initiative at the GEWR run this year, is the Don A Tutu For A Cause. The first of its kind in the region, this will feature colourful tutus – in pink, yellow, blue and purple. For a donation of $5, participants will receive a tutu which they will be encouraged to wear on race day in support of one of the GEWR's three main beneficiaries – the Breast Cancer Foundation, the Community Chest (for children with special needs) and the SingHealth Duke-NUS OBGYN Academic Clinical Programme (a programme to raise funds to improve clinical and health care for women and children).
Said Chua, "This will be quite a meaningful element to the run and it gives people the chance to not only come down and take part in a sporting activity, but also to give back to the community by contributing and helping to raise funds."
Added Noor Quek, 65, the President of the Breast Cancer Foundation, "We will all be donning the pink tutus at the event – as pink is our key colour. We are grateful to GEWR for this wonderful opportunity to showcase our survivors because our mission & vision is that early detection saves lives when it comes to breast cancer. This is also a great way to show that survivors can remain healthy – and in some cases, perhaps even more healthy than before they had breast cancer."
Continues to empower women to live healthily through running
The GEWR, taking place on 1 November this year, will continue to empower women to live healthy and to live great through running. And to encourage women to remember their race experience and the reason why they took up running, a limited-edition GEWR adidas memento tee will be given to all participants upon completion of their run. Finishers of the 21.1km category will, in addition, receive a bonus finisher's tee.
Said Dr Khoo Kai Siang, CEO of Great Eastern Life (Singapore), "As a LIFE company, Great Eastern champions healthy living. We are one of the pioneers of public runs in Singapore and we are delighted that the GEWR has developed into an iconic event in the Singapore sports calendar."
He continued, "So as Singapore celebrates her Golden Jubilee this year and we, our special milestone of our 10th anniversary run, there is no better time for us to reinforce our commitment to empower and encourage women of all ages and capabilities to live great and live healthy."
Race route will cover iconic Singapore landmarks
This year's race route for the GEWR will cover iconic local landmarks such as Esplanade, Gardens by the Bay, F1 Pit Building, Marina Bay Sands, Merlion Park, Singapore Flyer and the Singapore Sports Hub.
Said Jeffrey Foo, Director, Infinitus Productions, the race organiser, "Fittingly, as we celebrate Singapore's Golden Jubilee, this year's race route will cover many iconic landmarks. But our priority will still be to ensure a safe, scenic and fun run for everyone."
Registration Rates
Here are the registration rates for the GEWR. (See Table).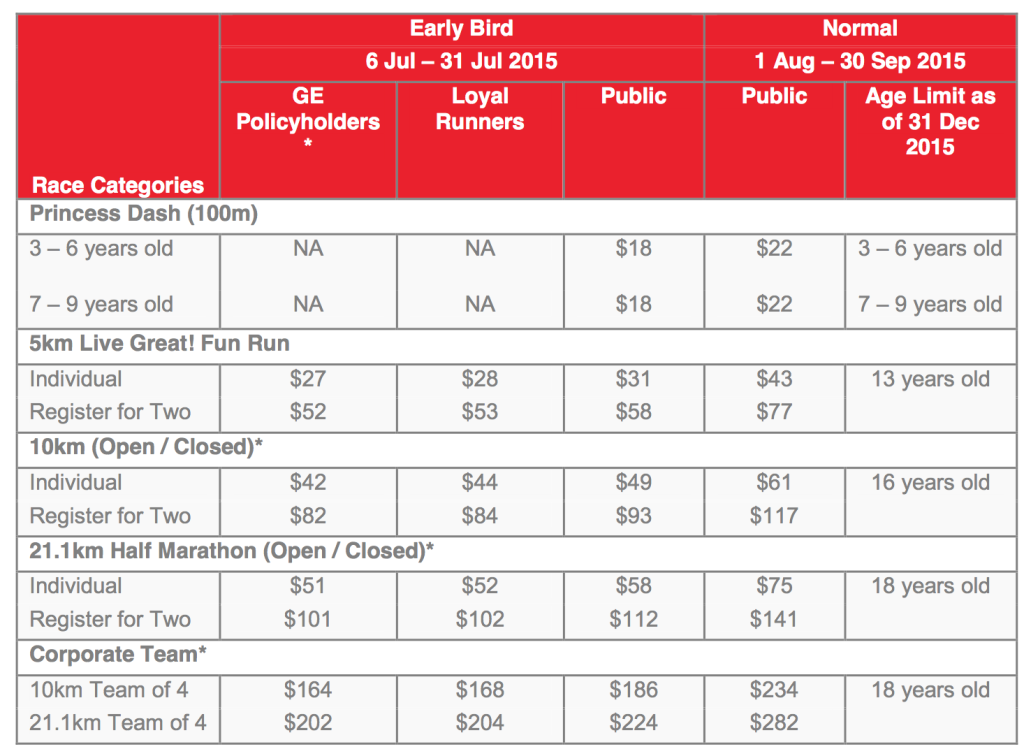 For more information and to register, log into www.greateasternwomensrun.com

Share this page with your friends!