18 July will be a special date for marathon running in Singapore. This is because the Mizuno Ekiden 2015 takes place then. It will be the first ever full-fledged Ekiden marathon race here.
The first time that an Ekiden-only marathon event will be staged in Singapore
Taking place at The Meadow, Gardens by the Bay, the Mizuno Ekiden 2015 is the first time that a marathon in Singapore will feature Ekiden-only categories – although the Ekiden concept is not new in Singapore. The categories that runners can register for, in the Mizuno Ekiden 2015 – are the Open Category (42.195km), Corporate and Schools Category (21.1km).
Strives to deliver an experience that focuses on the Japanese core values
Organised by Infinitus Productions, the Mizuno Ekiden Race strives to deliver an experience that focuses on Japanese core values such as teamwork, performance and perseverance. It will showcase the concept of relay running that has stemmed from Japan and has become very popular since its introduction. In the Japanese language, Ekiden is a term referring to a long-distance relay running event.
Runners at this race, which is targeting a total of 5,000 participants, will take part in teams of four and will be able to experience the importance of a team working in sync with each other – encouraging one another to carry on when the going gets tough.
Explained Kiyoshi Tatani, President of Mizuno Singapore, "Singapore is a country with a large and passionate running community with runs and races available in all manners of capacity. With the Mizuno Ekiden 2015, we hope to show Singaporeans the importance and value of camaraderie, teamwork and a strong support system. As much as running is an individual sport, we want to instil in participants, the disciplines required to work as a unit and understand the rhythms and limitations of each team mate – after all, a chain is only as strong as its weakest link."
The first runner from all categories, will start from The Meadow at Gardens by the Bay and participants will wear the traditional tasuski sash and run along a scenic route, through Marina Bay Sands and the Marina Barrage. At the end of their relay leg, they will change over at the transition point by passing the sash to their team mate, who will continue the race. This will carry on – until the fourth and last runner has completed his or her leg.
A Matsuri Japanese-themed race village with gourmet Japanese delights awaits the finishers
While waiting for the final runner to arrive back at the Gardens by the Bay, the race participants will be welcomed into a Matsuri Japanese-themed race village – where they will be able to indulge in Japanese gourmet items such as ramen and sushi, artisan desserts and delectable drinks. Coupled with performances and activities for all, this will provide an all-rounded Japanese experience for both leisure as well as serious runners.
Runners will compete for a cash prize and Mizuno products
Participants will compete in their respective categories, for a prize purse of $1,600 and $600 worth of Mizuno products, along with the honour and prestige that comes together with winning the inaugural Mizuno Ekiden 2015 race.
More information on the prizes are as follows.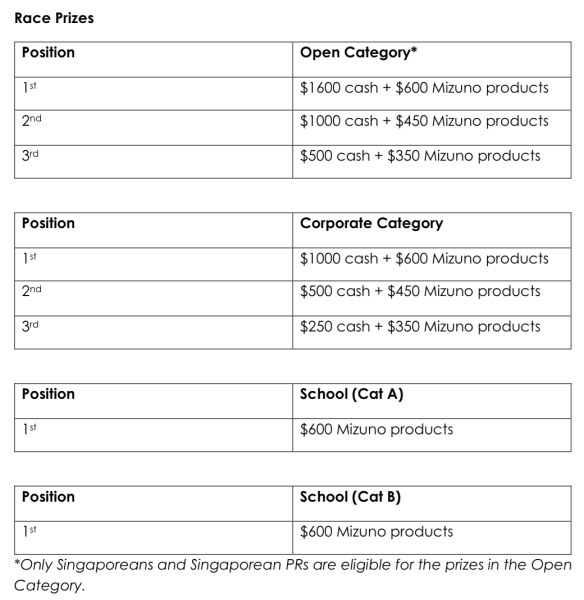 Cost of Participation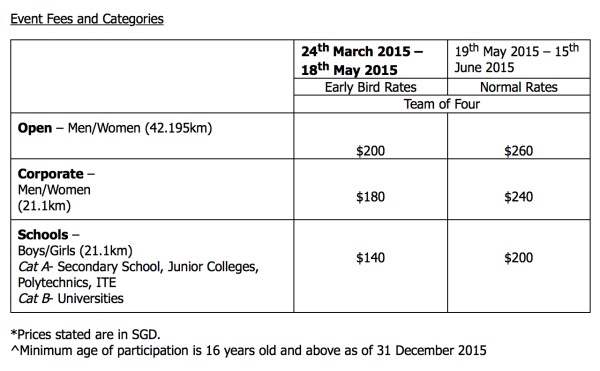 event details
Event Name: Mizuno Ekiden 2015
Date: 18 July 2015 (Saturday)
Time:  6.00am* (Race village opens)
7.00am* (First flag off)
*subject to change

Venue: The Meadow, Gardens by the Bay
For more information and how to register, visit www.mizunoekiden.sg

Share this page with your friends!