After a successful debut, the Mizuno Ekiden, Singapore's first full fledged Ekiden race, will be returning for the second year running.
Taking place on 16 July this year at The Promontory @ Marina Bay at 4.00pm, the Mizuno Ekiden 2016 hopes to attract about 5,000 runners, following last year's success which had seen 3,000 runners taking part.
Ekiden strives to portray traditional Japanese values
Ekiden, a concept originating from Japan, refers to a relay-styled long distance running and that is how the Mizuno Ekiden 2016 will work. It strives to portray values such as individual perseverance, teamwork and the ability to showcase a high level of performance in intense and challenging circumstances.
Added Kiyoshi Tatani, President of Mizuno Singapore, "We are happy to bring back the Mizuno Ekiden for the second year, following last year's success. We believe that the race provides runners a platform to showcase remarkable values such as teamwork, perseverance and camaraderie."
He continued, "It will also be a chance for runners and the community to come together and learn about the Japanese culture and participate in the many fun activities that are in store for them."
Runners can enjoy Japanese delights at the Matsuri Race Village
Runners will gather their friends together in teams of four, and the first runners of each team will begin at The promontory @ Marina Bay, donning a traditional tasuki sash. When he or she has finished, the sash will be given to the second runners – who will be waiting at the transition area. Then this will continue till the team has completed the race.
While waiting for their team rates, runners can enjoy Japanese gourmet delights such as ramen and desserts at the Matsuri Race Village. In the Japanese language, Matsuri refers to a festival or holiday.
There will also be an exciting line-up of cultural activities for supporters and members of the public, and the race organisers promise a holistic Japanese experience for runners as well as supporters to enjoy.
Comprises of two categories
Like last year, the race comprises of two categories – 42.195km (Team of 4) and 21.1km (Team of 4). The full event fees are listed as follows.
[See Table]
Prizes
Runners who complete the race in the top of their categories, also stand to win attractive prizes comprising of cash and Mizuno vouchers.
[See Table]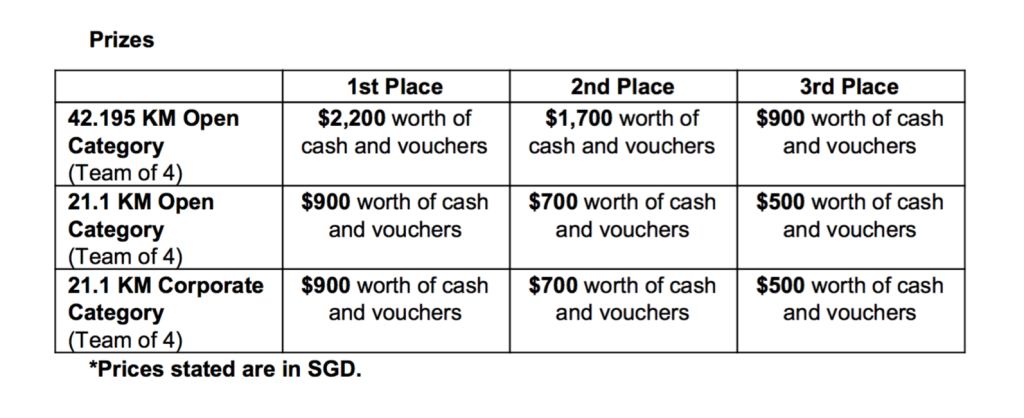 For more information and to register for Mizuno Ekiden 2016, check out the website at http://www.mizuno.asia/ekiden

Share this page with your friends!