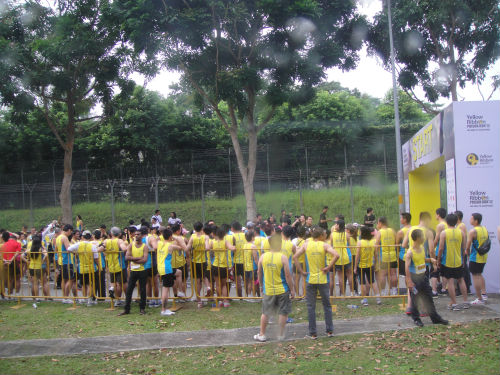 So you have made a decision to take up running?
But you simply don't feel like going out for your regular morning or evening runs. Instead, you are coming up with excuses not to do so. You might tell yourself, the weather is too hot, it is too wet, or it is too late to run. Do all of these excuses sound familiar to you?
Fret not. Here are a few simple tips on how you can get motivation for running, in order to make your new running regime a part of your daily life.
Get a running buddy
Having a running buddy, who has a similar running ability as you, definitely helps you to keep to your training schedule. You will soon find that if you have someone to run regularly with, both of you can keep each other motivated. After all, you won't want to disappoint your running buddy if you have promised him or her to go out for a run, even though you may not feel like running on the day itself. So you'll then have more motivation for running.
Set yourself goals
It is crucial to continue to set a goal when you take up running, and once you have achieved that one, try to look for a new goal.
For example, your original goal for picking up running may have been to train for a 5K race or to lose weight. But after that race is over, or upon reaching your desired weight, you may no longer feel like running. So instead of simply giving it up, set yourself a new goal, for example, a 10K race so that you can challenge yourself further. By having something to aim for, it will give you the motivation to continue to go out regularly for your morning runs. After all, you won't want to disappoint yourself on the day of the race, by not being able to complete the distance. So this will give you more motivation for running.
Add some spice to your running route
In order to stay motivated, it is good to change your running route. Do not run exactly the same route over and over again. You will soon find yourself getting bored with your daily route because you are becoming so familiar with it – as a result, you will no longer feel like running anymore.
So to shake things up, have perhaps four or five different routes for your training. These should preferably be of different distances too, in order to make your running regime a lot less boring.
As well, you could even totally shake things up when you feel completely bored of your regular routes. Instead of running around your neighbourhood, go to a place you are totally unfamiliar with, and do a run there. You will enjoy the change of scenery.
Join a running club
Being part of a running club is a great way to continue to motivate yourself to run. A club usually consists of different members of varying abilities, all coming together because of their love for running and the members can motivate each other during regular runs. A club is also a great place for you to find a running buddy. And it'll give you motivation for running too.
Related Blog Posts:
Share this page with your friends!