Come Saturday, 24 October this year, the inaugural Singapore edition of the New Balance Run On regional series – will be taking place at the Gardens by the Bay East – with plenty of exciting elements in store for the runners.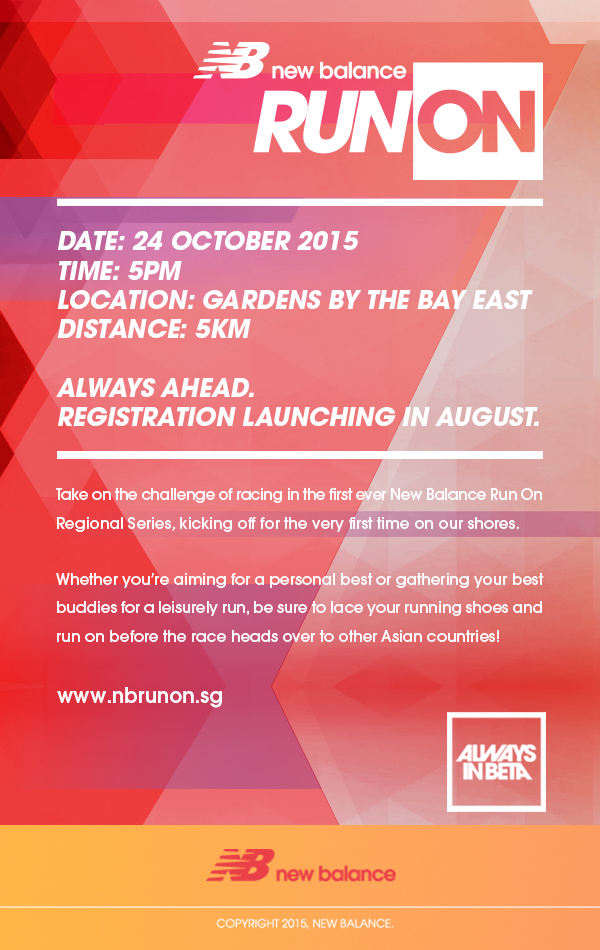 Lots of excitement on race day
For starters, this 5km run will pit runners against others of their age group, with five age categories in total (15-19, 20-29, 30-39, 40-49 and above 50). This means that you will have an even greater chance of walking away with prizes at this event.
Besides that, you can also choose to run an additional kilometre – to get an exclusive New Balance Run On iron-on achievement badge. There is also a trendy pop-up festival that will await you after completion of your run – comprising of local bands, yummy food and craft beer.
Plenty of goodies in the race pack
The race pack given to runners will also include plenty of additional goodies – such as an exclusive New Balance tee, food and drinks, access to training runs, invites to New Balance pre-race parties and games, as well as an exclusive 30 per cent off New Balance Performance Gear at New Balance Experience Stores and a copy of the New Balance Times.
All of this will be given to race participants in a New Balance Canvas Tote Bag with specially designed stickers by local design collective, Tell Your Children.
See below for more information about the Singapore edition of the New Balance Run On Series.
Share this page with your friends!