The 2017 edition of the Newton Challenge took place this morning at the Marina Barrage, with three categories – 32.195km, 21.1km and 10km, in order to cater to about 5,000 runners of differing abilities.
Click here to view the Newton Challenge 2017 photos.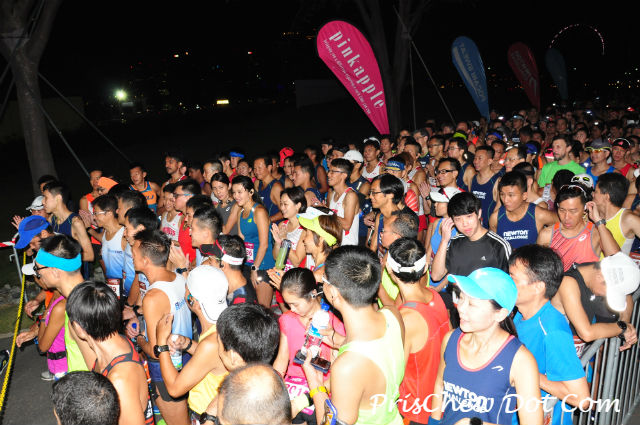 The 10km category had been newly introduced for this year, but the 32.195km and 21.1km categories had been brought back from previous editions of the event.
Took part in the 32.195km event
I took part in the 32.195km category, with the intention of using the Newton Challenge run as the last long training run leading up to the Standard Chartered Singapore Marathon taking place at the end of the year.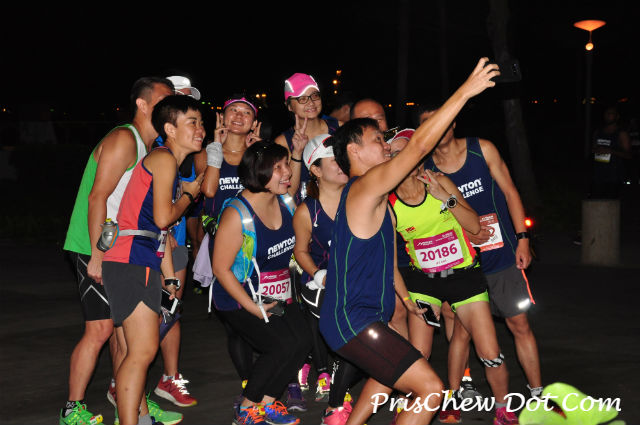 As the 32.195km race, with around 3,000 runners, had flagged off at the early hour of 4.30am, I had set my alarm clock for 2.15am – in order to give myself plenty of time to get ready for the race and to head down to the Marina Barrage on time.
It was really not easy to drag myself out of bed though, and I admit that I did succumb to pressing the snooze button and managed to fall asleep again, before my sleepy mind had realised that I had a race to run – so that meant that I had better wake up!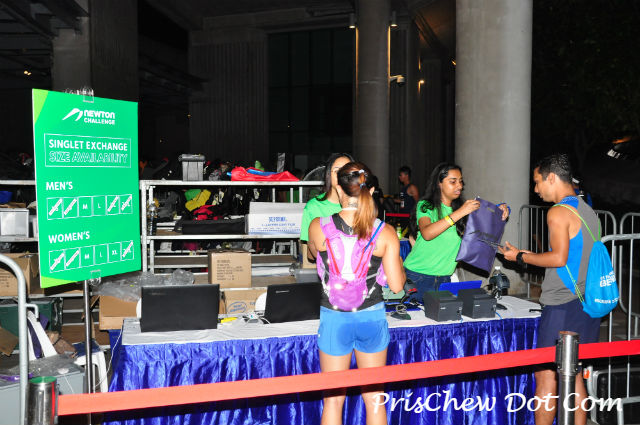 Waking up for the race was also a challenge for Mike Ong, 44, who is self employed. Said Mike, "It was quite hard to wake up so early to run. While I do wake up in the mornings, that's usually at about 5am. But to be here at 4.30am, I had to leave my home latest 3.30am to be on time."
Reached Marina Barrage at 3.30am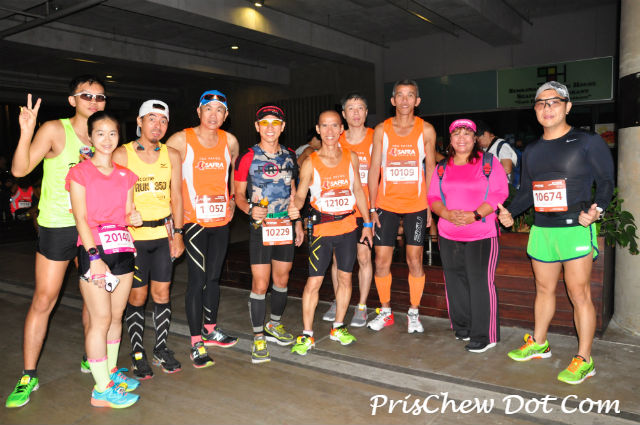 Still though, I managed to reach the Marina Barrage at about half past three in the morning, where I caught up with some of my running friends before heading down to the starting pen.
Bearing in mind that there had been a three hour cut-off time at the 21km mark of the 32.195km race, I had made it a point to get into the first wave to start my race, so that I would give myself ample time to meet the cut off timing without putting pressure on myself.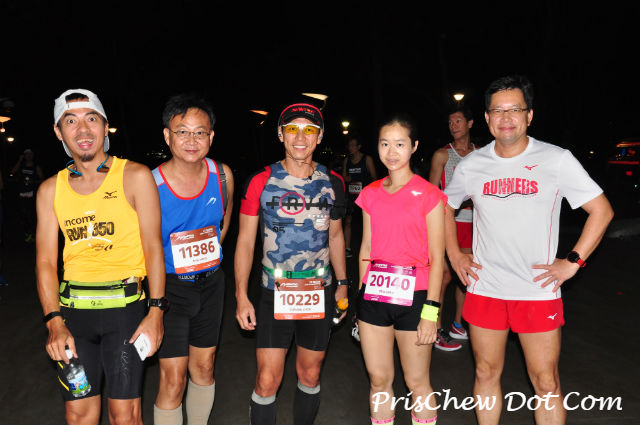 Heading to the start pen
The start pen had been about 500m away from the Marina Barrage which meant that we had to do quite a bit of walking to get there. I had wondered whether the organisers had intended it that way, so that all runners would be required to do a mandatory warm up in the form of walking there, before beginning to run.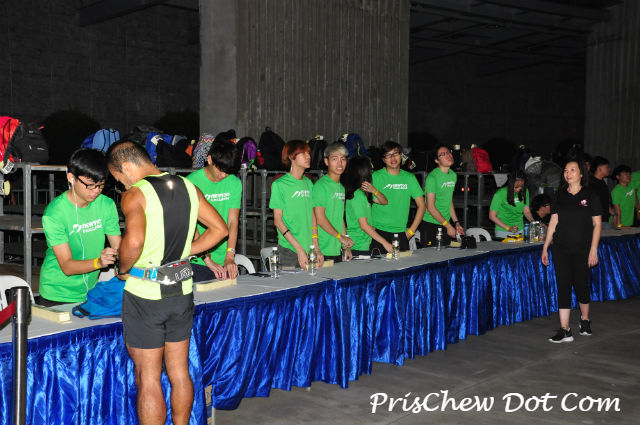 But I suppose that it had been an improvement from last year's edition of the race though, when the start pen had been on top of the Marina Barrage slope, making it feel a bit cramped and claustrophobic.
As 4.30am approached, the emcee – Power 98 FM deejay Jerald Justin Ko, who is more commonly known as JK – had interviewed random elite runners at the front of the start pen and sought out last minute running tips from them.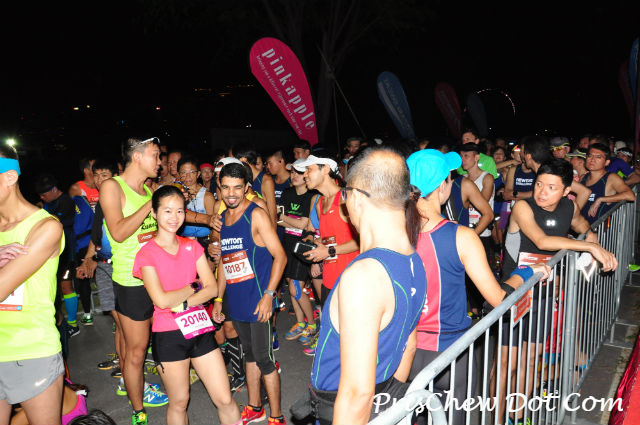 A lot of the elites had mentioned that it was important to start conservatively and not begin the race too fast. And so JK had playfully twisted this to mean that they had wanted other people to run slower so that they could win the race themselves! JK had been quite funny.
Race flagged off on time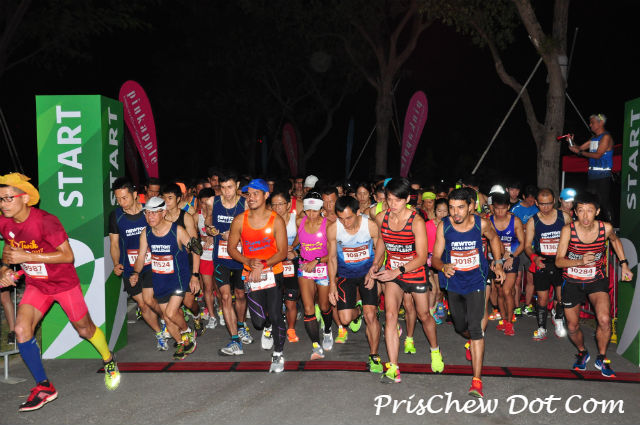 Also, the organisers had initially mentioned that there may be a delay to start the race because a truck had been blocking one of the paths towards the start of the route, but the truck had cleared before flag off and so we were given the all-clear to begin running the race, on time. There was no delay for the first wave, after all.
Soon enough, the flag off party had hopped onto the stage though, and then we were good to go.
Running at a conservative effort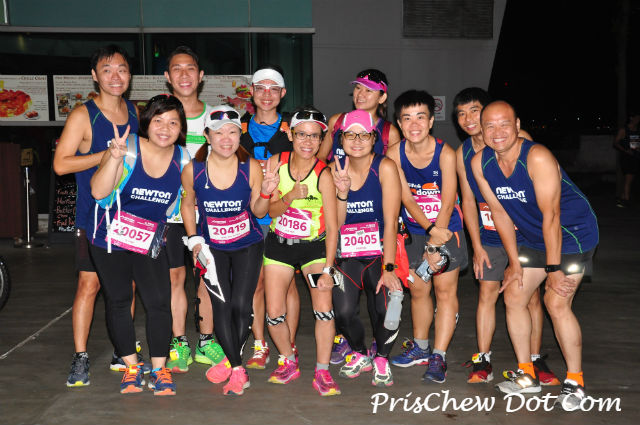 Remembering the words of my running coach, Ben Pulham from Coached, I began the race at a conservative effort, running firmly in my easy zone. This had been an average of about 6:30 mins/km pace.
It was good that the event was not really congested, even towards the beginning, and that I had been able to run pretty freely throughout and to maintain the pace that I had intended. But probably this may have been due to the smaller number of runners participating, though.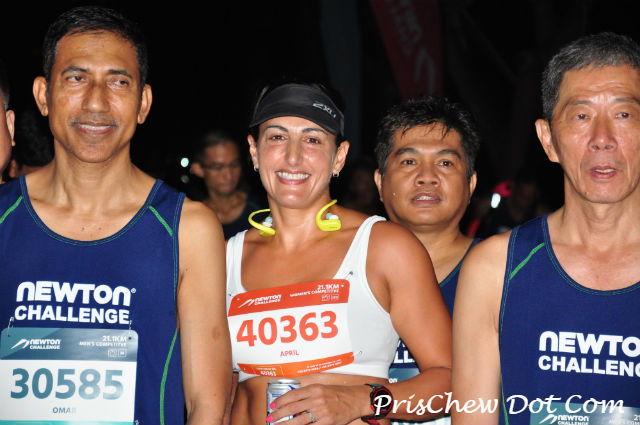 Weather was nice
The weather had also fortunately been quite good to us this morning for a long run; it was cooler and more cloudy than usual and didn't really get hot till the later stages of the race, so I felt that I had been able to maintain my heart rate fairly well.
Said Lo Ka Fai, 51, self employed in finance, "The weather was fine; it was cloudy and not so hot. That made it good for running."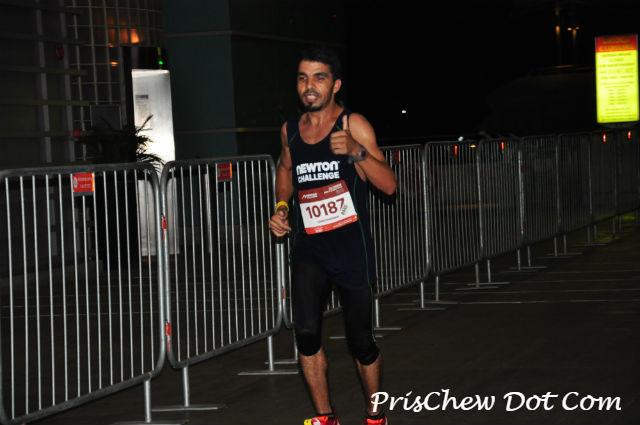 But this could also have been due to the early start time, though, as I had been able to complete more than half of my run by sunrise.
Running route was scenic but familiar 
The running route itself was quite standard and one that I was quite familiar with. It had also been about 95 per cent similar to the previous year's Newton Challenge route.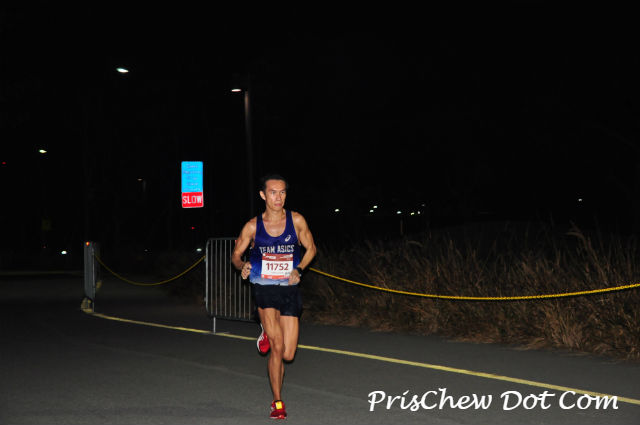 From Marina Barrage, we headed towards East Coast Park, and then we ran all the way down East Coast Park, from Carpark B1 at Fort Road to the PA Water Venture @ East Coast at Carpark F3 before u-turning and running back all the way that we had come from.
Then upon returning to the Marina Barrage, it had been about 27km, so we headed up the slope and ran towards the Gardens by the Bay and the Marina Bay Sands for roughly a couple of kilometres, before then u-turning back again, in order to complete the 32km distance.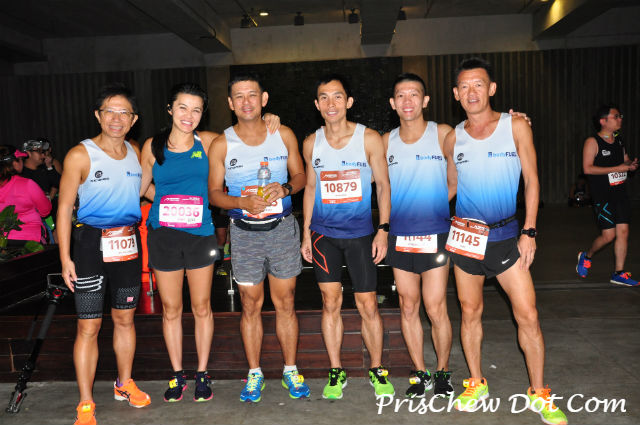 Said Sim Kang Chong, 45, an educator at a secondary school and junior college, "Maybe next year, the organiser could look for a new route or have different permutations of the route, in order to make it more refreshing for runners."
Still though, I admit that it had been quite a scenic route around the Marina Bay and the East Coast areas of Singapore. But then again, due to my familiarity with the race route because it is my usual training ground, I had been running on autopilot for most of the race, plugging into my music from my iPhone 7+ and focusing on my run.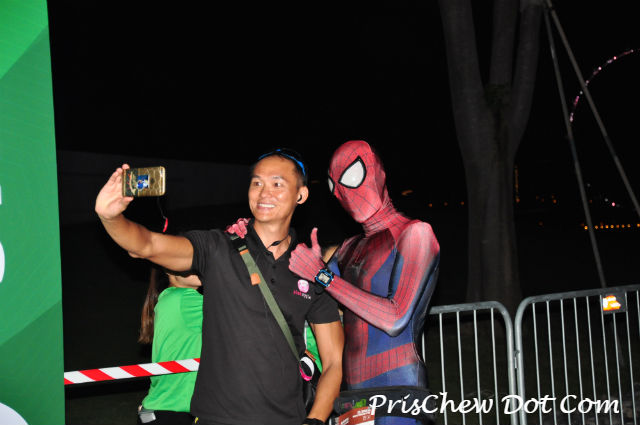 Added Ka Fai, "I did not really take note of the scenery because I was focused on my running."
No Official Pacers
I also realised there were no official pacers with their colourful balloons at this year's edition of the Newton Challenge; I had recalled that previous editions of this race had featured pacers.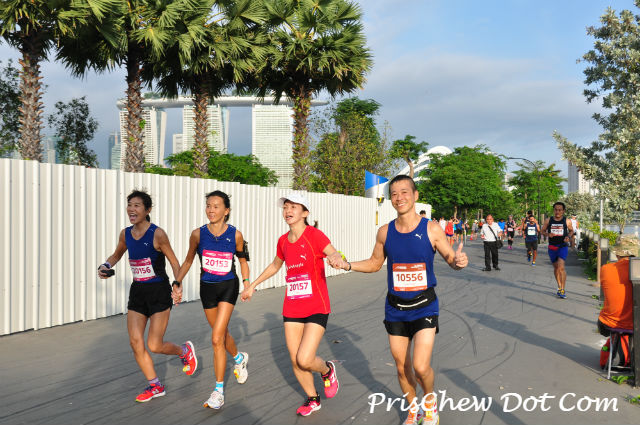 It did not affect me though, because I normally pace myself at races and use my GPS watch as a guide. But for runners who prefer to follow pacers to help them reach certain timing goals, this may have come as a disappointment for them.
Kilometre marking and signages were accurate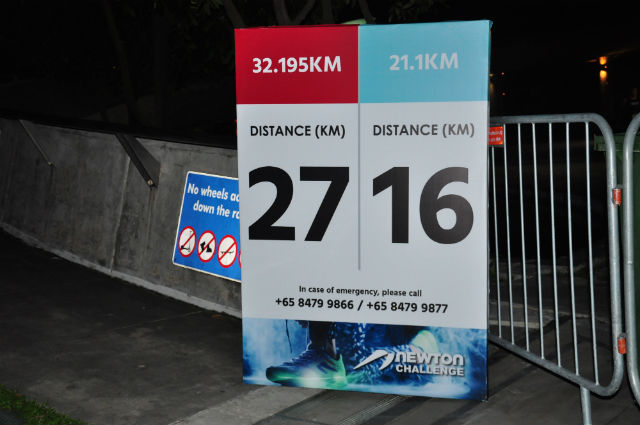 But I was happy to know that the kilometre markings were accurately positioned. Whenever my watch had beeped to indicate that I had run a kilometre, I could see the official marker just up ahead.
As well, every kilometre was well marked out, and the signages were big and hard to miss. This was good, as runners who did not have GPS watches could pace themselves quite easily too.
Lots of hydration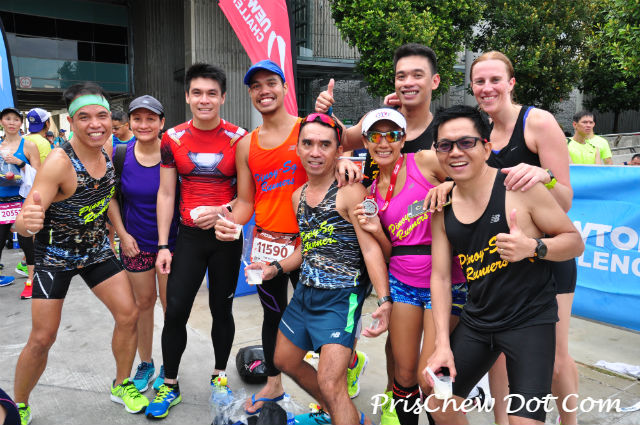 I had thought there were plenty of hydration stations along the route. In fact I counted that these were placed approximately every 2 – 3 km.
I did not stop at all the stations due to the large congestion of runners at some of them, but at the ones that I did stop to take a drink, I was glad to know that both the water and the Pocari Sweat isotonic drinks on offer had been ice-cold and as such, they tasted refreshing.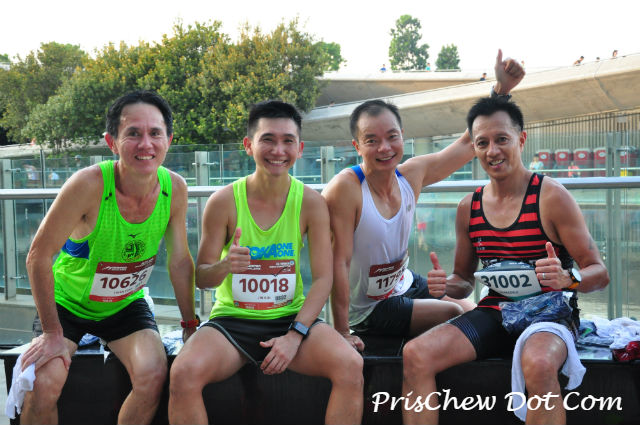 Added Kang Chong, "The water points were more than enough."
But Ka Fai begged to differ. He said, "I would have liked to have seen more water stations along the route."
But I did notice though, that there had been no energy gels or bananas being provided at the hydration stations.
Though most runners already had brought their own gels, the provision of such items by the race organiser may have helped say, those runners who had underestimated the number of gels they had needed to compete a 32.195km run.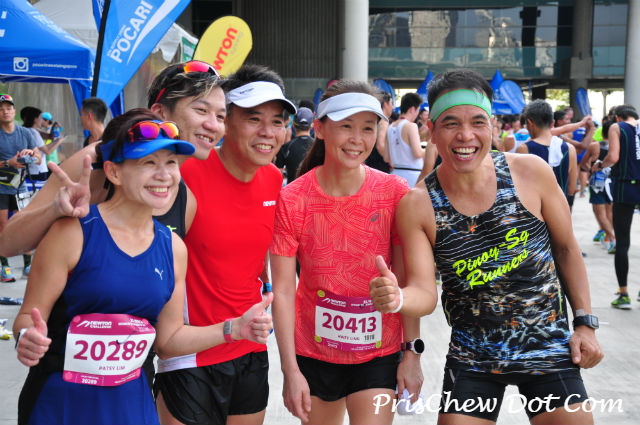 Still feeling fresh at 16km
I reached the halfway mark at 16km, feeling quite fresh and good. My pace was still on target and I was still feeling rather comfortable at the same time.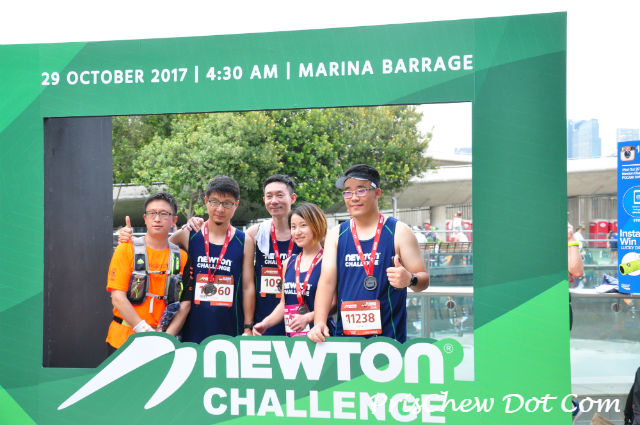 When I exited East Coast Park, this was at the 21km point of the race and we were directed towards the Marina Bay Golf Course and Marina Promenade areas.
This had been the diversion point whereby runners who could not reach by 7.15am would receive a 'Did Not Finish' status and would not appear in the official results. I had been glad that I had got to this point of the race, with plenty of time to spare.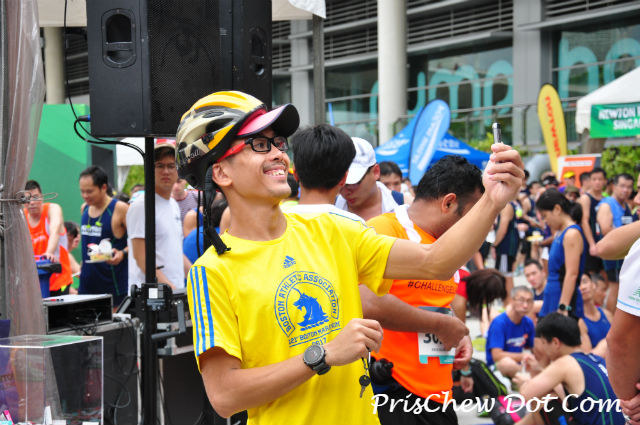 Running up the Barrage slope
As well, my body was still feeling quite good then, and I did not have cramps too, so I decided to increase my pace slightly. But bearing in mind that I would have to still conquer the Barrage slope, I made sure I conserved some energy for that part of the race.
Thanks to my conservative running strategy, the slope at 27km did not feel too bad despite having run for close to three hours by this point.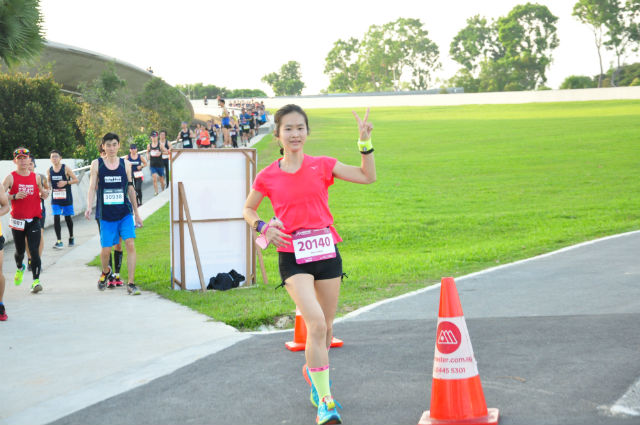 Nevertheless, I slowed down a little bit during the uphill segment, in order to stabilise my heart rate. As I was climbing up the slope, my heart rate did increase to the low end of my Steady Zone due to the extra effort required, but it went back down again though, when I ran down.
But other runners though, had found the slope challenging. Said Ka Fai, "The slope was quite tough as it was almost at the end of the race. It would be good if the organisers could avoid the slope next round or else have it at the beginning of the route."
So I must thank Coached's Tuesday hill running sessions at the Singapore Botanic Gardens for my successful conquering of the Barrage slope, when other runners had been walking upslope, all around me!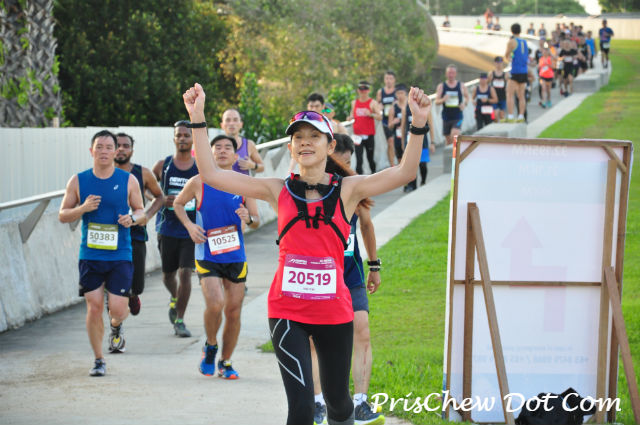 After the slope, it was flat again all the way. So I had decided to push the pace a bit more, to roughly about 6:00 mins/km.
The sun was coming out quite strongly by this stage though, so running was harder than expected and I could feel my heart rate rising. But at least I had still managed to keep it in the mid to high end of the Steady Zone though, which had been good in terms of my intended pacing strategy for the Standard Chartered Singapore Marathon in December.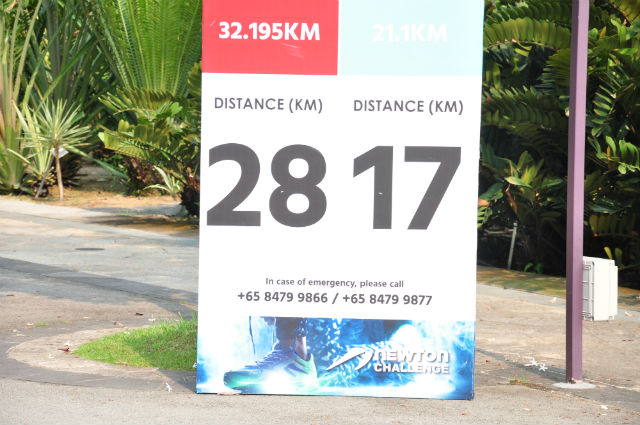 Finishing the race
I finished the 32.195km race strong, pushing my pace to about 5:50 mins/km in the final couple of kilometres and I crossed the finishing line in approximately 3hr and 25min according to my Garmin – this is a new personal best for me in the 32.195km distance.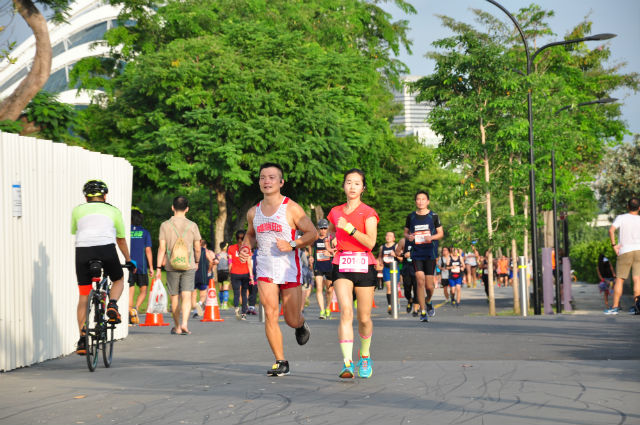 So I must thank Astavita Sports, which contains AstaReal® astaxanthin derived from natural microalgae – that had helped to boost my running performance and timing at the Newton Challenge, as well as to help me to recover faster from my runs.
Upon competing the race, I collected my finisher items – these had consisted of a medal, polo tee, a bottle of Pocari Sweat and a cold wet towel, that helped to refresh myself after the run.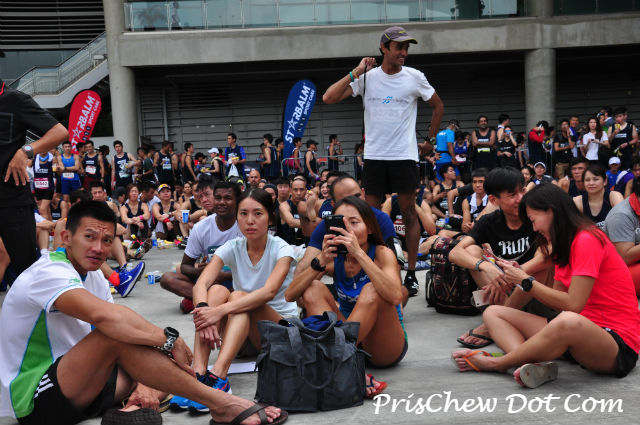 I had also liked the idea of the Newton Challenge giving out the polo tee rather than the standard dry fit tee shirt as a finisher tee, as it is more unique.
Also, I caught up with some friends after the race and took a few photos with them.  We also chatted to each other about how our respective races had been.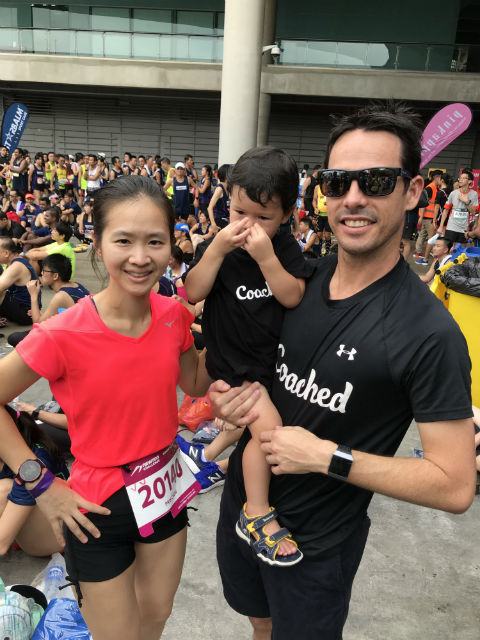 I also managed to catch hold of my running coach Ben Pulham, who had brought along his two adorable twin kids, both of whom will be two years old this December. I had tried to take a picture with the kids, but his little boy had apparently preferred to play with his nose rather than to look at the camera!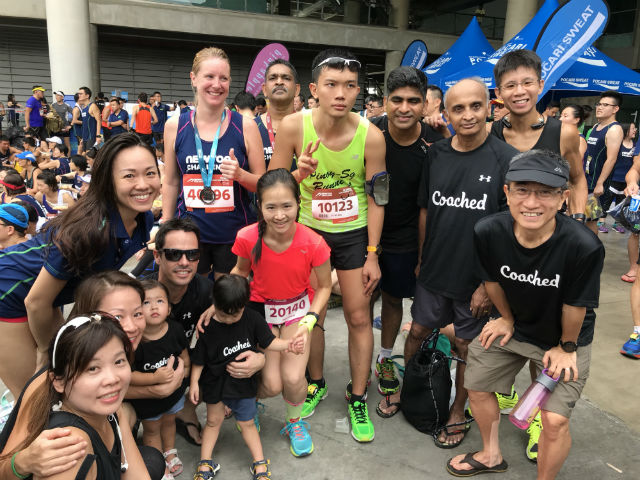 Post Race Food
Soon afterwards, I had headed over to join the queue for the free post-run food. The queue had been relatively long when I  had joined, but at least it was moving quickly though and I had got my food within about 10 to 15 minutes.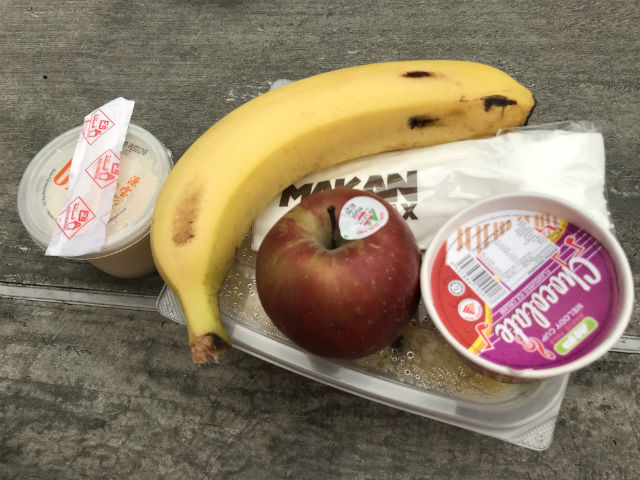 I must admit that one of the things that I look most forward to about the Newton Challenge is the complimentary food that is given out to all the runners after the race.
Agreed Mike, "The post race food was one of the highlights."
This year, the choice of main meal had consisted of a choice of bee hoon or fried rice.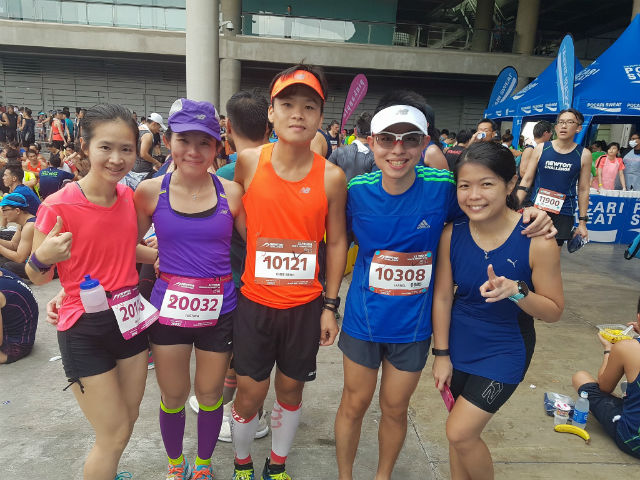 I had opted for the fried rice, which had come with a fried vegetarian spring roll. The flavour of the fried rice wasn't bad and had helped to keep my stomach satisfied.
There were also lots of snacks being given out to runners in addition to the main meal. These was an apple and a banana, as well as a cup of tofu pudding and a small tub of chocolate ice cream.
And I must admit that the bean curd pudding and the ice cream had been both really delicious after my run – in fact, upon receiving them, I ate both of these up quite quickly, as I had been feeling more thirsty rather than hungry at that point. So this had meant that these semi-solid foods definitely helped to partially quench my thirst.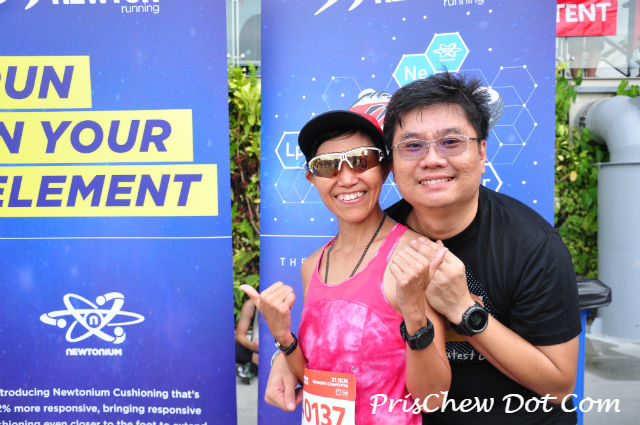 Added Kang Chong, "The food was great, but I wished that there had been more of the bean curd, though."
Other Carnival Booths
Besides the food, I also helped myself to the free flow of Pocari Sweat and ice-cold water at the hydration station at the race carnival in order to quench my thirst.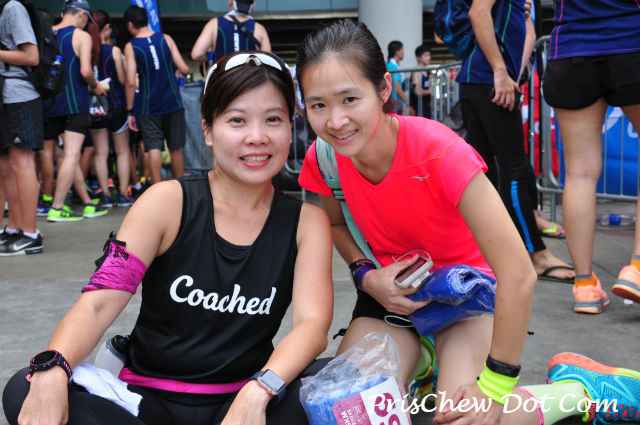 Apart from hydrating the runners, Pocari Sweat also had a booth at the race carnival, where runners could take a photo of themselves posing with a cardboard cut-out of the Pocari Sweat bottle and post it on Instagram. Upon doing so, they would be able to redeem a sure-win prize. I got myself a blue Pocari Sweat towel.
Sports apparel company Newton Running also had a booth at the carnival, whereby runners would have the chance to take part in a lucky draw upon liking their Facebook page. The top prize was a pair of Newton running shoes. But unfortunately I did not win anything.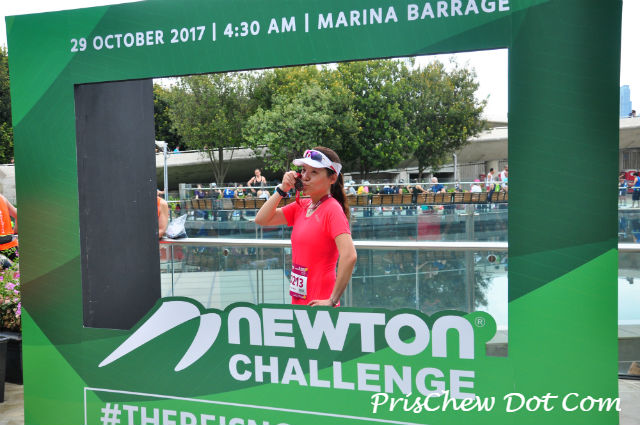 Grooving to Live Music
I had also noticed that there was music playing at the race carnival and the energetic songs really helped to liven up the post run atmosphere, with a sprinkling of runners grooving to catchy songs, such as Abba's Dancing Queen.
Though I had been too tired to dance to the songs, I had unconsciously found myself softly singing to the songs that I was familiar with.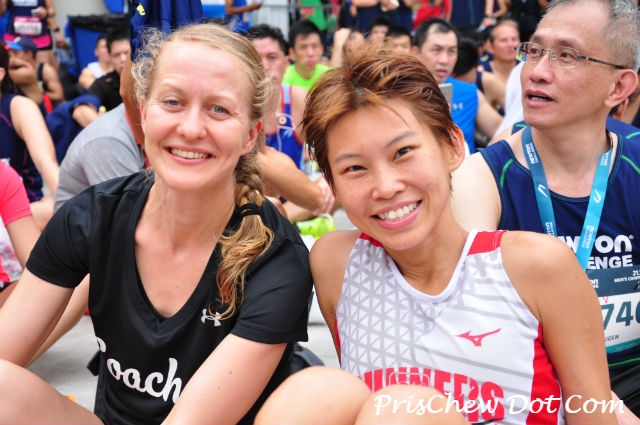 Said Mike, "I liked the atmosphere and the music was great."
Lucky Draw
And finally, to conclude the morning of events, the race organisers had a lucky draw where the top three prizes had been a Samsung Galaxy 8 smartphone, an Apple iPad Mini and an Apple iWatch.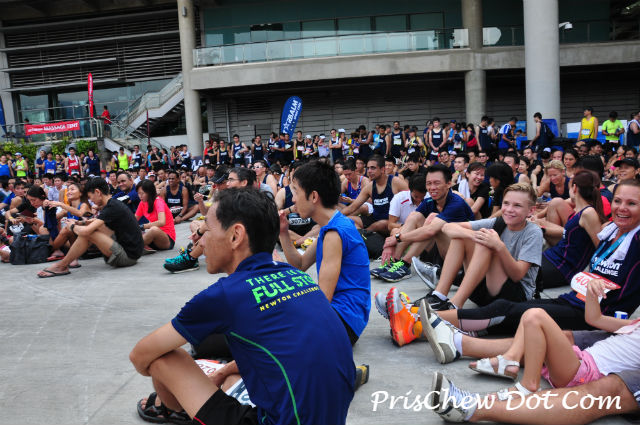 But apparently, I had not been lucky enough to leave with anything, though.
A well organised and functional running race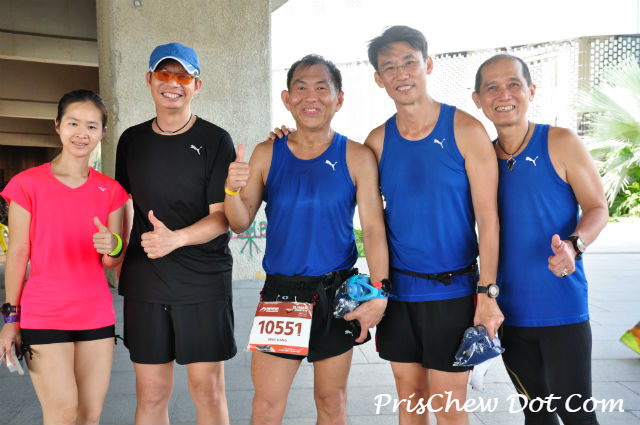 Overall though, I had fun at the Newton Challenge event this year, and it was a well organised and functional race that I would return to take part in again.
Agreed Mike, "Everything was quite good; basically this had been one of the better organised running races in Singapore."

Share this page with your friends!