The NTUC Income RUN350 took place early this morning, with about 12,000 runners participating in the sixth edition of the event.
South East Asia's Premier Eco-Friendly Run
The RUN350 is South East Asia's premier eco-friendly run, in support of the global 350 movement. NTUC Income and the organiser, Young NTUC had put together this annual event in a bid to raise awareness on the need to lower the atmospheric carbon dioxide to 350 parts per million. Currently, this level is close to 400 parts per million.
The running event had commenced and ended at Singapore's F1 Pit Building, with three categories – a 21.1km and 10km competitive run, as well as a 800m Kids Dash. Runners in the two competitive categories in this event were treated to a scenic route through the Kallang waterfront and past iconic landmarks like the Singapore Sports Hub. For the 21.1km runners, they had the opportunity to run along Nicoll Highway and the beautiful Gardens by the Bay.
Many runners had a great time participating at the race
Many of the runners who turned up this morning enjoyed themselves. Said Chng Kai Teng, 24, who works in facilities management and took part in the 10km category, "Overall, this was a very well-planned race. The logistics were good – and I did not encounter any bottlenecks at all along the route and there was plenty of hydration. I really enjoyed the run this morning."
Agreed Arnold Jabmujan, 30, a nurse who took part in the 21.1km category, "It was a really nice run. The weather was great and cooling and the scenery was good too. I think this is a very well-organised event and definitely one of the best out there."
The green message behind RUN350 is clear
Not only did he enjoy himself at the run, but Jabmujan also felt that the message behind the RUN350 event is clear – and he is compelled to do something himself, about the environment. He said, "I think the message behind this run is very clearly stated and I feel that we really should do more in our lives to take care of the environment – as after all, this is our home. If Earth gets too polluted, where are we going to live? But you don't have to do anything complicated. Just simple measures like recycling plastics and throwing non-biodegradable items into proper trash cans, rather than in rivers, will be good."
Added fellow runner Johannes Huth, 56, who works in marketing communications and ran in the 21.1km category, "It's really the small things that you do in daily life that counts. For example, don't throw away your batteries when you have finished using them. Instead, take them to the collection store. Also, try to avoid collecting so many plastic bags when you go shopping. Sometimes I admit that I collect plastic bags myself, but then I use them as garbage bags – so in a way, I am still recycling."
Everyone must find the need and motivation to play their part in caring for the environment
Peter Limb, 42, who is self employed and took part in the 10km category, also felt that it is important for everyone to try and find the need and motivation to pledge themselves to play their part in taking care of the Mother Earth. Commonly known as Satay Runner (because of his love for satays), Limb said, "We all need to find it inside of us, to at least try and do something for the environment, whether it is carpooling, using a bike to get around, or walking to places. We should all come together as a community and pledge ourselves to this greater cause. We have a responsibility to do this not only for ourselves, but also for the community and for future generations to come – we don't want our kids to inherit a polluted planet."
"And combining this message into a running event, is definitely a good way to spread this message and increase the exposure of this good cause. This is because the running community talks a lot and will thus spread the message through word of mouth," Satay Runner added.
RUN350 is a strong protagonist in terms of promoting running-related green initiatives
Added RUN350's Lead Pacer, Lincoln Han, 45, a market research analyst and an activist with the Young NTUC, "Every time that we organise RUN350, we are deepening our engagement with the running community as well as the general public – to raise their awareness to do their part for the environment. RUN350 is a strong protagonist in terms of promoting running-related green initiatives such as bringing your own water bottle and not littering while running. In years to come, we hope that the RUN350 movement can spread not just amongst runners, but also to the average Singaporean – to be more proactive in being caring for the environment."
Indeed, besides bringing your own water bottle, RUN350 has also adopted several other green measures, such as having dedicated waste bins showing clear separation of banana peels, cans and plastic bottles around the race village – to advocate the keeping the site litter free. To encourage runners to cycle down to the race venue – rather than driving – bicycle racks were also installed at the F1 Pit Building.
A wall mural erected to highlight the nation's green measures over the years
In addition, the nation's green measures were also highlighted through a wall mural that had been erected in the race village, highlighting Singapore's eco milestones since 1960 – and runners could see how Singapore became a clean and green city over the years, as well as be reminded of the part that every Singaporean has to continue to play.
Said Marcus Chew, Vice President of Strategic Marketing at NTUC Income, "The decision we make today will affect our future. How we manage our resources this generation will determine what kind of world we leave behind for generations that come after us. Through the annual RUN350, an event that NTUC Income is proud to be associated with for five consecutive years, we hope to drive more awareness of the 350 movement while promoting a healthy lifestyle."
Podium Winners at RUN350 
The Men's Open 21.1km category winner was Kenyan runner Geoffrey Birgen, who ran in a time of 1:07:01. The Women's Open 21.1km Category was won by Margaret Njuguna, also from Kenya, who clocked a time of 1:19:47.
Birgen won the RUN350's 10km event last year, so he knew what to expect this year.  He said, "The route was challenging because it was so humid, but because i took part in this race last year, I had anticipated what to expect."
With a timing of 38:01 and 34:54 respectively, Suzanne Walsham and Stuart Haynes were the local female and male champions for the 10km Category.
Rio Elijah Chua, a 30-year old PE teacher, won the local 21.1km Men's Category – in a timing of 1:25:03. He said of the race, "It's my first time doing a half marathon and I did not train for the race so this was unexpected win. My goal was to complete the race when I started. I'm happy with my results, of course!"
Here is a list of the winners.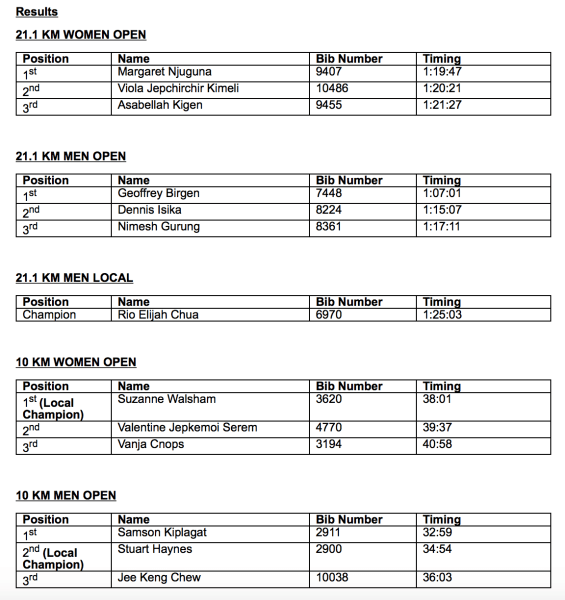 Other Blog Posts
Share this page with your friends!