The Income Eco Run 2017 – formerly known as NTUC Income Run 350 – will be taking place on 30 April 2017 at the Formula One Pit Building.
CLICK HERE for race review of the Income Eco Run 2017.
The environmentally conscious run will continue to drive the green message amongst runners and people in Singapore at large, calling members of the public to take the run to show their pledge for green practices.
Run will up its ante on green commitment 
The run, which will now be organised by NTUC Income (previously owned by Young NTUC), will also up its ante on green commitment by embarking on a detailed green audit partnering with Green Future Solutions – which helps organisations to address environmental changes and identify green opportunities, being the first such run in Singapore to do so.
The green audit will focus on the areas of waste and energy – culminating in an electronic report which will detail green recommendations for benchmarking setting and improvements subsequently.
The audit perimeters focus on:
Carbon emotions generated by the usage of transport by participants, volunteers and staff & the carbon emissions from the usage of direct electricity and fuel
Waste and recyclables
Water consumption
Material usage & responsible sourcing
Said Marcus Chew, Income's Chief Executive Officer, "Our role is to safeguard the financial future of our customers and help them be future ready. This is consistent with the objective of the Income Eco Run, which is to encourage responsible use of resources so that we, and generations ahead of us, can have a sustainable future. So we are proud to be taking over as race organisers for this premier eco run in South East Asia and spread the message of green awareness."
Eco friendly measures in past editions 
Several eco friendly measures had been implemented in previous editions of this run, such as giving out post-run e-certs, producing finisher medals from recycled metal, using bio-fuel for generators and encouraging runners to bring their own bottles to reduce the usage of plastic bottles and paper cups. The event also offered runners sorting cans for trash to be recycled and provided bicycle racks to encourage runners to cycle to the event.
Zero Waste Runner
In 2017, a new initiative, Zero Waste Runner will be implemented – Zero Waste Runners will not receive a finisher medal and tee, to reduce wastage from producing race entitlements. But Zero Waste Runners will be recognised with a special silkscreened symbol on their race tee and given a BYO (bring your own) bottle and this entitlement is limited to the first 1,000 runners who register under this category.
There will also be the introduction of the 10km Team category. Runners here are encouraged to take part in teams of four and run in support of Zero Waste and a sustainable environment. Other categories include the 5km and 10km individual categories, as well as 21.1km half marathon and the 800m kids dash for children between 4 to 12 years of age.
Farmer's Market
Income will also be partnering a Farmer's Market to feature eco friendly and local produce during the race pack collection expo dates. With this they are hoping to educate and encourage runners to pick up healthy environmentally friendly practises and eating habits.
Race Fees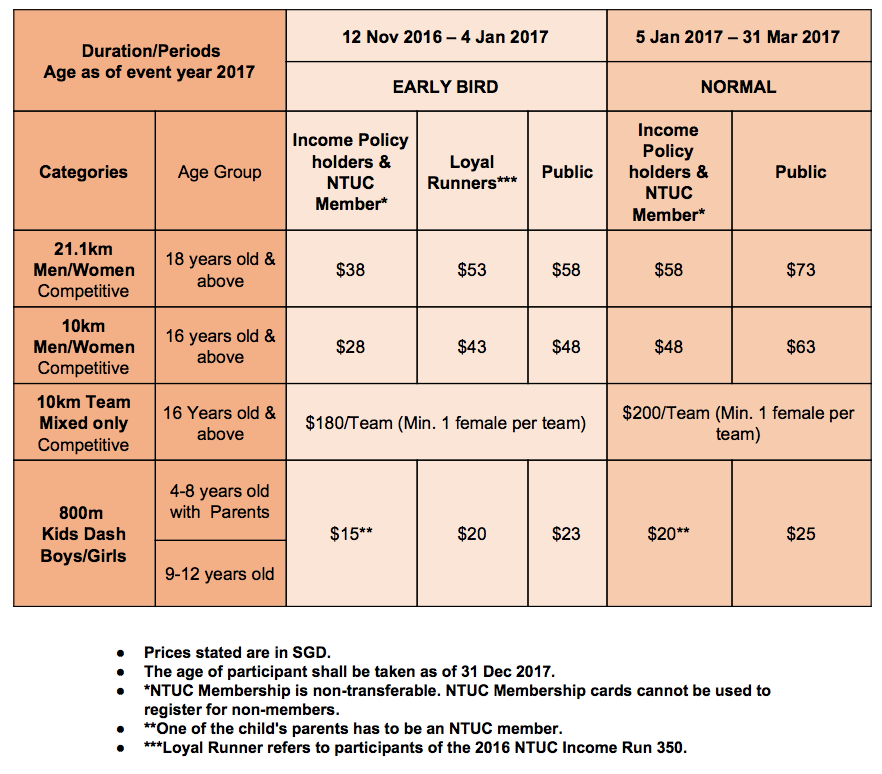 Prizes
For more information check out www.incomeecorun.sg 
Share this page with your friends!