Banker Stuart Haynes, 39, emerged victorious in the Full Marathon category at the OSIM Sundown Marathon this morning, with an official timing of 2:41:34 hours. This was his second Sundown Marathon victory, as he had previously won the event in 2013.
Stuart Haynes was pleased to win the race
Said Haynes, a Briton, "I feel very pleased about winning. I won this race two years ago – and it was the first race that I have ever won in my life. So it really means a lot to me. I am very happy to come back here to run in the race again."
He added, "When I looked around at the starting line and saw that there were no Kenyans, I knew that I had a chance to win. It also helped that the weather was cooling. I almost didn't run today though, because of a bad ankle and hamstring problem. In fact I was hoping that my hamstring did not go pop during the race, as it had been problematic lately."
Female winner Sakiko Matsumoto was confident of her victory
In the women's Full Marathon category, Sakiko Matsumoto, 28, emerged victorious with a timing of 3:07:29 hours and she had been very confident of winning. Said the babysitter, who had migrated to Singapore from Japan, two weeks ago, "At the starting line, I looked around for Kenyans, but when I didn't see any near me, I believed that I had a chance to become the champion. So I felt very happy."
This win marked Matsumoto's second full marathon victory in the space of two weeks. That's because she had also won the MacRitchie Runners 25 (MR25) Marathon in the last week of June.
Feeling sleepy in the hours leading to flag-off
In the hours leading up to the race, the two winners admitted that they had been feeling sleepy, due to the late flag-off time of the race at 1am this morning.
Said Haynes, "It was a strange feeling. Normally, a marathon takes place in the morning, so you go to bed and then wake up to run. But when you run a marathon at night, you spend all day thinking about it. For example, I was wondering whether I should be walking around, or whether I should simply spend the day lying down and sleeping."
Added Matsumoto, "When I was at home, I was starting to feel sleepy and wondered whether I should just go and sleep instead. But when I came to the race village, the festive mood woke me up immediately and my heart started pounding and then I began to feel quite excited."
Human congestion at 20km
Also, they both remarked that there had been human congestion at around the 20km mark of the marathon race. This was because they had bumped right into the bulk of the 21km Half Marathon runners, who had been flagged off an hour before the 42km event.
Said Matsumoto, "There was a large human traffic jam when I was running my marathon, because many Half Marathoners had not finished their race yet."
Added Haynes, "We obviously caught up with the 21km runners, but I had someone on a bike who was shouting and getting them out of the way. Unfortunately, I bashed one girl's phone out of her arm, but other than that, the congestion wasn't too bad for me."
Victorious race strategy
Haynes' initial race strategy, en route to victory, had been to try and run with the pack. He said, "I was going to try and run with the pack, but that did not work out. I was enjoying my run and I didn't see anyone in sight, and that was after 3km. So that strategy went out of the window. So I was left alone most of the time. But despite the congestion though, running through the 21km runners provided me with a good atmosphere – and I also had a man on a bike to keep me company."
For Matsumoto, her strategy had been to stick to an even pace for the bulk of the race. She said, "I planned to go fast in the first 10km and then maintain an even pace for the rest of the race after that."
Training for the Sundown Marathon
To prepare for the Sundown Marathon, Matsumoto had clocked several night training runs. She said, "There was one time when I ran from Jurong East MRT station up north, and then down to Marina Square – to meet my friends. I stated my run at 11pm at night. That was about 52km." Matsumoto ran a total of 350kms every month, which worked out to about 90kms to 100kms each week before the marathon. In addition, she had also been doing plenty of cycling and swimming, as forms of cross training in between runs.
On the other hand, Haynes ran about eight times a week and clocked about 140kms of mileage each week before the marathon. He also mixed up the times of his training sessions to add variety to his workouts. This meant that sometimes he would run in the mornings, but at other times, his training sessions would take place in the evenings.
Tips for runners to improve themselves
What are some tips that these two Sundown Marathon winners have to share for runners – to improve their own running timings?
Said Haynes, "Regular running is important. It is all about how much commitment you can make and how much you want to run. If you do not enjoy running and do not have the passion for it, then you are not likely to be able to stick to doing it regularly."
For Matsumoto, it is also about running consistently. She said, "For example, I run five to six times a week, and that has helped me to get faster over time. I also think that joining a running team and doing interval training will really help you to improve."
List of winners
Here is a list of the winners at the Sundown Marathon this morning.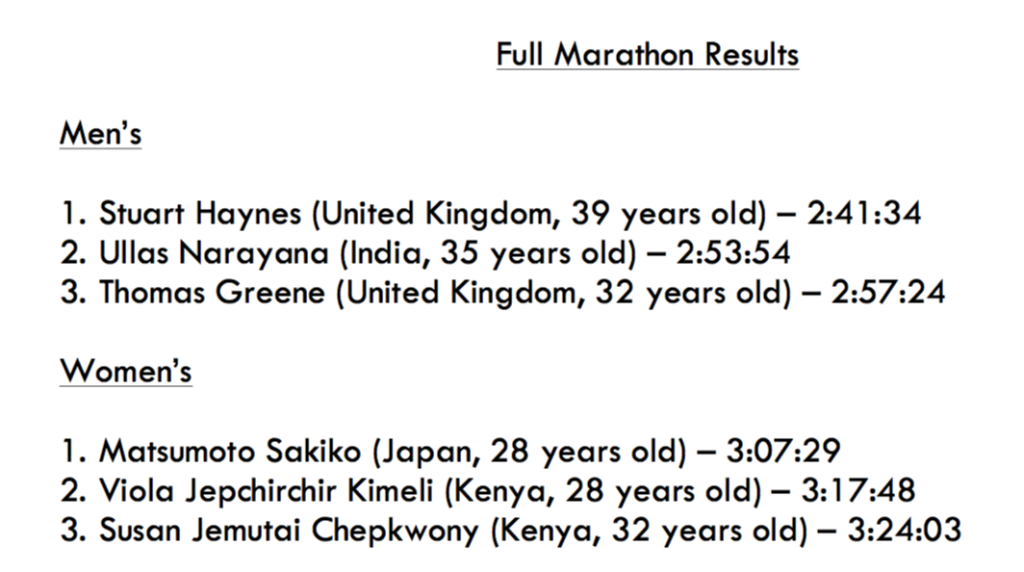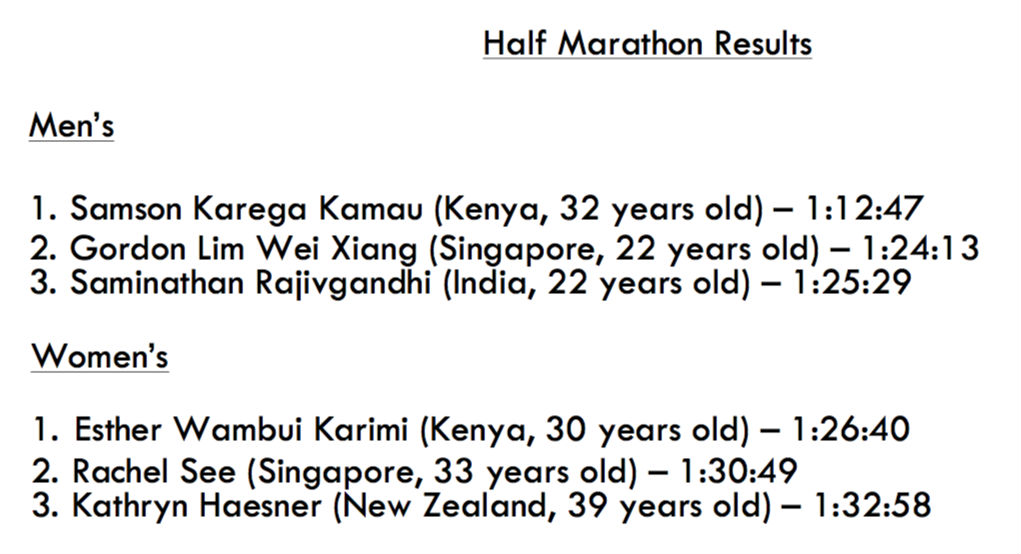 Other Blog Posts
Share this page with your friends!