The fifth edition of the PCCW Global Charity Run flagged off at Silver Leaf, Gardens By the Bay this morning with about 800 runners participating altogether in the 5km weekday running event.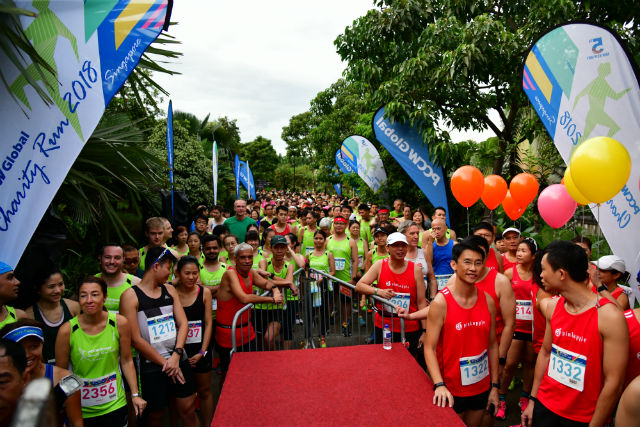 Sponsored by PCCW Global – the international operating division of HKT, Hong Kong's premier telecommunications service provider, full proceeds collected from this year's race had been donated to the event charity partner, Make-A-Wish Singapore – a wish granting foundation that grants the wishes of children with life-threatening medical condition – whether it is flying a plane, becoming a dancer or meeting a Formula One racing driver – in order to enrich t heir lives with hope, strength and joy in order to battle their illnesses.
 This had been a cause that had resonated with some of the runners who had participated in the event.
Said Laura Lacey, 42, a Managing Director of an economic think-tank based in California, "I liked the fact that the race was supporting Make-A-Wish Singapore. That is a great foundation and I love what they do."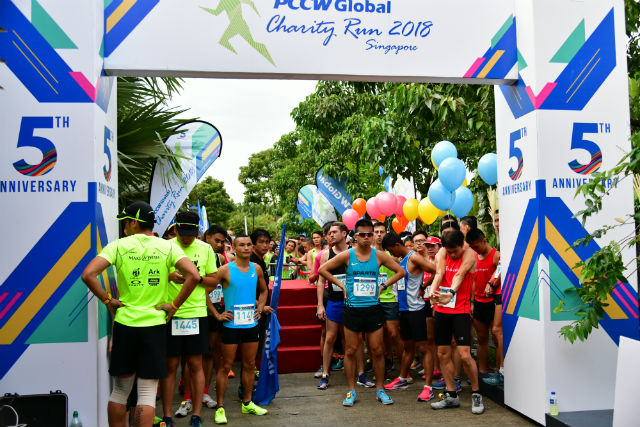 The PCCW Global Charity Run 2018 – which is a premier event on PCCW Global's annual Corporate Social Responsibility programme – had been advertised to flag off at 7.15am. So this meant that I had to wake up at about 5.30am to get ready for the run and to take the train down to the Gardens By the Bay. 
But due to the early hour though, it was much harder than expected to stay awake, and I confess that I had pressed the snooze button a couple of times – before finally dragging myself out of bed.
And agreed Bastiaan van der Heijden, 27, a Business Development Manager, "Waking up in time was the most challenging part."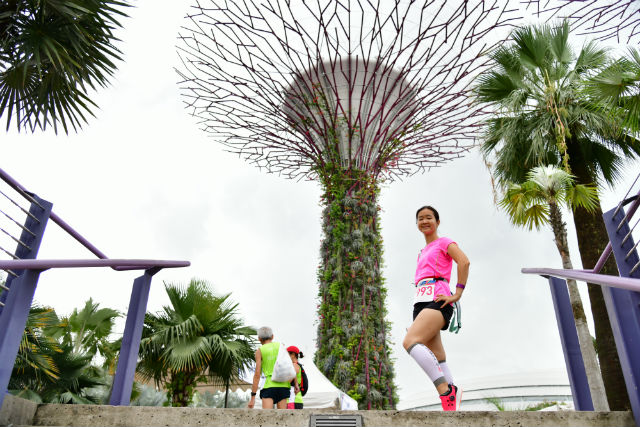 But soon after I had woken up though, I received an SMS message from the event organisers, warning runners that the weather forecast had predicted rain, so they were monitoring the situation. 
According to the SMS, we would receive any update by 6.15am if the race would be delayed.
Nevertheless, I still decided to head down for the run as planned, anyway, as it did not seem to be raining at my place.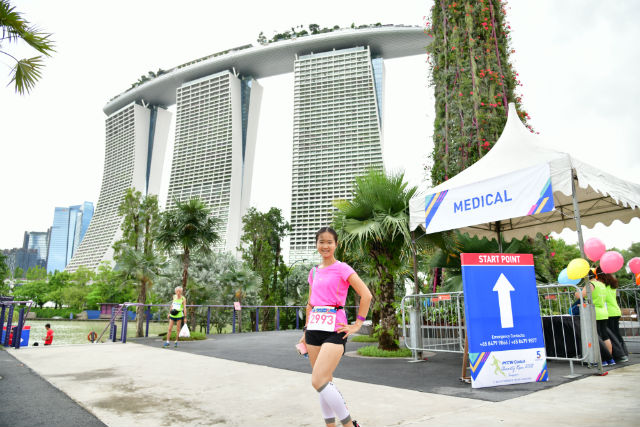 I reached the race site at roughly 6.40am and then collected my race bib and runner pack before making my way into the start pen just before 7.10am. 
Due to the relatively small number of runners, the start pen had not been overcrowded – so it was still comfortable enough while I was waiting for the run to begin.
As 5km is a very short and fast run, I would have liked to have warmed up properly with a short jog prior to the race start, but I did not manage to do this.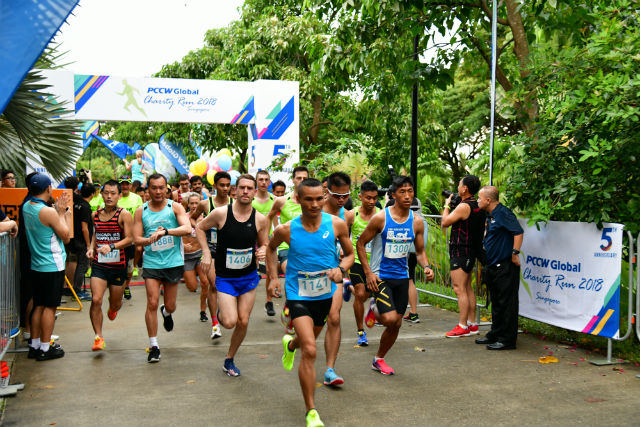 And it didn't help too, that the air-conditioning on the train during the journey to the Gardens By the Bay had been very cold – so my leg muscles had still been feeling quite cold and stiff at this point in time. 
This morning's weather was also cooler than usual for Singapore standards. For running, this is generally good, but it isn't good when you're sitting in an air-conditioned environment.
I had tried to do a few stretches in the start pen to warm up, but I felt that these didn't really help.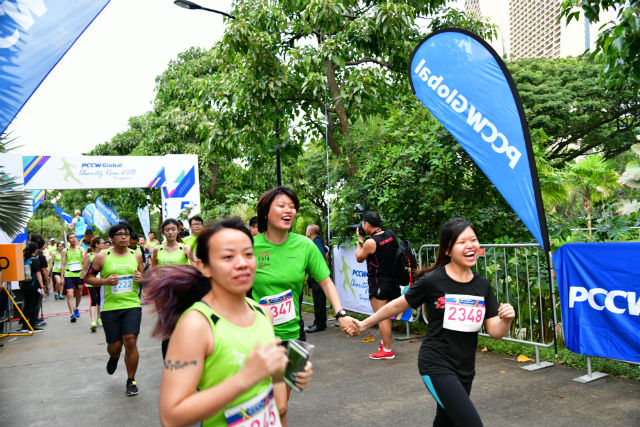 Fortunately though, the rain had held off in the end, so we were able to begin running as originally planned. I began my run at about 7.20am, roughly five minutes after the advertised flag-off time.
I had been initially hoping to run a personal best at this event, but due to the coldness of my muscles, I had quickly realised that my body had not been up to the task – after a few hundred metres of running.
So then, instead of stressing out my body further and forcing myself to perform, I made the decision to slow down a bit, maintaining a steady heart rate, and tried to enjoy the run instead.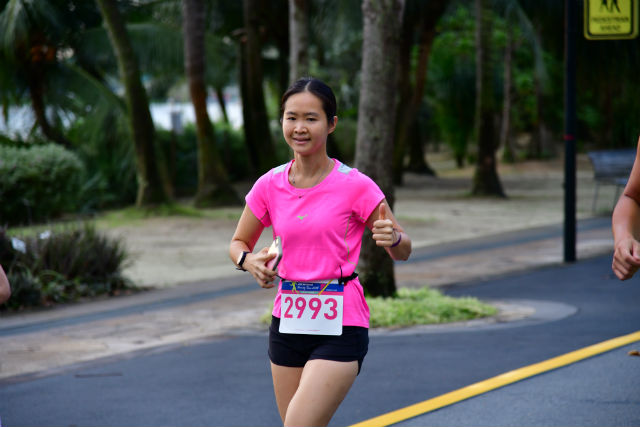 This is because when running or engaging in other vigorous sporting activity, I realise that it is always best to listen to the body, after all.
The route had taken us through the Marina Bay area, which is one of the most scenic parts of Singapore. 
For instance, along the way, we passed by the Singapore Flyer and the Marina Bay Sands before returning to the Gardens By the Bay. It was quite a flat route too, with not much elevation, but then again, most areas of Singapore are generally quite flat, anyway.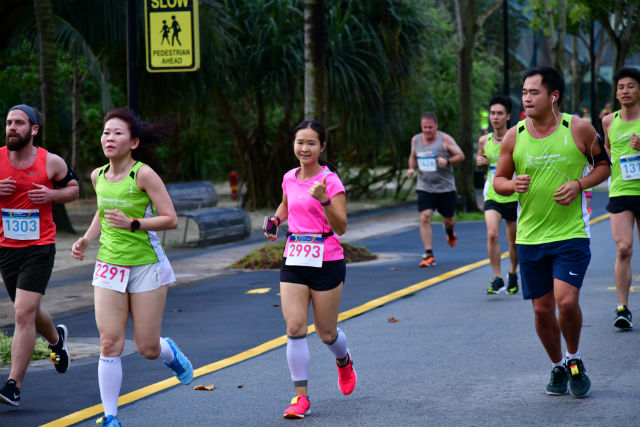 I didn't really feel completely warmed up till about two to three kilometres into the race. But by then, I had been running quite comfortably so I decided to try and maintain the pace instead of pushing harder – as a personal best timing was no longer within reach.
It still felt a bit depressing though, to be passed by about a couple of the event's pacer groups – as this had meant that my running pace was slowing.
There was no congestion though and I was able to run throughout the 5km route – because the early morning start and the smaller number of participating runners had meant that the Marina Bay area, which is generally rather crowded, was pretty much free of pedestrians and human traffic during the run. So I had been quite grateful for that.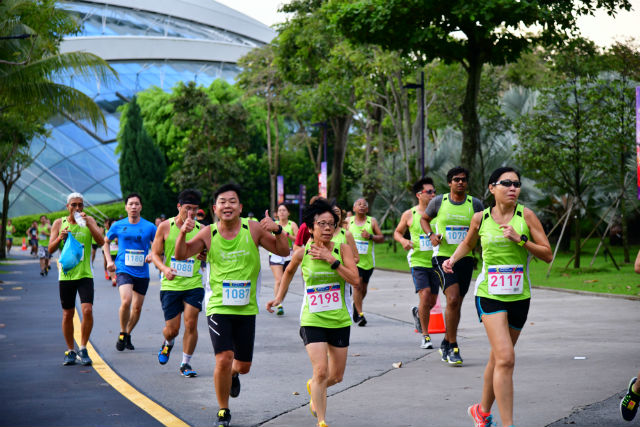 And along the way too, there had been marshals stationed at the u-turn points to ensure that runners did not get lost. Moreover, these areas were also marked out quite well with cones, in order to keep runners on track.
There was also a water station at around the 2km point of the race. I didn't need the hydration because this is considered as a short race for me. But it was still good to see this, as it meant that the needs of the runners were being met.
However accountant Alan Power, 32, a Briton who was running his first race in Singapore, had thought that having another hydration station in place, would have been good, though.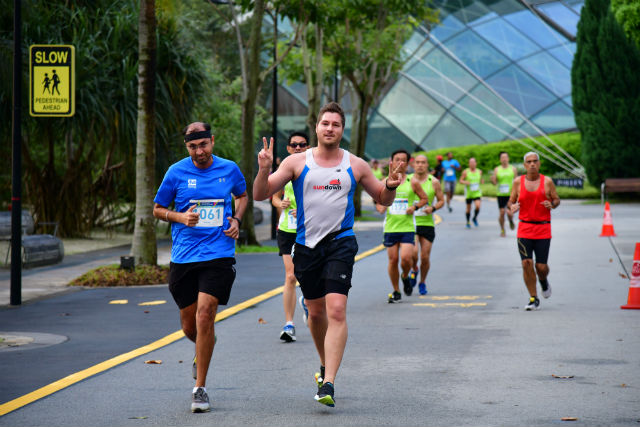 He said, "The event logistics and hydration were good. But it would have been nice to have had another water station further along in the race, to cope with the heat a bit. Other than that though, everything else was great."
Due to the long u-turns, I could see the race leaders speeding ahead as I was running along. And they were fast – in fact I later heard that the winner had finished the 5km run in a speedy 16 minutes.
These u-turns too, had also given me a great opportunity to see some of my friends in the middle of the run, and during these moments, we had exchanged quick greetings before then continuing on.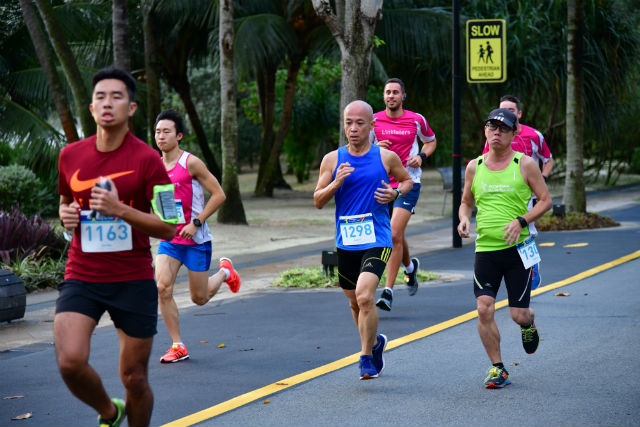 Along the way, I noticed too that there were also plenty of photographers taking pictures of us. As I continued running, I looked out for them so as not to be caught off-guard and end up with unflattering pictures.
All too soon, I had reached the finish point, thus completing my 5km run. It was not my best timing, but I suppose that it had been decent enough. There is always another race to aim for a personal best.
After the run, I took a few minutes to catch my breath, and then I collected a can of 100PLUS as well as my finisher medal and tee shirt.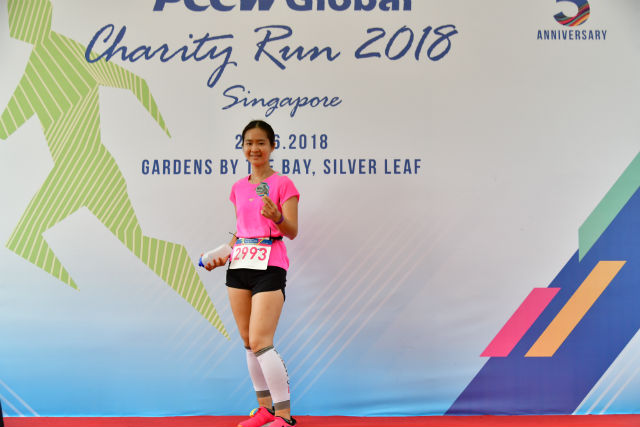 Also, I took some time to catch up with and take a few photos with some of my friends and a few of my blog fans.
I looked around the race village too, to see what was available, before then queuing up to take a photo at the cool hologram photo booth on-site as that had seemed to be the most interesting booth around. 
It had taken some time for the hologram photos to come out of the printer.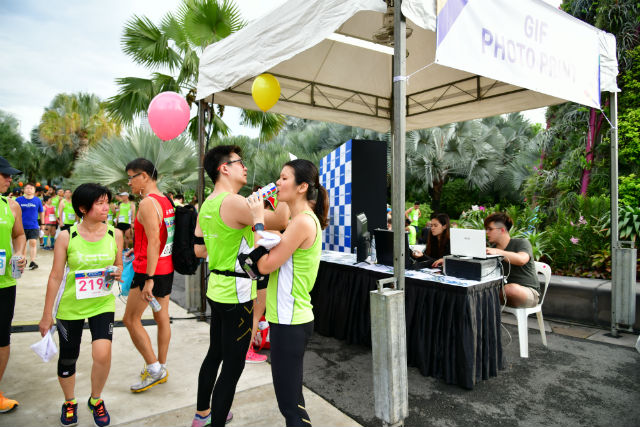 But in the meantime though, the sky was gradually growing darker and I could even feel a few water droplets coming down on me as I was walking down to the train station.
Fortunately my photo came out of the printer – before the impending rain came pouring down.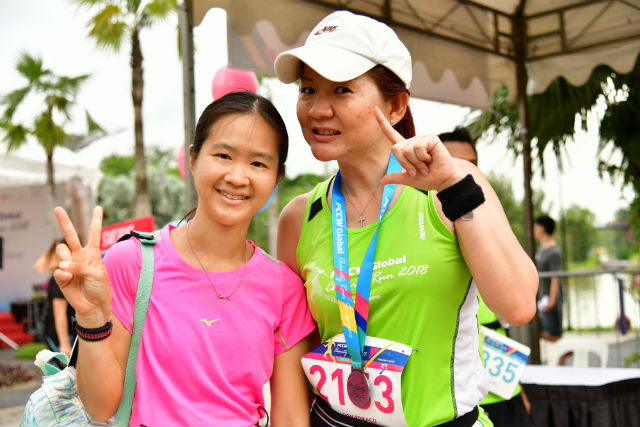 I have to say that it had been fortunate for all of us indeed, that the morning rain had come when the event had concluded, rather than earlier on, during the run.
When I was on my way out too, I heard that there was a shuttle bus service being provided for employees of PCCW Global who had taken part in the run too. And I had thought that this was a small, but nice gesture from the company to encourage more of their staff to be more active and take part in sports.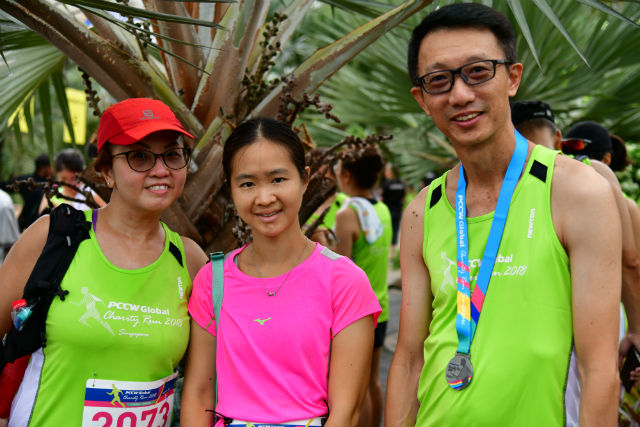 And overall, I must say that I'd had a great time at the PCCW Global Charity Run 2018. Due to the smaller number of runners taking part in this event, compared to most of the weekend runs, it had once again, been an enjoyable running experience for me.
It was a great weekday morning workout too – and in fact, I am looking forward to next year's edition.
Added Bastiaan, "It was a very nice run today. The atmosphere was great and everyone was nice. I enjoyed myself."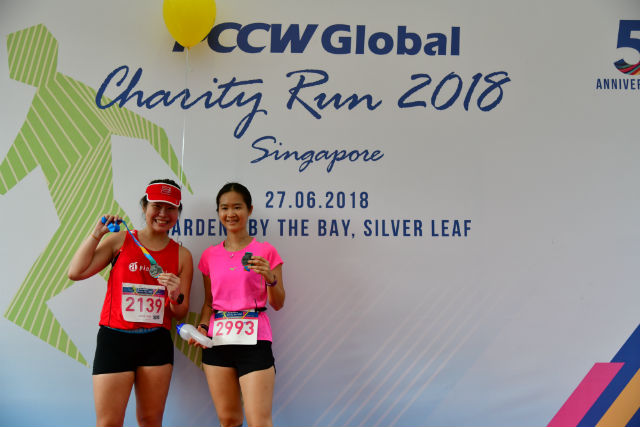 And agreed Alan, "Everything was good. It was a great course and I am really happy to have been a part of it. I hope to do it again next year."
By the end of the event, a sum of SGD $45,000 had been raised for the Make-A-Wish Singapore. This cheque had been presented to Make-A-Wish Singapore on stage, and PCCW Global are happy with the sum raised.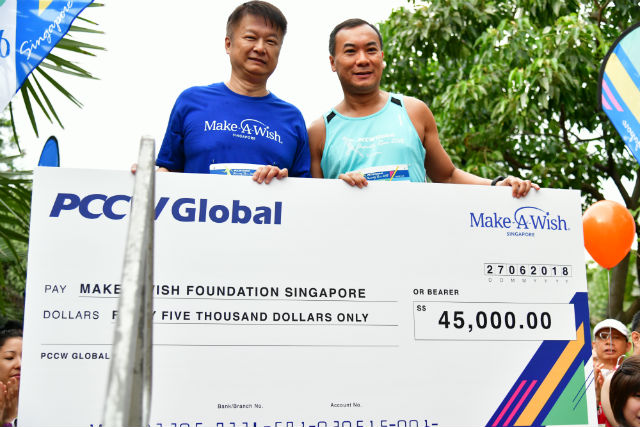 Said Frederick Chui, Senior Vice President, Global Data Sales and PreSales, PCCW Global, "It feels really good to be back in Singapore, where we had a chance once again, to run and also to put smiles on the faces of children in need. I am awed by the number of familiar faces, both from individual runners and our corporate friends who support this cause year after year."
As for Make-A Wish Singapore, they are also grateful for the amount raised and they are confident that the funds will help to fulfil the wishes of many children.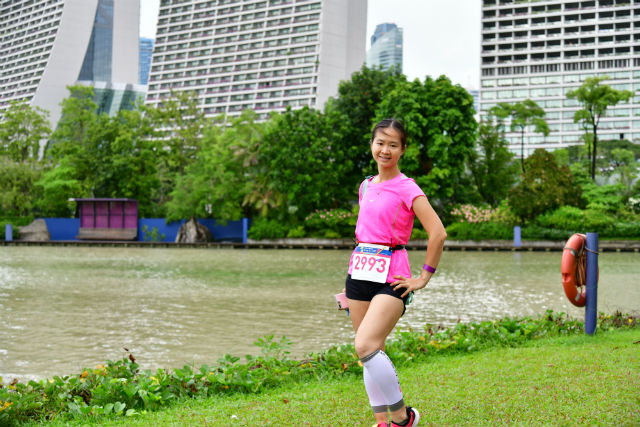 Said Anson Quek, Chief Executive Officer, Make-A-Wish Singapore, "Studies have shown that children who have their wishes granted are able to build the physical and emotional strength they need to fight an illness. We are honoured and grateful to have been chosen as the beneficiaries of the annual PCCW Global Charity Run." 
Quek continued, "PCCW Global has been a strong supporter of Make-A-Wish Singapore and the funds raised today will be channeled into fulfilling as many wishes as possible, bringing renewed hope and positivity to our 'wish children' suffering from critical illnesses."
Share this page with your friends!