You have probably already heard of the Puma Mobium Elite shoes.
This was the very first adaptive running shoes in the industry. Lightweight and elegant, this shoes allowed the foot to move naturally yet with the added propulsion to help get through the gait cycle.
Mobium Elite Speed
Now this season, Puma has added some new features to this shoes – with the Mobium Elite Speed, the second generation of this shoes. The shoes is targeted at the midfoot/forefoot striker who wants to run faster.
The shoes comes with three basic technologies – the Mobium Band, the Windlass Chassis and the Forefoot Expansion Pods.
Mobium Band
This new feature enhances propulsion for a smoother toe-off.
Windlass Chassis
This mimics closely with the bone structure of the foot. Together with the Mobium Band, it facilities the expansion and contraction of the midsole of your foot.
Forefoot Expansion Pods
This aligns and flexes closely with the movement of your foot, thus enabling you to run more freely and faster.
See the diagram for more details on the Mobium Elite Speed.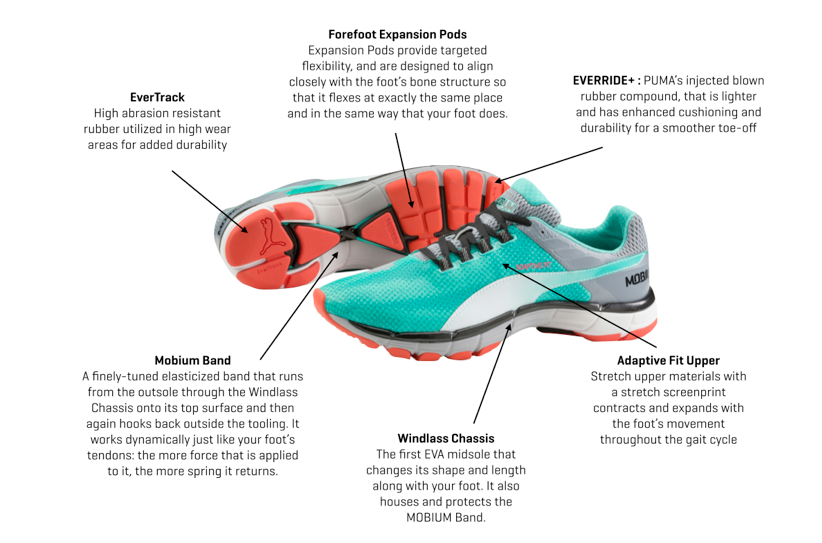 Mobium Elite Ride
Besides the Mobium Elite Speed, Puma is also launching the Mobium Elite Ride this season. Targeted at traditional heel strikers looking for an everyday running shoes, this comes with the same three features as the Mobium Elite Speed, as well as a Mobium Band that is designed specially for heel strikers.
For the Mobium Elite Ride, the new Adaptive Fit technology is also present in the heel, with the lighter Everride+ injected blown rubber in the forefoot outsole and a decoupled heel crashpad in the initial heel strike phase.
See the diagram for more details on the Mobium Elite Ride.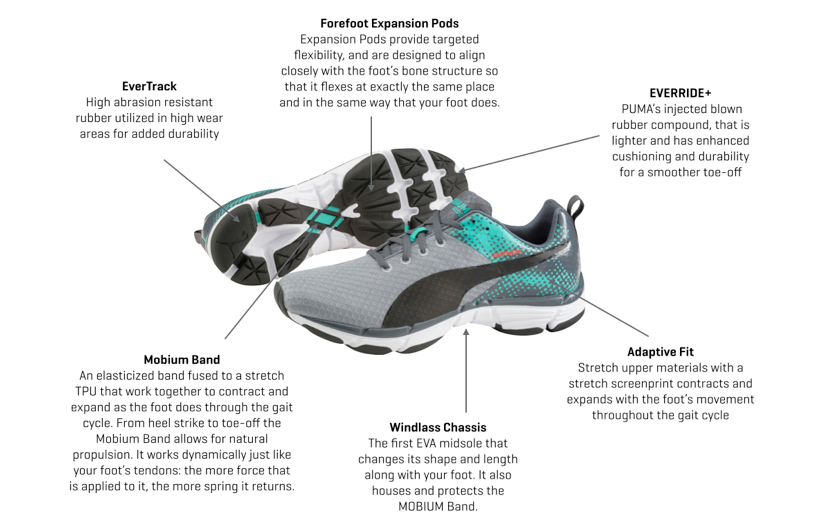 Both of the shoes are currently available at the PUMA and Royal Sporting House retail outlets now.

Share this page with your friends!