Due to the haze, the 2015 edition of the Race Against Cancer (RAC), which had been scheduled for earlier this month at East Coast Park, was cancelled.
This had been because many of the runners taking part in the event, organised jointly by SingTel and the Singapore Cancer Society (SCS), had included young and old people, as well as cancer patients and survivors – who are more susceptible than most, to suffering from the side effects from the haze.
DECISION TO CANCEL THE RACE WAS TOUGH
Said Dr. Ang Peng Tiam, Chairman of RAC 2015, "The decision to cancel RAC was a difficult one. We were aware that the runners and participants see the run as a rallying point to show their support for cancer patients and their families. However at the end of the day, we made the decision to cancel the run, because the health and welfare of our runners was our highest priority."
Dr. Ang added, "On the other hand, there are costs involved in postponing the run. Postponing would have meant extra money and less left for the beneficiaries – i.e. the cancer patients and their families."
GRATEFUL TO THE SCS FOR THE SUPPORT
However, although the event had unfortunately been cancelled, many of the SCS beneficiaries who were supposed to have run in the event, are nevertheless grateful for the support given to them by the charity.
Said Ng Jie Ying, who was diagnosed with Hodgkin's Lymphoma in June 2011, "Cancer can strike anytime and SCS is doing a good job to raise awareness."
CANCER DIAGNOSIS TURNED HER WORLD UPSIDE DOWN
Ng's cancer diagnosis had turned her world completely upside down, after her graduation trip to Melbourne with her friends. She explained, "Before I left for Melbourne, I was already seeing doctors for a lump on my left collarbone. I was spinning around GPs trying to find out what was that unsightly but painless lump. They gave me antibiotics thinking it was just enlarged lymph nodes as my body fights an infection. Until one day, one of the doctors sent me to do a chest x-ray and realised that my heart looks bigger to another x-ray that I had taken a few years ago during a routine check."
The doctor subsequently referred Ng to a specialist for a CT scan in the hospital, which had been scheduled a month after her graduation trip. Ng added too that she didn't suspect anything about her condition and did not feel any stress heading to the clinic, until the doctor broke the news to her.
She explained, "I went back to the hospital without any stress because I was feeling good and thought I was just collecting some normal health report home. The doctor who broke the news to me started off with the big name 'Hodgkin's Lymphoma' and the next big word 'malignant.' My world came crashing down when I heard the second word." She was so distraught at the time that she even broke down when paying at the counter, and the cashier had to console her.
Fortunately for Ng though, her type of cancer was highly treatable and she is now in remission. But she added that since then, her life has never been the same. Said Ng, "It was an arduous journey. Right now, I still don't quite feel the same. Sometimes i feel really lucky that I survived, but sometimes I feel that I have a wretched life and things are so difficult after surviving. I know that many cancer patients didn't have the chance to beat cancer but having survived cancer also means that I will live the rest of my life fearing a relapse."
She continued, "I also feel that I have a new label to myself, a lot more to explain when I fill in forms and apply for insurances, jobs and so on. However, with the diagnosis, friends who really cared for me grew closer to me and I saw how much my family and extended family are willing to do for me."
One such cancer patient who didn't make it was Ng's friend, Linda, who was her first cancer friend. Said Ng, "She was suffering from Non-Hodgkin's Lymphoma, as it was a relapse for her and she was in the final stage. Yet she never saw any reason not to stop fighting. She tells me stories about her son taking his PSLE and wakes up as early as 6am in the morning to ring up her son before he heads to school. I was discharged after my first chemo, but Linda had to be hospitalised every two weeks for her chemo. Whenever I came by hospital for my weekly check-up, I will go to the ward to look for her and chitchat."
Continued Ng, "As my hair fell out rapidly after a few chemo treatments, she was the one who talked me out of my depression. One day I called Linda but her sister answered. Her sister started sobbing and passed the phone to her husband. That was when I learned about her passing. Her husband apologised for not informing me in time."
SISTER WAS DIAGNOSED WITH STOMACH CANCER
Also having been diagnosed with cancer, was the sister of Poh May Chen. Poh, an avid runner herself, was also supposed to have been running at RAC together with 11 members of her family – in support of cancer.
Said Poh, "My sister was diagnosed with stomach cancer in August 2012 and had to do total gastrectomy. She went through chemotherapy and radiation. She had a relapse this April and had a hysterectomy surgery. She is currently going through chemotherapy treatment."
Initially Poh added that her family had been completely devastated when the news first broke. She explained, "She was the eldest amongst the siblings and we do not have any family history with cancer. It was hard on my parents. But as a family, we pulled ourselves closer together to go through this with my sister."
Life for Poh has also definitely changed since her sister's diagnosis. She said, "I treasure family times together even more so now, especially with my sister, and am always mindful of having a healthy lifestyle. As a family of 21 people, we gather on a monthly basis to do combined birthday celebrations and it allows the kids to mingle with their cousins too."
What tips can Poh share, for families whose loved ones have been diagnosed with cancer? She said, "The road to recovery is tough. The cancer patient may have their own stress to fight the cancer. We as family should always stay positive and provide support to the cancer patient and other family members. Fighting together as a family, will give the cancer patient hope and confidence to enjoy their life and live it to the fullest."

Other blog posts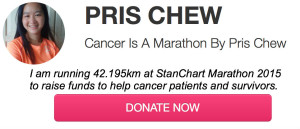 Share this page with your friends!