Now into its 16th year and organised by IRONMAN Asia, the adult categories of the Standard Chartered Singapore Marathon (SCSM) – South East Asia's only IAAF Gold Label Race – flagged off early from 4.30am this morning, with over 48,000 runners taking to the streets to race in the event's various categories.
Click here to view the Standard Chartered Singapore Marathon 2017 photos.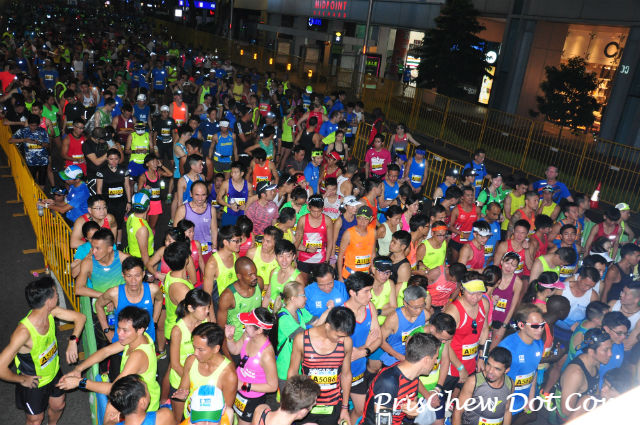 These were the Marathon (42,195km), Half Marathon (21.1km), 10km Race as well as the Ekiden team relay, where a team of seven runners came together to complete the Marathon distance.
And for the first time, over 90% of the route had full road closures as participants experienced the sights and sounds of a wider, iconic city route – this was possibly one of the key reasons why the SCSM race had been sold out across all categories prior to race day.
SCSM Kids Dash took place yesterday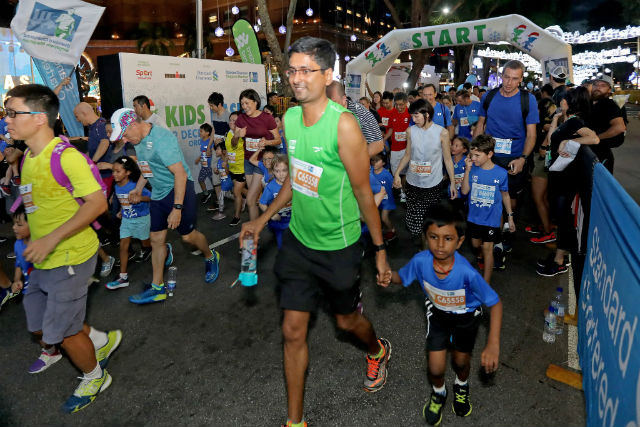 And to complete the full weekend of running, the Kids Dash took place at Orchard Road yesterday evening, with 5,000 children aged between 1 to 13 years old, racing down the 600 metre course – from Ngee Ann City to the finish line outside ION Orchard.
After their run, the children could enjoy a Christmas carnival which flanked the Orchard Road route, providing them with a perfect Saturday evening family outing.
Took part in the Marathon (42.195km)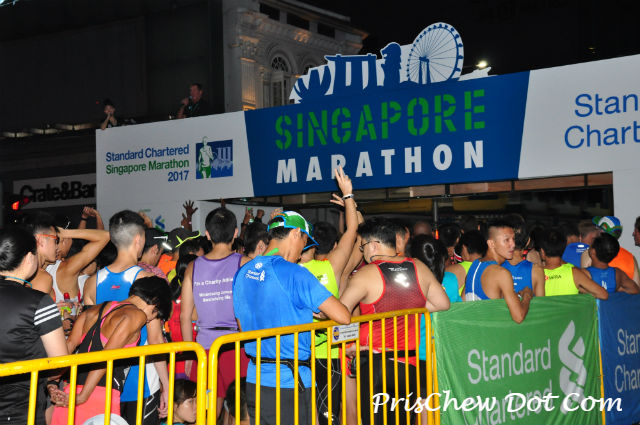 I took part in the Marathon (42.195km). This began at Orchard Road at 4.30am this morning. So even though it had been a Sunday, I woke up in the wee hours – just after 2.00am to give myself lots of time to get prepared for my run, and then I called a Grab Car at roughly 3.00am in order to take me to Orchard Road on time.
The Road Closures frustrated my Grab driver
Due to the road closures, my Grab driver had some difficulties getting to the race site, from my place. So the driver was quite frustrated and throughout the ride, he was constantly moaning about why so many roads were being closed for the SCSM.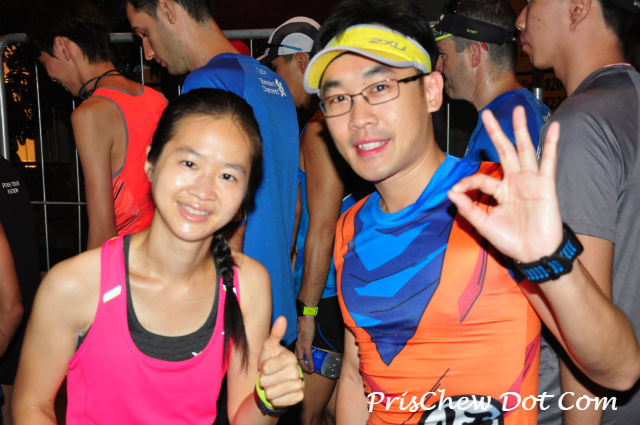 At this point, I asked myself whether buying a shuttle bus ticket would have possibly helped in terms of making my way around the numerous road closures.
Such transportation issues could have been easily solved though, if an agreement with SMRT to have the train services in operation in order to bring runners to the race.
Eventually at about 3.40am though, I got to Orchard Road, and I headed to the Hotel Jen@OrchardGateway in order to collect my media pass before then meeting a couple of my friends outside the Mandarin Gallery just after 3.45am. We wished each other luck for the race and took a we-fie together before making our way to our various starting pens in time for the first flag off at 4.30am.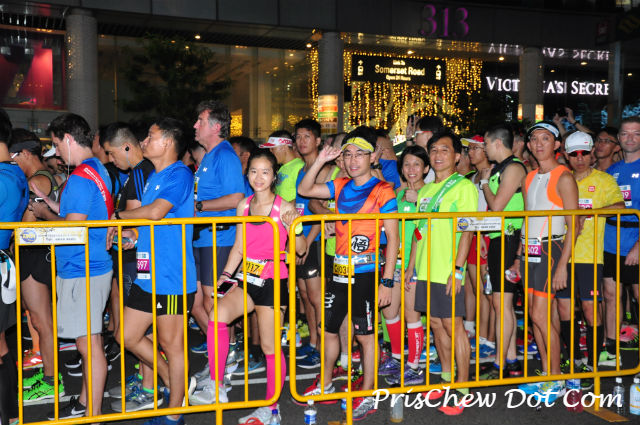 Baggage Deposit Service
Fortunately for me, I did not use the baggage deposit service. I later heard that there had been lots of complaints about this.
This was because many runners had to queue for about one to two hours to deposit their bags before the run, as well as subsequently to collect their baggage after they had completed their run. So a number of runners had missed their respective flag off timings.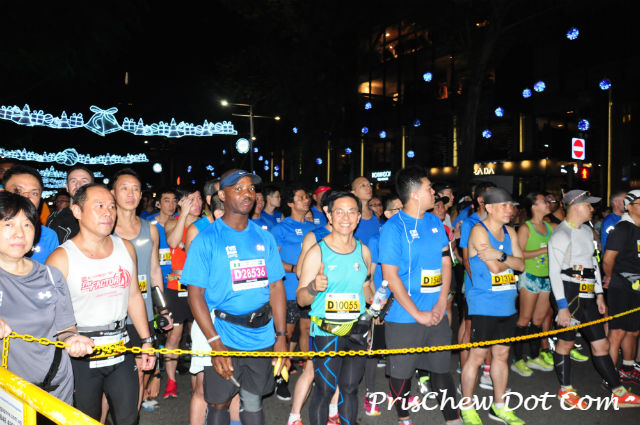 In fact, due to this, some runners who were caught in the delays had only began running at 6.00am, which is more than one and a half hours after the advertised flag off timing.
One key reason for this was that there were apparently insufficient baggage trucks arranged to cater to the sheer number of runners taking part in the event.
And additionally, runners had been required to empty their cloth bags and place all their items into a transparent bag provided by the organisers, perhaps for security reasons, but apparently this message did not appear to have been very clearly communicated to the runners. So time had been wasted too, with runners repacking their items on the spot before depositing their stuff into the trucks.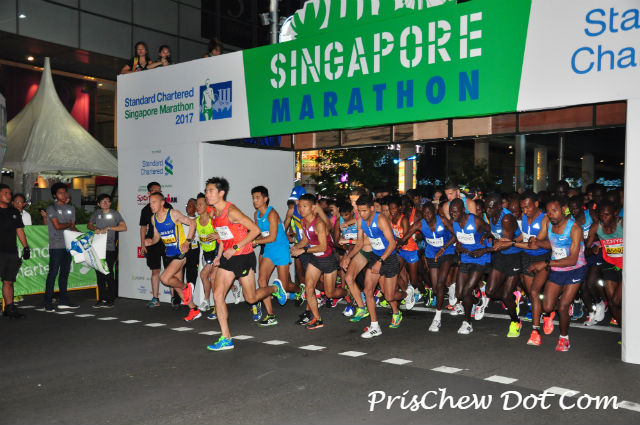 I had also heard that due to the delays and queues that had been created at the baggage deposit area, the cut off time for the full marathon race had subsequently been extended from the original 12pm to 1.30pm in order to allow runners who may have inadvertently been held back at the baggage area, to still be able to complete their 42.195km.
Waiting for flag off
I had been allocated to start my race from Pen C, so for me, my flag off time was scheduled to be at 4.40am. While waiting to be flagged off, the Singapore National Anthem was played. This was a new addition to the SCSM event and it reminded me of my school days, when I had used to sing the national anthem at assembly every morning.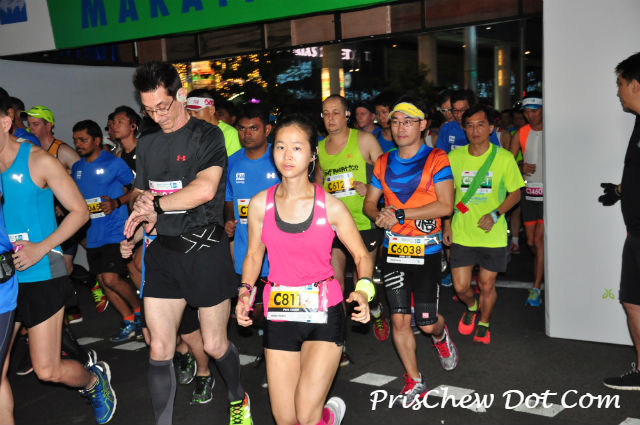 The elite wave and Pen A flagged off punctually at 4.30am, followed by Pen B, before it came to my turn. We were flagged off punctually at 4.40am.
Beginning my run
When I had started running, my Garmin's GPS signal was having some trouble picking up and the numbers on the watch were apparently jumping sporadically, probably due to the concrete buildings at the Orchard Road area.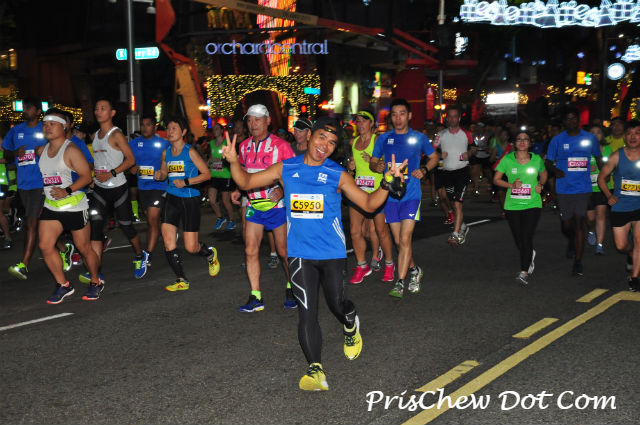 So for the first couple of kilometres at least, I was running based on feel and using my heart rate alone as a guide – which is not that good, because I often find that my heart rate readings can lag, taking quite some time to register.
New Race Route
We had been running a new route this year – with the run bringing us through Little India, Bugis, Jalan Sultan and Chinatown at the beginning, before then heading towards the Singapore Sports Hub and East Coast Park. The race route then took runners to Marina Barrage and the Gardens by the Bay areas before then finishing off at the iconic Padang.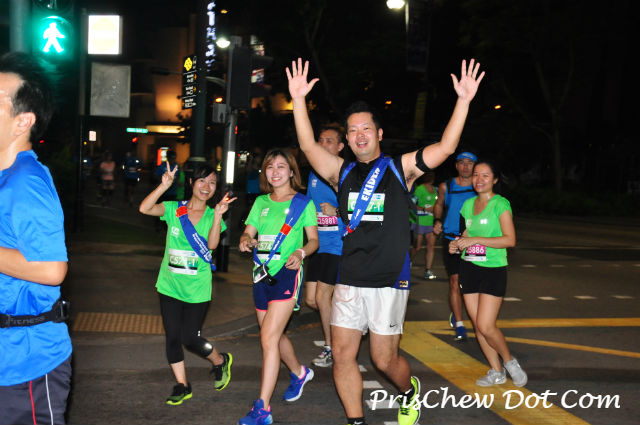 I admit that I had quite enjoyed the new SCSM route, especially the beginning part, as I do not usually have the chance to run in these areas. So I had quite liked this section of the run, even though it was dark and I could not really see much of the sights and sounds around me.
For future editions of SCSM, I would like to see the organiser extend the route to possibly some of the heartland areas and perhaps cut off the East Coast Park portion completely – as this would be a great way to showcase the real Singapore to tourists, and for them to glimpse how the locals live.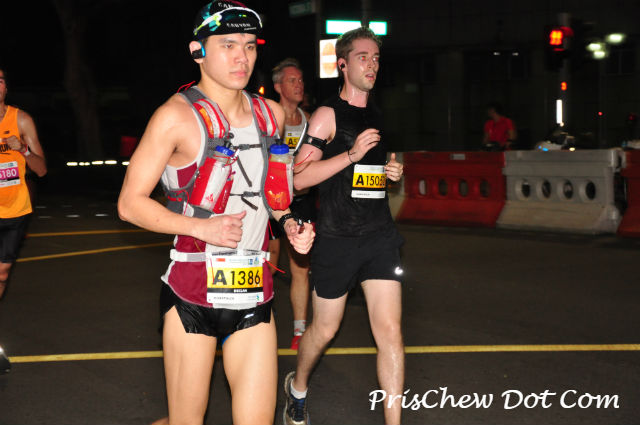 To me, it had felt quite special to be able to run through these significant cultural and historical areas of Singapore – it was probably a first for me, being able to run through these areas without any worries about the cars or traffic.
Agreed Enrico Varella, 52, a Management Consultant, "The new route was good – there was a bit of the CBD, Barrage and the Bay area. I thought that it was quite scenic and less predictable than previous years."
This was because previous editions of the SCSM had brought runners straight from Orchard Road down to the Sports Hub and then to a long 20km stretch East Coast Park before then immediately running back towards the Padang.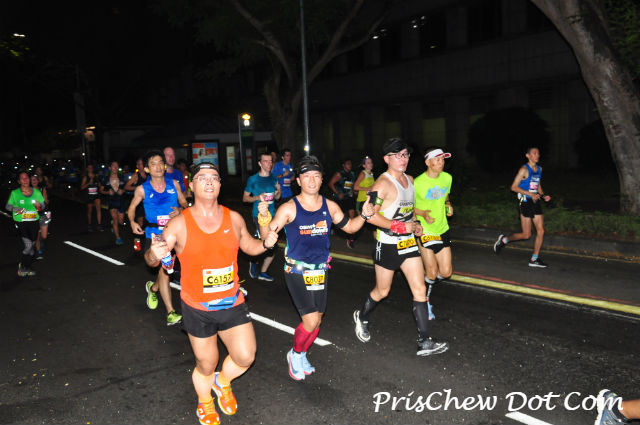 GPS screwing up
When my heart rate had finally stabilised itself and the GPS signal from my Garmin became more stable, it turned out that I had apparently run the first couple of kilometres faster than I had initially wanted to. So I slowed down a little bit, immediately.
I would say that the first half of the race went by quite well. I was still running quite comfortably with my heart rate in the high end of my easy to low end of my steady zone. It was not hot yet at this stage, though I could feel that the air was quite stale and humid especially when we were running through the concrete, built-up inland areas.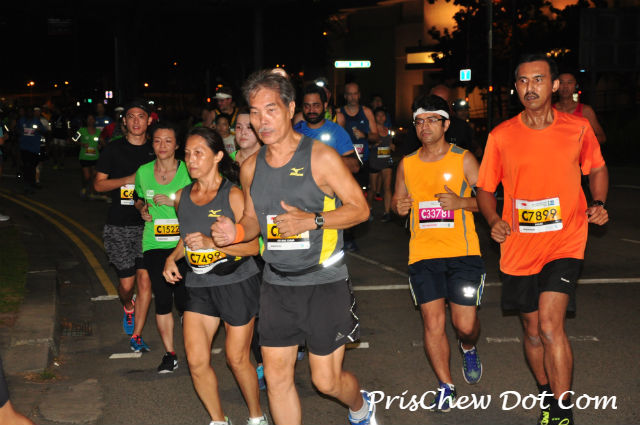 My Garmin's GPS signal had screwed up again just after 11km into the marathon. I had barely seen the 11km marker and had only run for a few hundred metres when my watch somehow registered 12km and at a crazy four minutes per kilometre pace, which I knew that I certainly was not running at. I think that once again, the urban jungle had created havoc with the satellites picking up the signals.
The weather got a bit better at East Coast Park when I could feel the sea breeze cooling me down a little, though. We entered East Coast Park just before the halfway point of the marathon and ran from Fort Road towards the cable ski wakeboard park before making a u-turn and then exiting from Fort Road again.
I am familiar with East Coast Park as it is my usual training ground so for the 10km that I had been running there, I had allowed myself to tune out and simply focus on listening to my music as I ran.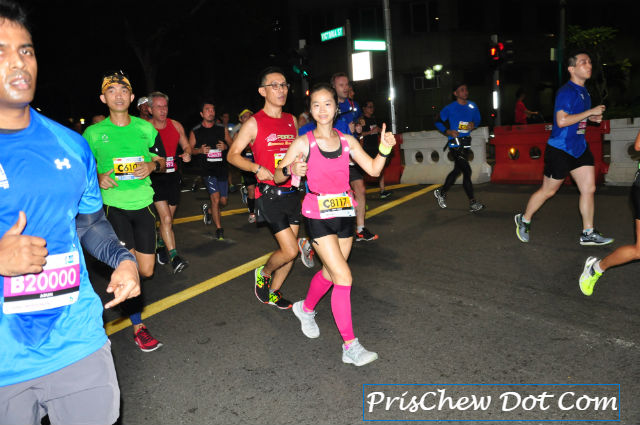 Hydration Stations
Along the way, there were hydration stations every 2km-3km. These were serving either water, 100PLUS or both. Additionally, there were also gels and bananas given out at designated aid stations.
I thought that there was plenty of hydration when I was running past and it was good to know too that the 100PLUS was ice cold. This was very refreshing.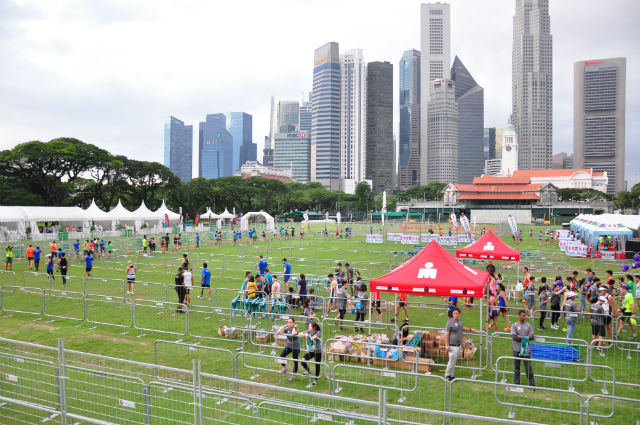 Agreed Tee Yen Boon, 42, a software analyst, "The hydration was more than sufficient; maybe I drank too much though because I was feeling a bit bloated after a while."
As well I noted that there were plenty of hydration tables, so this meant that even though the first few were crowded, I could avoid the crowds by running to the tables further away and not grabbing my drink from the first few tables and having to battle with the crowds as a result.
I also used the hydration stations to plan my race strategy to take my gels and my salt tablets and I think that this had went quite well in my case.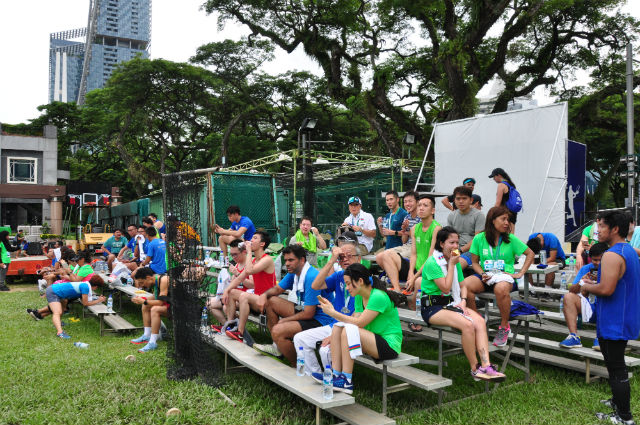 Runners at the back of the pack, who had finished the marathon in more than six hours though, had pointed out that some of the stations had run out of 100PLUS when they were running past, though water was still available.
I had also later heard that one aid station had apparently run out of hydration completely too, leaving the back of the pack runners to purchase and carry their own hydration.
Timing boards to keep runners on pace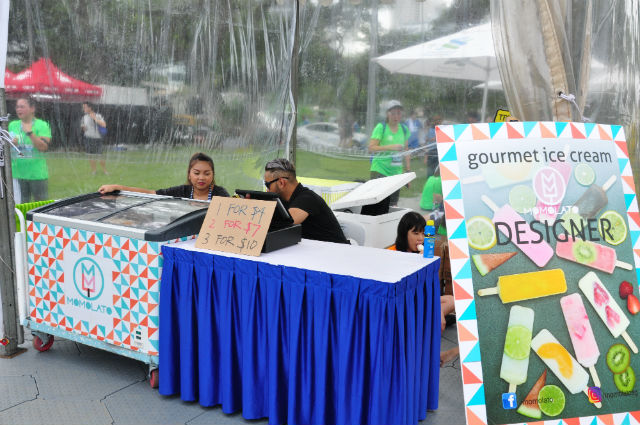 I had also noticed that at roughly every 10km during the marathon route, there was a timing board positioned at the kilometre marker to help runners stay aware of how much time had passed and to help them to determine if they had been still on target to meet their desired race timings.
I had thought these were pretty helpful in terms of helping me, and possibly other runners, to stay on pace.
Supporters and Cheerleaders
Throughout the race, there were not a lot of supporters due to the early hour.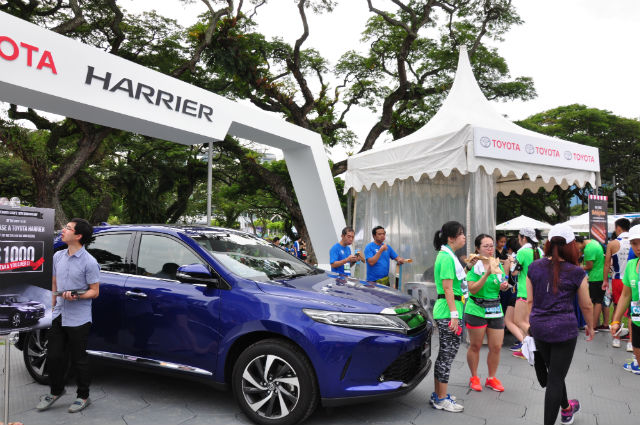 But the organisers had tried to keep up the mood of the runners with activities such as percussion performances and cheerleaders along the route and though small, these had nevertheless helped me to continue moving and to stay motivated when I began to mentally question myself about why I was doing 'this' to myself again – that is, running another marathon.
As well, race volunteers had also designed hilarious signages which displayed messages such as 'Run like an angry Kenyan' and 'This is a lot of work for a free banana' and these had brought a small smile to my weary face, as I ran past each one.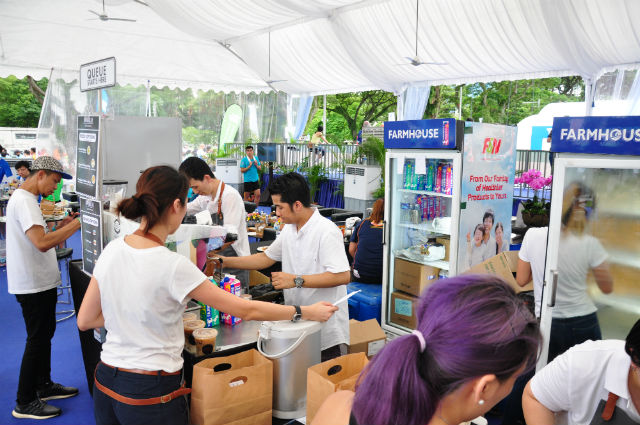 Cooling zones helped with the muggy air
It was at 29km when we left East Coast Park and we were now running through the Marina Bay Golf Course. At this point, more than three hours had passed, but it was still relatively cloudy.
Thankfully the sun had been a bit merciful today and not as hot as I had encountered in previous years so I guess that at least I could be thankful for that. But unfortunately the air was still stale, muggy and humid though and that did not help.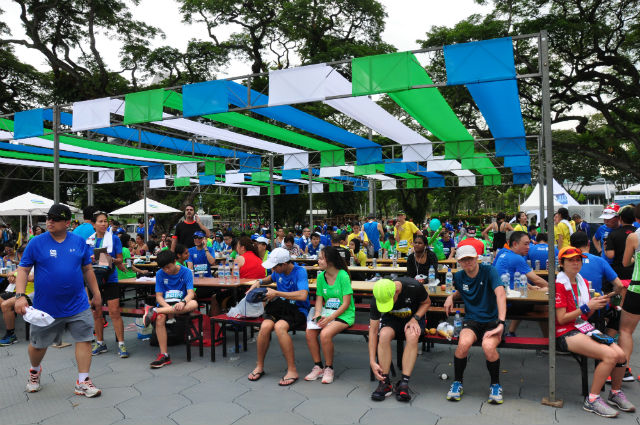 I also liked the misty cooling zones that the organiser had implemented along the route for runners to run through. I thought that the fans and the cold air had been very welcoming.
Trying to pick up the pace
I tried to pick up the pace at 32km and I managed to last about a couple of kilometres, until the merger of the 10km, 21.1km and 42.195km categories came.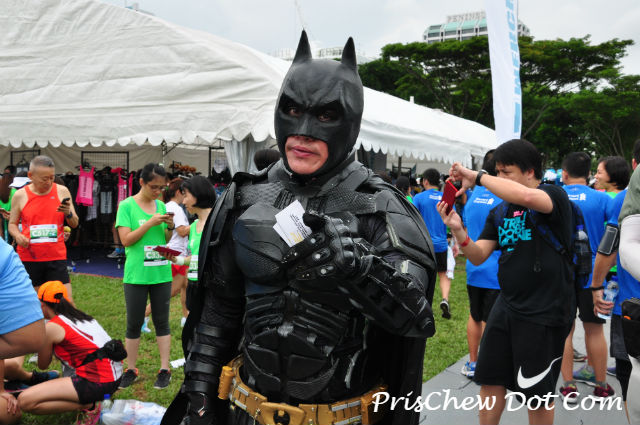 At this point, I found myself having to weave in and out of lots of 10km walkers who had been blocking the path. This took a significant toll on my energy levels and I found myself slowing down at this point, to avoid bumping into anyone.
Sheares Bridge
Running up Sheares Bridge at the 37km mark also did not help with my pacing. The bridge was already long and challenging as I had to still run uphill for about half a kilometre when my legs and my body was already feeling quite exhausted from so much running, and at this point of the run, the sun was coming out quite strongly too.
Though I do train on hills regularly with Coached – the heart rate training programme that I used to prepare for SCSM – I admit that I usually do not run on hills after 37km of running!
So this meant that conquering Sheares Bridge was quite taxing on both my mind and my body. But at least I managed to maintain a slow jog and I didn't walk up the bridge.
The Sheares Bridge was also the toughest part of the race for many other marathoners too. Said Yen Boon, "The Sheares Bridge was the most challenging aspect for me. I just did not feel like running. I just wanted to walk as it was so tough."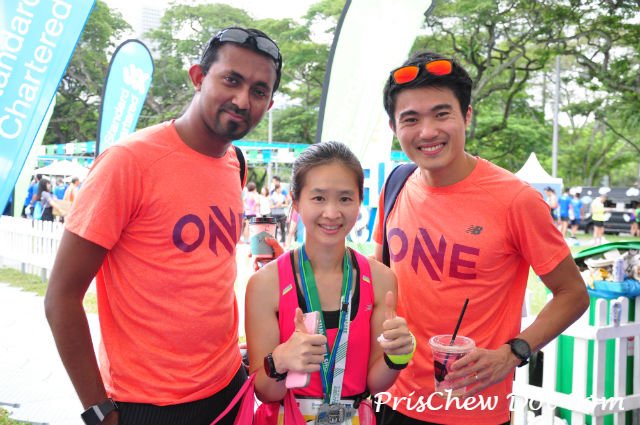 Agreed Liat Seng Wah, 43, a process engineer, "The bridge was very challenging because my legs were already very tired and cramping but I still needed to climb up."
But at the same time though, I also had to navigate my way past plenty of 10km walkers who were apparently walking in pairs or a large group. It was quite frustrating and this had affected my pacing.
Added Enrico, "A lot of people were walking up Sheares Bridge and it got quite congested. There was a bit of a bottleneck there."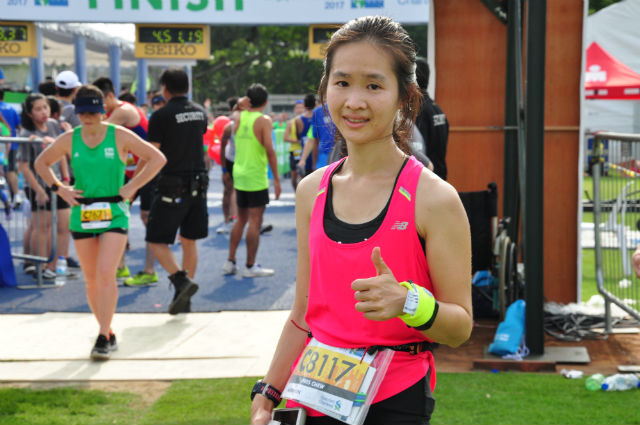 Jogging to the finish line
Conquering the Sheares Bridge had completely deflated me, and for the rest of the marathon, I found myself slow-jogging to the finish point, just simply aiming to complete the race, with my original negative splits strategy now forgotten. I also did not feel like wasting energy having to constantly weave in and out of the numerous people who were walking. After all, I was already feeling quite jaded due to the heat and humidity and I simply wanted to be done.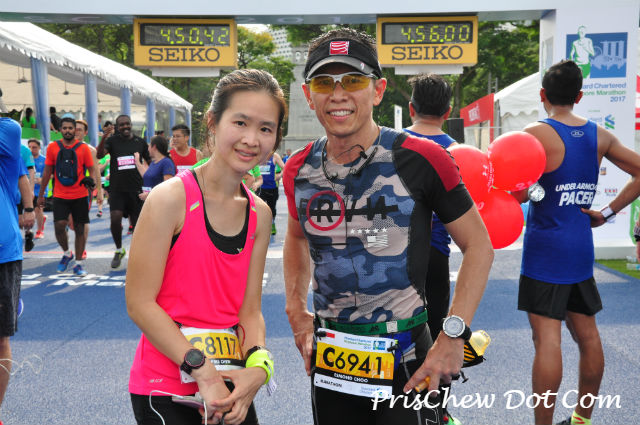 It also did not help me, that I could feel a slight cramp in my legs at this stage of the race. But I had told myself that if I had jogged, then at least I would reach the finish line faster than if I had walked. Though many people had been walking all around me, I had to mentally tell myself not to succumb to the temptation of walking as it would simply prolong my agony, as well.
With the humidity levels continuing to rise, it was not an easy task to keep jogging though, and the final three kilometre signages somehow felt as though they had been further than 1km apart. I wondered if I would have been able to run faster and cope with the humidity better if I had not misjudged my pace at the beginning.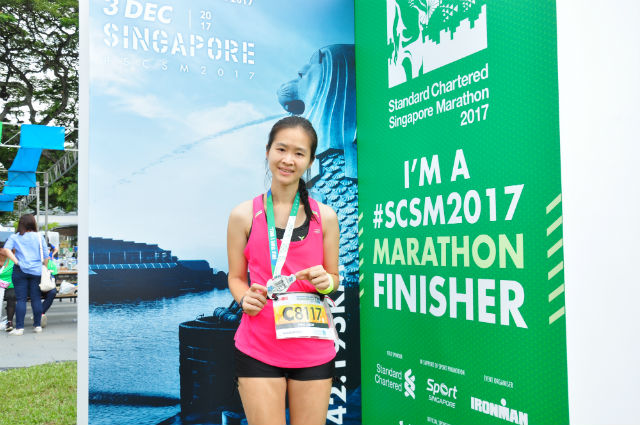 But I did stop at one of the first aid stations along the way though, where a volunteer had sprayed my aching legs with muscle spray. And to some extent, this had helped with the slight feelings of cramp and I was able to continue jogging.
Added Seng Wah, "Maybe there could have been more first aid stations, because my legs were cramping but once the 21km and 42km runners joined together, there were no more first aid stations."
Crossing the Marathon Finish Line
It felt as though it had taken me forever, but I eventually crossed the marathon finish line in 4 hours and 44 minutes. It had been such sweet relief to see the finish arch ahead.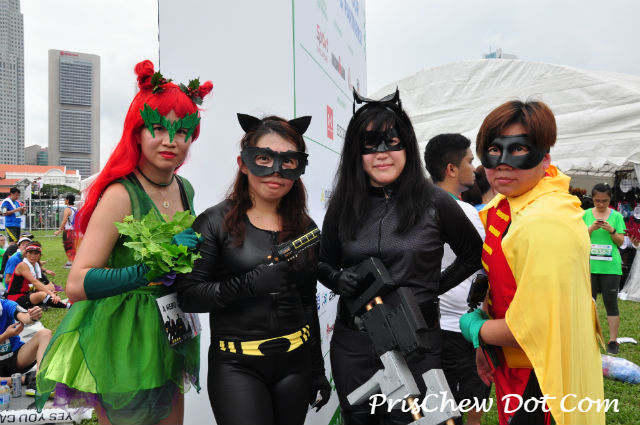 As we ran through the finish gantry, there had been an emcee positioned there to congratulate runners on their completion, calling out the names of the countries that we are from, as we had finished our race. This had added an interesting touch to the event – making runners feel as though they are national athletes representing their countries.
Though this timing had been slightly slower than my effort at the Gold Coast Airport Marathon in July, this is still a local personal best, and my first sub five hour marathon on home soil. So I suppose that I still have some reason to cheer, about this achievement.
Finisher Entitlements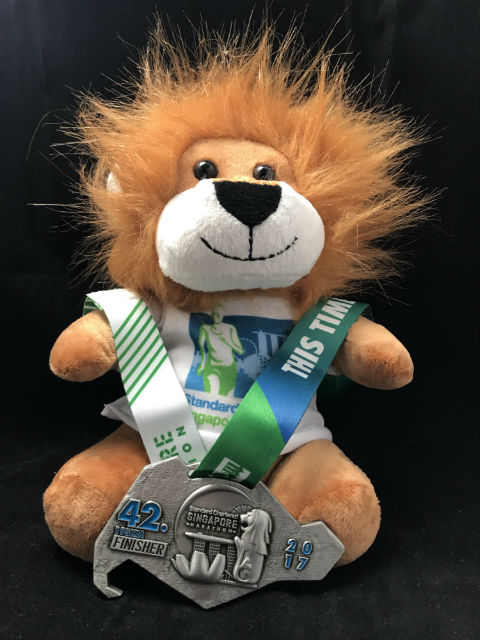 After taking a mandatory finish line photo, I collected my finisher entitlements. A volunteer hung the medal round my neck before I then proceeded to pick up my fruits (apple and banana), a can of 100PLUS, a bottle of mineral water, my finisher tee shirt and an ice cold towel. The latter was probably the best thing of the lot, that I had received!
For the sizing of the finisher tees, I chose the smallest size (Female XS) that was available when I was selecting mine, as these were being given out to runners on a first come, first serve basis.
But I had realised that this year's sizing for the Under Armour apparel seemed to be bigger than the apparel that had been provided in previous years though. So as a result, I think that a Female 2XS may possibly have fit me more snugly though, but Under Armour did not produce apparels in such a size.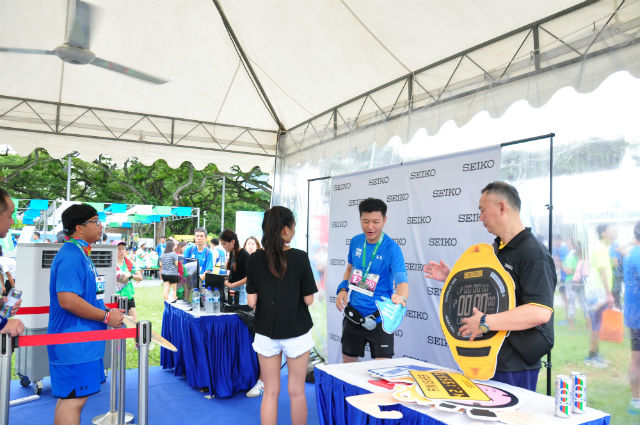 Added Enrico, "It's a minor issue but the Small size that I picked up was larger than I had thought."
I also later realised that the finisher medal also doubles up as a bottle opener as well.
The Race Village 
Post race, I admit that I had personally found it quite challenging to navigate my way around the race village to find my friends and to take a look at the various sponsor booths that were available, as there had been several barricades positioned around the Padang that had made the area seem like a maze.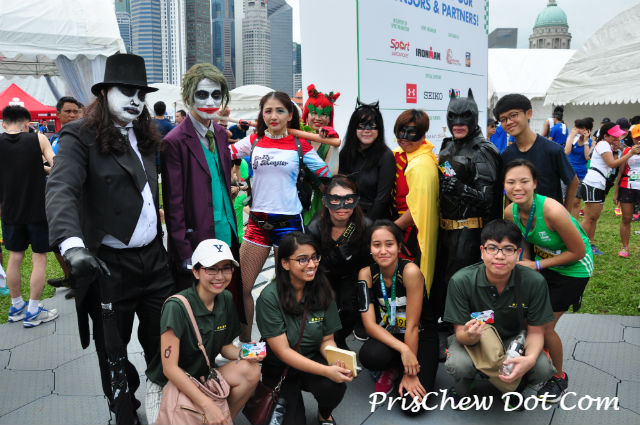 As well, my legs were already cramping and quite exhausted, so walking was quite difficult for me.
Added Enrico, "The layout of the end point was different this year. They finished on the opposite side of the Padang compared to the previous years."
It also did not help that runners were not allowed to loiter around the finishing area to relax and recover. Instead, we had to move into the rather crowded race village, which had meant even more walking for runners who had just completed an exhausting 42.195km.
After my race was over, I also caught up with Coach Ben Pulham, the founder and trainer at Coached, and he had congratulated me on my completion of the marathon too.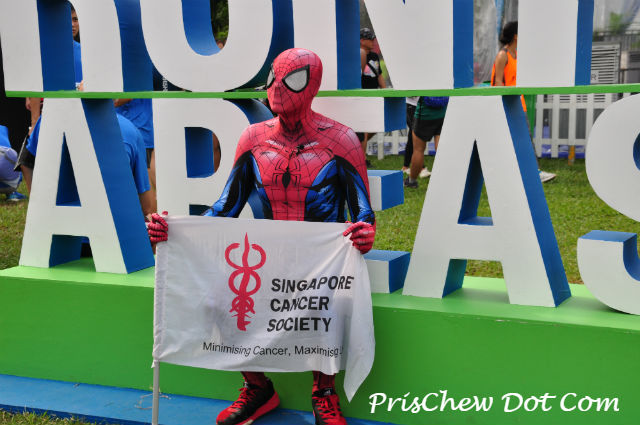 At the race carnival site, there were a couple of food trucks for runners to refuel and rehydrate themselves after their run, as well as plenty of photo opportunities and SCSM merchandise and apparel for sale too – these had included tees, singlets, caps and socks of various colours and designs to cater to runners of different preferences. As well, the plush toy lions had been quite cute!
Additionally too, the race carnival also featured plenty of massage booths for runners to receive a well earned massage for their tired and weary legs after their run and lots of 100PLUS so that participants could re-hydrate their tired bodies.
And the buffet that had been provided over at the VIP tent offered catered food such as spaghetti bolognese, sausage rolls and chocolate eclairs, as well as cafe style wraps and coffee.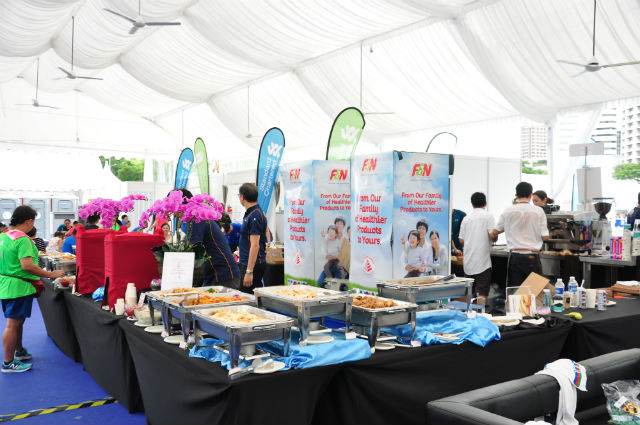 I would probably have spent longer looking around the race carnival if I had not been feeling so hot, jaded and fatigued.
But then again, after having just finished running 42.195km in the heat and humidity of Singapore, the only thing that I wanted to do, had been to go back home to have a nice cold bath and to catch up on my sleep.
It also did not help too, that there was not much shade from the searing heat, at the race village, so walking around just made me feel even more exhausted than ever.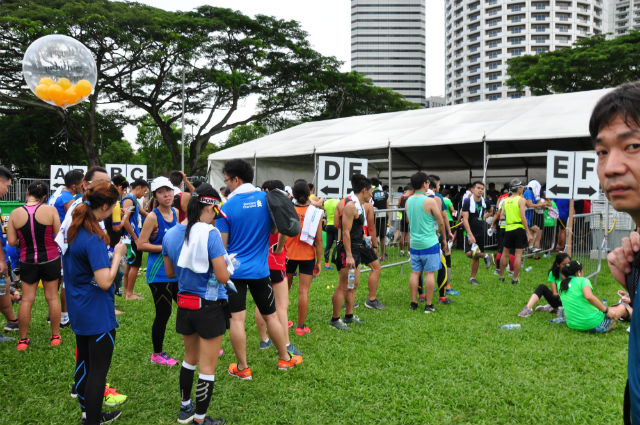 The Official SCSM App
On a side note, I had also tried to track some of my running buddies on the official SCSM app, but the app seemed to be having problems and was not really working, for the most part.
This had been quite disappointing for me, as I would have liked to know when my friends were crossing the finish line so that for example, I could know exactly when to head over to the finisher area, to meet up with them or perhaps to welcome them back after their run.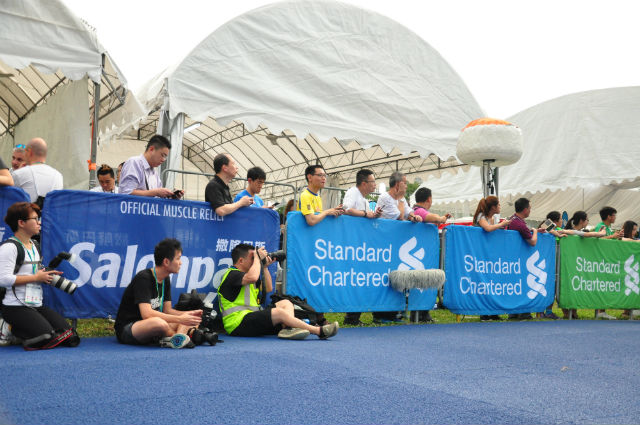 But ironically, upon checking the app subsequently when I reached home after the marathon, it now seems to be in perfect working order!
IRONMAN Asia have begun building on their learnings from the event 
And according to Geoff Meyer, the Managing Director of IRONMAN Asia, his team has already begun building on what they have learned from the 2017 event, in order to enhance the 2018 edition of the race and make it better.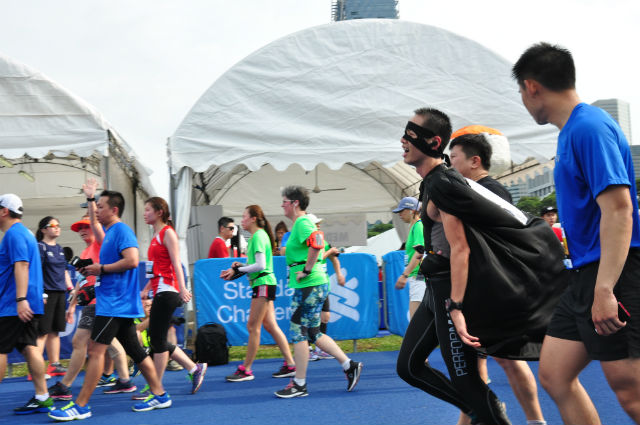 Said Meyer, "The team has already begun building on learnings from this year to enhance the race experience when the race returns on 8 and 9 December 2018."
He added, "This year we have made some important changes and we are confident that runners really enjoyed the new route and features like mist tunnels, added hydration stations and variety of entertainment. The experience on the home stretch as runners got to the finish line was truly spectacular and had allowed runners to be focal point right in the heart of the action."

other blog posts
SCSM 2017: Soh Rui Yong & Rachel See Win National C'Ships
Share this page with your friends!