More than 1,350 participants from the city's biggest corporations yesterday had swapped business suits for shorts, and formed teams consisting of ten runners each – to take part in the fifth edition of the Bloomberg Square Mile Relay in Singapore last night.
Click here to view the Bloomberg Square Mile Relay 2017 photos.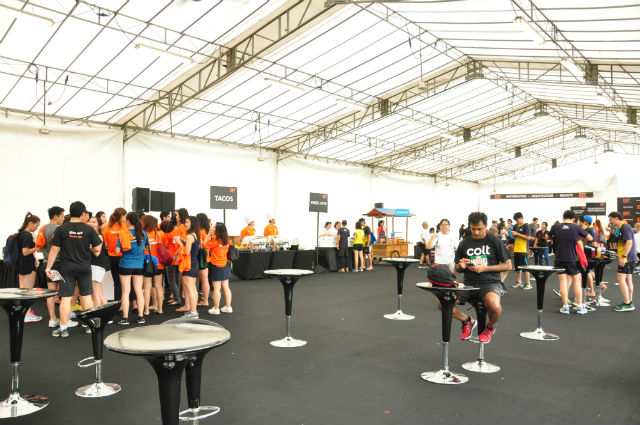 A one of a kind, immersive team building experience 
The Bloomberg Square Mile Relay is a one of a kind, immersive team building experience that uniquely takes part in the heart of financial districts in 10 cities around the world including Hong Kong, Dubai, Sydney, Shanghai and London, and not forgetting, Singapore.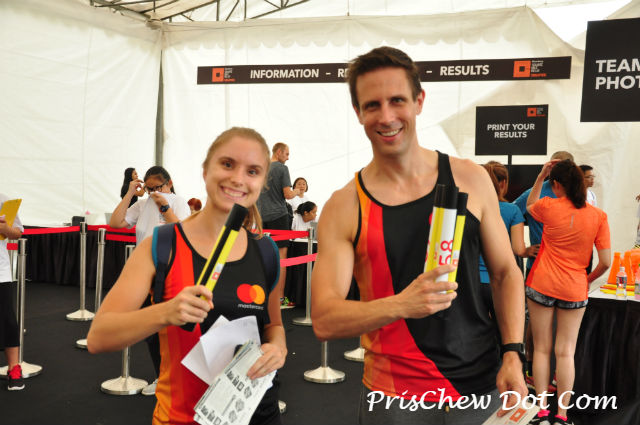 The Singapore edition of the event had flagged off last night from The Promontory @ Marina Bay. Each runner had navigated tight turns and sharp bends on a challenging one mile (1.6km) course, that took full advantage of Singapore's stunning skyline. Each team ran a combined distance of 10 miles (16km).
As an invited media, I had the opportunity to participate in the Bloomberg Square Mile Relay, in a combined media team together with runners from Yahoo Singapore.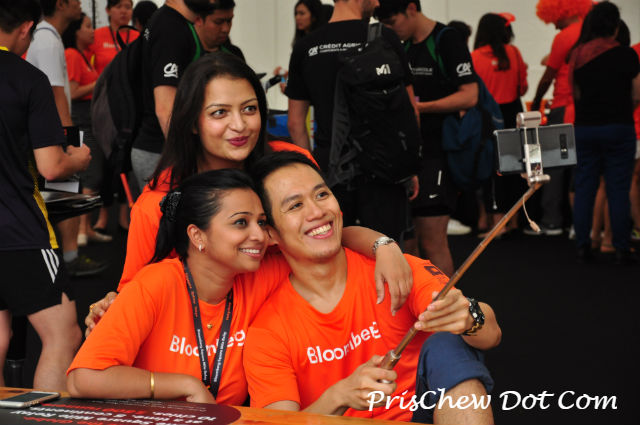 The race had been scheduled to flag off at 7pm yesterday evening and members of the media had been asked to report from 5pm onwards.
Race village was crowded
By the time I got there just after 5pm, the race village was already rather crowded and I looked around for a table to organise my belongings and get my running gear together.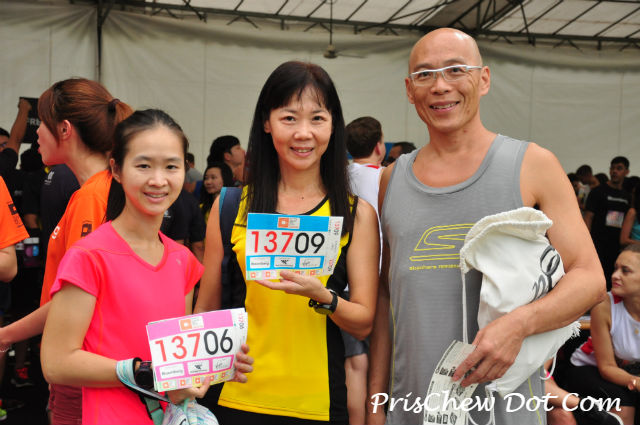 I also picked up my race bib, as well as the three bibs of my friends – Sally Lim, Tan Meng Huang and Yap Yeow – who were also running in the relay with me, representing PrisChew Dot Com.
Lots of food and drink for runners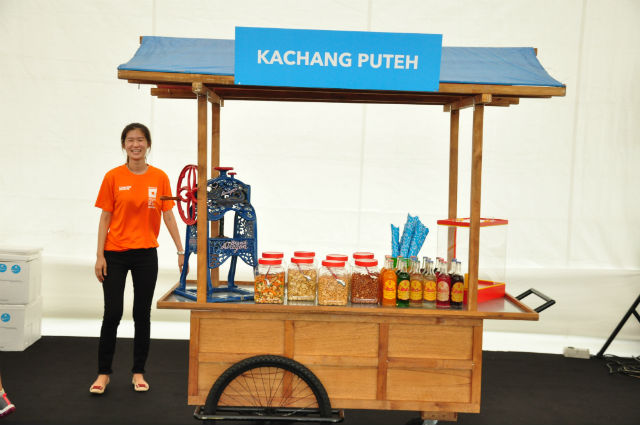 When I reached the race village, there were lots of food and beverages available for runners to build up their energy stores before embarking on the run. The food and drinks had been provided by the event sponsors.
These had included tacos, gelato popsicles and fruit juice. I decided not to try the tacos because from past experiences, I knew that eating the meat and vegetables in it, would play havoc with my stomach during my run.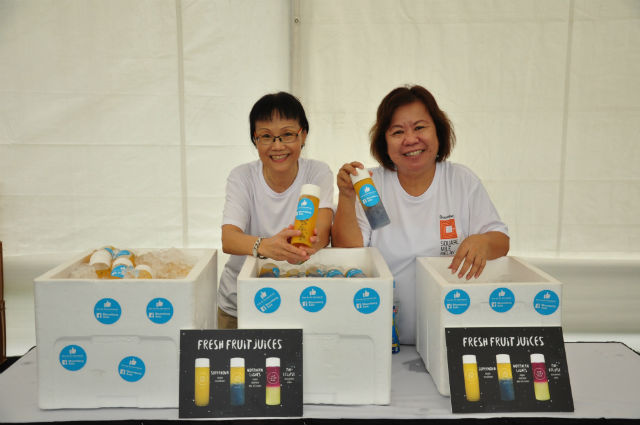 But I took a hazelnut flavoured gelato popsicle as well as a bottle of fruit juice. Both of these were sweet and refreshing and I felt that they gave me the energy to later run the one mile course as hard as I could.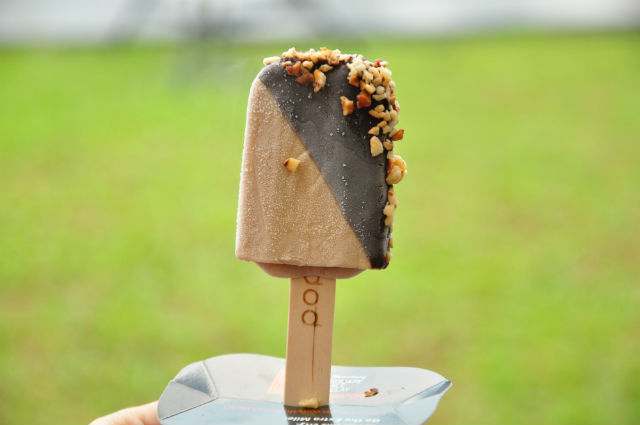 One particular food item that had caught my eye, had been a butter cookie that was packaged to look like a race medal. I thought this had been quite innovative and eye catching when I was handed one, even though I knew that the medal would end up in my stomach before the night was over!
Sally and Yap arrived just after 6pm. Meng Huang got to the race site at about 6.30pm.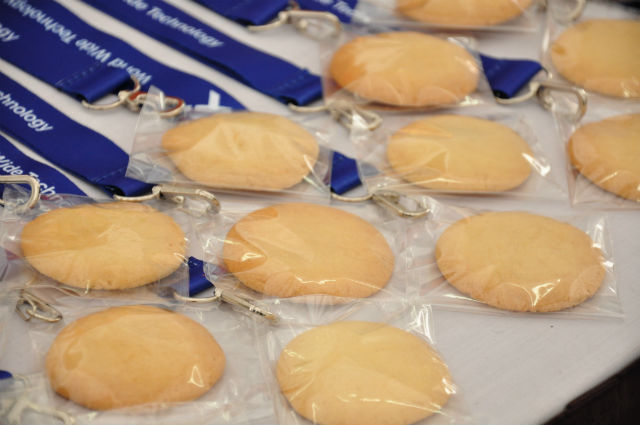 Getting acquainted with our other team mates
Prior to the race, we also took time to get acquainted with the Yahoo Singapore runners, so that we would be able to recognise them during the race, in order to pass the baton to one another.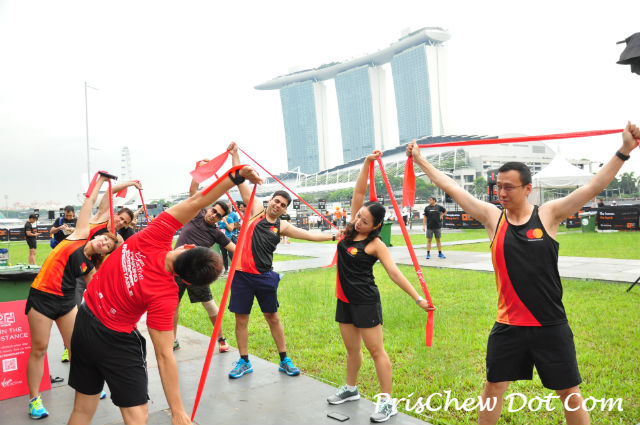 Sally and I also tried out one of the fun games while waiting for the race to start. This was basically where we had to sit on top of a stability ball and race each other over a distance of a few metres. It was quite funny, especially when both of us fell off the ball!
Prior to starting, there was also a pre-race briefing to inform runners of what the race route was, how to make the transitions and where to go to collect their finisher items. This had then been followed by a warm up conducted by the event's official fitness partner, Virgin Active.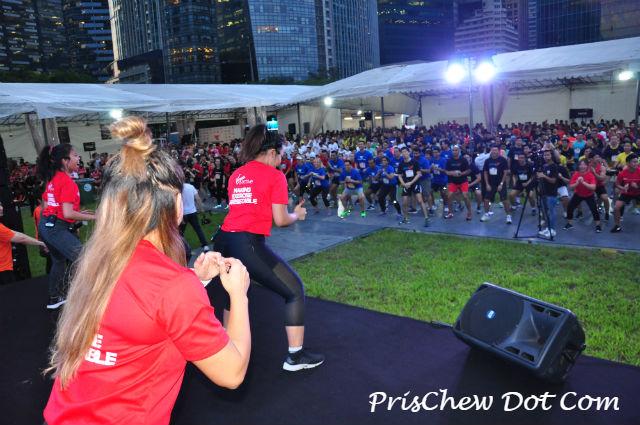 Race Starts
The race itself had started just after 7pm. We made our way to the transition area. I was the sixth runner so it would be some time before I was scheduled to run.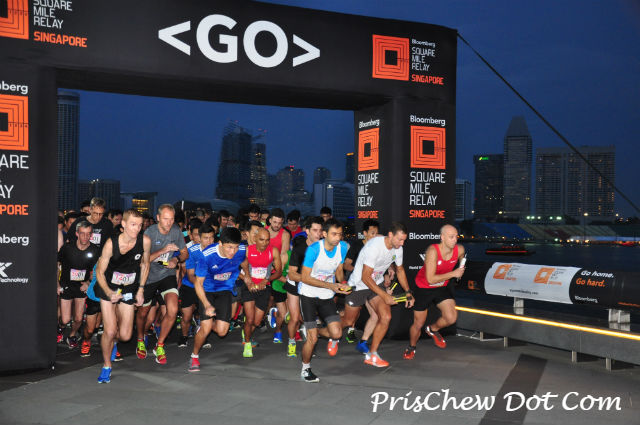 Watching the earlier runners in action as well as the emcee screaming at the top of his voice, I must admit that the adrenaline was certainly quite infectious.
Added Yap, "It was my first time participating in a relay event and the feeling changed from a fun run mentality to an adrenaline speed chase as my team mates raced off, one another another. It was quite fun and interesting when everyone was cheering and shouting to boost the energy of the runners."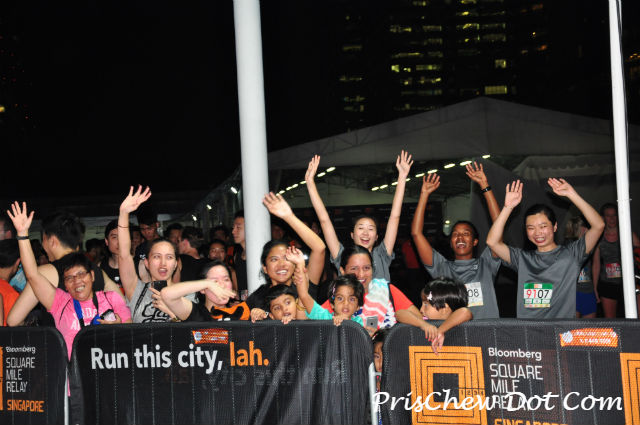 Meng Huang was our seventh runner. Yap was our eighth and Sally was the ninth runner.
My friends and I chatted with each other for a while and soaked up the atmosphere, sights and sounds of the race, as we watched the other runners go by. The lively mood and vibe was definitely contagious.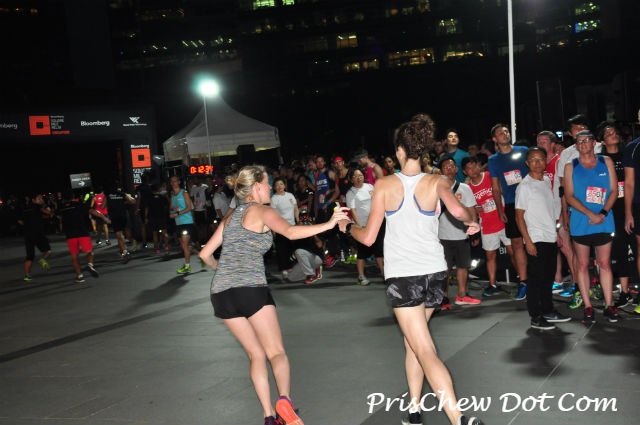 About half an hour into the race, our team's fifth runner – one of the girls from Yahoo Singapore, began her leg. So I made my way into the transition pen to keep an eye out for her, estimating that I would start running in probably about another seven to eight minutes.
My turn to run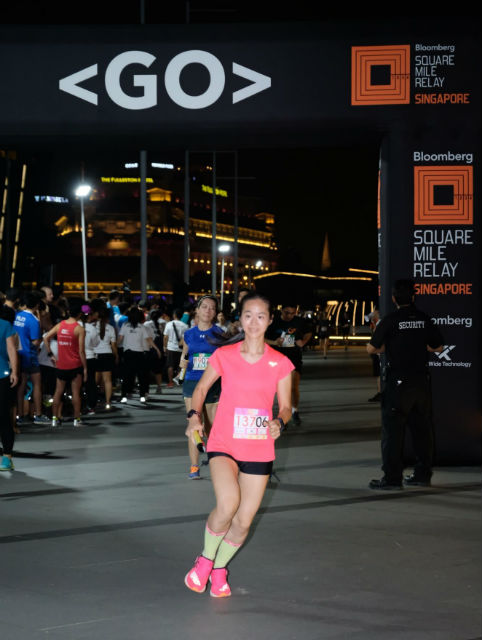 Soon enough, she came back and it was my turn. I took the baton and ran out of the blocks as fast as I could. As I am a marathon runner, one mile is relatively short in terms of the distance, but then, if you race the one mile as hard as possible, then it can be very energy sapping and draining. I felt glad that I had eaten the gelato popsicle before running.
For the first half of the run, I had been averaging a pace of somewhere between 4:00-4:30 min/km. But just before the halfway mark, I felt my pace slowing to somewhere between 4:45-5:00 min/km; maybe I had indeed started out too fast.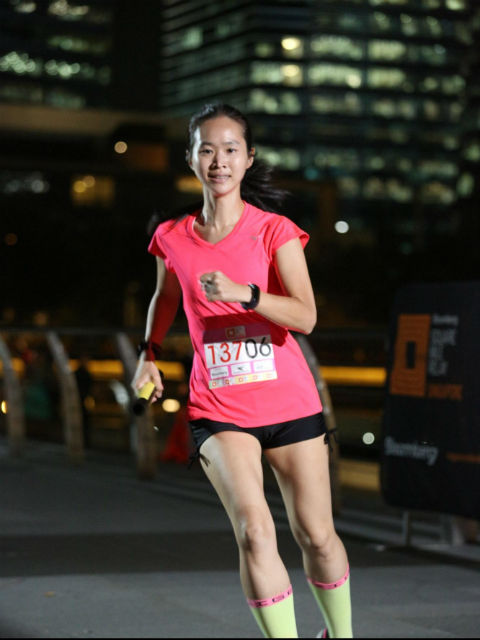 Nevertheless though, the loud cheers from spectators too, had helped to give me the energy and adrenaline that I needed, in order to keep on going and push myself harder to complete the one mile in a good timing. Some of them were even shouting out my name, which was really an up-lifting feeling.
The route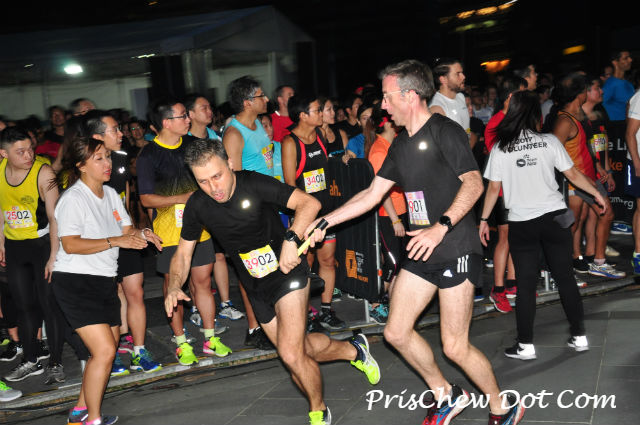 The one mile route had been quite easy to follow; the whole route had been cordoned off with barricades, so all we needed to do was to follow the barriers. As well, there were marshals and photographers lining the route, so it would be almost impossible for runners to get lost along the way. The path was also clear and not congested, which made it quite suitable for running fast.
Said Yap, "The route was fairly clearly cordoned without any confusion. Maybe a short one mile is easy to mark."
Added Meng Huang, "The route at the start had been a little messy. But soon after that, the route was less jammed as the runners were spread out along the whole 1.6km running track."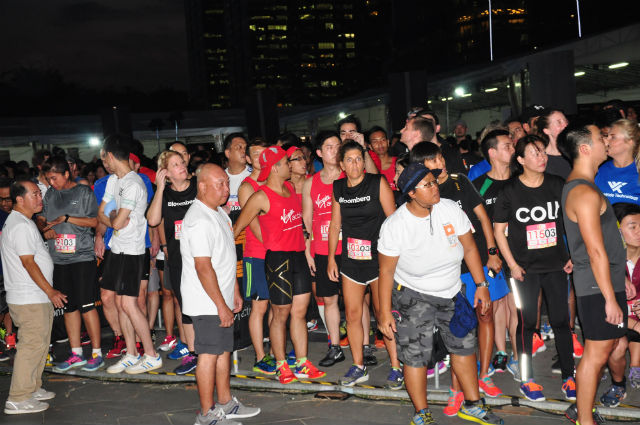 However it was quite a twisty route though, with plenty of u-turns. So I found that I had
to slow down a little whenever I had reached a u-turn so that I would not trip up and fall.
Said Sally, "There are many turning points; I had to slow down and control my speed so that I would not injure myself."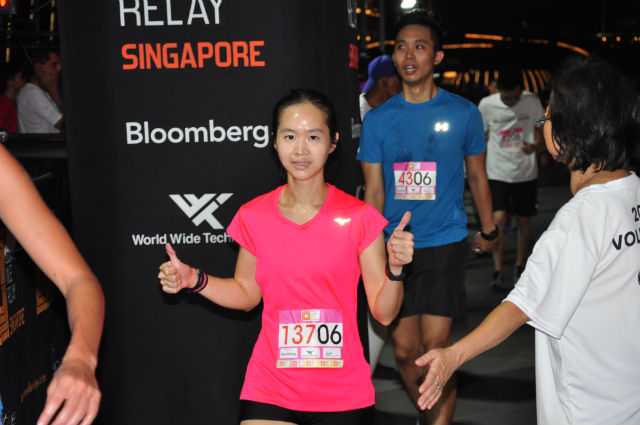 Handing the baton over
Due to running so fast, I had been panting and almost out of breath by the time I saw the sign saying that there were 400m left to go, but since the race was going to be over for me, I gave it a final push and handed the baton to Meng Huang.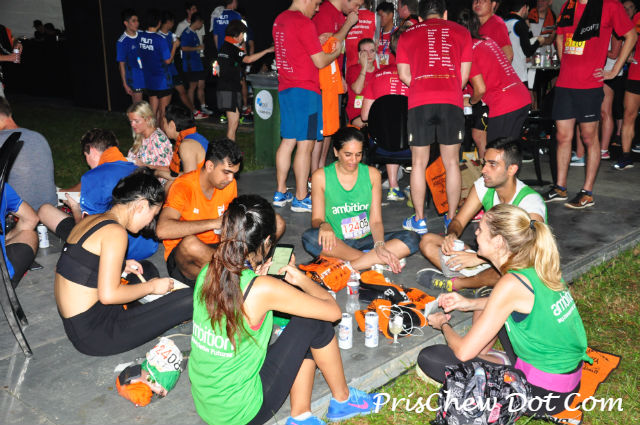 My official time for the one mile course had been 7min and 17sec.
Added Sally, "It had been my first experience running at a fast pace; my average pace was below 5:00 mins/km. But my throat had been dry and in pain; I was told that it was because my breathing technique had been incorrect."
Upon completion of my loop, I slowed to a walk and allowed myself to catch my breath before collecting my finisher entitlements, which had consisted of a finisher tee shirt, towel, bottle of water and a reusable drink bottle.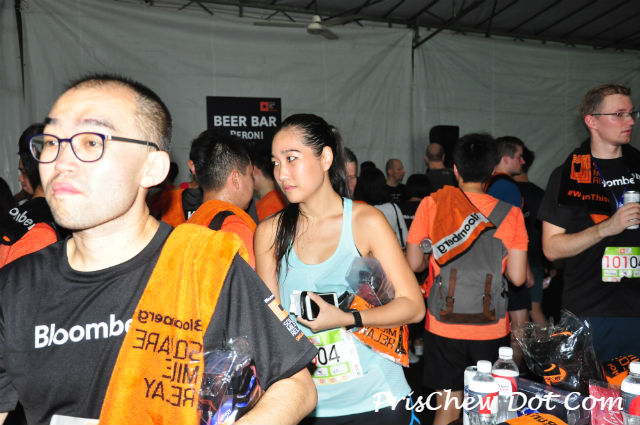 However my friends had all pointed out that the reusable drink bottle was out of stock by the time they had finished their relay legs, though.
Said Meng Huang, "I was a little disappointed that the bottle was out of stock. They should have estimated the amount of runners and thus, how many bottles to distribute."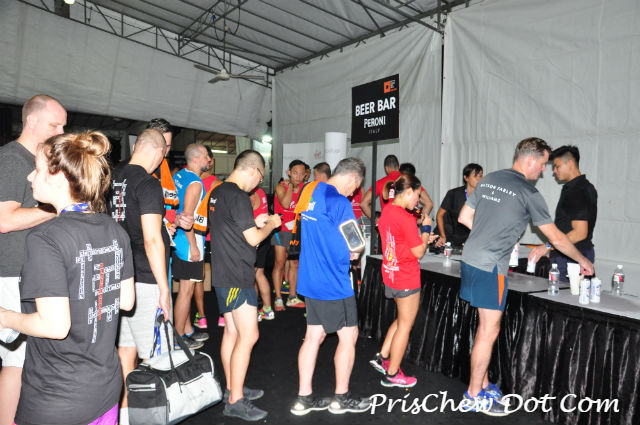 Post Race
Dinner had been provided for all the runners after the race, so my three friends and I continued to hang around to get some food. Our options were a choice between chicken, fish or vegetarian meatballs, and there was chocolate brownies for dessert too. I picked the chicken meal, and I had thought it was quite delicious.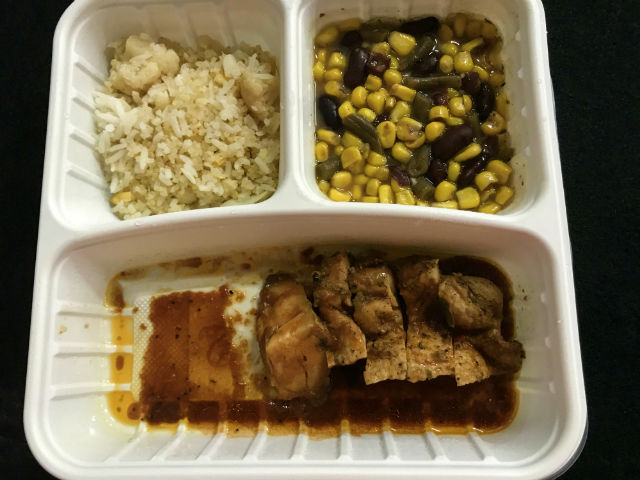 Added Meng Huang, "It was good that there had been a vegetarian option as I am on a vegetarian diet."
There were also plenty of drinks available to runners and these had included soft drinks, 100PLUS isotonic beverages and beer, in order to cater to different preferences.
As well, I also helped myself to another gelato popsicle as these were still available after my run – I chose a mocha flavoured one this round. It was definitely refreshing.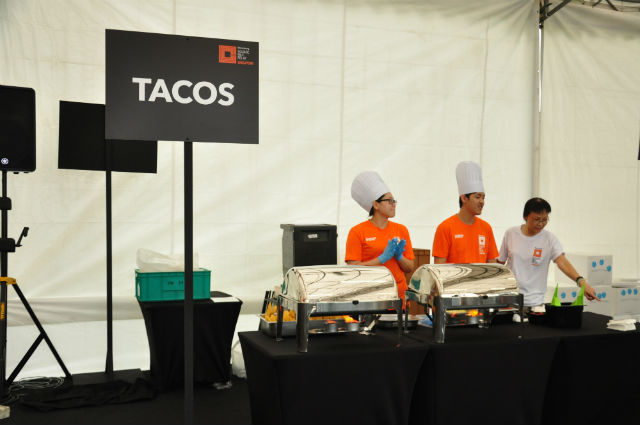 I was a bit disappointed though, that the tacos had finished quite quickly; I admit that I would not have minded trying one once I had concluded my run. But it was out of stock by the time I had got back.
Photo booths complete with funny props such as funky glasses, wigs and signs were also on-site, for runners to take photos to mark the memories of the race. Yap and I took a picture at one of the booths, to have a good laugh.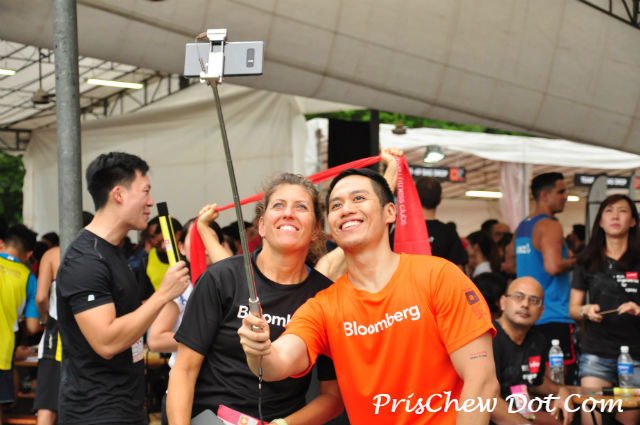 No Music
Yap however, was a bit disappointed that there was no music at the post race carnival. He said, "The race party felt more like a post race food and drink session rather than a party. There was no party ambience; I would have expected a concert or a performance."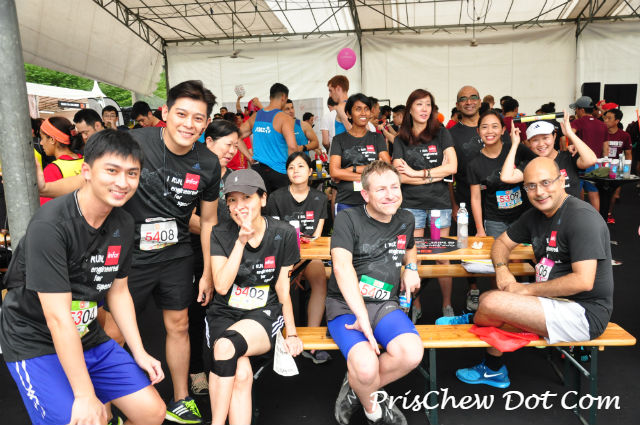 A well organised race 
He added, "But overall it had been a fairly well organised race event and I hope to participate again next year."
I agree with him too; the Bloomberg Square Mile Relay had certainly been a fun night out and I had enjoyed myself at the event.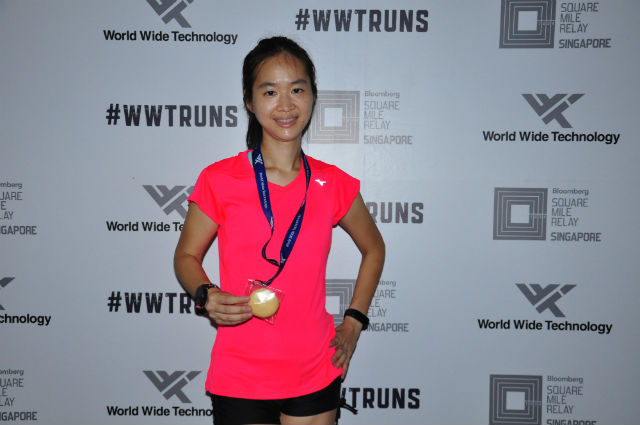 The Race Winners
Winning the Bloomberg Square Mile Relay for the fifth time was the team from Macquarie, who completed the ten laps of the one-mile circuit in a speedy 54min 58sec.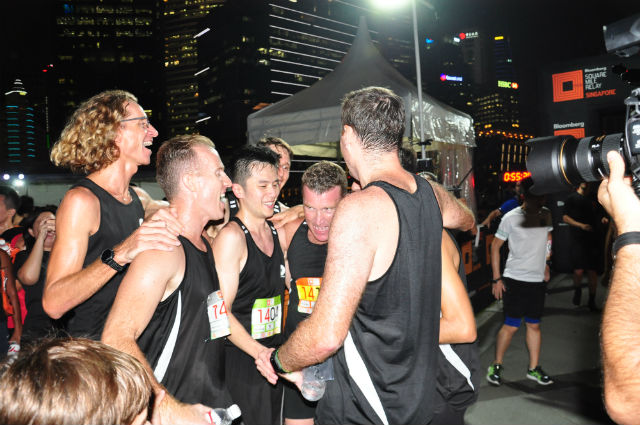 Said David Luboff, Macquarie team captain, "I really enjoy taking part in the Bloomberg Square Mile Relay as it teaches us a lot about discipline and teamwork. The event's atmosphere and location is something we look forward to every year. Macquarie Group Foundation will also be donating $10,000 to SportsCares, matching the $10,000 already donated by Bloomberg Square Mile Relay."
A $10,000 cheque had been presented to SportsCares Foundation by Andrea Mosconi, Head of ASEAN, Bloomberg, to support their CareRunners programme.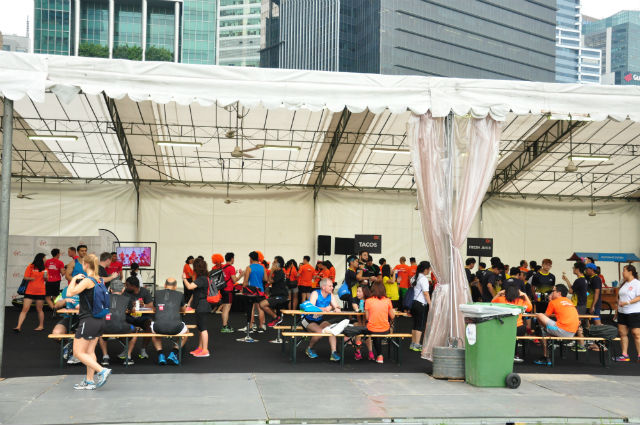 They had been followed closely by the team from Standard Chartered Bank and GIC in second and third place respectively.
Said Mohammad Rahim, 34, team captain for the Standard Chartered Bank team, "We were expecting to be top three for sure. We were trying out best to win but we had a last minute injury to a team mate. In the end though, we came second, which is still good. So we are quite happy with our performance."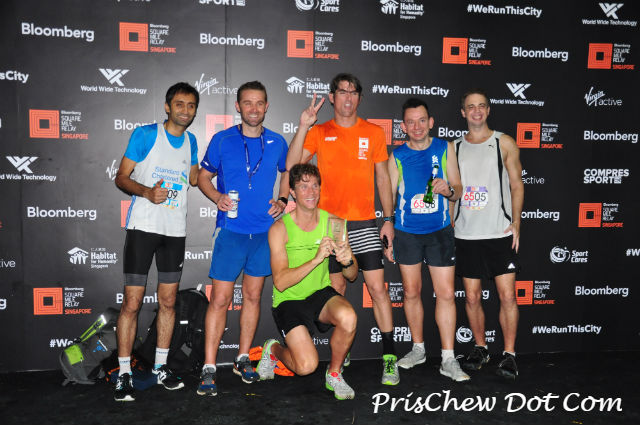 And winning the Mixed Team category had been the Bloomberg Dream Team, who are from Bloomberg. Said team captain Baldwin Choy, "I am ecstatic about this victory and it was completely unexpected. It feels good to run and know that I am part of an event that is helping the community."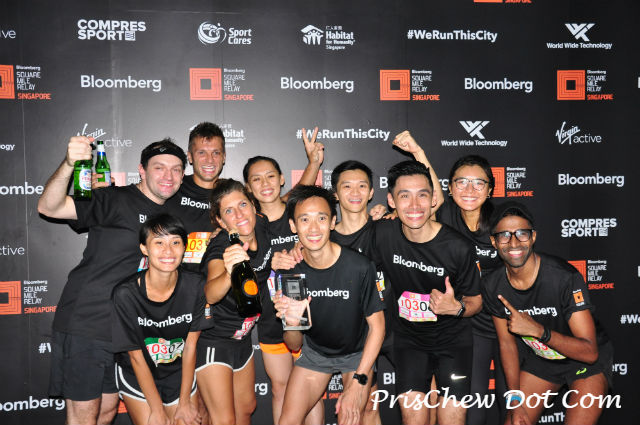 Participating in the relay helped to fund the Extra Mile programme
Each team's participation in the relay also helped to fund the Extra Mile programme, a project in partnership with Habitat for Humanity Singapore.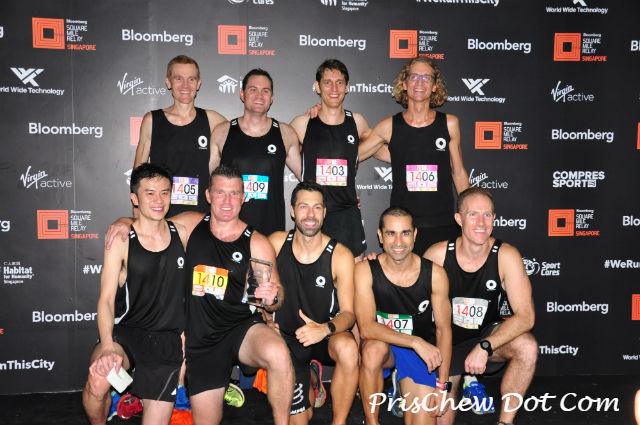 Runners would be able to volunteer with the local Square Mile Relay community on Saturday 25 November to improve the living conditions of vulnerable elderly citizens and revitalise living space for hundreds of residents through a home cleaning.

Share this page with your friends!