Organised by the Civil Service Club (CSC), the CSC Run by the Bay is a key event in the Public Service STAR (Staff Team-up for Active sports and Recreation) Games Calendar and is aimed at promoting a healthy lifestyle amongst public officers and the community at large.
Click here to view the CSC Run By The Bay 2017 photos.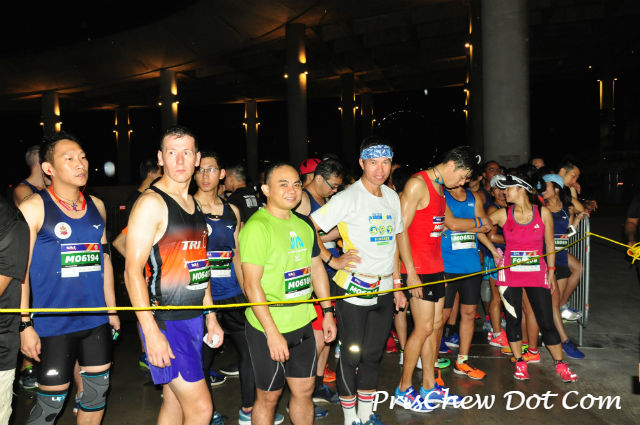 2017 race took place at Marina Barrage
The 2017 edition of the run took place this morning with probably about 3,500 runners taking part altogether, and the race had flagged off at the Marina Barrage.
There had been three individual categories for runners – these were the 21.1km Half marathon, and the 10km and 5km runs, to cater to differing abilities of runners.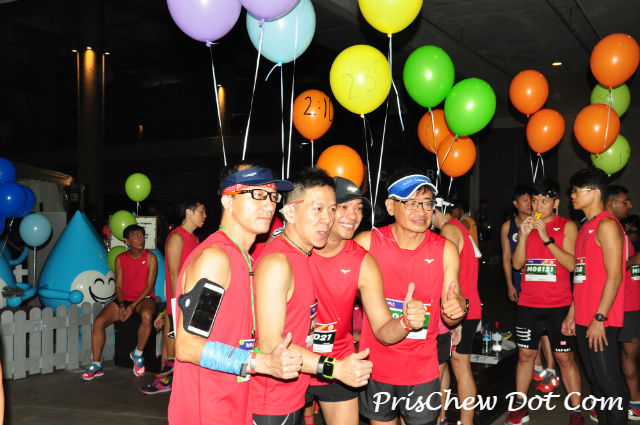 As well, there was the 1km Parent and Kids Dash and the 21.1km Ekiden Relay, to encourage bonding amongst family members and friends.
Ran in the 21.1km Half Marathon
I took part in the 21.1km Half Marathon. This had been scheduled to flag off at 5.15am.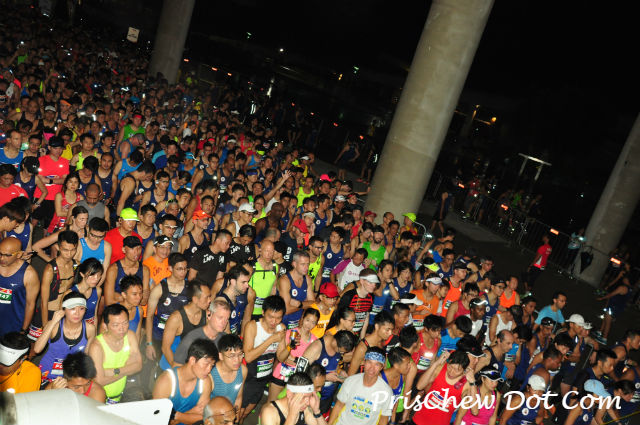 I woke up at about 3.30am for the race and I quickly realised that there was a light drizzle at my place when I was preparing to get a Grab down to the race site. When I reached the Marina Barrage I realised that it was drizzling there too, but at that time I didn't really think that the race would be affected.
Delay in starting, due to thunderstorm
However the emcee had soon announced that there would be a delay in the race start, for both the 21.1km Half marathon and the Ekiden, which had been due to begin at 5.00am. The reason for this was that there had been a Category 1 thunderstorm warning issued, at one section of the race route.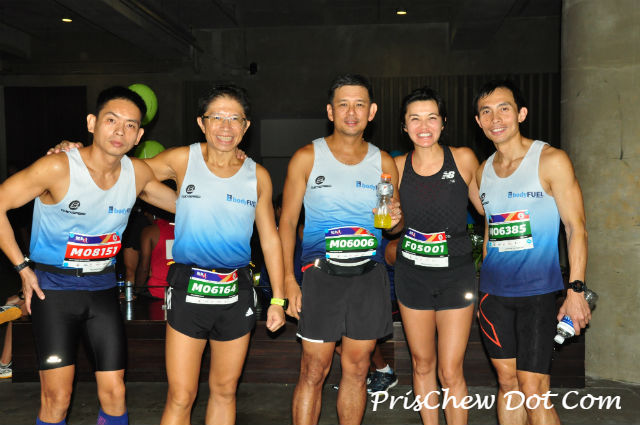 I had thought that the updates being given out to the runners were quite timely and that they didn't leave runners wondering whether the run was still on. Timely updates were also being given out on the event's Facebook page too, so that runners in other categories who were still at home, would be kept in the loop.
Agreed Graham Hines, 47, an accountant in the shipping industry, "The organiser dealt with the rain and the wet conditions very well."
Added Chong Ai Ling, 29, a nurse, "The organiser planned and managed the weather quite well; I felt that they were able to cope with the rain. The delay was no problem for me; when the storm alert had cleared, they had let us go ahead with the race."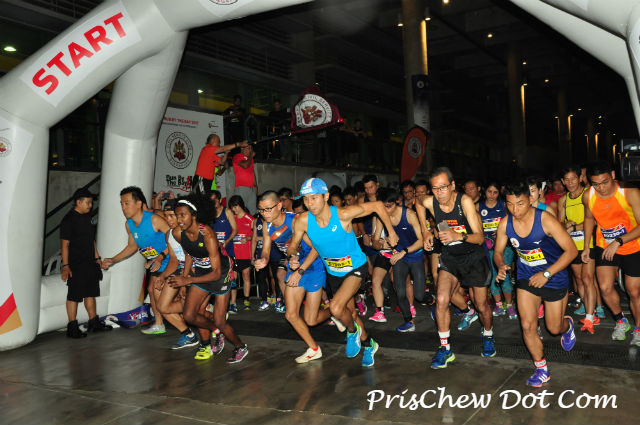 Flagged off at 5.30am
Both the Ekiden and the 21.1km Half Marathon had been given the go ahead to flag off together, at 5.30am.
The route had been a scenic city route, taking us past iconic Singapore landmarks like the Singapore Flyer, Gardens By the Bay and the National Stadium and brought us to a little section of East Coast Park, en route back to the Marina Barrage, which was also the finishing line of the race. It is a route that a lot of races use in Singapore and I am quite familiar with it by now, but it still continues to be a lovely route.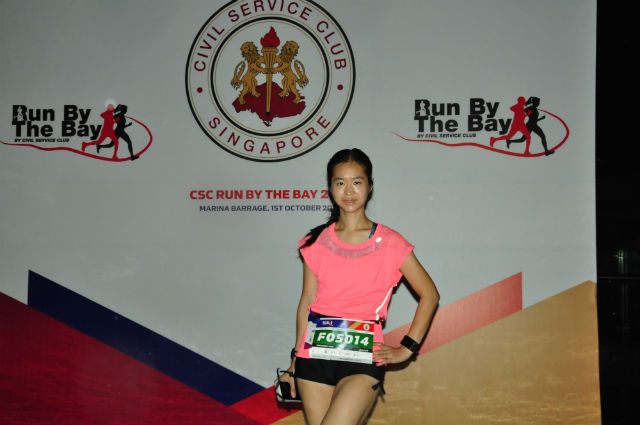 I usually try to get as near as possible to the front of the start pen to avoid any potential bottleneck issues at local races, but due to some problems at first with my Garmin watch picking up a GPS signal, I had decided to head over to the side of the start pen and wait for my Garmin to latch onto a signal when the horn blew to flag off the race, instead of beginning my run immediately.
This was because I did not want to take the risk and run blind, for fear that I would begin running way too fast and then end up paying for it in the latter stages of the race.
But this meant that by the time I had finally got a signal and thus began running, there had been a bit of congestion at the beginning of the race and I found that I had to weave in and out of runners.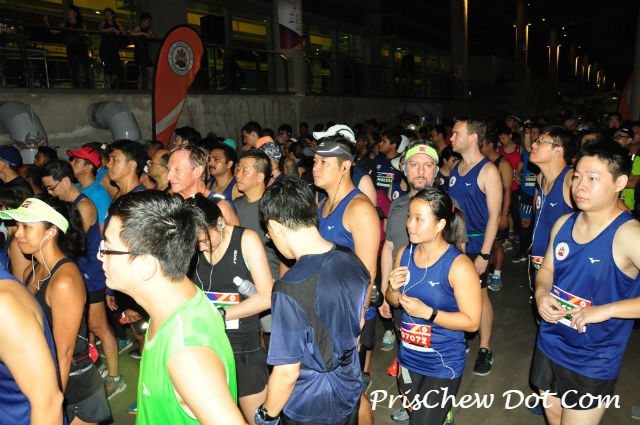 But fortunately for me, the human traffic had soon cleared after a couple of hundred metres, and I was able to run. Thankfully for me, this was not an extremely crowded race.
Said Graham, "There was a bit of congestion at the beginning but then again, that seems to be the case for all races in Singapore, so that was not a problem."
I had started running at roughly 6mins/km pace in the first kilometre, with the intention to speed up soon after that and hold onto an approximately 5:30-5:40mins/km pace throughout my run, as I was targeting a personal best time for this race, and I also wanted to complete the half marathon in under two hours.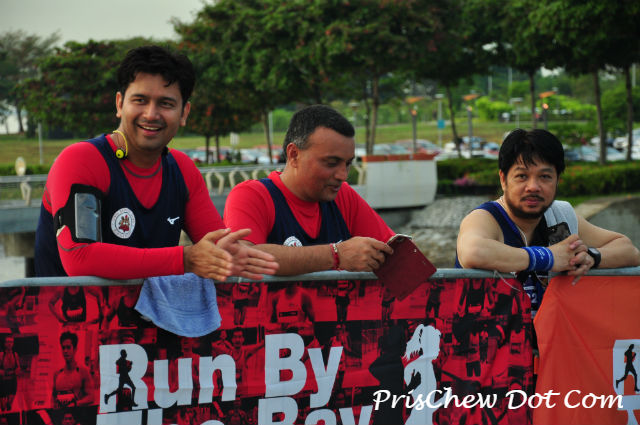 In terms of my heart rate zones, this pace was at roughly the high end of my Easy zone to the low end of the Steady zone to begin with, but my heart rate continued to climb as I kept on running, though.
The first few kilometres of the race had still been a bit wet, thanks to the continuing drizzle. But I must admit that the light drizzle did make for a rather cooling and enjoyable run for me, though.
The drizzle eventually cleared up after a few kilometres of running. However there were still some segments of the route that could have been a bit slippery; so at these sections, I made sure I watched my step so that I did not trip.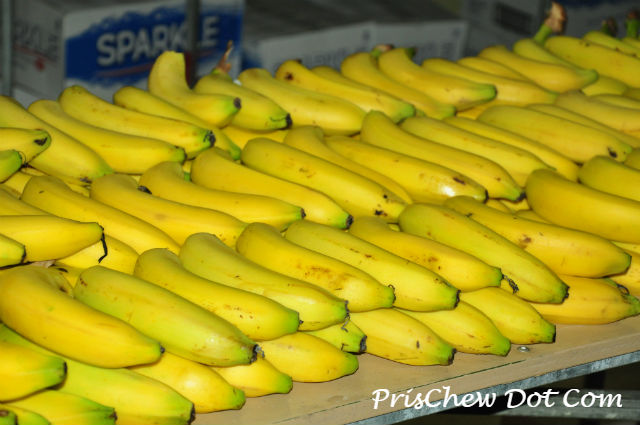 Added Ai Ling, "Because it was raining, it was quite wet initially when we started running. So I was thinking whether I would be able to complete the race because it is quite hard to run with wet floor. I seldom run in the rain, so I was actually quite worried at first."
Adequate hydration for runners
I had counted roughly about six to seven hydration stations along the way and these turned out to be adequate. I didn't stop at all of these, because I had felt that I didn't really need the hydration but for the ones I did stop at, the isotonic drinks and water were ice-cold, which had been definitely welcoming for running in the Singapore humidity.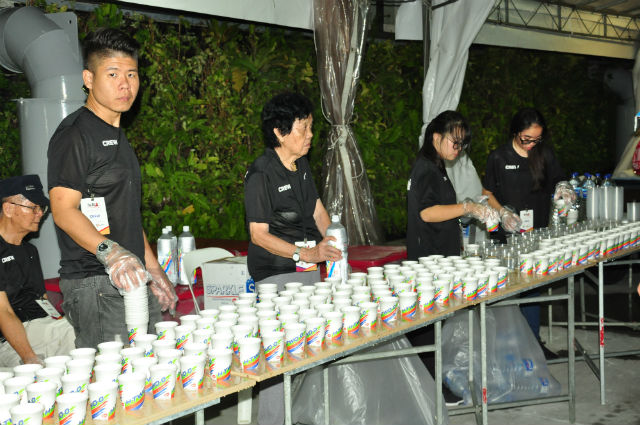 The volunteers were also spot-on in terms of refilling the cups of water and handing out cups to runners, so this meant that that we didn't need to run up to the tables to grab water, thus saving precious minutes in the process.
Said Pham Thanh Hai, 33, a civil construction engineer, "The water and hydration was good. They were also very timely in replenishing the water."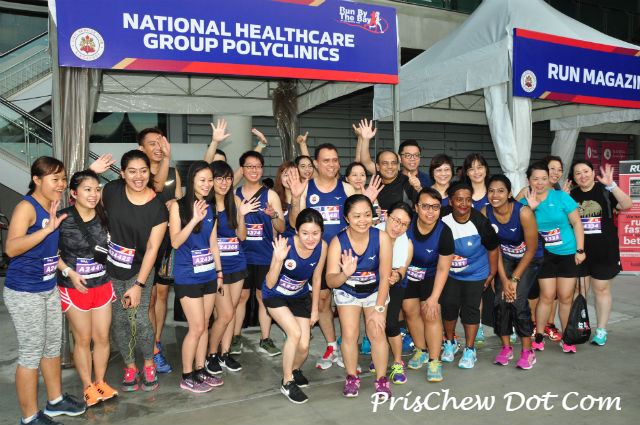 Distance markers not present at every kilometre 
However with regards to the distance markers, I noted that these markers were not present at every kilometre. I instead counted markers at every few kilometres apart, but the ones that were placed along the route were large and visible, and these had also seemed to be accurately positioned.
The lack of markers wasn't a huge issue for me, because I still had my Garmin to keep track of my distance and pace that I was running at, but for some runners who didn't wear a watch though, this may have been an issue.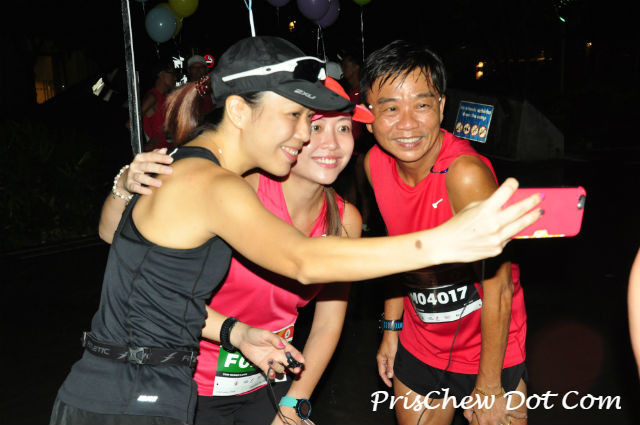 Said Graham, "In the first half of the race, I did not know my distance because I did not have my watch and there were no markings. I knew at the 7km and 14km mark though as there were markers there, as well as all the way on till 15km."
Dark sections of the route
I must also point out there were were some dark sections along the race route due to the early start time. At these points, I tried to be more careful so that I did not trip.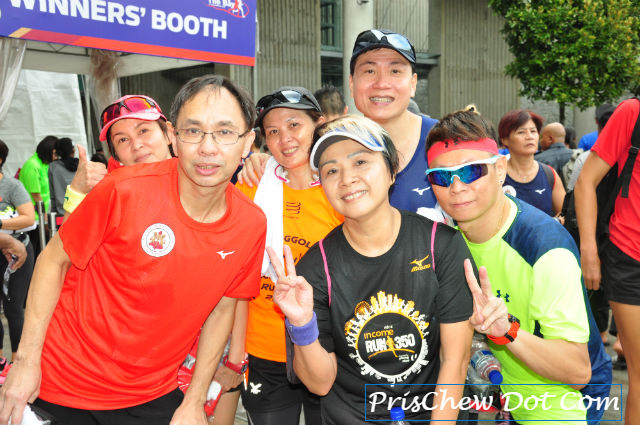 Perhaps the organiser could have placed some glow sticks or other forms of portable lights in these areas, in order to brighten things up.
Said Graham, "There were some parts early on that were quite dark, but that was due to construction in those areas, so I was fine with that."
Spotting the two hour pacers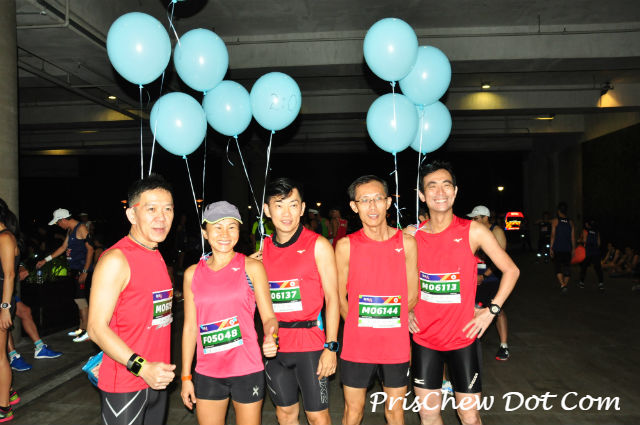 It was at the u-turn at East Coast Park when I had spotted the two-hour pacers running on the other side, with their bright balloons flying in the air behind them. I told myself that I would eventually chase them down and catch up with them before the race was over.
About two thirds into my race, I could feel my heart rate climbing; it was in the moderately hard zone and my pace was threatening to get slower, but since I was still on track to run a personal best, I told myself not to slow down, but to just maintain and hold my pace and just let my heart rate climb. Fortunately for me, I had managed to hang in there.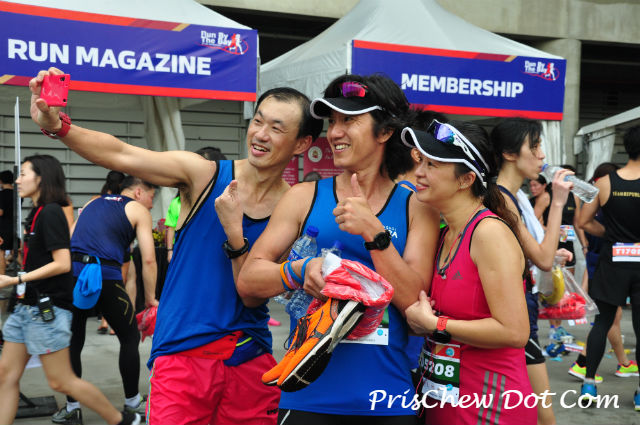 I also did manage to catch the two hour pacers in the final stretch, when I saw the sign saying that there was about 500 metres to go.
Beating my half marathon personal best timing
When I had spied the pacers just up in front of me, this somehow gave me an extra burst of energy that I didn't realise I'd still had – so I sprinted past them and held onto my pace to cross the finish line in a new half marathon personal best time of 1h 56min and 36sec – unofficially, based on my Garmin watch recording.
It was also my first time that I successfully had run a half marathon under two hours, so I admit that I had been quite happy with my performance this morning.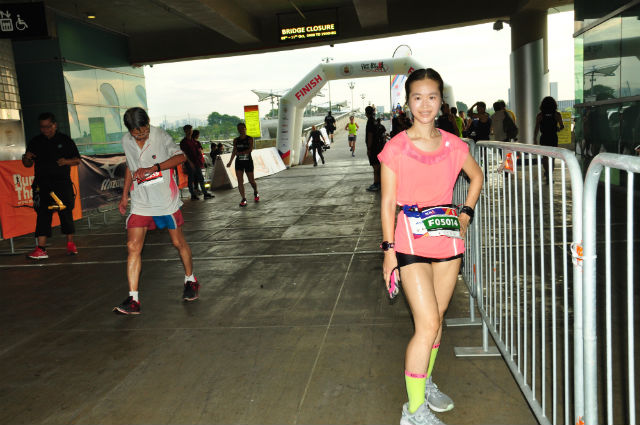 Finisher Entitlements 
I collected my finisher entitlements at the end of my run. These had consisted of a banana, a bottle of water as well as my finisher tee shirt and medal.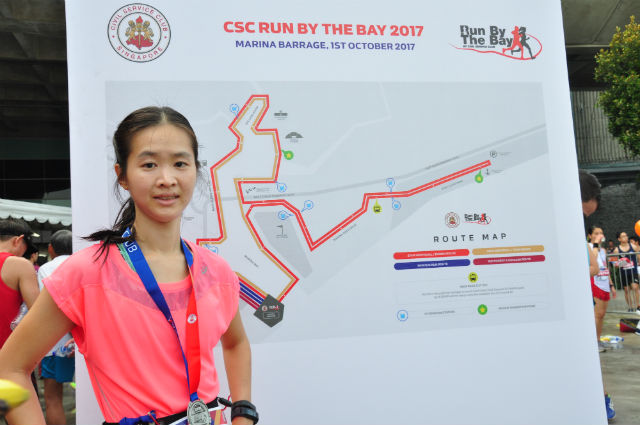 The banana had been enough for me as I was more thirsty rather than hungry at that point in time, but not for Thanh Hai though. He said, "I would have liked more bananas to be given out. I forgot to eat my breakfast before the run today so I had been feeling quite hungry. Bananas are also good to replenish our energy after long runs."
Post Race
After completing my run, I had caught up with a few of my friends and took pictures with them, including the elite local runner Jenny Huang, who had come sixth in the Women's Open category.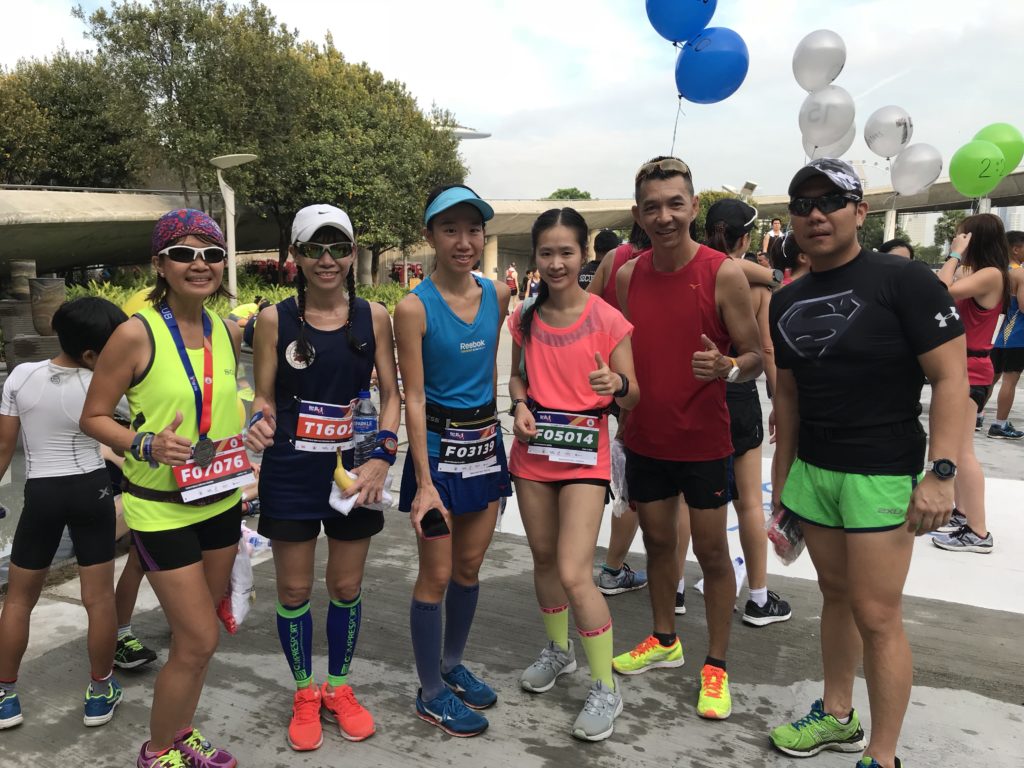 I also saw my running coach, Ben Pulham – the founder of heart rate training programme Coached. He was accompanied by his wife as well as their two adorable kids, who are twins. They are at the cute toddler age now.
So I had enjoyed playing with them both, for a short while after my run… until one of them had started crying!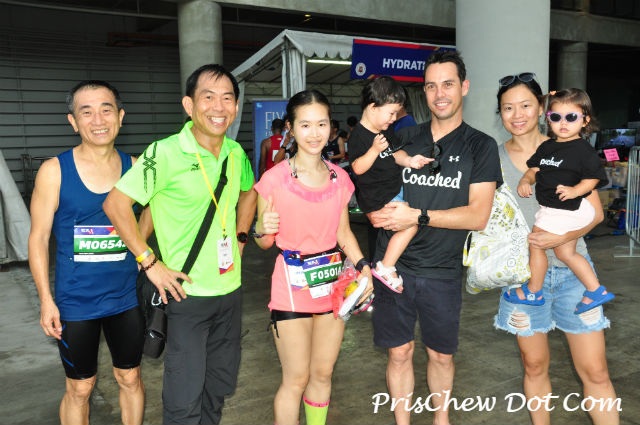 Coach Ben and I talked for a while – and I have to thank him again for the training that he has given to me; I think that I could not have run this timing without Coached.
Race Village was simple and fuss-free
I also took a quick look at the race village. It was quite a simple and fuss-free affair. There had been a few booths there from the event sponsors such as RUN Singapore which was offering a sure-win lucky dip; I tried out my luck and got a small bottle of muscle cramp tablets.
H-Two-O was also offering free post-run hydration to runners and I was grateful for that as it had quenched my thirst post-race. I also saw a massage booth available, but I did not join the queue as it had looked quite long.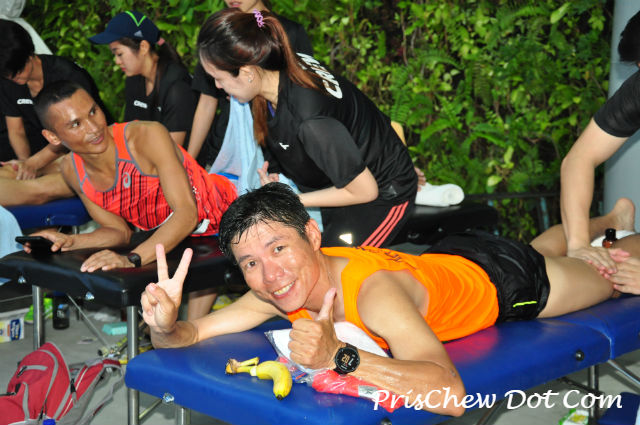 Local snacks such as prawn crackers, banana chips, tapioca chips and other types of crackers were also being sold at the race site, at three packets for five bucks. I had been initially tempted to go and buy some to bring home, but in the end, I had decided against it though.
Complimentary ice cream was also being offered to runners, but I didn't take any, because you had to sign up for something first in order to redeem an ice cream.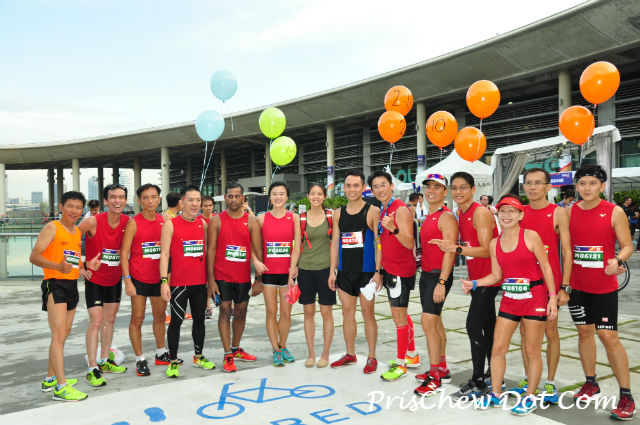 There was a lucky draw at the end, with the top prize being a Garmin watch; however I was not lucky enough to win anything, though!
There was one thing that I had missed though – the Milo van. I still remember how the Milo van had made an appearance at the CSC Run by the Bay a couple of years ago and the cold, refreshing Milo had been amazing. So I thought that it was a pity that the Milo van did not pay a visit again this year.
A well managed running race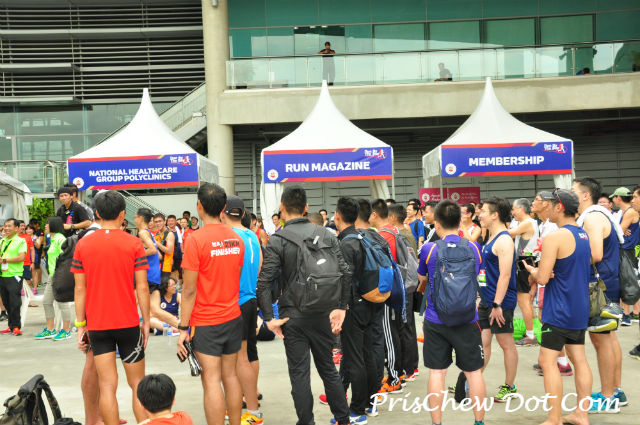 Overall though, the CSC Run by the Bay this year did not really disappoint in terms of the logistical issues being managed adequately. Save for a few minor drawbacks, it had generally been a well managed running race as a whole, and I would say that I'd had fun; it was a great morning spent out for me.
Added Ai Ling, "The organisation was very good and I can't really think of any major improvements that need to be made."

Click here to view the CSC Run By The Bay 2017 photos.
Share this page with your friends!