The fourth edition of the PCCW Global Charity Run, took place this morning at Silver Leaf, Gardens by the Bay with about 1,000 runners taking part. The race was sponsored by PCCW Global, a premiere telecommunications provider in Hong Kong.
Click here to view the PCCW Global Charity Run photos in the Photo Gallery.
A weekday morning run
This 5km charity run had been scheduled to start at 7.15am and I must admit that it was quite hard to wake up so early on a Wednesday and get to the Gardens by the Bay in time for the race start. But I had managed to make it to the race site, with about 25 minutes to spare.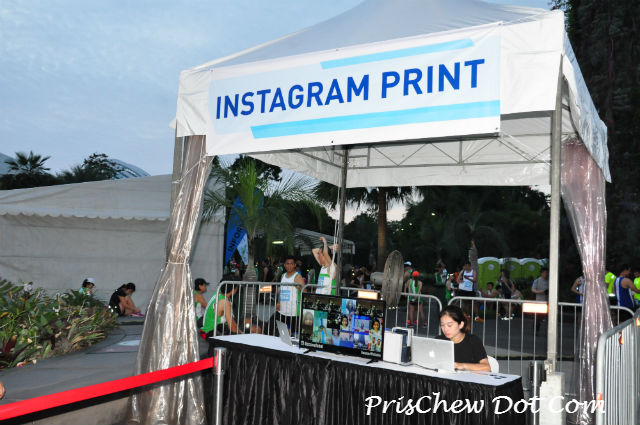 Though there were sufficient signages pointing from the MRT station to the race site, I must point out though, that when I got to the Bayfront MRT Station, I had to walk around in circles to get to the race site, due to a few barricades having being placed around the race village. This had been a bit of a downer, but at least looking on the bright side, I was getting quite a bit of a warm-up before the race started!
Before the race, the event emcee, radio jockey Jerald Justin Ko – who is better known as JK, had been creating a lively atmosphere for runners and trying to pump up the mood at the same time. Said Cornelia Swardh, 18, an intern at Comtech, "The emcee was very nice and funny. He did a good job."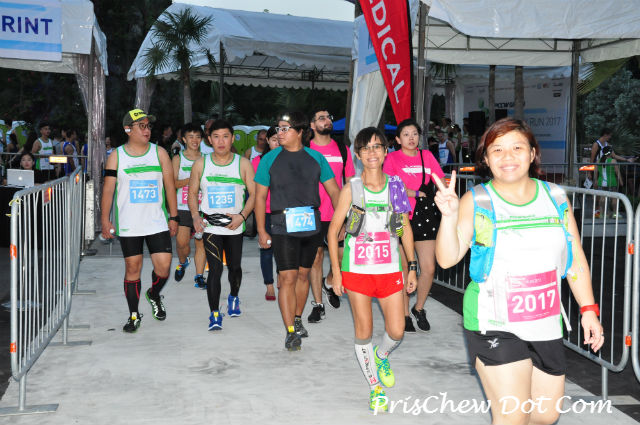 Flagging off the run as the guest of honour had been Frederick Chui, Senior Vice President, Global Data Sales and Presales, PCCW Global.
Went into the start pen at 7am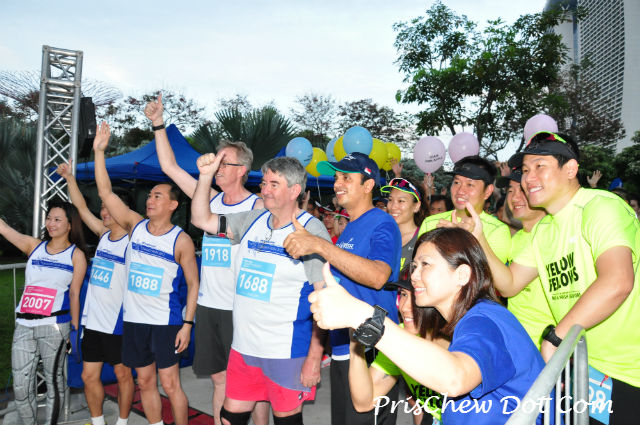 I headed into the start pen at about 7am and the race began a few minutes before scheduled, at about 7.11am. The race route had been pretty straightforward, taking runners around the Gardens by the Bay, Marina Barrage and the Marina Bay Sands areas.
Scenic Route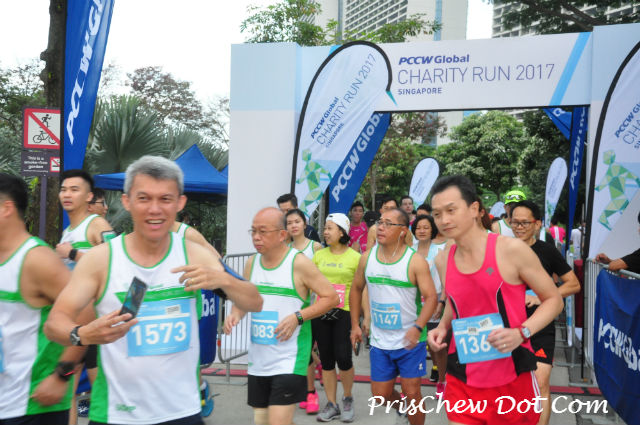 But at the same time, it was a scenic route, and the beauty of the surroundings still managed to help distract my mind off from the running, even though Marina Bay can be considered as a place that I run fairly regularly.
Added Rupert Macey, 25, and working in telecomm sales, "The whole thing was run well. The route around Marina Bay was lovely. If we're going to run 5km, it's good to run it somewhere as nice as this."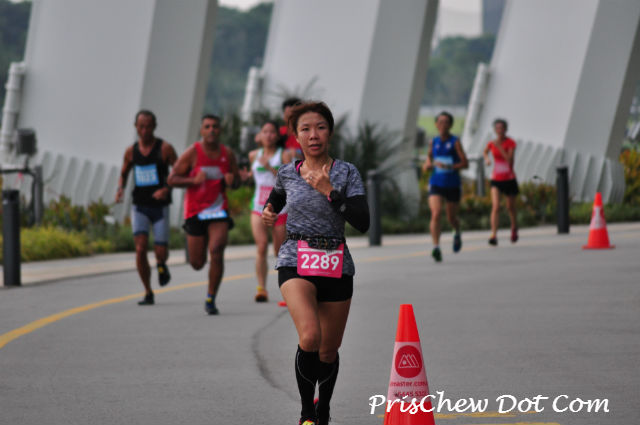 Running at a Steady pace
For this race I didn't want to run too hard, because I was still recovering from my 21.1km run at the Standard Chartered KL Marathon last Sunday. So for my strategy, I started at an Easy/Steady pace and maintained this throughout the run, pushing the pace and going into my moderately hard heart rate zone only in the final kilometre of the race.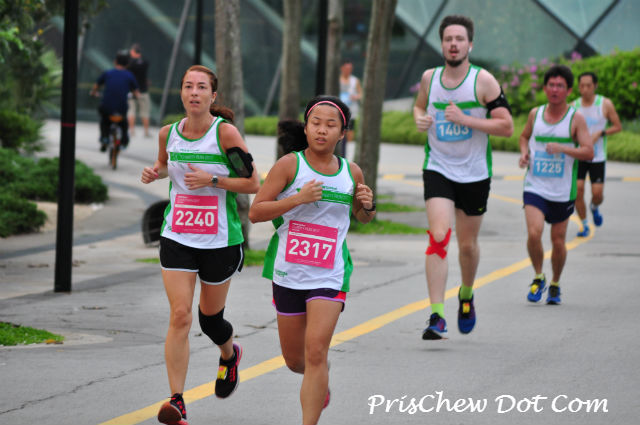 I still feel that I had started a little bit too hard though, because my heart rate crept into the Steady zone a bit quicker than I had wanted. But at least it hadn't been enough to destroy my race; I am happy that I still managed to do it in negative splits.
Weather was forgiving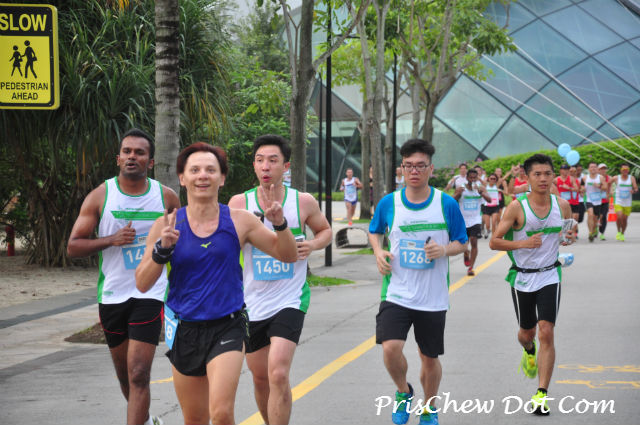 The weather had also been quite good this morning as we were running. It was still humid, but luckily not as hot as it could have been. The sky had been a bit overcast, but the impending rain held up till about 9am, after I had already left, so I guess that we had all been pretty lucky in that aspect.
Said Rupert, "I am glad that it was not too hot and that everything went fine. So I managed to hit the timing that I wanted."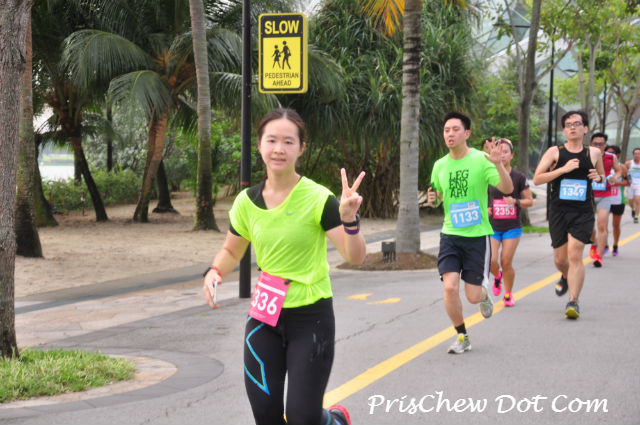 Sufficient hydration stations
There had been sufficient hydration throughout the race; I could spot two hydration stations on the way but I didn't really feel the need to drink anything during my run though.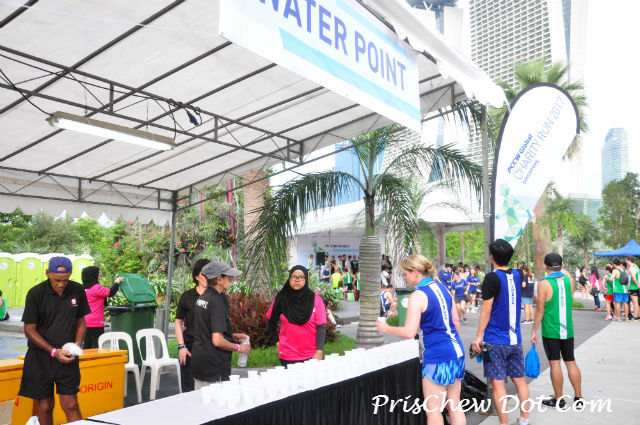 Kilometre markings
As for the route kilometre markings, I could see these positioned at every kilometre and I suppose that the placings were accurate enough, based on my Garmin watch readings.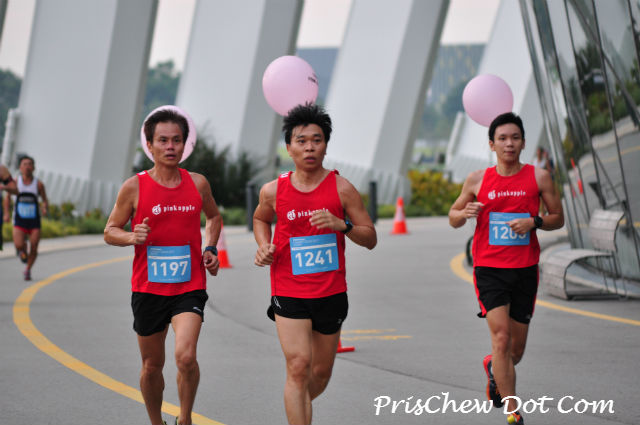 But said Rupert, "Personally they should also have had a marker at the halfway point. I did not know how far I had run and I felt awful but other than that, it was fine and everything else was quite pleasant."
Collecting my finisher items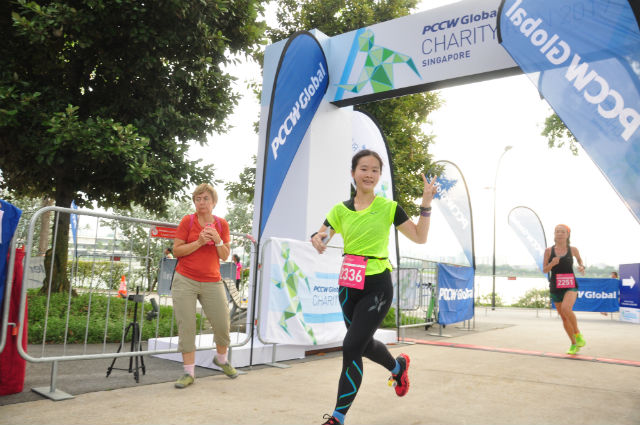 I crossed the finish line in my first sub-30mins timing for 5km in a while. After finishing, I took some photos at the end point before heading to collect my medal and finisher tee. I also received a packet of ice-cold Plenish Sports Water isotonic drink.
There had been only one table for collection of the finisher medals and tees and each item was to be collected separately. As a result, this had created quite a bit of a queue. But luckily we didn't have to wait too long though because the crowd had been relatively small compared to some other races that I have been to.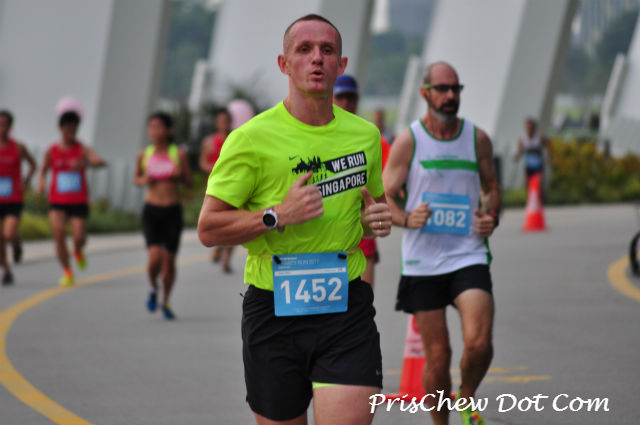 It may have been better though, if there were more tables for collection. And agreed Cornelia, "At the end they could have two booths for collecting the finisher tees so that it moves faster. The line was a bit long."
As well, the staircase leading from the finisher medal/isotonic drink area to the finisher tee area had been quite narrow; the organisers could get away with it because of the relatively small turnout, but I shudder to think of the congestion if there had been more runners present.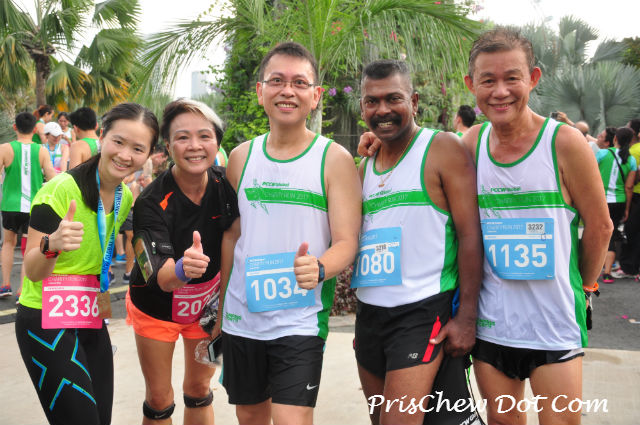 I also spent some time mingling and chatting to friends after the run, before everyone had to then head off for work.
Runners had enjoyed the morning run before work
Overall, runners had enjoyed the race and thought that it was a great morning workout before work.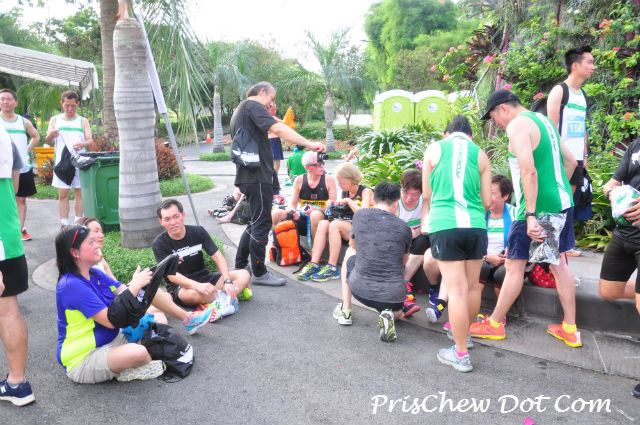 Said Kou Kee Wah, 47 and working in planning & cargo at an airline, "It was fantastic. I live in Tampines which is quite far, so it was hard to come here for the running. But this run was a great early morning warm up for me. The environment was great and everyone was so enthusiastic and it was well organised."
He added, "But it would be good though, if the run could be done at night time; perhaps more people would have been comfortable with that."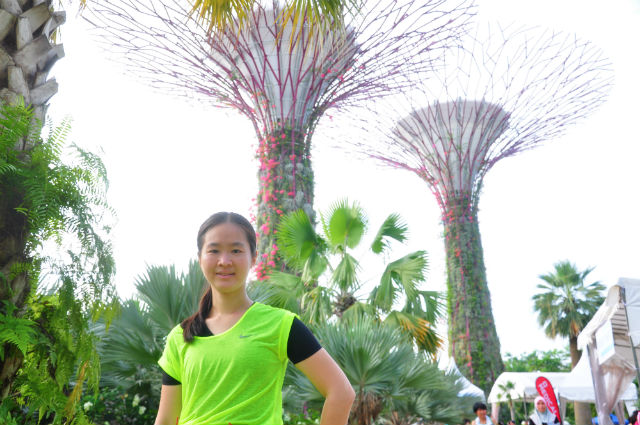 100 per cent of proceeds went to Make A Wish Singapore
For the 2017 edition, 100 per cent of the proceeds from the race went to Make A Wish Singapore, the only wish granting foundation that grants the wishes and dreams of children with life threatening illnesses such as cancer, to enrich them with strength, joy and hope.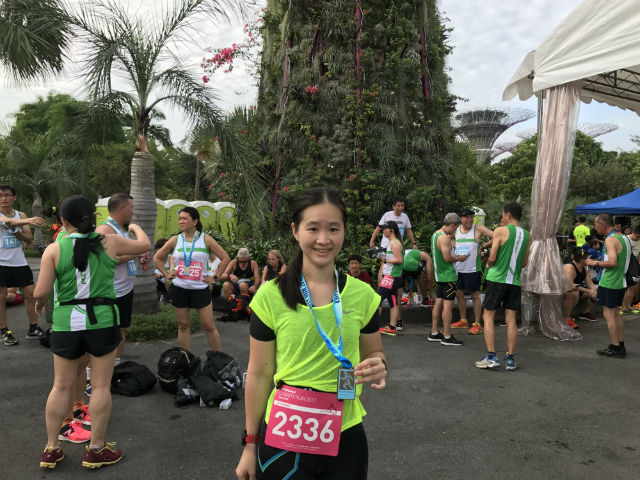 Said Rajendra Pai, Vice Chairman of Make A Wish Singapore, "Being part of the PCCW Global Charity Run 2017 has been truly inspiring, especially meeting individuals and companies who take time out to be a part of the cause. We are thankful to PCCW Global for the support shown and for selecting Make A Wish Singapore as the beneficiary for the event. Bringing the community together has provided us with an avenue to continue our dedicated efforts in granting wishes for these resilient children and further enforces our goal in bringing hope, strength and joy to every medically eligible child."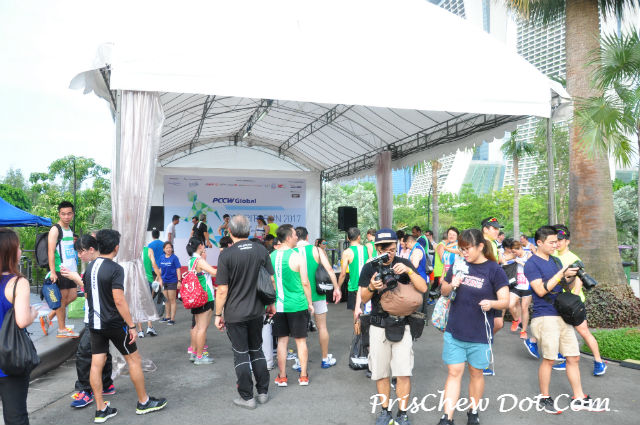 Wishes that have been granted in the past, have included flying a plane, meeting a Formula One driver and becoming a dancer, and these have helped to show significant improvements in the kids who had received them, in terms of their hope, positive emotions and health related quality of life.
Runners loved the meaningful cause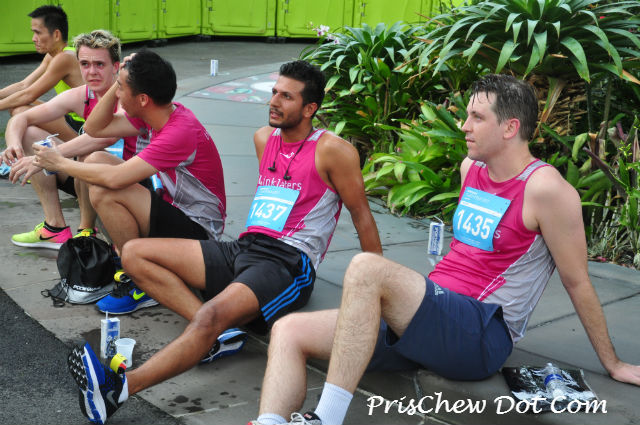 Runners had also loved the meaningful cause and could resonate with it. Said Rupert, "It is a lovely charity and I don't think anyone can fault what they are doing. Helping young kids is the nicest thing they can do and I am happy to play my part to come here and contribute."
Agreed Cornelia, "I think that this is an awesome opportunity. It is a very good charity event that gives back to the community."
Also taking part in the run had been The Yellow Fellows, a group of regular charity runners dressed in bright fluorescent yellow, taking part in the 5km run as the ambassadors of Make A Wish Singapore.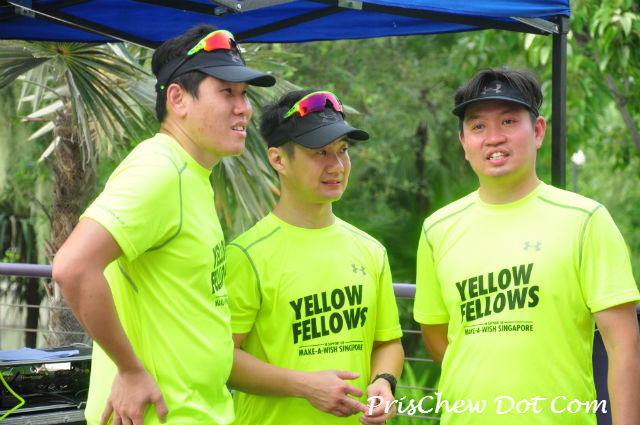 Said Randall Tan, a local media personality who is part of the Yellow Fellows, "As ambassadors of Make A Wish Singapore, we took part in the run with the hope of raising more awareness about the foundation which will, in turn, help fulfil the wishes of children in in need. The run was well organised and the funds raised will definitely help in motivating these children to carry on fighting."
About $50,000 raised for Make A Wish Singapore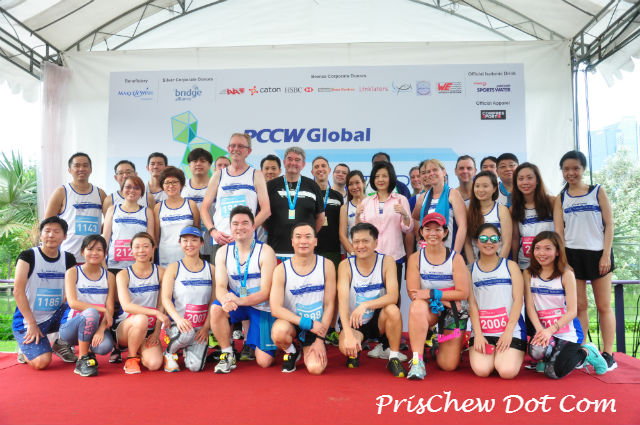 Altogether about $50,000 had been raised for Make A Wish Singapore.
Prior to the start of the run, a cheque was presented to Rajendra, by Mike Van Den Bergh, Marketing Officer of PCCW Global. The funds will be used to fulfil the foundation's goal of granting more than 130 wishes this year.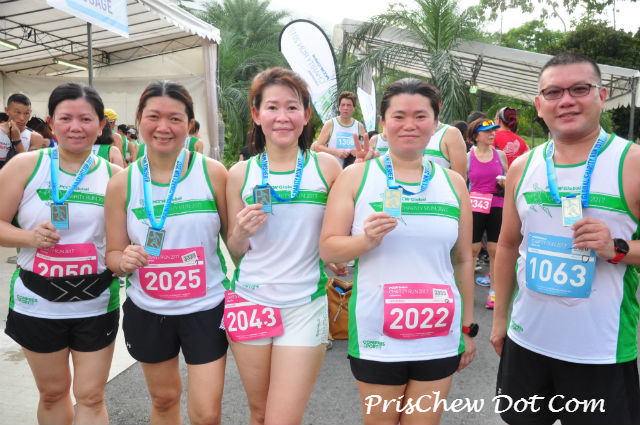 Said Margareta Sauger, in her mid-40s and the Vice President of Sales at PCCW Global, "We want to do anything for the children, as this cause is very near and dear to my heart. I am from America and we have Make A Wish Foundation there too. I know too many kids with cancer, so it is a very important mission to do something special for them."
She added, "Next time we would love to have more runners so that we can raise more for charity. We wish to double the numbers next year."
Click here to view the PCCW Global Charity Run photos in the Photo Gallery.
Share this page with your friends!