More than 41,000 runners took part in the 25th edition of the Safra Singapore Bay Run & Army Half Marathon (SSBR & AHM) at the Padang this morning – joining the nation in saluting past and present national servicemen for their contributions in defending Singapore.
Click here to view SAFRA Army Half Marathon 2017 photos.
The race had featured the standard categories – the 21.1km AHM, as well as the Safra 10km Competitive Run and Safra 5km Fun Run.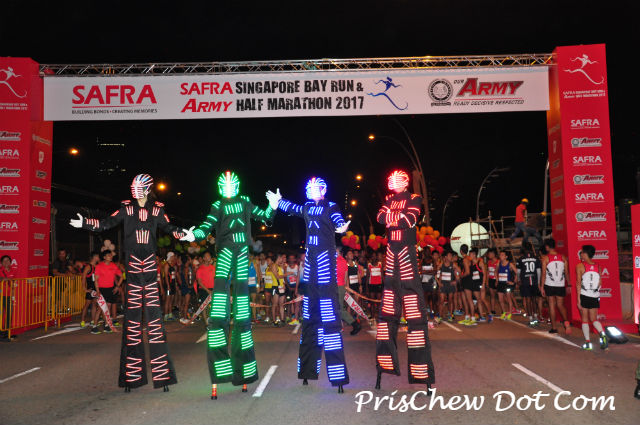 The Families For Life 800m Challenge
There was also a Families For Life 800m Challenge, in order to cater to the young ones.
This category is not new to the race, but to make the experience for the young participants this year a little bit different, the children taking part in the 800m race got to don Army themed attire with their parents as well as to camouflage their faces.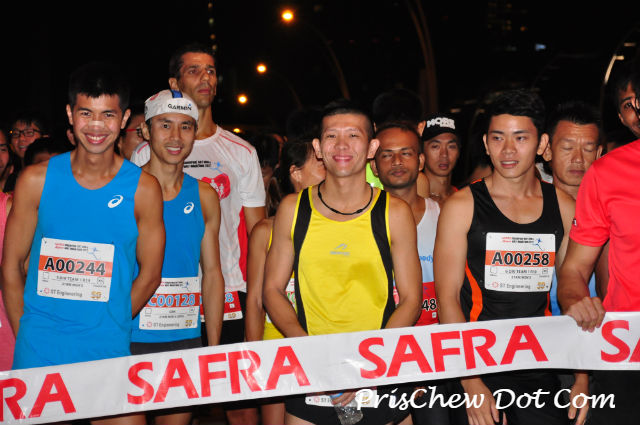 This category was also flagged off by Senior Minister of State for Defence and Deputy President of Safra, Dr Mohamad Maliki Bin Osman, after he had completed his 21.1km AHM race.
Commemorating 50 Years of National Service
To commemorate 50 years of National Service this year, a new category was introduced – the NS50 Team Run, to allow past and present National Servicemen to participate together and rekindle their bonds with the fun, relay-style run.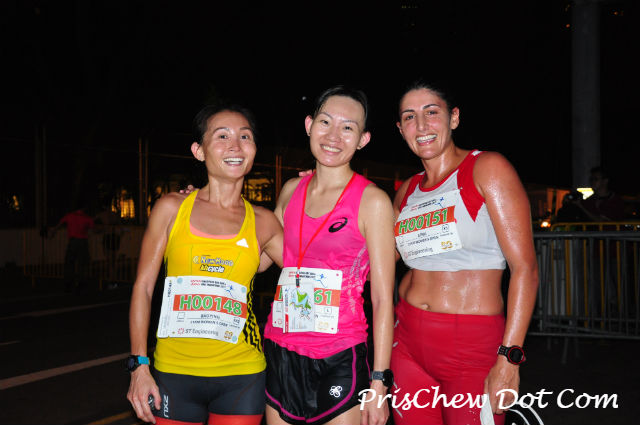 This category also attracted a special contingent of over 50 runners, consisting of students from the National Cadet Corps (NCC) and their fathers, who are SAF (Singapore Armed Forces) NSmen, thus echoing the NS50 theme, 'From My Generation To Yours.'
The event had been hosted by Minister of Education (Higher Education and Skills) and Second Minister for Defence, Mr Ong Ye Kung, who flagged off the NS50 Team Run an the Safra 5km Fun Run, before joining the runners to run along the scenic Marina Bay area. Mr Ong is also the president of Safra.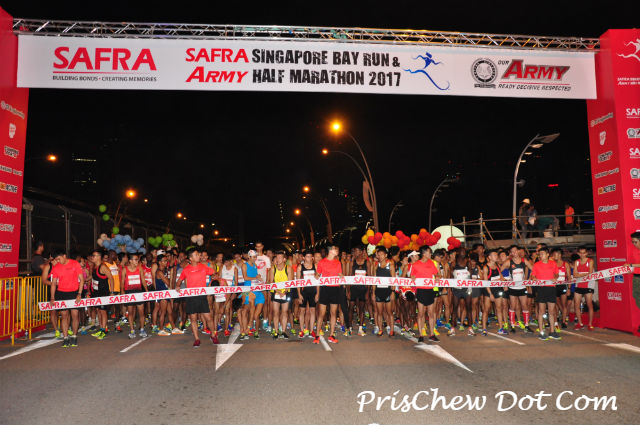 I took part in the 21.1km run
I had participated in the 21.1km AHM category.
The race had been scheduled to flag off at Esplanade Bridge at the early hour of 4.30am, so I dragged myself out of bed at 2am to get myself ready and headed down to the Padang.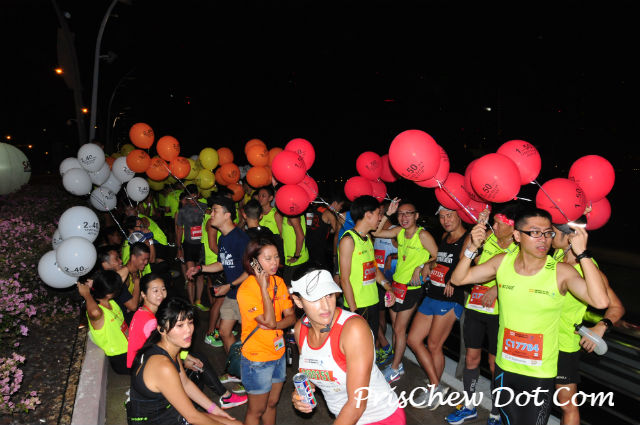 This had been quite hard to do because I had stayed out quite late the previous night, participating in the Mizuno Ekiden relay run and then socialising with my friends for a while after that.
But I successfully beat the sleep monster and managed to reach the Padang with more than an hour to spare, and I headed towards the starting pen soon after collecting my media pass from the event organisers.
Said Rose Chow, 40, a home-maker, "The start time at 4.30am was too early for me to wake up. But then there are pros and cons to that. An earlier start time also means that you get to finish early too and avoid the sun, so I can't really have much complaints there."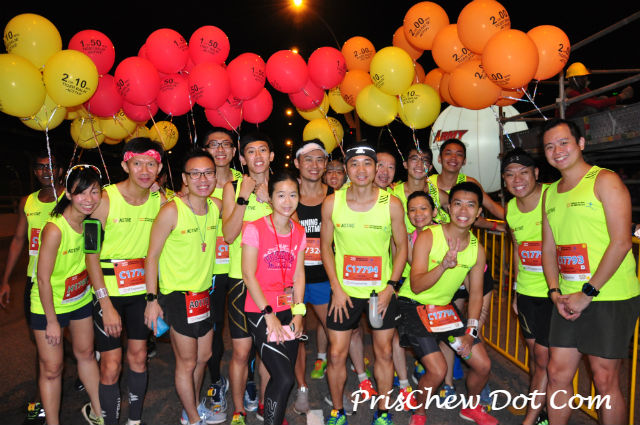 Flag off time was delayed
The flag off time had been delayed by about 10 minutes. The reason for this was that the organisers were in the process of building an overhead bridge for the seeded and elite runners to take a shortcut into the front of the start pen, and doing this was causing massive delays and also holding up the start of the race.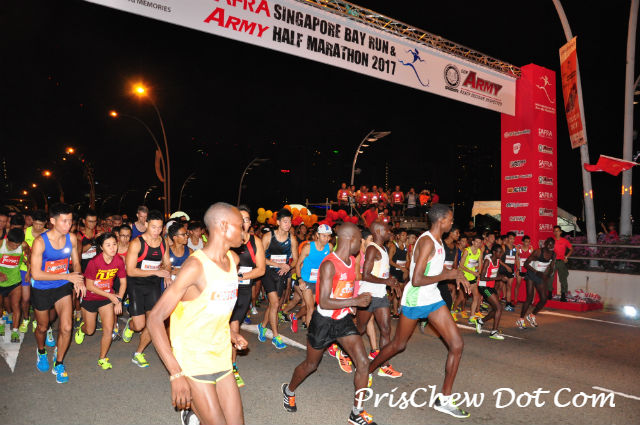 And as a result of this too, the start pen for the non-seeded runners was not opened up till about 4.20am and this message was not really conveyed to the runners properly. As a result, many runners had been left wondering what was going on.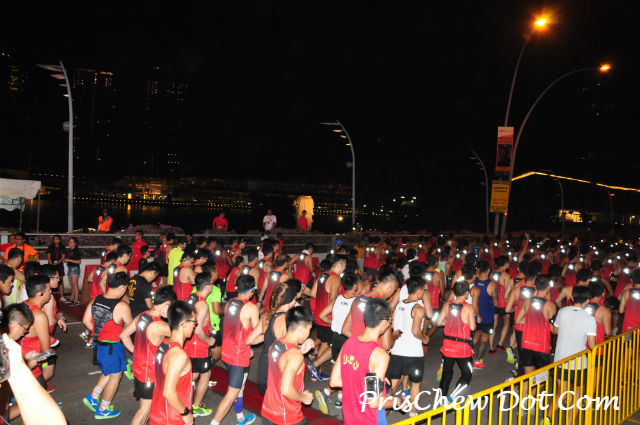 Said Ong Kian Tiong, 41, a Senior Electronics Engineer, "There had been a human jam at the start line, and people were making a lot of noise because they were blocked from proceeding to the Esplanade Bridge, where the start line was."
And added Rose, "There was some confusion at the start line because people were not sure what was happening and we were left just waiting there. Some people even tried to jump over the barriers in order to get across."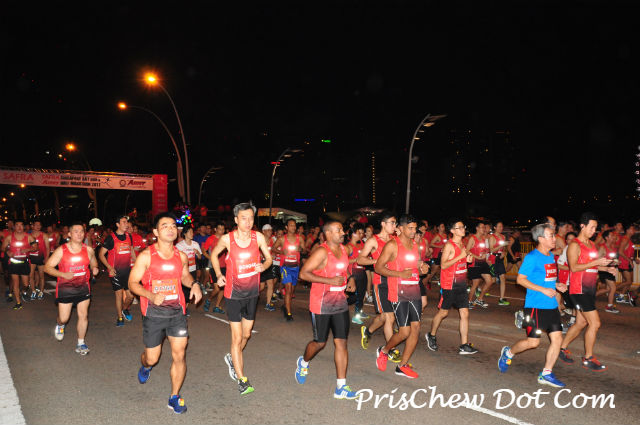 Began running at about 4.40am
For me, I had started my run at about 4.40am. This 21.1km race was never targeted as a key race for me, so I keep my heart rate low, running in my Easy zone for at least the first half.
The weather had been nice and cooling and was also not too humid for Singapore standards this morning, in my opinion, so I was able to keep my pace at between about 6.30-7.00 minutes per kilometre, at my easy heart rate.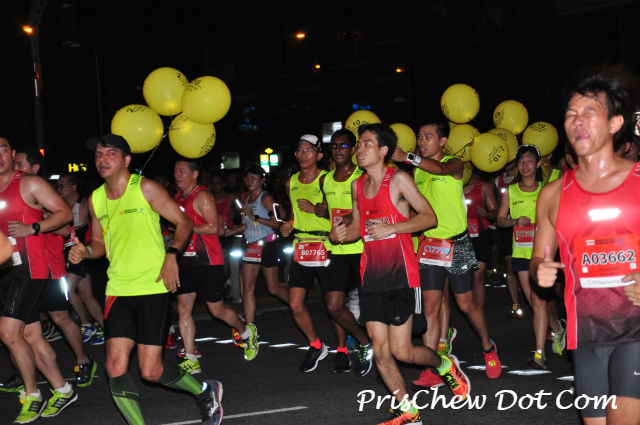 Route was quite routine
The race route was quite routine, taking runners from the Padang and through Nicoll Highway, the Singapore Sports Hub, Marina East Drive and the Gardens by the Bay before returning back to the Padang.
Said Rose, "This is a route that we run quite often at many of Singapore's running events, so I am quite familiar with it."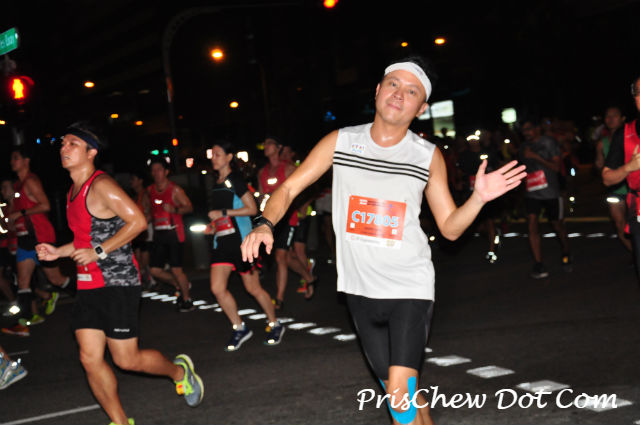 But in comparison to previous years, the route was slightly different because the distance along Nicoll Highway was shortened; instead the route had brought runners to a small section of East Coast Park.
Also, to commemorate 50 Years of National Service, I noticed images pasted on lamp posts along the running route. These images depicted significant moments of the NS journey such as the haircut on enlistment day and the rifle presentation ceremony to national servicemen and were targeted at giving NSmen the chance to reminisce while their families got a glimpse into Singapore's unique NS experience.
For me, these images had been quite interesting and informative and gave me some brief insights into what a male Singaporean typically experiences during the two years that he has to serve NS.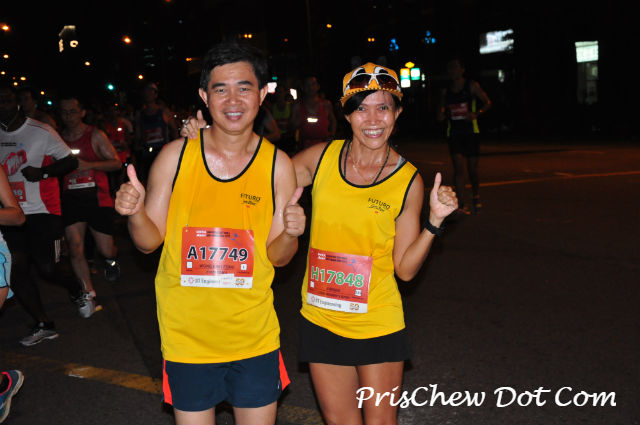 And in terms of the elevation though, the route was generally flat, with some gentle slopes but nothing that I had thought was really challenging.
Street side festivities 
Throughout the race route, the organisers had spiced up things for the runners though – helping to increase motivation levels by including street side festivities along the way, such as belly dancers, cheerleaders, mascots and a Samba percussion group.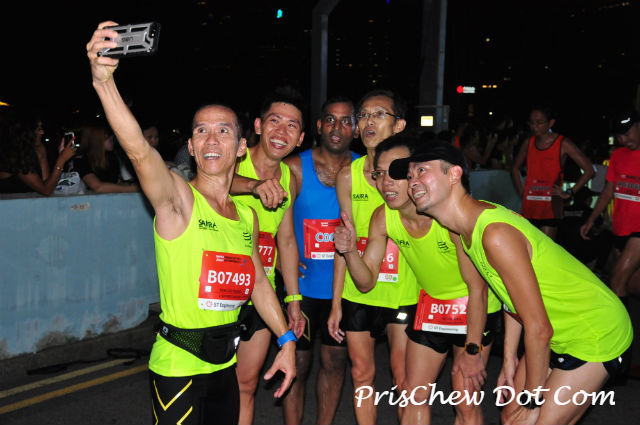 As I was running, I could hear these festivities long before I actually spotted them, and even though I was listening to my own music, I found myself unconsciously looking out for the next one along the way. They were good in helping to keep my spirits up and also for me to stay awake while running.
Agreed Rose, "I loved the cheerleaders and the drummers in particular. They motivated us to keep on running and constantly encouraged us; I also found that the beat of the drums made me subconsciously run faster."
Hydration was well spaced apart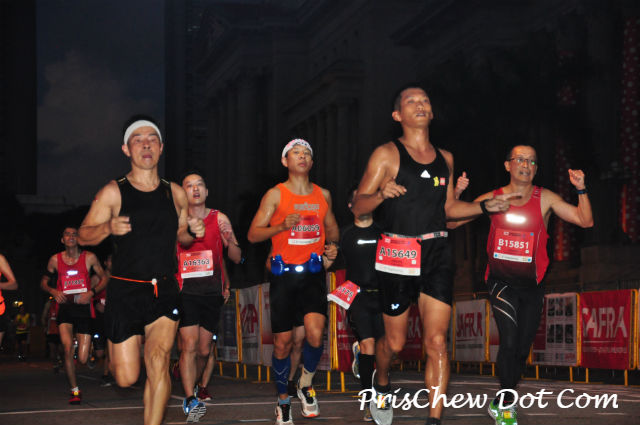 The hydration along the route was well organised – with 10 stations to serve the needs for the 21.1km runners, and these were quite well spaced apart too.
Said Rose, "The water points were very sufficient and pretty well placed, so I had no complaints with that."
However, I didn't manage to take hydration from all of the drink stations, because of overcrowding. Quite often, throngs of people stopped to crowd the drink stations and so I was unable to get a drink without stopping my run and risking losing my momentum. I was only able to get a drink easily after the crowds had thinned out in the latter stages of the race. So as such, having more tables for hydration might have helped with to prevent this.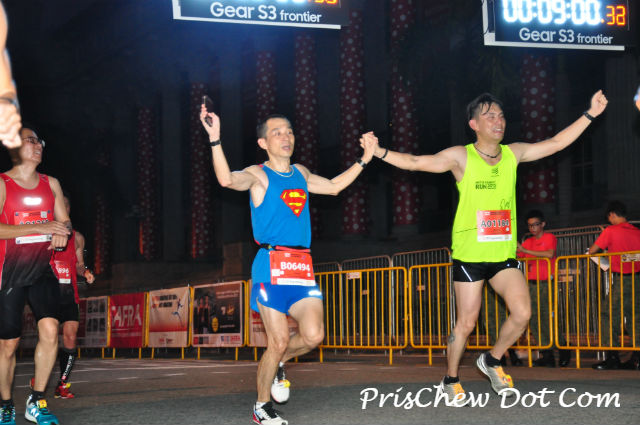 Yeo Kee, 46, an interior renovation site coordinator, also pointed out a potential bottleneck issue had been created by one of the water stations. He said, "At the point after the turning into East Coast Park, there was a right turn, and the water point was close to the turning point. Everyone had jammed there to get water. There were also barricades which had narrowed the road, and with a lot of people stopping, it could have created bottlenecks."
He added "The organisers could have shifted the water point further up, so that people running in would still have leeway to run rather than being forced to stop and walk."
Some areas were dark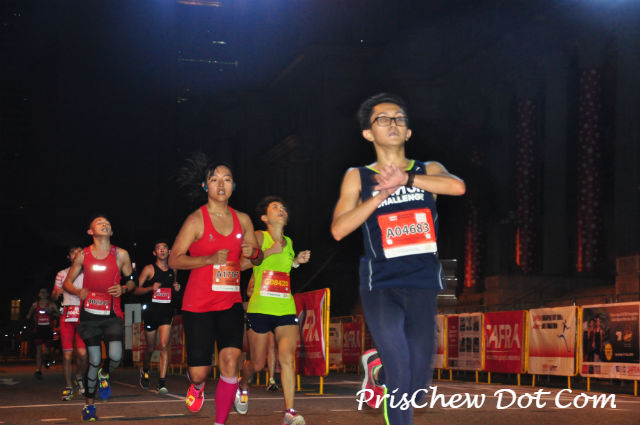 Some areas of the run were quite dark too, and at these sections, I found myself slowing my pace down and looking at the ground to make sure that I did not trip on anything. Perhaps the organiser could have had more lights at these places to illuminate them more.
Said Kee, "After the barrage turn towards the left, the route at this segment was not lit up well and it could pose safety issues as people could trip and fall. So more lights could be placed there."
I was able to maintain my easy heart rate zone till about the final third of the race, when I found my heart rate creeping into the low end of my Steady zone. I continued to maintain my pace and kept it there, constantly watching my heart rate readings on my watch to ensure that it did not go any higher, even as I had been tackling some of the gentle slopes along the route.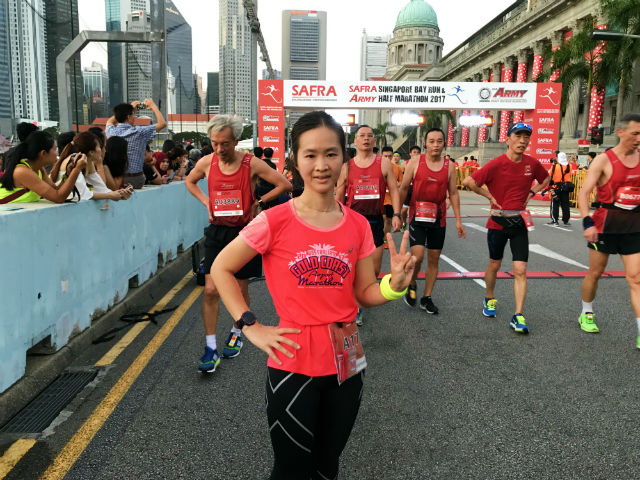 Finishing the Race
The last part of the race then took us to Marina Bay and Collyer Quay, en route to the finish line.
As the night sky gradually broke into daylight, I completed the final few kilometres of the half marathon race and reached the finishing line in one piece.  My pace and legs had held up well during this race and I didn't really suffer any cramping issues, probably due to the conservative pacing strategy.
Overall, it had been a good effort and I am happy with my run, because this performance had showed that I am making improvements in terms of maintaining my pace at my lower heart rate zones.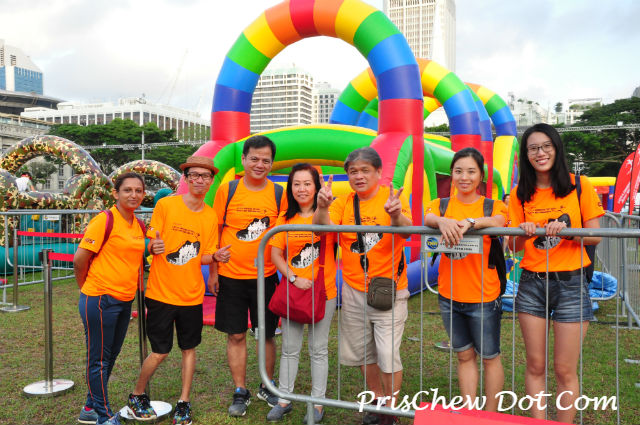 Said Kee, "The most memorable part was being able to finish the race."
My Garmin had measured 21.72 kilometres though so I think there were some places along the route, that my GPS had over-measured, or the course distance was a little too long.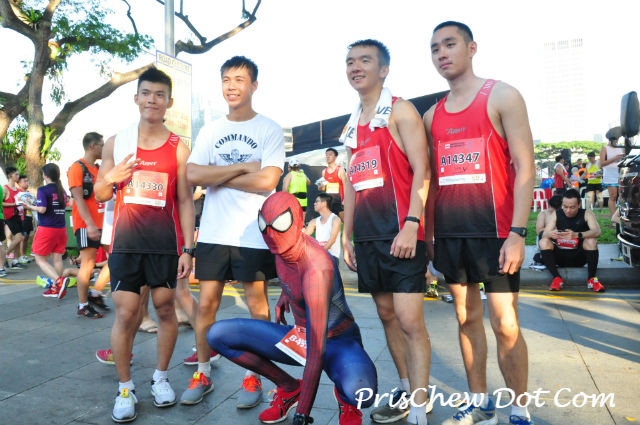 Post-Race
Upon crossing the finish line, I collected my finisher entitlements, which were a medal, a finisher tee shirt, a can of 100PLUS isotonic beverage, a towel and a banana.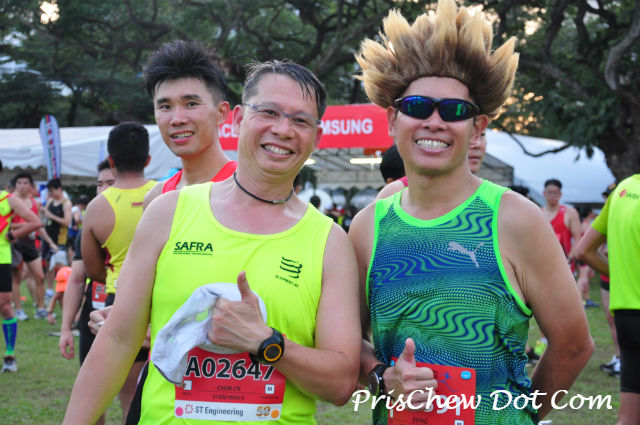 Then I walked around the race village in order to take a peep at what was available. Wet wipes were being given out courtesy of Gatsby and I eagerly took one, because I had needed to cool myself down.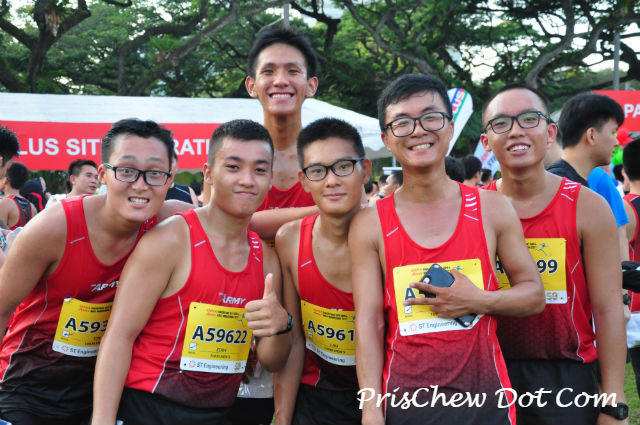 One of the first few things that I noticed at the post race village was the tyre flipping, battle rope and sand bell lift obstacles. I did not try them out for myself, but I saw many children and their families giving these a go. These are common exercises used by the Army to train Strong Soldiers.
Families also had the chance to taste the field rations that national servicemen eat when they are on outfield training exercises too, as well as trying out fun filled activities such as the Wipe-Out and listening to a series of NS50 songs that were presented by the Music & Drama Company.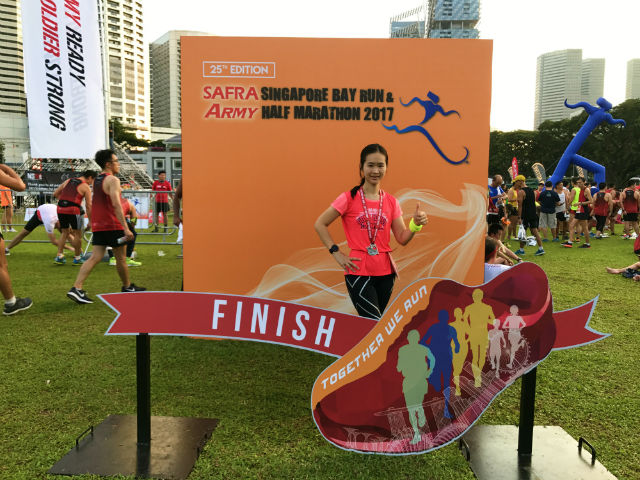 As well, there were also various photo standees on site for runners to snap photos with, to immortalise the memories of the race. These had included one standee commemorating 50 years of National Service, and another one that had marked the NS50 Team Run relay event.
Giant inflatables inspired by the SAF Standard obstacle course were also featured at the event too, and these proved to be popular amongst families. They included the inflatable stepping tones along the Safra 5km Fun Run route as well as another inflatable course featuring the Ditch, Window, Dodging Panels and Tunnel at the post race carnival held at the Padang – these are all obstacles that should typically be familiar to past and present NSmen.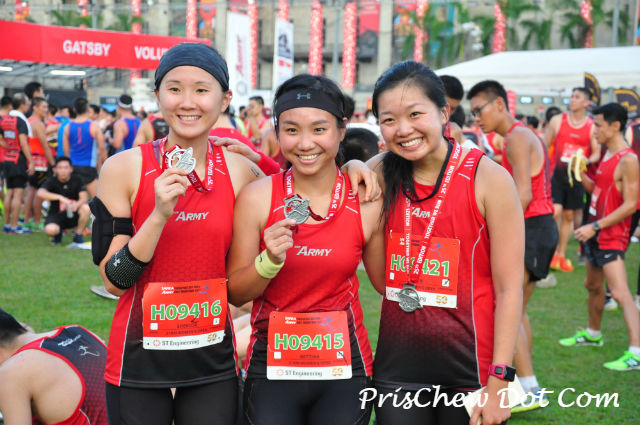 Also, the race village had consisted of a few sponsor's booths, such as 100PLUS giving out free isotonic drinks, Safra Singapore promoting their club memberships as well as mobile phone company Samsung displaying and selling their phones at the race site.
I took the chance too, to catch up with a few of my running friends whom I had spotted after the race and also to find out how they had performed too. These had included elite runner Jenny Huang and her fiancé, Steven Chan.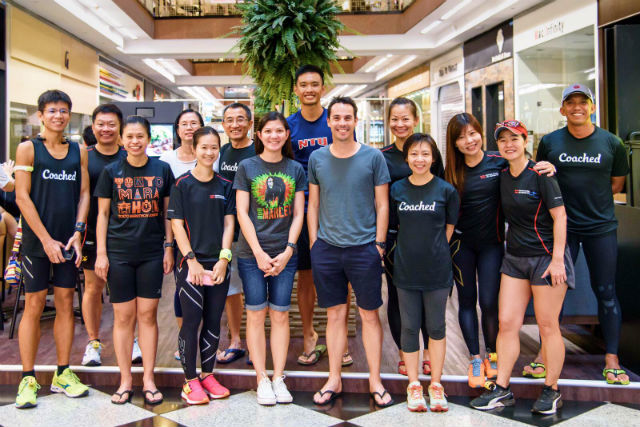 And finally, to refuel my energy levels after the run, I then headed for breakfast nearby together with some friends from Coached – the guys whom I have been training regularly with, for some time now.
Organisers are happy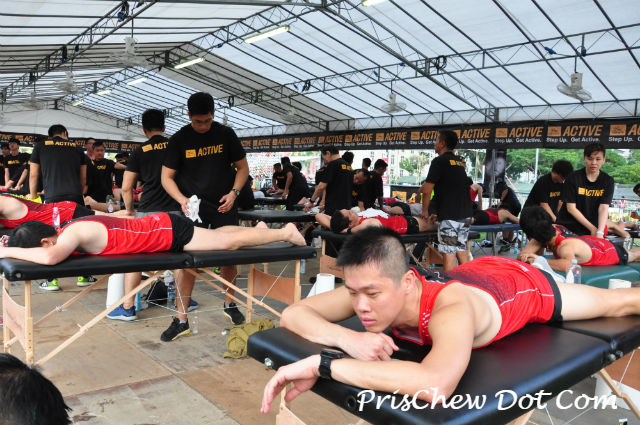 The organisers are quite happy with how the run went. Said Colonel (NS) Simon Lim, Chairman of the SSBR & AHM 2017 organising committee and Director of National Service Affairs, "This year's run is a special one, because it is our 25th edition. It has also brought together past and present national servicemen from various cohorts, their families including their children who will take up the mantle of defending our nation in the future."
He continued, "Besides strengthening camaraderie amongst our national servicemen and keeping them fit, we also wanted to create more opportunities where their families could understand the tough training they go through to defend their loved ones and provide an avenue for them to show their appreciation through a salute at the start of each run category, a simple yet meaningful gesture. All of these go a long way in strengthening the sense of pride and purpose among our national servicemen in their service to the nation."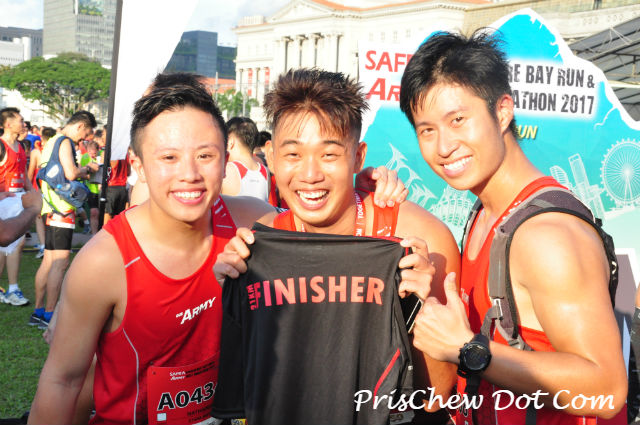 The SSBR & AHM is jointly organised by Safra and the Singapore Army, to promote fitness and bonding amongst SAF active servicemen, NSmen and their families.

Click here to view SAFRA  Army Half Marathon 2017 photos.
Share this page with your friends!