Today, I had a flight to catch.
This had been scheduled to depart at 7.00am from The Float @ Marina Bay.
Click here to view the SIA Charity Run 2017 photos.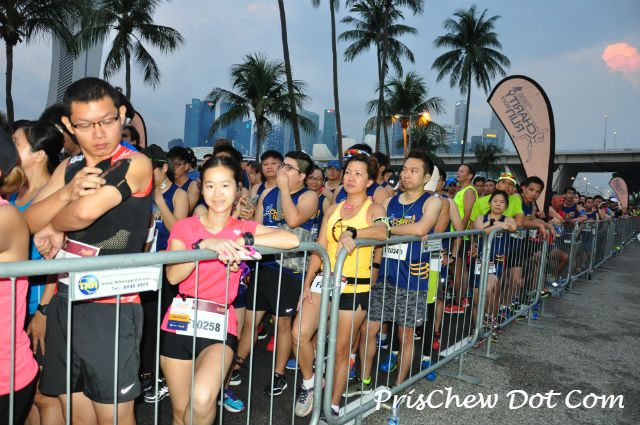 So instead of having a lazy Sunday morning sleep-in, I dragged myself out of bed at about 5.15am so that I would make it to my boarding gate in time before it closed.
One of the charity activities that SIA is organising 
My flight had actually been the Singapore Airlines (SIA) Charity Run, which is one of the charity activities that SIA is organising this year as part of their 70th anniversary celebrations.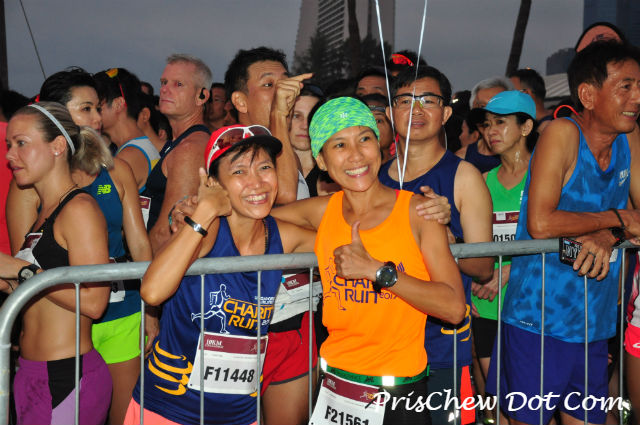 The run had consisted of a 10km competitive run, a 5km fun run and a corporate challenge to cater to runners of all abilities. To encourage inclusiveness, a 3km Wheelathon was also included as a special category for this year's event.
Proceeds went to the Community Chest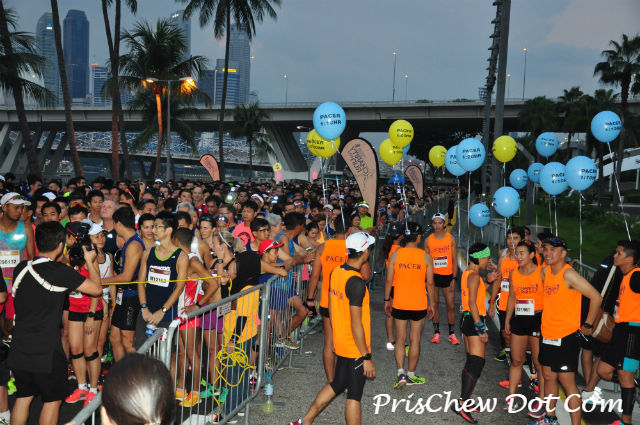 And being a charity run, all proceeds raised from the event were also donated to the Community Chest, which collects funds for Singapore's social service organisations so that they can help the needy.
Runners who took part thought that having the chance to help the needy through this run was great. Said Mairi Kants, 27, a maritime logistics specialist, "I think Community Chest is doing a wonderful job and it's always great to be part of a charity event and knowing that your money and time is contributing to a great cause. It also gives me more motivation to run as I am doing good for others."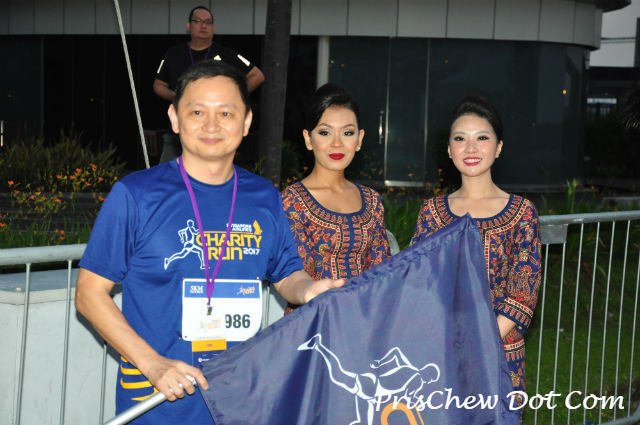 Ran in the 10km race
I took part in the 10km run.
On reaching The Float @ Marina Bay at about 6.20am, I could see that throngs of runners were already heading towards the start area in time for the 7.00am flag off.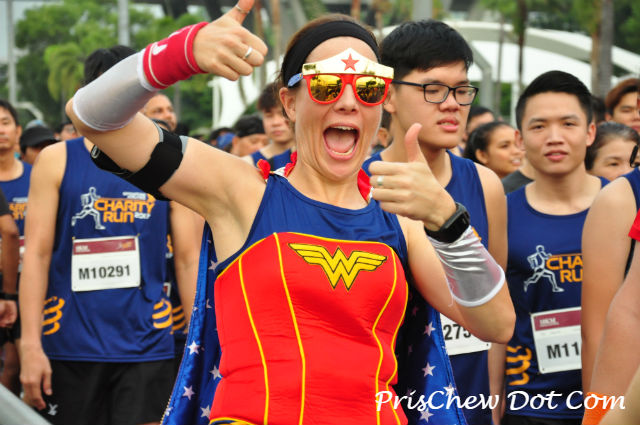 It was estimated that there were a massive 12,000 runners taking part in this race.
No wonder the race pack collection expo had been so crowded. I had collected my pack on the second day of collection and had to queue for about 40 minutes before I could get my pack.
On reaching The Float this morning, I took some time to absorb my surroundings and took a few quick pictures before joining the crowds.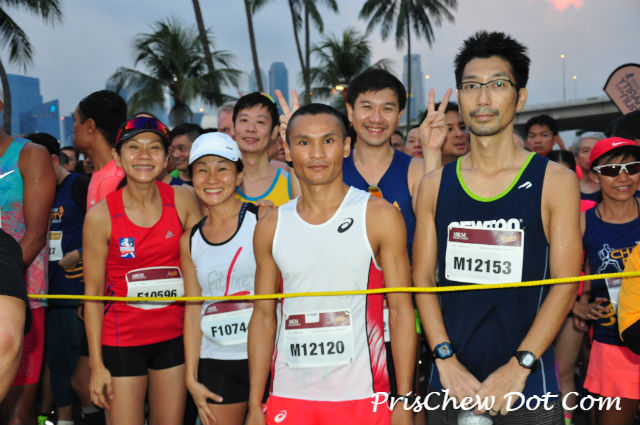 Change in the location of the "boarding gate"
However soon after joining the other runners in waiting for the gate to open, we learned that there was a change in the location of our "boarding gate". Instead of being at the vicinity of The Float @ Marina Bay, this would be situated at the Singapore Flyer which had been a short walk away. So I followed the crowd and made my way there.
After a short warm up session and when the race emcees managed to hype up the runners, our flight took off quite promptly at 7.00am.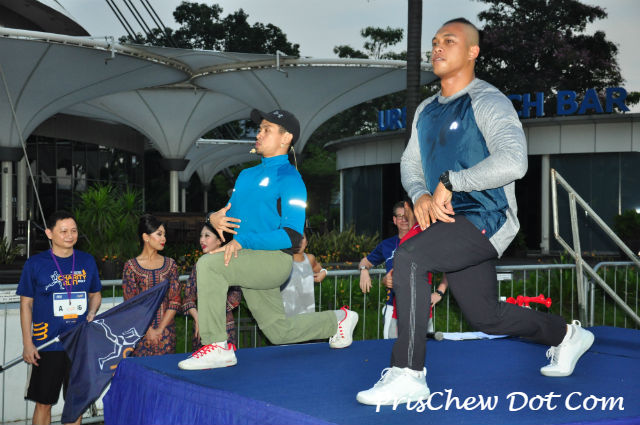 I spotted DJ Ross Sarpani in the start pen too. I wanted to say hello to him. But I think he didn't see me though, as he had been chatting to another runner at the time.
I managed to greet Jenny Huang though and I wished her luck for her race.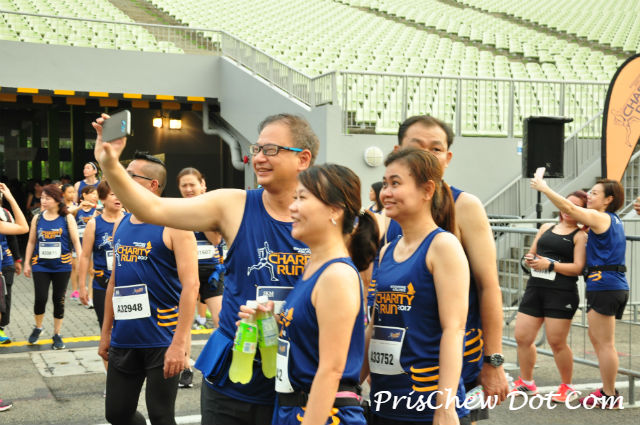 I think this could have been because everyone had been trying to go out very fast at the beginning of the run. I later spotted many of these participants walking as I overtook them.
Scenic Race Route
The race route had been a scenic one that took us past Singapore landmarks such as Suntec City, Sports Hub, Gardens by the Bay and the Downtown Core. It was a beautiful route that I run quite often, but is still really scenic and I will probably never get sick of it.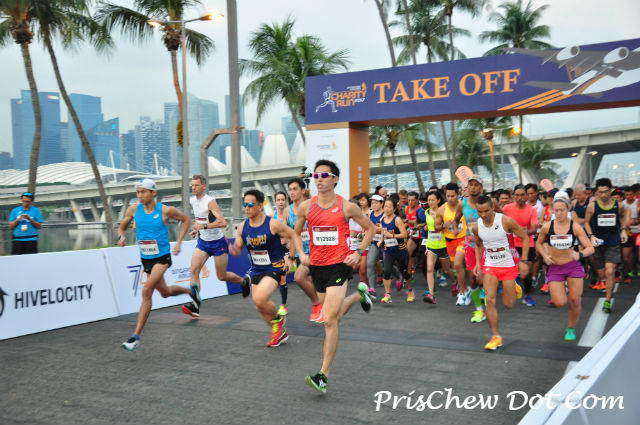 Said Allan, "The scenery was fantastic. You can't beat it, can you?"
I was not targeting a personal best at this race, due to having just raced a half marathon the week before. Instead it was a steady tempo run for me and I was looking to maintain an average of 6mins/km pace throughout the 10km distance.
Drizzled during the race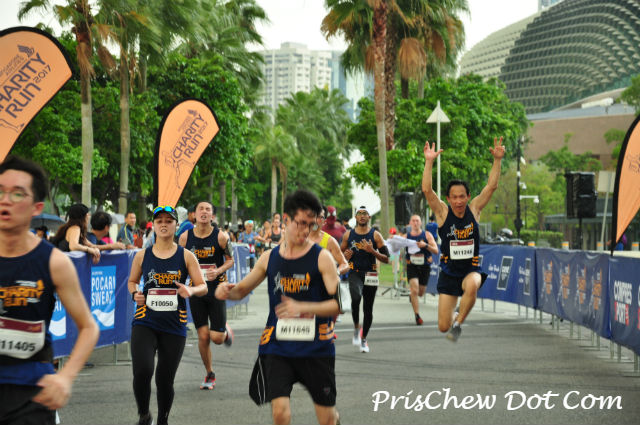 Once the crowd had settled down, I thought that the SIA Charity Run was a rather nice, pleasant and cooling run, thanks to the slight drizzle that had begun when I was running.
I admit that when I saw the sky looking quite dark when I was running, I was afraid that a thunderstorm would be imminent but fortunately it was only a light bout of rain that really helped to cool our bodies down.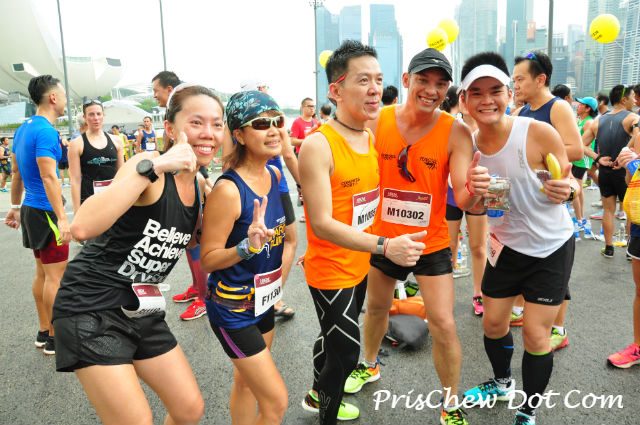 Agreed Allan Ferrie, 47, an engineer at Rolls Royce, "The weather was great. The rain came at the right time to cool us down."
But Mairi felt that the rain had made it a bit slippery to run for her, though. She said, "Because of the rain, it got slippery near the Fullerton area. But other than that, everything else was great."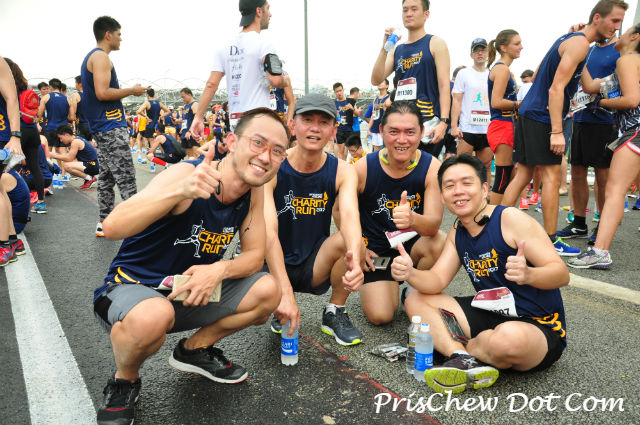 Lots of hydration points
There were also plenty of hydration points serving water and Pocari Sweat isotonic drinks. I counted three points along the 10km route. And it was great the hydration was ice-cold too.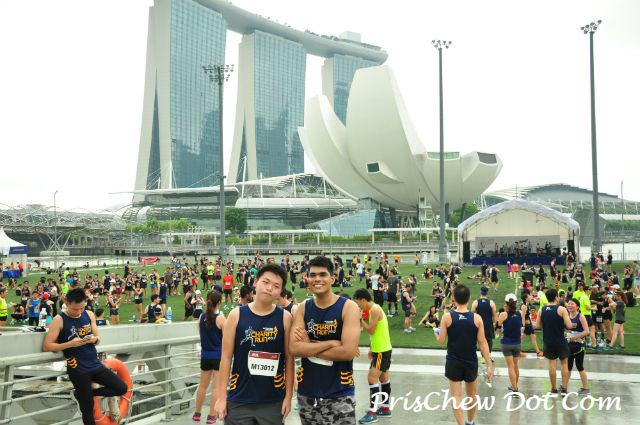 Said Allan, "The hydration points were more than enough for us."
However Camille Clabaux, 25, thought that there could have been more hydration though. Said the Marketing Executive at French luxury brand group LVMH, "More water points would have been good. I also thought that the last water point was a bit far; it would have been nicer to have had it closer to the route but everyone else was good."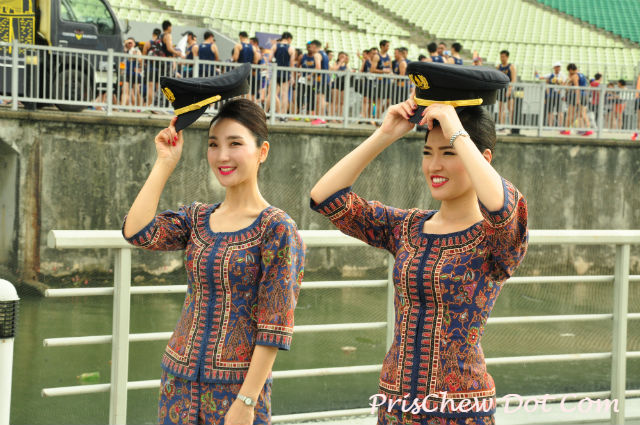 Markers and signages
I noted that the positioning of the kilometres signages were mostly quite good; when I compared their position with my Garmin at first, they seemed quite accurate but I didn't spot the 9km marker though.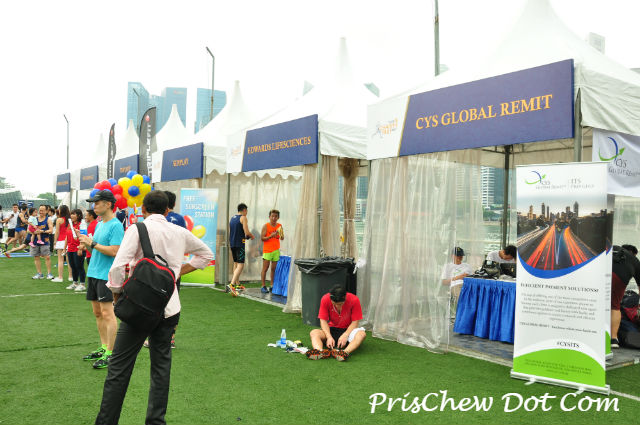 But said Allan, "I thought the distance markers were slightly off and I did not see the 9km marker; I had a watch but that was unfortunately set in miles!"
Also, I felt that there were clear markers to tell runners when to turn left and when to head straight, and clearly distinguishing the different paths for the 5km and the 10km runners, so this was quite good.
Marshals were alert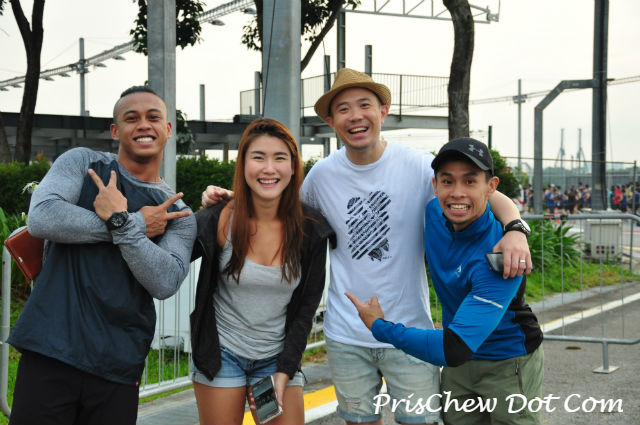 The marshals along the route were also alert and on the ball as well, constantly telling runners where to turn.
And there was one part of the route that we had to descend some steps just before crossing the Jubilee Bridge towards the end of the race, and a volunteer was positioned there with a loudhailer, warning runners that there were steps coming.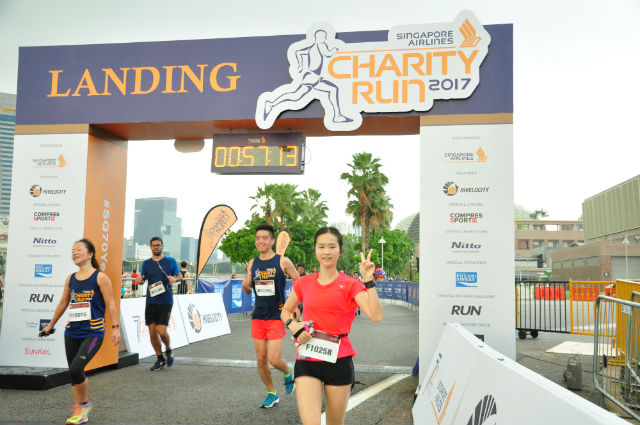 In terms of my own running, I think that my pace was pretty consistent and the splits were quite even throughout the race, with my heart rate reaching a maximum of my mid Steady zone.
Finishing the race
My flight with SIA had touched down in 57mins and 30sec – according to my Garmin watch, and this was a few minutes ahead of the 1-hour pacers.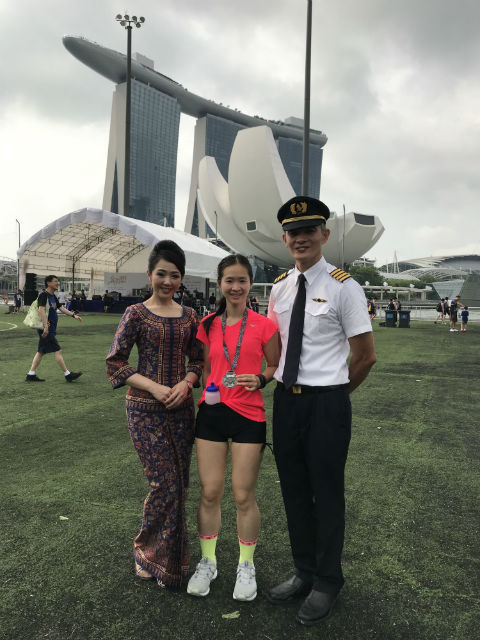 I collected my finisher entitlements after the race. These had included a finisher medal, a bottle of Pocari Sweat, a bottle of water as well as a banana.
Photo Opportunties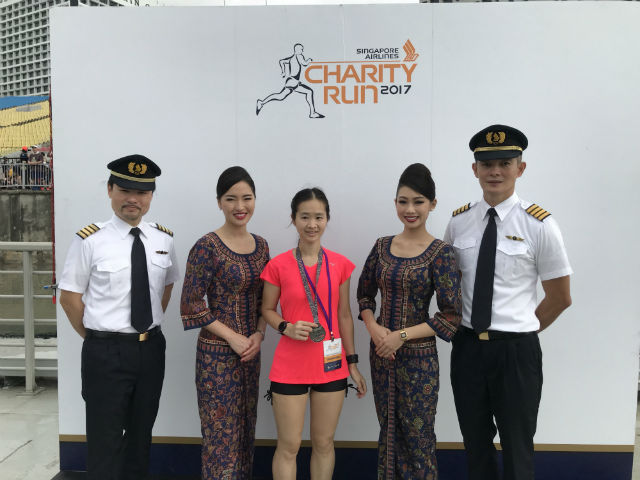 And after the race, there were several photo opportunities that were relevant to the theme of the race. The standees had included a cartoon version of an SIA plane which I thought was quite cute.
As well, SIA stewardesses dressed in their trademark blue sarong kebaya uniforms, as well as flight pilots, were also on-site to take photos with the runners, and the queues were really long!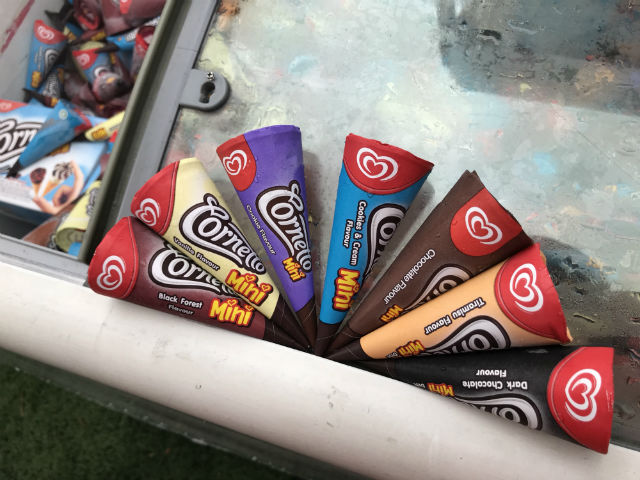 Free Cornettos
Free mini Cornettos were also being given out to the runners courtesy of American Express, and it had been really nice to indulge in these little treats after my run as I love ice cream.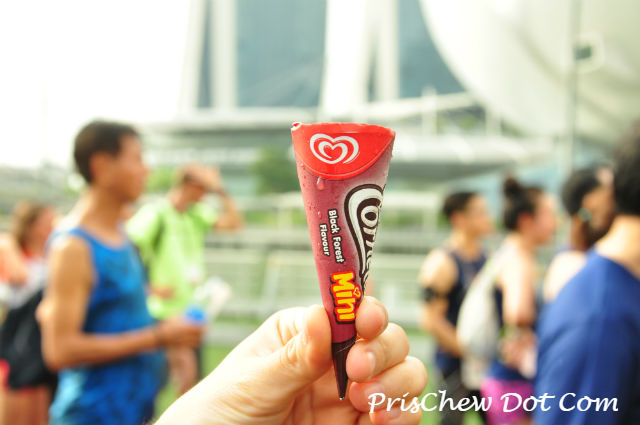 There had been many different flavours available too, ranging from dark chocolate to cookies & cream, black forest and tiramisu. So there was indeed some ice cream for everyone.
Workout Challenge by Pocari Sweat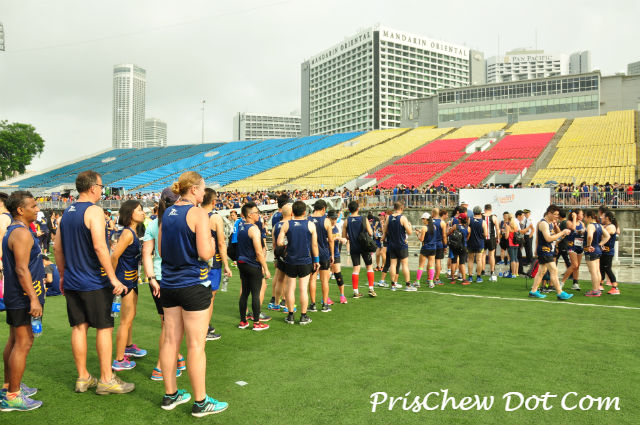 Pocari Sweat was also giving out free drink sachets and towels to runners who had successfully completed a simple workout challenge; all we needed to do was to spin the dice and perform 40 repetitions of a core exercise for 60 seconds. These included burpees, squats, lunges and sit-ups.
When my turn came, I was praying that I would not get burpees; in the end I wound up with doing squats, which was a bit of a relief – these are not too bad thanks to the dozens of squats that I have to do at the Coached training sessions!
Met up with Soh Rui Yong and  Nimesh Gurung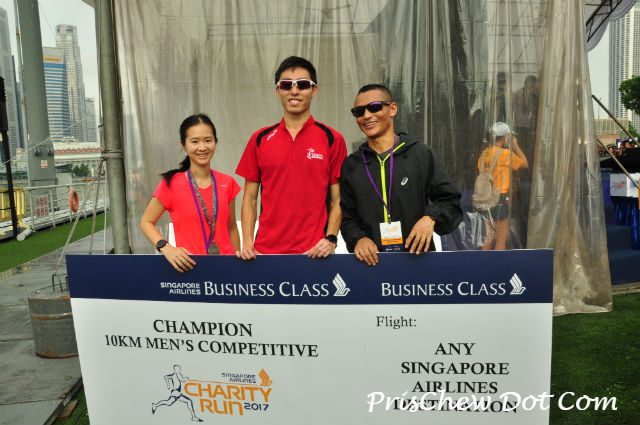 I also caught up with national runner & South East Asian Games marathon champion Soh Rui Yong and speedy Nepalese Gurkha runner Nimesh Gurung after the race, and congratulated them on coming first and second respectively.
Lucky Draw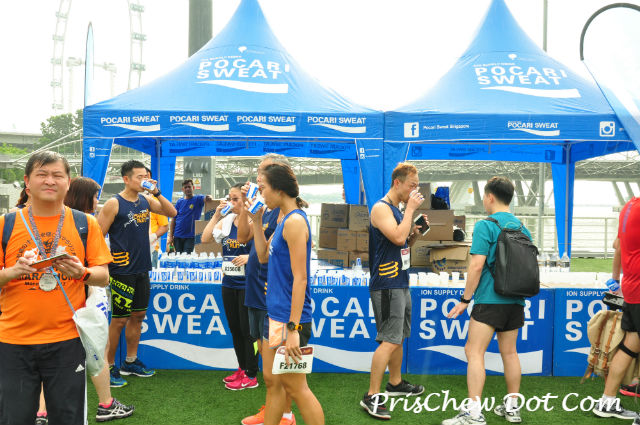 To conclude the morning, there was a lucky draw where the first prize was a pair of SIA Business Class tickets to any destination of our choice. I stayed back and was hoping that I would win this; but unfortunately though, Lady Luck was not with me!
Had a great time
Overall, I would say that I had a great time at the SIA Charity Run and it had been a rather enjoyable and fun morning workout for me, with a nice post race carnival at the end. The wait between my completion of the race and the lucky draw, was also manageable and didn't feel too long.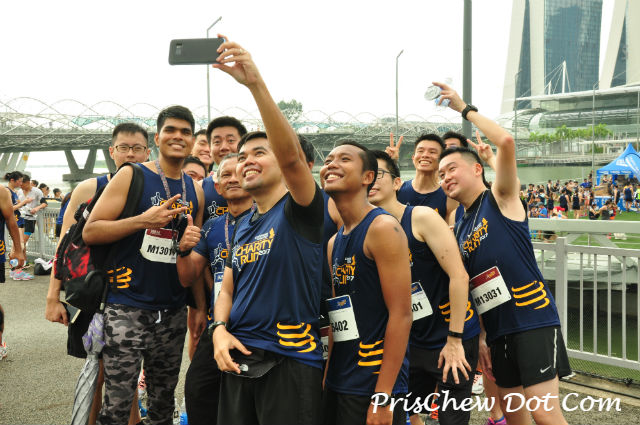 Said Camille, "It was a very nice race and everything was super well organised. It was also very punctual and everything was timed well."
My only gripe about the 2017 edition of the SIA Charity Run? The refreshing Milo Van, which was present the last time that this race had been organised back in 2014, did not make a re-appearance!

Click here to view the SIA Charity Run 2017 photos. 
Share this page with your friends!